The Cellar (Brendan Muldowney, Ireland)
I sat down to pour out my thoughts on The Cellar and what came out first was a long sigh: this film was so disappointing. Not at first, mind you, the first fifteen minutes or so were gripping. A family moves into a big old house, looking for a fresh start (from what I'm not sure), but teenage Ellie (Abby May Fitzmaurice) is grumpy about being uprooted and finds the place creepy. On their first day in the new house, Ellie disappears, and that moment was so well done I was on the edge of my seat expecting the best from the rest. As soon as her mother Keira (Elisha Cuthbert) comes home, fully alert for spookiness, and finds herself alone in taking the disappearance seriously, my eyes started rolling at the clichés. The overall premise and reveal of the film were unusual (and I'm not going to give those away), making me wonder if Muldowney had some eldritch inspirations; but it was sorely let down by details and many familiar moments. For example, I'm sure we've all seen three or four supernatural films in which something sinister is indicated by a child's ball bouncing when or where it shouldn't. Then there's the elderly sole survivor of an earlier incident, the recorded voice of an academic that summons something nasty (à la Evil Dead), the intelligent wife who is treated as hysterical by her husband, and the expert who she finds by easy fluke and just happens to have the right interest and intellect.
The Cellar is beautifully made, mind you—I cannot take away from that. The house is a terrific location, and when things get eerie, they get really eerie. The performances are more than adequate (Fitzmaurice especially convincing), and the use of symbols hinted at a mythos that I'd be fascinated to know more about. Perhaps a solution could have been to make this story longer: clichés could have been smoothed out by more substantial narrative, and hints developed into real awe if The Cellar had been developed into several Hill House style episodes.
Homebound (Sebastian Godwin, UK)
I was a stepmom for many years, before becoming an estranged stepmom, so I was a little nervous about how this film might turn out as it was about "a dark and twisted secret" which emerges after Holly meets her partner Richard's children. I needn't have worried: the writing was tense, for sure, but the family and their situation were so unlike mine that none of it touched a raw nerve at all. But yes, that tension was solid. Everything is just a little off-balance: nobody appears when the couple first arrives, there are plenty of odd glances, and the parent-child dynamic changes often and unexpectedly. Combined with only one set, it's easy to feel a little trapped—and uneasy—as the film progresses; indeed the house was a major feature of the film, leading me to expect a resolution like that in Marrowbone or The Others. But don't worry: it isn't quite so predictable.
The production was a success in other respects, too; I'm thinking of the effective but unobtrusive score and Sergi Vilanova's intimate cinematography. Where Homebound fell down, in my opinion though, was the acting. Aisling Loftus was suitably nervous and baffled as Holly, but none of the others convinced me at all. Richard was quite a complex character, and really deserved a better actor than Tom Goodman-Hill. That's a real shame, too. Homebound shows there is plenty of potential in its first-time director Sebastian Godwin.
Wyrmwood: Apocalypse (Kiah Roache-Turner, Australia)
By and large, Australian horror films are amazing. Just mention brief praise of Wolf Creek or The Babadook in a horror chat, and you'll get countless replies in agreement; not to forget more recent titles such as Little Monsters or Hounds of Love. I'm pretty sure Wyrmwood: Apocalypse would only be a hit though with serious fans of its predecessor from 2014, Wyrmwood: Road of the Dead.
Sure, casual fans might be happy to visit that world again and meet a couple of familiar faces (such as Bianca Bradey as Brooke); but it doesn't raise any new ideas, like those that made the earlier film a hit. It does have some cool new characters, mind you, such as Nicholas Boshier as The Surgeon; and the nasty action is there right from the start. But the writing really could have been better as there was a key moment when central character Rhys (Luke McKenzie) makes a shocking discovery, but the audience doesn't feel the impact of this because we already found out half an hour earlier. Anyway, Wyrmwood: Apocalypse isn't bad, and it's a good change of tone from the rest of the festival, but for me, nothing is going to beat the combination of mad scientists and soldiers in a zombie film that was Overlord, which felt like a very obvious inspiration here.
The Ledge (Howard J Ford, UK)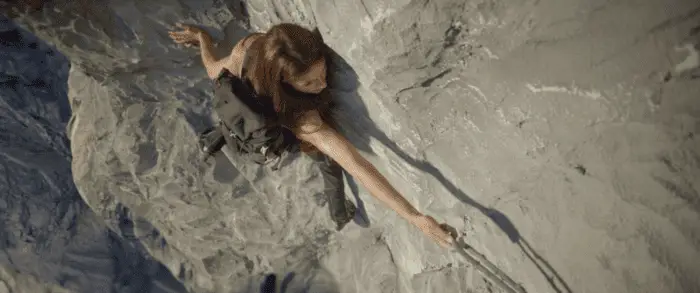 This is essentially another thriller about a young woman escaping from or evading capture by a bad man or bad men, specifically in a wild and natural setting. I've reviewed a number of those (such as Captive, Hunted, Alone, and Av: The Hunt) and keep telling myself the world doesn't need any more of this model. Each of those other films I mentioned managed to present an interesting angle, so I keep an open mind; The Ledge simply transferred the formula to the Dolomite Mountains and kept creativity to the essentials after that. OK, I don't mean to suggest The Ledge is a poor film: the tension (when applied) is sound, and that is the key strength of the film. The tension mostly comes from the dynamic between the four men; ostensibly friends who get together once a year for a climbing trip. Josh (Ben Lamb) emerges very quickly as a misogynistic alpha male who keeps the group bound together with coercion and secrets, one of his party has a clear moral compass, and the other two struggle with the conflict between right and wrong. What a great little gang for two young women to cross paths with, hm?
Kelly (Brittany Ashworth) is the mouse to this pack of tomcats: she is resourceful, driven by a clichéd bereavement, grunts like Lara Croft, and free-climbs the face of a tough mountain without a helmet. The dialogue is simple and unpolished, as though it came out of a young adult adventure novel; similarly, the way little pieces of back story are revealed along with each Chekhov's gun. Somehow, the script avoided being predictable, but every little turn had me thinking "yes, of course, that just happened," and only one (involving a snake, also without helmet) had me applaud. Overall: well filmed, interesting male characters, but too formulaic to recommend (and I wrote this up immediately, just in case I forgot the whole thing by morning).