Winter is finally coming to a close, so it's time to welcome spring the only way we know how: by reading more horror books! The lineup of releases this month is outstanding. If you missed our previous lists for January and February, don't forget to check those too. Whether you're into mysteries, short stories, or the supernatural, there's something for everyone here.
March 1st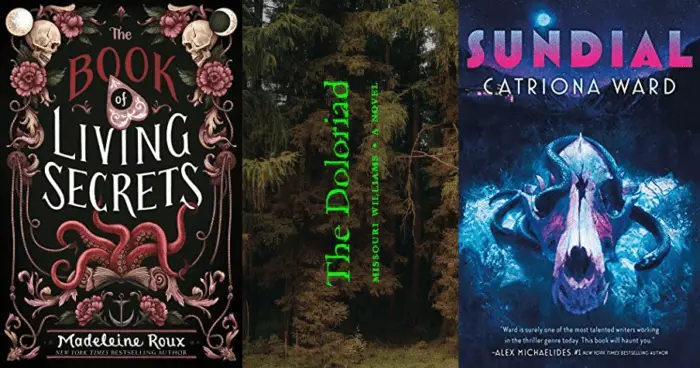 The Book of Living Secrets by Madeleine Roux. Young Adult/Paranormal/Romance.
"Perfect for fans of The Hazel Wood, this genre-bending page-turner from New York Times bestselling author Madeleine Roux follows two girls who transport themselves into the world of their favourite book only to encounter the sinister alternate reality that awaits them." (Quill Tree Books)
The Doloriad by Missouri Williams. Post-Apocalyptic/Horror.
"Told in extraordinary, intricate prose that moves with a life of its own, and at times striking with the power of physical force, this novel is a blazingly original document of depravity and salvation. Gothic and strange, moving and disquieting, and often hilarious, The Doloriad stares down, with narrowed eyes, humanity's unbreakable commitment to life." (MCD x FSG Originals)
Escape from Yokai Land by Charles Stross. Fantasy.
"Bob's been assigned to work with the Miyamoto Group, checking the wards that lock down Japan's warded sites—a task previously handled by his predecessor Dr. Angleton, the Eater of Souls. This mostly involves policing yokai: traditional magical beings, increasingly grown more annoying and energetic." (Tordotcom)
Gallant by V. E. Schwab. Young Adult/Dark Fantasy.
"Everything casts a shadow. Even the world we live in. And as with every shadow, there is a place where it must touch. A seam, where the shadow meets its source. #1 New York Times–bestselling author V. E. Schwab weaves a dark and original tale about the place where the world meets its shadow, and the young woman beckoned by both sides." (Greenwillow Books)
Sundial by Catriona Ward. Horror/Psychological.
"A new, twisty psychological horror novel from Catriona Ward, author of The Last House on Needless Street. Rob is terrified for her oldest daughter, Callie, who collects tiny bones and whispers to imaginary friends. Rob sees a darkness in Callie, one that reminds her too much of the family she left behind. Running from her past has led her directly back to it—what's buried at Sundial could never stay a secret forever, and Rob must risk one last trip out there to protect her family, and her future. (Tor Nightfire)
The Transgressionists and Other Disquieting Works by Giorgio De Maria. Horror/Psychological/Occult.
"Available in English for the first time, this collection contains two novellas, two short stories, and a dystopian teleplay, 'The Appeal,' which the post-cyberpunk novelist Andrea Vaccaro has lauded as 'worthy of the best episodes of Black Mirror.'" (Talos)
The Dead Inside edited by Laurel Hightower and Sandra Ruttan. Horror/Anthology. 
"Through the pages of The Dead Inside, some of the best horror writers of our era examine the forces that can threaten our identity, exposing the ways identity horror threatens our well-being, our dreams, our very existence." (Dark Dispatch)
SLASH-HER A Women of Horror Anthology edited by Janine Pipe and Jill Girardi. Horror/Anthology. 
"21 women from across the world come together to explore the slasher sub-genre. Some embrace the tropes, some rip them to shreds. These powerful tales are provocative, contemporary and need to be told. Featuring own voices, you will discover the pen is mightier than the machete." (Kandisha Press)
March 3rd
Freaks by Brett Riley. Young Adult. 
"When the friends accidentally open a portal to another dimension, they unintentionally allow terrifying, other-worldly creatures to invade their small Arkansas town. Discovering that they are now endowed with strange superpowers, the four teens dub themselves 'Freaks,' the very name their tormentors used to ridicule them." (Imbrifex Books)
March 4th
Beach Bodies: A Beach Vacation Horror Anthology edited by Ben Long and Andrew Robert. Horror/Anthology. 
"What will you do when the beaches fill with bodies and the waters run red with blood? When creatures crawl the coastline and the jungle teems with terror. How will you survive when a tropical respite becomes an arena of peril?" (DarkLit Press)
March 7th
Escaping the Body by Chloe N. Clark. Poetry. 
"Chloe N. Clark's poetry collection takes readers through a catalogue of the speculative body. Escaping the Body is a collection of dreams of the flesh, exploring the cosmic rifts between the soul and the body, encouraging readers to escape their body in search of the liminal space beyond skin and bones." (Interstellar Flight Press)
March 8th
Face the Night by Alan Lastufka. Mystery/Thriller. 
"Adriana Krause has a talent for bringing subjects to life. Until she draws a rotting, mangled face instead of the described suspect. Shocked, she realizes she's drawn the man who haunts her nightmares. No one has seen this face before—except Adriana." (Shortwave Media)
March 13th
Terror in the Trench: An Aquatic Horror Anthology (Dead Seas Book 1) edited by Jay Alexander. Horror/Anthology. 
"Terror in the Trench is an exploration of deep-sea horror from Dead Sea Press and the first entry in the Dead Seas series, a collection of anthologies raising money for oceanic conservation charities like The Shark Trust and Orca Conservancy. In this book, you'll find fifteen frightening tales from some truly talented horror writers." (Dead Sea Press)
March 15th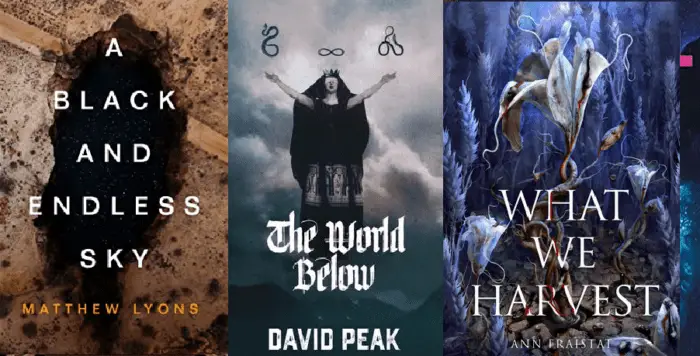 A Black and Endless Sky by Matthew Lyons. Horror/Suspence. 
"…Pursued by a mysterious stranger who knows far more about Nell's worsening condition than they let on, the siblings race to find a way to help Nell and escape the desert before they're met with a violent, bloody end. But there are far worse things lurking in the desert ahead…some of them just beneath the skin." (Keylight Books)
The World Below by David Peak. Horror/Psychological.
"Violent, noir-soaked horror infuses every page of David Peak's astonishing The World Below, coiling like a serpent around love: first and lost loves, love of family and the land, love of darkness and blood. Peak mixes the most primal of emotions like an alchemist, leaving every reader transformed." –Livia Llewellyn, author of Furnace (Apocalypse Party)
The Book of Cold Cases by Simone St. James. Horror/Crime. 
"A true crime blogger gets more than she bargained for while interviewing the woman acquitted of two cold case slayings in this chilling new novel from the New York Times bestselling author of The Sun Down Motel." (Berkley)
Roost by Hope Madden. Coming of Age/Horror. 
"A babysitter goes missing. The little girl up the road meets a bad end. Maybe it's coincidence. Maybe living in a town dropped smack in the middle of farmland—with miles of corn in every direction—makes people feel isolated from the outside. Folks start to see evil where it isn't. Or maybe this year, the devil's come home to roost." (Off Limits Press LLC)
The Ravenous Dead (Gravekeeper Book #2) by Darcy Coates. 
"As Keira struggles to uncover the tangled histories of some of the graveyard's oldest denizens, danger seeps from the darkest edges of the forest. A vicious serial killer was interred among the trees decades before, his spirit twisted by his violent nature. He's furious. Ravenous. And when Keira unwittingly answers his call, she may just seal her fate as his final intended victim." (Black Owl Books)
What We Harvest by Ann Fraistat. Young Adult/Fantasy/Suspense.
"For fans of Wilder Girls comes a nightmarish debut guaranteed to keep you up through the night, about an idyllic small town poisoned by its past, and one girl who must fight the strange disease that's slowly claiming everyone she loves." (Delacorte Press)
March 16th
Palimpsest: A Collection of Contemporary Horror by Caitlin Marceau. Horror/Short Story Collection.
"From one of Canada's hottest young talents comes this stellar collection of contemporary horror stories and poetry. Caitlin Marceau's work ranges from the quietly unnerving to the deeply disturbing, taking in post-apocalyptic futures, supernatural forces, psychological terrors, and deals with the devil. One thing's for certain: these stories will linger in your mind for long after you've read them." (Ghost Orchid Press)
March 22nd
The Bone Orchard by Sara A. Mueller. Fantasy. 
"A fascinating whodunit set in a lush, gothic world of secrets and magic—where a dying emperor charges his favourite concubine with solving his own murder, and preventing the culprit, which undoubtedly is one of his three terrible sons, from taking control of an empire." (Tor Books)
Dark Stars: New Tales of Darkest Horror edited by John F. D. Taff. Horror/Anthology. 
"Created as an homage to the 1980 classic horror anthology, Dark Forces, edited by Kirby McCauley, this collection contains 12 original novelettes showcasing today's top horror talent. Dark Stars features all-new stories from award-winning authors and up-and-coming voices like Stephen Graham Jones, Priya Sharma, Usman T. Malik, Caroline Kepnes, and Alma Katsu, with seasoned author John F.D. Taff at the helm." (Tor Nightfire)
The Shadow Glass by Josh Winning. Horror/Gothic/Contemporary Fantasy. 
"A thrilling race against the clock to save the world from fantasy creatures from a cult '80s film. Perfect for fans of Henson Company puppet classics such as Labyrinth, Dark Crystal and The Never-Ending Story." (Titan Books)
The Way of the Worm by Ramsey Campbell. Horror/Lovecraftian. 
"The third and final novel in Ramsey Campbell's triumphant Lovecraftian trilogy, The Three Births of Daoloth, where time travel, monstrous evil, and the alien apocalypse combine to create a stunning conclusion for streaming TV lovers and suspense readers alike." (Flame Tree Press)
March 29nd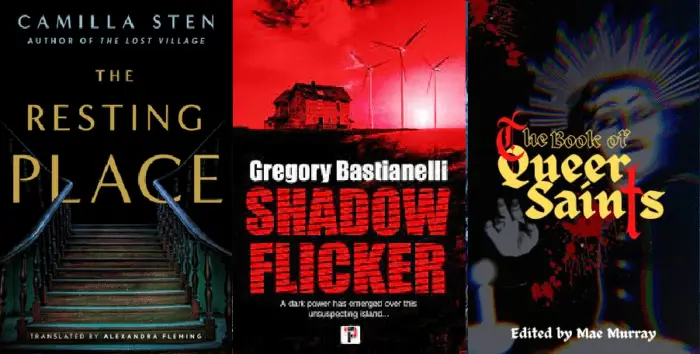 All the White Spaces by Ally Wilkes. Horror/Thriller. 
"Something deadly and mysterious stalks the members of an isolated polar expedition in this haunting and spellbinding historical horror novel, perfect for fans of Dan Simmons's The Terror and Alma Katsu's The Hunger." (Atria/Emily Bestler Books)
Shadow Flicker by Gregory Bastianelli. Horror/Thriller. 
"An old man nearly chokes to death after stuffing dandelion heads into his mouth. A pregnant cow repeatedly runs headlong into a fence post. Oscar Basaran investigates a series of strange events on the Kidney Island." (Flame Tree Press)
The Resting Place by Camilla Sten. Thriller.
"Eleanor lives with prosopagnosia, the inability to recognize a familiar person's face. It causes stress. Acute anxiety. When Eleanor walked in on the scene of her capriciously cruel grandmother, Vivianne's, murder, she came face to face with the killer—a maddening expression that means nothing to someone like her. With each passing day, the horror of having come so close to a murderer—and not knowing if they'd be back—overtakes both her dreams and her waking moments, thwarting her perception of reality." (Minotaur Books)
The Temps by Andrew DeYoung. Dystopian. 
"They're underemployed. Underpaid. And trying to survive the end of the world while trapped inside an office complex. Who knew temp work could be this dangerous?" (Keylight Books)
My Dearest Darkest by Kayla Cottingham. Young Adult/Thriller/LGBTQ.
"Wilder Girls meets The Craft in this Sapphic horror debut that asks: what price would you be willing to pay to achieve your deepest desires?" (Sourcebooks)
The Book of Queer Saints edited by Mae Murray. Anthology/LGBTQ. 
"In this debut horror anthology by editor Mae Murray, queer villains reign supreme. The Book of Queer Saints features 13 short stories and a lineup that includes renowned authors Eric LaRocca, Hailey Piper, and Joe Koch."
Below by Laurel Hightower. Horror. 
"While driving through the mountains of West Virginia during a late-night snowstorm, a recently divorced woman experiences bizarre electrical problems, leaving her with little choice but to place her trust with a charismatic truck driver. But when an unexplainable creature with haunting red eyes gets between them, she is forced to make one of the toughest decisions of her life. Will she abandon the stranger who kept her safe—or will she climb down below, where reality has shapeshifted into a living nightmare?" (Ghoulish Books)
---
So how does your to-be-read pile look after checking out this list? Mine's getting a bit ridiculous. Happy reading, and see you next month!