When I was growing up, my mornings were filled with the animated comic book television shows of Spider-Man, The X-Men, The Tick, and Teenage Mutant Ninja Turtles. As I got a little older and Saturday morning cartoons started to disappear altogether, I started watching the anime movies that the Syfy channel would air in their absence. It seemed like the logical next step in my animated Saturday morning evolution, and thanks to the programming block, I saw Akira and Ghost in the Shell for the first time. Watching Delta Space Mission this past week gave me that same nostalgia. Once I pressed play and heard the 8-bit soundtrack over the credits, it was like instant serotonin. I instantly perked up and had the urge to grab a bowl of Lucky Charms and sit with my legs crossed on the carpet.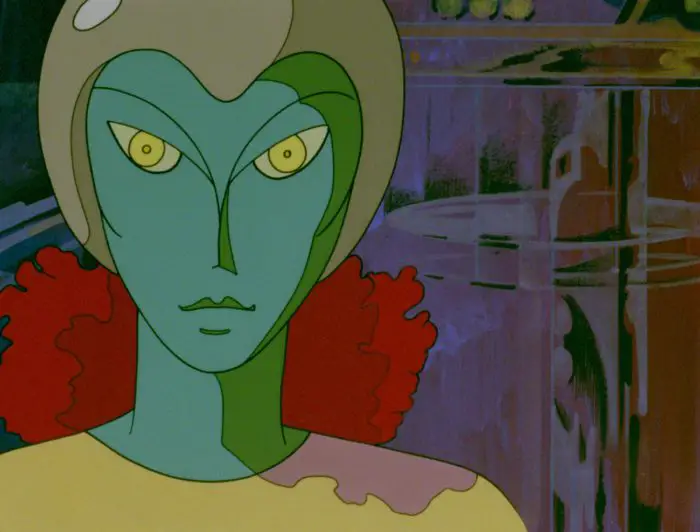 A Romanian anime set in the year 3084, this three-act epic almost feels like it originally had hoped to be a series but decided to become its own thing. It starts in the middle of a rescue mission as two space station workers, Oana and Dan, attempt to save the crew of a nearby starship, introducing us to our heroes' heroic efforts. While the crew is returning, we're introduced to Alma and her froggy-doggy (a drog?), Tin. Alma is a humanoid alien reporter traveling from Planet Opp in another solar system to Earth, reporting on the launch of Delta Space Mission. The mission is to launch artificial intelligence into deep space in the hopes of contacting and relaying communications into deep space, potentially to help any world in need of assistance. When Alma first sees the super-brain set to control the Delta Space Mission, she remarks on how incredibly stunning it is and says she'd want the jewel-like super-brain all to herself. In doing so, the AI reciprocates Alma's sentiments and attempts to capture her throughout the film. 
Delta Space Mission conjures a lot of comparisons in concept, visuals, and animation style. When Alma's pet is first introduced, I thought of Alien characters Ripley and Jonesy. The super-brain spaceship is very HAL 9000 from 2001: A Space Odyssey, though acting through extreme overexertion for the primary Asimov Law, as opposed to strictly against it. However, I suppose it doesn't care whether anyone else gets hurt as it strives toward its goal. I thought that was a genuinely distinguishing concept, though. While in reality, it's a creepy and stalkerish mentality exhibited as the brain goes rogue, attempting to kidnap its ideal companion to live with it forever. However, as a robot, it's a profound love for Alma that's driving it.  
Co-director Călin Cazan says:
Our story started from the idea of a Romanian poem from the late 1800s by Mihai Eminescu, 'Luceafărul,' which talks about the impossible love between Luceafăr (Evening Star) and an emperor's daughter. Then we slipped in the story of the relationship between the computer and the alien journalist Alma, linking the action to what we had seen in 2001: A Space Odyssey.
The animation style is a bit like those aforementioned old cartoons. However, the brilliant watercolor backdrops on most cells and some of the science fiction content itself prompts comparison to René Laloux's Fantastic Planet. In Fantastic Planet, humans are kept as pets on an alien world, and it's pretty close to the super-brain's plan for Alma. However, the reference I made earlier to Teenage Mutant Ninja Turtles feels more precise given that Alma, our interstellar reporter, is almost a replica of the April O'Neil character, adventurous, driven, and fearless. Then there's the circular Death Star shape of The Delta, which I associated more with the Ninja Turtles' villain Krang's Technodrome. Delta Space Mission was released the same year as the first Teenage Mutant Ninja Turtles comic book, but Krang and the Technodrome wouldn't appear in the comic until four years later. Regardless, it does feel as though Delta Space Mission may have held some inspiration for the comic, Krang being a super-brain himself, as well as the television show when it premiered in 1987. 
While not horror in the most obvious sense, there are a lot of unique horror attributes. Alma is stalked in an obsessive capacity; a stone monster is essentially Frankensteined to life by the AI; harsh environments with strange creatures on alien worlds, and there are warnings of the advancements of technology without human input and guidance. Otherwise, Delta Space Mission is mainly an animated science fiction adventure for action-adventure cartoons and anime fans. The film is also a bloodless affair, and the relationships are friendly and non-romantic, meaning this is an excellent film to share with kids in the eight to ten-year-old range. Just be advised there is not an English audio track present, but there are subtitles. There are some action sequences and explosions, but all of the violence is pointed toward the hive-minded automatons.  
I found Delta Space Mission a lot of fun, both nostalgically and as a hidden treasure, yearning for a watch. It's a blast to watch from start to finish, with drawings resembling the backgrounds in Andrei Tarkovsky's Stalker or the surreal paintings of M.C. Escher. This world is beautiful to behold. As I said earlier, it feels like this was planned as a series, and the film is like a three-episode arc. The forthcoming Blu-Ray release will also feature two seven-minute short films that seem to coincide with my theory. It's a remarkably quick seventy-minute feature, fueled by Calin Ioachimescu's captivating synth score, that puts its characters in harrowing situations while allowing them to be reliant on teamwork. If that doesn't sound like the Saturday morning cartoons of yesteryear, I don't know what does. 
A stunning 4K restoration has been done for the now thirty-eight-year-old film and is now available through Vinegar Syndrome's website. The new release marks the first time the film has been available on Blu-Ray and contains a new interview featurette with co-director Călin Cazan, a new commentary track by Diabolique magazine editor-in-chief Kat Ellinger, two Delta Space Mission short films, an embossed slipcover limited to two thousand units exclusive to Vinegar Syndrome's website, and a collector's booklet featuring an essay from Swamp Thing comic artist Stephen R. Bissette.