In case my previous articles haven't made it clear, I'm a pretty big fan of and have a real respect for the Universal Monsters. Thanks to Svengoolie, I've seen so many of the highlights, not-so-highlights, and hidden gems of the catalog. When you see so many of the films in the lineup, you can't help but notice that certain actors pop up again and again. The documentary Boris Karloff: The Man Behind the Monster (2021), directed by Thomas Hamilton (also co-writer, co-executive producer, and interviewee) and co-written by Ron MacClosky (also co-executive producer and interviewee), now streaming on Shudder, examines the career and the life of one of the most familiar faces not only across the Universal Monster movies and other horror films, from Universal and other companies, but also, several other films across genres and media.
While The Man Behind the Monster of course covers Karloff's most famous horror role and his role within the horror genre, it also shines a comparable spotlight on his non-horror roles, his theater roles, his television roles, his thoughts and feelings on his roles and career, and even portions of his personal life.
A wide variety of people provide stories and insight in interviews, from current filmmakers, writers, and actors, to historians, to people who worked with or otherwise knew Karloff, including his daughter, Sara Karloff. These varying viewpoints add dimensions and unique details to each segment, giving facts about each story, insight into what was happening with Karloff, offering historical context, and reflecting on the impact each part of Karloff's career had on them and still has on people to this day.
Sara Karloff's viewpoint is, of course, unique and consistently offers a fresh perspective on so many chapters of Karloff's story, offering her own experience in the stories or what she knows about her father.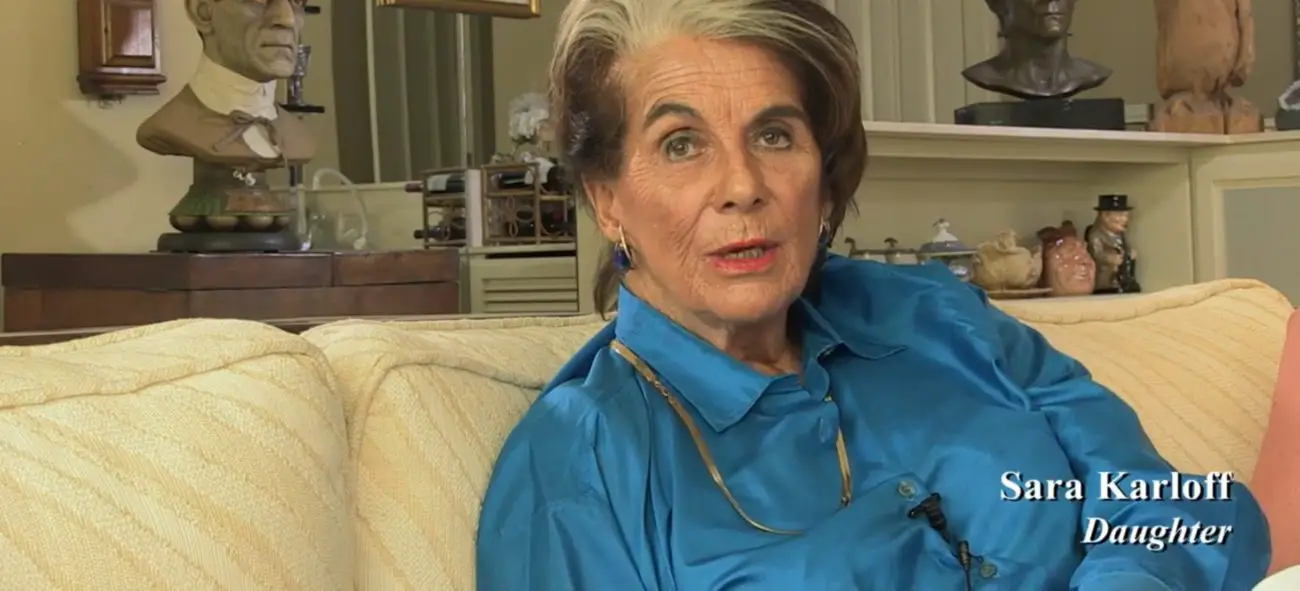 Something that felt a bit odd to me is the chronology the film sets up. In a documentary about someone's life, one could make a case for starting with the beginning of said life and moving forward from there or for starting with a notable chapter in said life to hook viewers early on. The Man Behind the Monster takes the latter route: after a "highlight reel"-style segment quickly spotlighting some of his most famous works, the film uses its first in-depth discussion to explore the making and impact of Frankenstein (1931). Afterward, the film moves on to a few of the films Karloff did immediately following Frankenstein.
After these are discussed in detail, 30 minutes in, the film jumps back to the beginning of Karloff's life, moving through his turbulent childhood, his introduction to theater, and the initial roots of his career. When the film's timeline catches up with Frankenstein and the other films already discussed, instead of further exploring them, they get glossed over and other films from the same time period are discussed instead. It makes the overall timeline a little murky. The segments are all solid; however, the order can make it feel like someone took a 30-minute chunk from the middle of the movie and put it at the beginning.
One aspect that surprised me is the resonance of one story told early in the film that still reverberates strongly today. It's not a secret that the Frankenstein scene featuring the Frankenstein monster befriending young Maria had its ending cut in the film's original theatrical release. At the time of filming, Boris Karloff did not want to film the scene for story reasons. Director James Whale insisted they film the scene because it fit his vision of the story.
When the film was first released, a middle ground was inadvertently reached: the scene was included, but ended abruptly, as the studio forced the scene's conclusion to be cut. The cut footage was later recovered and restored to show exactly what happens to Maria, as seen here on Universal's horror YouTube channel.
This segment ends by showing how the controversy surrounding the scene rages on even today, with folks on both sides giving very strong opinions. The film itself seems to side with Boris Karloff: however, the interviewees share their viewpoints, too, and don't appear to be censored. Actor Orson Bean is extremely adamant that the "middle ground" approach of cutting the scene abruptly in the middle was the right move because the full scene was, and still is, too gruesome.
Author and film historian David J. Skal, on the other hand, notes that cutting the scene early gave many audiences a very different impression of what became of young Maria—a fate that is leagues darker than what the scene's intended conclusion actually depicts and gives a different view of the monster's character. He believes showing the full scene is better, as it shows the monster's innocence, despair, and guilt. Skal shows up throughout the film and gives excellent insights in each segment.
The Man Behind the Monster features so many interviewees, viewers will be thankful that the film often re-displays interviewees' identities when returning to them. This is especially helpful in light of another aspect I found interesting: rather than keeping the environments around the interviewees static for the duration of the film, the backgrounds behind the most consistent interviewees, many of which are digital backgrounds, change frequently, often to match whatever subject the interviewee is currently discussing.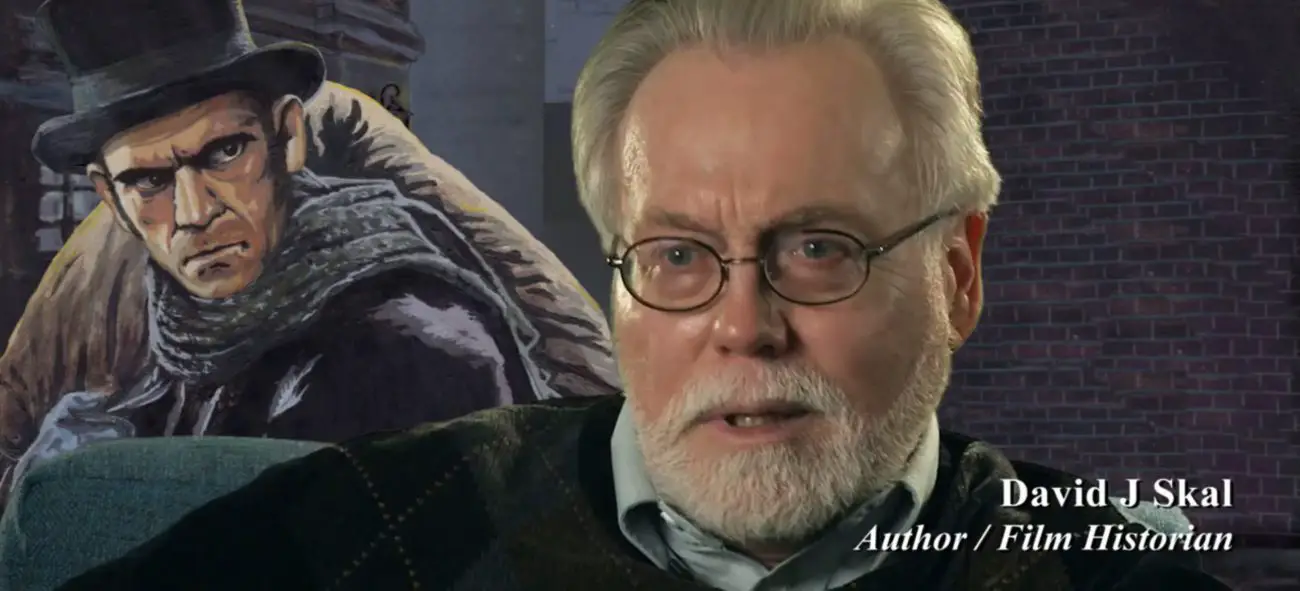 Viewers may be surprised about all the various topics that are covered. Yes, I'm a horror fan, but I absolutely adore Arsenic and Old Lace and other comedies of its ilk and was delighted to have it be discussed and even come up later. His television work, including Thriller, guest spots on other shows, and even How the Grinch Stole Christmas!, get spotlighted. His career revival after Universal released the "Shock!" package of 52 films for TV broadcast (inadvertently giving a jolt of life to the nascent wave of a brand new breed of horror icon: horror hosts) gives contemporary filmmakers and others who grew up as fans a chance to shine, sharing their experiences seeing the films.
There's even an extensive segment on Karloff's work with director-producer Roger Corman. Sure, they discuss The Raven (1963) (another film I love that I've only seen thanks to Svengoolie), but they also spend a lot of time talking about Corman's The Terror (a film I've also seen, thanks to Elvira, Mistress of the Dark's revival of Elvira's Movie Macabre), which has a behind-the-scenes saga that must be heard to be believed.
In this segment, in particular, actor Dick Miller shares memorably humorous stories about the fly-by-the-seat-of-your-pants nature of the making of the film, from pre-production to post-production. If you've never seen The Terror, you just might feel tempted to seek it out based on Miller's stories alone. (I'm feeling generous, so here's the link to the public domain film.)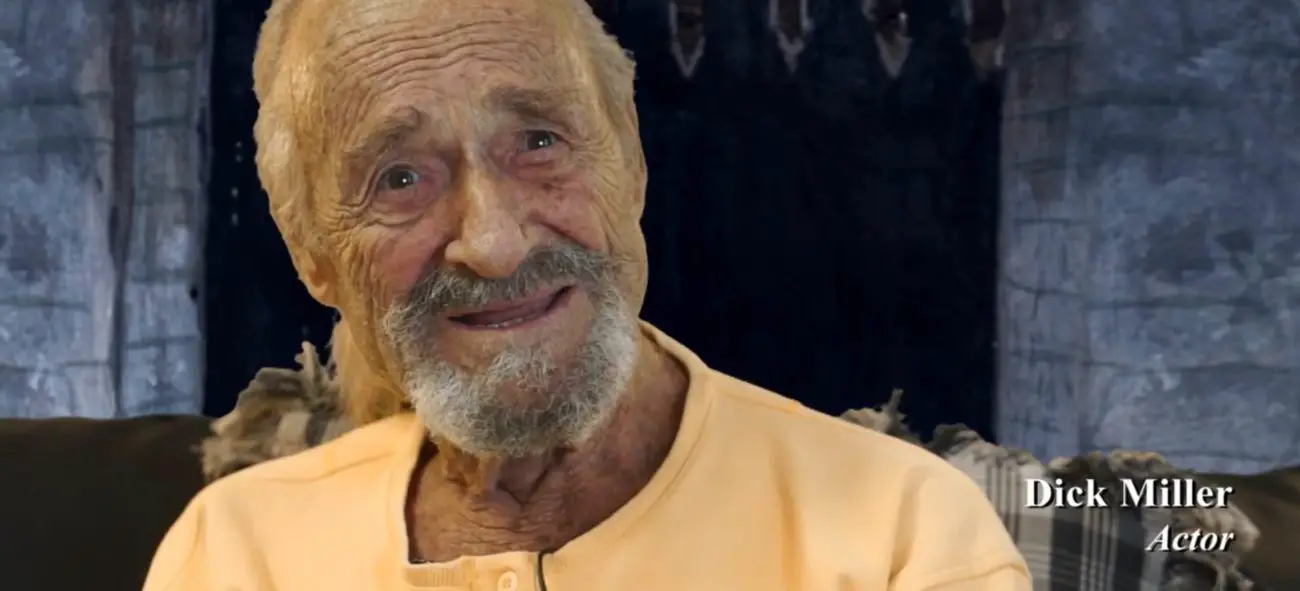 Boris Karloff: The Man Behind the Monster features one more interviewee I was very grateful to hear from, as it's quite rare in documentaries about a subject who passed on decades ago. Boris Karloff himself, thanks to archival recordings from interviews he'd given, has thoughts, opinions, insights, and humor to inject into several segments, and it adds authenticity to the film itself and all the interviewees speaking about him.
One quote in particular from Sara Karloff, recounting what her father remembered Lon Chaney, Sr., once gave him as advice in his career, stuck with me. "To be noticed…find a role that is different, and that nobody else will do or wants to do, and then do it and do it better than anybody else can do it."
Sometimes, that's easier said than done, but sometimes, taking the role no one wants and shining in it is what gets you noticed and on your way. After all, Boris Karloff famously wasn't even the first choice to play the Frankenstein monster. But, had he not taken the role, he wouldn't have had the unique career he did or left the unique legacy he did.
If you're a fan of the Universal monster movies, of Boris Karloff, or of the horror genre and want to take a peek at some films you haven't seen, or if you enjoy hearing stories about Hollywood, TV, and theater before the modern era, I recommend Boris Karloff: The Man Behind the Monster. Each segment is solid. The film goes over his most famous works as well as his more obscure work, and it paints a very thorough and dimensional portrait of an actor far beyond his most famous role. You can stream it now on Shudder.
…Just maybe don't drink elderberry wine while you watch. (Trust me on this one.)
Or, to put it more appropriately…
"Movie… good!"