From Beachside drinks at ten in the morning to midnight escapades through casinos, anything goes on vacation. The people we are when we're away from home are not an accurate representation of who we are. When we meet people on vacation, we allow ourselves to embellish the truth or perhaps don't allow ourselves to see it entirely. Christian Tafdrup's Speak No Evil explores what happens when we try to stay friends with people after they're back in their element, revealing that some people are better in small doses.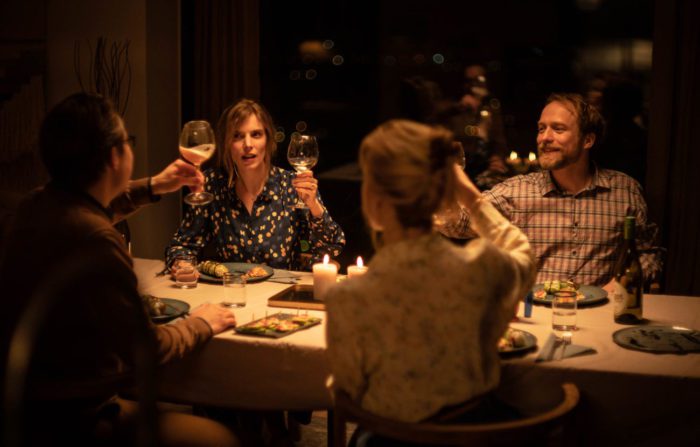 After meeting on vacation in Italy, a Danish family, Bjørn (Morten Burian), Louise (Sidsel Siem Koch), and Agnes (Liva Forsberg) receive a postcard to visit the friends they made during their time abroad. The Dutch family, Patrick (Fedja van Huêt), Karin (Karina Smulders), and Abel (Marius Damslev) seem particularly enamored with their Danish counterparts and ask to host them for a weekend. Patrick and Karin's son, Abel, is a curiously shy boy and uncommonly introverted for a boy his age. Patrick and Karin say he was born with a birth defect that caused his tongue to be smaller than usual, and, as a result, he's hard to understand. Abel's parents send a postcard to the Danish family asking them to visit them in Holland for a weekend so that Abel may see Agnes again, who they contend hasn't stopped talking about her since their trip. 
Bjørn and Louise talk it over, weighing the positives and the negatives against what they know about the family and, in the end, decide to make the eight-hour trek. The atmosphere starts chipper enough, and the reunion is pleasant but perhaps not to the standards of Bjørn and Louise's liking. Agnes is made to sleep on a cushion in the corner of Abel's room. Still, the family endures the slight hiccup, and Agnes bunks with her parents for the first night. 
As the weekend continues, the Dutch family begins exhibiting increasingly erratic behavior. At first, it's harmless. Conduct that could be chalked up to cultural or personal misunderstandings. But after a night at a roadside bar produces the inconsiderate manners of not asking permission to call a babysitter, a passionate display that borders on heavy eroticism, and leads to a drunken ride home where Bjørn and Louise's impression of their new friends begins to change. Once back at the house, things don't get any better, and Patrick and Karin overstep the boundaries of the Danish family by just about as far as anyone could go. It becomes increasingly evident that Bjørn and Louise have no idea who they're sharing a house with. Information Bjørn and Louise thought they knew when they met the Dutch family on vacation that affected their decision to visit the home begins surfacing as untrue, giving the family genuine cause for alarm. 
There are two types of people in the world: active and reactive. I'm reactive, meaning that my behavior becomes erratic when others actively press their notions upon me. In other words, I believe in being respectful until I'm consistently disrespected. Bjørn and his family are the same way in Speak No Evil, wanting to consider that his family is held in the same high esteem as his hold Patrick's, wanting to believe the best about them even after countless misunderstandings. However, after the line is crossed with me, it's over. I may be able to forgive, but I've learned a lesson I won't soon forget. Bjørn and Louise are far more forgiving and continuously draw new lines whenever the couple exceeds their boundaries.  
Tafdrup tackles the passive aggression of overbearing politeness in the face of real danger in Speak No Evil. When Bjørn and Louise nearly leave, it brings up a conversation where feelings of concern are introduced. Patrick and Karin meet these needs and try to be gracious about the situation, creating a calming atmosphere that dissipates the tension and leads their guests to stay. The issue is that Bjørn and Louise are also trying to be good houseguests. When the issues are raised, they try not to offend their hosts. But where is the threshold to stop being polite? I found this fit perfectly into the current social climate concerning Covid. Suppose a friend is anti-vax and refuses to take precautions around you, who's doing everything in their power to keep themselves safe. Can you frankly consider the other person a friend when they disrespect your wishes? Do you confront them about it or Speak No Evil and passively ignore it? 
Speak No Evil never outright enters political opinion, but it is suggestive. The idea of being so enamored with our beliefs and how we do things in our homes has been wielded by politicians asking us to stand firm. What we believe is part of who we are, but it doesn't need to define us. Your political party doesn't have to be your personality. Things have become so divisive all over the globe and we've forgotten to be good neighbors, friends, etc. Regardless of your beliefs, have you ever considered your manners? Tafdrup plays both sides to the extreme in a social parable for our time.
With a taut storyline and great performances, Speak No Evil is an uncomfortable fable about who we imbue our trust with and how we respond after learning who our friends are behind their masks. The film's tone goes back and forth to represent Bjørn and Louise's internal struggle. Red flags surrounding the Dutch family continued to emerge, I began arguing with my television. Bjørn and Louise's adherence to courteousness in the face of terror brings some palpable frustration. Still, Christian Tafdrup and his brother Mads have crafted a story with a magic trick twist. While you're looking at one hand, you may not see what the other is doing. The ending is dark and thunderous, with a stunning surprise that will shock the hell out of you.  
Speak No Evil premiered at Sundance but will be available on Shudder later this year.