Canadian horror picture Honeycomb has dropped its first trailer a week ahead of its premiere at the Slamdance Film Festival. The movie marks twenty-one-year-old filmmaker Avalon Fast's debut feature film, though the young director has been celebrated for her achievements in the short films she's been creating since she was sixteen. In 2019, Fast had her short film Night Trouble screen at the Magic of Horror Festival, where she caught the eye of multiple festival programmers. Toronto International Film Festival's Peter Kaplowsky called the film "A compelling piece of filmmaking," as well as his favorite short of 2019.
Avalon Fast is now presenting Honeycomb, a coming-of-age tale with a strong independent vibe that ruminates and expands some of the themes of Night Trouble. Honeycomb may be a spiritual successor, treating youth as a non-stop party, like Night Trouble treated the summer. It's clear from the trailer that Honeycomb will border on cult and commune behavior, perhaps a good match for fans of Showtime's Yellowjackets, as five girls (Rowan Wales, Sophie Bawks-Smith, Jillian Frank, Destini Stewart, and Mari Geraghty) attempt to survive on their own after discovering a seemingly abandoned cabin in the sun-drenched, picturesque countryside. The voiceover in the trailer, like a letter home from summer camp, inferring the transition between childhood to adulthood and the escape we all crave in our monotonous nine-to-five lifestyles to give up and go live in the woods.
Loyalties are sure to be tested, hierarchies and cliques aren't out of the realm of possibility, and I'm sure at least one friendship won't survive. Random blood-soaked images from someone screaming, a girl without an eye, and the cast dressed in red promote the plethora of other creepy things to digest.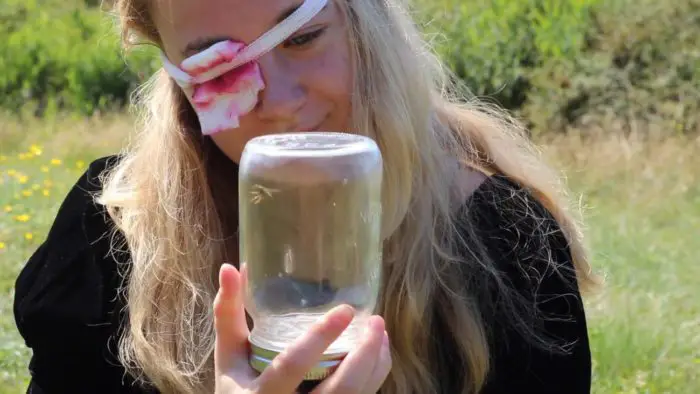 Slamdance Narrative Features co-curator K.J. Reith-Miller says, 
"From its first moments, it's evident that there is something special about Honeycomb. Throughout its strange, unfolding tale, Avalon Fast's feature debut continuously surprises with her bold and intriguing choices, especially when it comes to her dialogue. With nods toward Golding's Lord of the Flies and Ann M. Martin's The Babysitter's Club, Honeycomb's classic references mesh beautifully with its fresh, updated take on female friendship and the ominous end of innocence. A lo-fi achievement that perfectly encapsulates the Slamdance spirit" 
From what I've seen of Fast's work, I'm extremely optimistic. Her style is that of a true indie filmmaker, raw and rough around the edges. Still, Honeycomb's trailer is instantly intriguing. It's also not every day we get to welcome a new budding filmmaker with amazing potential. I'm planning on buying a ten-dollar Slamdance Film Festival ticket just to see it. 
Honeycomb will be available from January 27 through February 6 as a part of the Slamdance Film Festival. 
So what do you think of the trailer for Honeycomb? Do you agree with Sean that it looks like an intriguing horror coming-of-age story? Let us know in the comments! And if you're looking for more horror trailers, we've got you covered:
"Hatching Trailer Teases a Bizarre Fantasy-Horror"
"A Banquet Trailer Is Full of Atmosphere and Intriguing Visuals"
"Feria: The Darkest Light Trailer Is Lovecraftian Terror Done Right"
"Shut In Trailer Hides Problematic Behavior in Plain Sight"