My ten-year-old niece loves Hotel Transylvania. I have seen the first three multiple times and have the scars on the DVDs to prove it. Taking her to see Hotel Transylvania 3 in the summer of 2018 was an incredible honor for me. However, like many of the children's films I've taken my nieces and nephews to see over the years (Alvin and the Chipmunks: The Squeakquel, Hotel for Dogs), I wouldn't classify most of them as top tier cinematic experiences. But it's not about me. My niece loves movies like these, with outcasts and weirdos supporting each other, showing her that normal is an illusion. The same reason she loves The Addams Family or The Grinch. Thematically, the films she likes have the markings of horror elements, and I thoroughly support that. It continued being my honor last weekend when I brought her to the screening of Hotel Transylvania: Transformania. 
The main thing about the Hotel Transylvania films is that there are scarier things in this world than monsters. Dracula is the main character, and after thousands of years on this planet, he's still learning how to be a better vampire. In the original film, Dracula had to navigate the changes rising from the fear of his little girl, Mavis (Selena Gomez), growing up. In the sequel, Dracula learns to accept his grandson for whatever he might be or become, monster or human. In Summer Vacation, Dracula finds new love in the form of his nemesis Van Helsing's daughter, after thinking he'd never fall for another woman. And, now, in Transformania, Dracula is about to retire from the hotel business, leaving the family legacy to Mavis and her husband Johnny (Andy Samberg). Drac has trouble considering the changes his son-in-law may impose on the place and vehemently refuses to seize control.
As a series, I've always found the Hotel Transylvania movies to be a little lacking. The films pull back and play it safe a lot of the time and, in doing so, never make it to the lasting impact of a Pixar movie. When my niece and I got home from the theater, she found Toy Story playing on cable, and we turned the morning into a double feature. I began thinking about how to approach this review. 
There are a lot of changes in Transformania. Brian Hull replaces Adam Sandler as Dracula for starters, but unless you're made aware of it, you really won't notice. Honestly, he's spot on. You're more likely to catch Brad Abrell replacing Kevin James as Frank. Genndy Tartakovsky also doesn't return to direct this chapter.
Next, there's the plot. Though the film is called Hotel Transylvania, very little of the movie takes place there. Like, Summer Vacation, Transformania takes Drac and the gang out of their element for most of the film. The part I enjoyed the most is that Drac and his son-in-law Johnny team up in true Odd Couple fashion. Exactly like Woody and Buzz in the first Toy Story. Not only that, but they get to see life from the other's perspective. A Freaky Friday situation with Van Helsing's (Jim Gaffigan) "Monsterfication Ray" causes Dracula to become human and Johnny to become analogous to Pete's Dragon.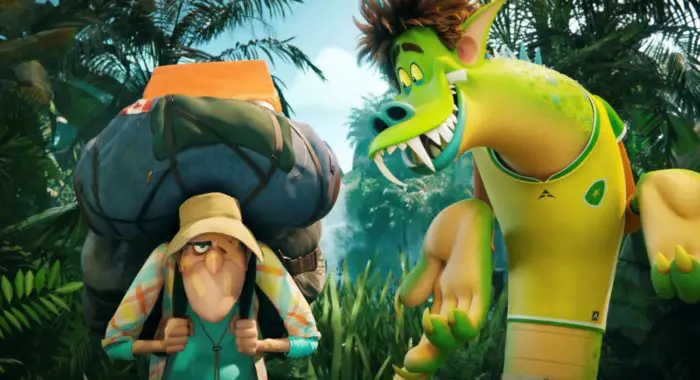 The other monsters get in on the fun too. Griffin (The Invisible Man), Frank (Frankenstein's Monster), Wayne (The Wolfman), and Murray (The Mummy) all become the silliest human versions of themselves and join Drac's adventure to become their monster selves again. We've all seen this plot before, but it fits extremely well into this series, especially for the polarizing changes it imposes on these characters. The Invisible Man (David Spade) goes from stealthy to a glaring beacon of noticeability. Frank becomes a vapid Instagramer with a perfect, unstitched body. Without his pack leader scent, Wayne (Steve Buscemi) becomes undetectable to the cyclone of terror his litter of children inflicts on him. And the speed consistent from mummy Murray (Keegan-Michael Key) is met with the stagnant fossilization of his old age. The juxtaposition alone is worthy of a few chuckles.
Much of the film reminded me of old Looney Tunes cartoons of irreverent situational humor over a moralized motivation. The Hotel Transylvania movies always had a baked-in lesson, but Genndy Tartakovsky's story in Transformania seems like it's told with the world weighing on him. This is supposedly the last Hotel Transylvania film, and from the way it ends, it's a good note to end on. As previously mentioned, Hotel Transylvania has always been about change and accepting the new opportunities life offers. At the start of Transformania, Drac has trouble letting go, and I think Tartakovsky does too. The screenplay, written by Amos Vernon, Nunzio Randazzo, and Tartakovsky certainly resembles that. After telling these characters' stories for the last ten years, it makes sense.

However, a larger idea played out in my mind. The idea of the immortal legacy in business, maybe this is just coming on the heels of the Succession finale a few weeks back. Still, there is something about these businessmen and their inability to allow the next generation to fail. Johnny may not be comparable to Kendall Roy in any way, but both want to succeed and make their families proud. Drac and Johnny continue to get close by seeing the world through the other's eyes as they traverse the Amazon for a replacement crystal to transform them back, and there's a noticeable power shift in their dynamic. Star Trek: Beyond navigated this idea similarly with its unlikely pairs working towards a common goal, and it works to marvelous effect here as well. Drac continues to be a tough nut to crack, while Johnny doesn't lose the heart of the joyous, excitable goofball he's always been, reminding us in these strange times to be patient with each other. There's added contention as the monsterfication ray's side-effects threaten to turn Johnny into a mindless, unstoppable creature, and the race to save his soul and switch him back is on.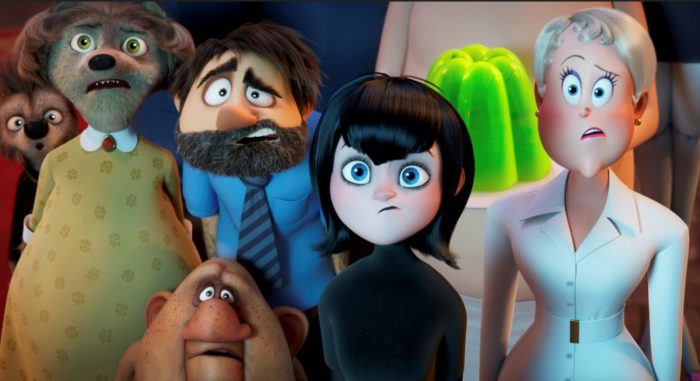 Transformania is the best of the Hotel Transylvania series. There's a good message for young people not to lose sight of who they are and a message to the older viewers to allow their children to grow up with encouragement instead of doubt. In all reality, I wish this movie had been sooner in the series. I liked these characters in this situation. I laughed often and audibly. The other sequels feel somewhat half-baked or out of order when considered now. Chapter two focused on Mavis and Johnny's child Dennis, and then in the third installment, Drac's "zing" with Ericka van Helsing (Kathryn Hahn). It feels like a long time coming that we were owed the Johnny and Drac storyline and for these characters to get to know each other better outside of the first film.  
Despite the many changes that Transformania presented behind the scenes, the film is a total blast. Derek Drymon and Jennifer Kluska have made a very inventive and enjoyable family film your little fans are going to love. See, change can be a good thing.  
Hotel Transylvania: Transformania hits Prime Video this Friday, January 14.
---
Looking for more cartoon horror? We've got you:
"Halloween Themed Cartoon Episodes That Bring the Scares"