After a careful process of nomination, selection, and voting, the writers at Horror Obsessive have determined the top ten best horror films of 2021. A few of the top horror films of 2021 may have premiered in preceding years, but they all had wider releases in the past year. Most importantly, they are all films that were broadly significant and impactful both within and without the horror community.
Do you agree with our selections? Let us know in the comments below! Also, don't forget to cast your vote for the single best horror film of 2021.
---
Candyman
Director: Nia DaCosta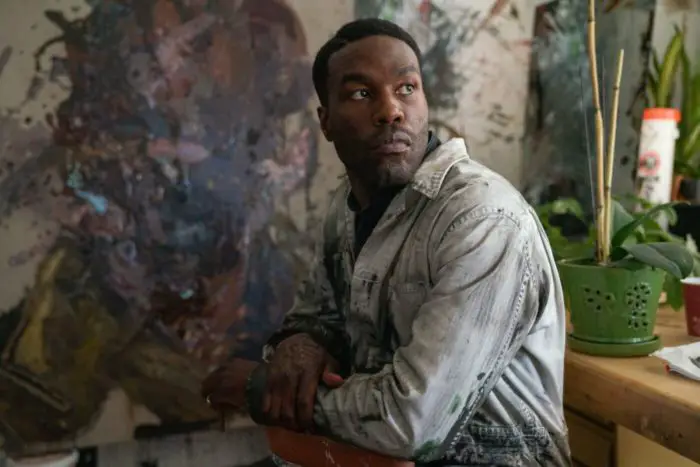 Candyman is a sequel to the 1992 film, Candyman. The basic premise of the movie is that Anthony McCoy, an artist who lives in Chicago, goes to Cabrini-Green for a burst of inspiration. He is more intrigued after hearing about the legend of Helen Lyle and of Candyman. As the legend goes, if you say "Candyman" in the mirror five times, he will appear and kill the one who called him. These tales are nicely told with silhouette images of miniature people cutouts. Anthony creates a piece called "Say My Name" at an art exhibit. and the story starts off.
Daniel Robitaille (Tony Todd's version) was the first of the many incarnations of Candyman. A line that stood out to me was the line, "Candyman is how we deal with the fact that these things happen"—a line I found important to the injustices many Black people have suffered based on a lie, racism, and violence. Personally, I did have some problems with the things that fell flat and what I felt could've been done better with the telling of this sequel, but I digress. This movie, which followed a film that came out almost 30 years prior, had the movie world buzzing as people who knew Candyman and those who didn't were able to have a new take and sequel out of this. This was a psychological horror with some gore, the history of injustices faced by Black people, and the legend that is Candyman. It is a legend that has changed a bit over time with different reincarnations about a man whose name you do not speak.
Malignant
Director: James Wan
Since directing Insidious way back in 2010, James Wan has been a director on the cutting edge of the commercial horror genre—adding a layer of practical flair and outright silliness to commercially "safe" stories of ghosts and demons. Wan has been responsible for a new kind of horror that centers expertly rigged tension and popcorn-spilling startlement over thematic density or narrative wit: million-dollar ghost-trains that are, despite their many flaws, brilliant fun. It gives me great pleasure, then, to tell you that Malignant is dumb as a sack of bricks, and by far the most fun I had in a cinema in 2021. In a year that has been tough for all of us, James Wan gave us the goods. A film that fuses giallo influences with a trauma narrative, ridiculous violence, and sheer camp, Malignant is unpolished and clunky, and yet it's exactly what we needed. It is a film that is so outwardly stupid that I don't even want to talk too much about it because its hilarious shocks and moments of self-effacing goofiness are as much spoilers as anything else.
The plot goes like this: after a home invasion and the murder of her abusive husband, Madison Lake begins to have visions of people being violently murdered, only to find that the murders she's witnessing are—gasp—real! It spirals from there into something so absurd that I was left speechless and laughing full-bodied in the cinema, and I'm absolutely certain that the film was laughing with me. Critics have called Malignant weird, stupid, and sentimental, but Wan's film seems to wear that as a badge of honour, reveling in its sincere ridiculousness like the overproduced piece of modern pulp that it clearly is. Malignant is the culmination of Wan's specific flair and love for the wackier parts of the genre—a reminder that, in a year as hellish as this one has been, we can still have fun.
Saint Maud
Director: Rose Glass
A venomous psychological horror, Saint Maud explores many themes and ideas familiar to horror cinema, but with a directness and uncompromising strangeness that feels modern and exciting yet definitive and classical at the same time. Saint Maud follows a young woman who is troubled, delusional, possibly possessed by an evil spirit, and undoubtedly, excruciatingly lonely. In her isolated state, that voice, whispering in her ear at night, becomes her star of Bethlehem, the one source of solace, companionship, and meaning in her unhappy, empty life.
Maud (Morfydd Clark) is a nurse, hired to provide palliative care to a former dancer, Amanda (Jennifer Ehle). Spotting a spark of emptiness in Amanda's life, and inflamed by the feverish religious imagery of William Blake, the deeply devout Maud soon becomes obsessed with inducting Amanda into her unique piety, however resistant she may be. Maud longs to possess Amanda, to regain some control over the people around her whom she is no longer capable of seeing eye to eye with. Maud may be lonely, but it isn't love she craves, it's awe. She doesn't truly like anyone, and only wants to be vindicated in her superiority.
That such a convincing and compelling character portrait is delivered in a mere eighty minutes is a credit both to the strength of Clark's chilling intensity and to the spellbinding script and direction for debutante Rose Glass. With dialogue that is often jaggedly funny and wince-inducing imagery, Glass succeeds in evoking her complexity of character and emotion with striking efficiency. Beautifully lensed in rich, absorbingly sepia-like tones by cinematographer Ben Fordesman, Glass's style blends an immaculately observed and empathetic treatment of reality with moments of bold fantastical gesture. She creates a film world that is alternately intensely familiar and believable and wildly strange and daring, mixing the raw energy and uncompromised bravery of a scrappy newcomer, with the rare accomplishment of a seasoned auteur.
The Green Knight
Director: David Lowery
David Lowery's adaptation of the anonymous legend of Sir Gawain and the Green Knight attempts to do for its source material what The Last Temptation of Christ (book and film) did for its biblical source: a revisionist take that strips the story down to its most human essentials, making its protagonist as real and flawed as could be, complete with a fantasised third act. There's also more than a touch of Apocalypse Now in its six-day upriver journey into the dark night of the soul, navigating treacherous or needful characters on the way to an appointment that must be kept. The old fable's themes of what it is that truly makes a man of honour are judiciously updated in recognition of their timeless qualities, and Dev Patel wears the part of an everyman who doesn't know what he needs in order to live rightly and honestly to a tee. Above all though, The Green Knight is an exercise in atmosphere, with a deft touch of dark humour and a goodly dose of the surreal and hallucinogenic, perhaps its closest relative is.
Ben Wheatley's earthy masterpiece A Field in England is another period film that utterly shirked the cleanliness and romance of the typical costume drama. The fantasy elements are refreshingly bold and often awe-inspiring, though they are ameliorated by touches of the real, like when Gawain's encounter with giants is forecast by him eating some suspect mushrooms. Ultimately, whether these monumental beings are supposed to be real or not is irrelevant, but their presence is a moment of sublime, humbling wonder. In many ways, The Green Knight fulfills the same thematic function as its source, but in this modernist update, Lowery excels himself as a metteur en scene, bringing the myth to visceral and emotional life through a dynamite script that strikes a perfect balance between poetic grandeur and contemporary reality. It may only be because I was recently rewatching it, but more than once I was put in mind of the first Lord of the Rings film, and it may be no exaggeration to say that this film is the first live-action fantasy since then that has that same touch of brilliance to it.
—Hal Kitchen
Titane
Director: Julia Ducournau
I don't know what I expected Titane to be, but it certainly wasn't that. When I decided to see it at Leeds International Film Festival back in November, I only knew that it involved body horror and was directed by Julia Ducournau (I should also add I've still not seen Raw). So, I went from blissfully toddling into the screening with my ice cream sundae to sitting in a shocked, confused state by the end, thinking, "What the hell did I just witness?!" In the best way possible, might I add. Body horror was a prominent aspect of Titane, but so was a profound and complex emotional exploration of identity, family, and love. Like all memorable films, it creeps up on you slowly. It surprised me with a significant personal connection that touched me right at the core. It's a film that requires a lot of reflection post-watching, and I'm looking forward to future rewatches. I'd say it's worth going in blind to optimise the impact, so I won't say any more. Basically, go see it with an open mind, and preferably in the cinema. Stick with it, and I promise it'll stick with you.
A Quiet Place Part II
Director: John Krasinski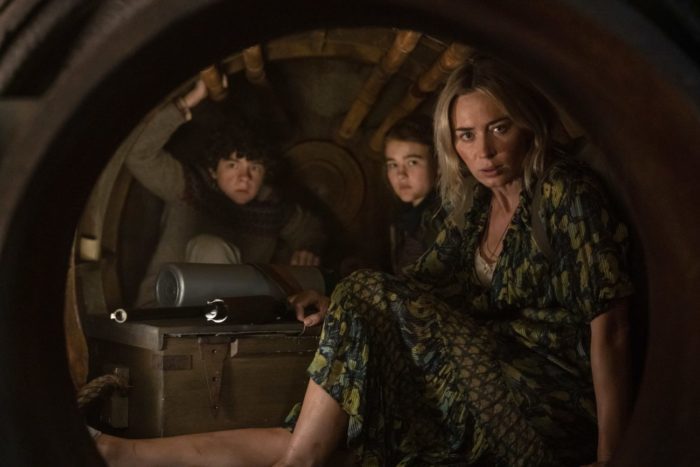 Stop. Don't move. Don't even make a sound. Once again, something is hunting the Abbott family, but now they don't have their engineer father, Lee (John Krasinski), looking out for them. The haunting sequel is just as good, if not better than its predecessor. The first film may have been eerier, but its sequel brings more action. The film is so good that director Jeff Nichols (Midnight Special) is set to direct a spin-off due in March 2023. Despite navigating the hardships of learning to speak to their deaf daughter, the first film harbors the allegories of a family unable to communicate with each other. The second film overcomes that by depicting a family that must rely on each other to overcome personal impediments and the idea of remaining a child in the eyes of their parents.
The first film dove into these themes just enough to give viewers a sense of what these characters were personally dealing with, but A Quiet Place II elevates the themes and places them in a new world devoid of ingrained patriarchal protection. Evelyn's story as the sole provider to her now three children possesses this heart-wrenching sadness mired in uncertainty. Watching Marcus (Noah Jupe) display strength through terror feels like you're watching a child grow up on-screen. And Regan (Millicent Simmonds) and Emmett's (Cillian Murphy) journey is almost Spielbergian, reminiscent of the fun and the fear experienced watching the children escape Jurassic Park with Sam Neill. The character arcs are brilliant, and not a single thing has been lost between productions. These characters grow, provide hope, and redeem themselves in what is a true testament to the first film.
The Fear Street Trilogy
Director: Leigh Janiak
I don't think there's a horror fan my age (mid-30s) who doesn't love R. L. Stine—he's a legend! Fear Street is a trilogy of Netflix films that can be viewed separately but also connect as part of a larger story and the curse put on a small town hundreds of years ago. Released once a week in July, it was an event to watch these. The excitement online when a new chapter was released was palpable, with clues and details spread throughout that connected the dots. They're also just incredibly fun slashers and homages to time periods and different styles of horror films. It's often said Netflix films are really hit-or-miss, but Fear Street is a homerun.
Last Night in Soho
Director: Edgar Wright
When I originally saw the trailer for Egart Wright's Last Night in Soho, I instantly knew I was planning on seeing it in theaters. It became the first film that I attended since the 2020 shutdown and ended up being one I saw multiple times because the moment I left the theater, I just wanted to go back in. Last Night in Soho, at its heart, is a chilling ghost story and perfectly executed murder mystery with hints of science fiction thrown in (if you rank time travel strictly as science fiction). It follows a fashion student named Eloise (Thomasin McKenzie) as she leaves her small town for the big city of London, and in taking a room from mysterious Miss Collins (the late Dame Diana Rigg) begins to find herself going back in time to the swinging '60s. It's there she finds herself in the body of Sandy (Anya Taylor-Joy) which is all fun and games until she witnesses Sandy's murder.
The film uses practical effects to bring Eloise's travels to life in multiple sequences that leave you completely captivated by how they were achieved. Edgar Wright even masterfully uses sound, once again (if you've seen Baby Driver then you will completely understand what I mean), to engulf you into the story of Eloise and Sandy. There were a few times where I seriously thought the teenagers in the theater were talking, and I was about to hush them when I realized it was actually the film. Also given that it was Dame Diana Rigg's final project before her death in April, the fact that there is a moment where her voice sounds like she is sitting right next to you sends chills down the spine. I could go on about how masterfully crafted this film was, but it's one that really needs to be experienced for itself.
The Night House 
Director: David Bruckner
Grief affects everyone differently. Especially if you learn your now-deceased husband was hiding some very disturbing secrets. The Night House follows Beth as she deals with Owen's suicide and discovers a strange, mirror image of her house on the other side of the lake. I've heard this film described as Silent Hill-esque, and I love that comparison. Rebecca Hall does an outstanding job as Beth, showing the many sides of grief: anger, bitterness, confusion, sadness. This is one of those cases where I'm sad I put off watching it because The Night House really blew me away. If you liked Hereditary or Relic, this is right up your alley.
The Vigil
Director: Keith Thomas
In the small pantheon of great PG-13 horror films, The Vigil proves you don't have to spend a lot of money, a lot of time, or have a hard R rating to make an honestly scary film. The Vigil is a compact, shoe-string budget film about guilt, loss, and transgenerational trauma. You know, light motifs. At the start, Yakov is trying to adapt to the English world after leaving the Hasidic Jewish community in Brooklyn. He is doing all the right things—joining a therapy group, meeting new people, trying to forgive himself for things beyond his control. So when he is asked by his former rabbi to hold vigil for a man in his previous community, he wants to say no, but the money convinces him to say yes.
He is told to stay overnight with a newly deceased man in his home, as a shomer, saying Psalms to comfort the soul as it crosses over into the afterlife. Of course, things do not go as planned as a demon from Jewish mythology, a mezzick, becomes involved in the mix, messing with Yakov's mind and causing demon mischief. I really enjoyed this film for its compactness and simplicity as everything pretty much happens in one room and across Yakov's face. I also appreciated the cultural and religious aspects. Often, religious horror can get heavy-handed, instructing how to "save one's soul," and I enjoyed how this demon was more symbolic, motivated by guilt and fear, and based in an underutilized area of Jewish folklore.
All of these aspects are the reason why this film belongs on the list of top horror films of 2021, with the spiritual heart of the film being its strength. Dave Davis is amazing as Yakov carrying this film from the claustrophobia and loneliness of leaving your past life in an insular orthodox community to the claustrophobia and loneliness of staying up all night with a dead body. There are not many Jewish horror films out there (unless you count Holocaust movies), maybe because Jewish people have been through enough real horror that there isn't much room for imagined horror, but this little film definitely makes an argument for giving voice to more Jewish stories.
Honorable Mentions