Seven years ago, a bonkers Australian zombie film premiered at Fantastic Fest. The premise was a little bit Mad Max, a little bit Evil Dead, with a sprinkling of Dead Alive (aka Braindead), and Reanimator. The result is a high-octane ride fueled by jokes and the blood of zombies, as Barry (Jay Gallagher) and friend Benny (Leon Burchill) make their way to save Barry's sister Brooke (Bianca Bradey) from the mad doctor (Berynn Schwerdt) holding her hostage. Wyrmwood: Road of the Dead is a little off the rails but it's also a lot of fun especially given the budget and time constraints the filmmakers were working with.  Utilizing their weekend time off from their day jobs it took the filmmakers four years to complete the film. This week, trailers dropped for Wyrmwood: Apocalypse, and it looks like the kind of gonzo follow-up I never knew I needed.  
Budget no longer appears to be a concern this time around for director Kiah Roache-Turner, who co-wrote the script for both Wyrmwood films with his brother Tristan Roache-Turner. The trailer opens on Luke McKenzie, who appeared as a villain, The Captain, in the first film. In Wyrmwood: Apocalypse, we can only assume he's been cast in the new role as Rhys. Rhys is kidnapped and forced at gunpoint by Maxi (Firebite's Shantae Barnes-Cowan) to join her efforts to find her missing sister. Hmmm, seems familiar. I assume, along the way, the two are joined by Barry and Brooke, who appear to have survived and healed from their encounter with McKenzie's Captain in the first film. Brooke uses her necromantic powers to command an undead army to help Maxi reunite with her sister as the group traverses the Australian wasteland.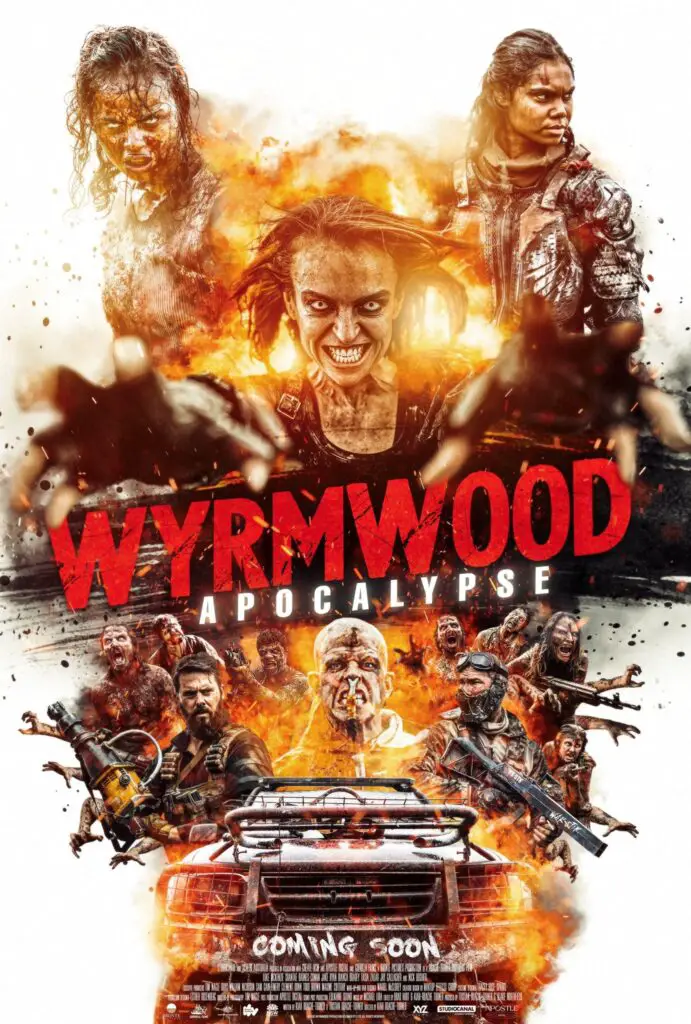 At first glance, Wyrmwood: Apocalypse appears to be following the reboot era template by using its story similarities. But, as the trailer rolls on and The Surgeon (Nicholas Boshier) appears to greet Rhys sarcastically, we have the feeling a more sinister plot to draw out survivors may be underway. Perhaps The Captain didn't meet the fate we thought to assume? Regardless, Wyrmwood: Apocalypse's trailer ups the ante from Road of the Dead while maintaining the film's action, gore, and humor and I'm excited to take this ride.
If initial festival reviews are any indication, Wyrmwood: Apocalypse is currently surpassing its inventive predecessor with a 7.2 audience score on IMDB. Additionally, in his four-star review, Cinema Australia's Matthew Eeles calls it "A hellish, blood-soaked thrill ride!". In other words, you may want to catch Wyrmwood: Road of the Dead before the sequel releases next year.  
Wyrmwood: Apocalypse is set to release on February 10, 2022, in Australia, after appearing as part of Monster Fest next week. Edit: The US Release date is April 14.
Wyrmwood: Road of the Dead is currently available on VOD platforms, AMC+, and IFC Films Unlimited. 
So what do you think of the trailer for Wyrmwood: Apocalypse? Do you agree with Sean that it looks like it has a great blend of action, gore, and humor? Are you so pumped you're going to see the original? Let us know in the comments! And if you're looking for more trailers, we've got you covered!