Earlier this year, Soho Horror Film Festival responded to last year's pandemic by doing something boldly unprecedented: providing a twelve-week virtual horror festival completely free. A response to being in lockdown and unable to host films in-person at their local venues, the festival moved online, running a special Shockdown Saturdays series featuring at least two feature-length films every Saturday from February through April. The festival showcased some wildly original films, including World Premieres like A Little More Flesh II, as well as a multitude of shorts, most of which I've yet to see elsewhere.  
Last week, Soho Horror resumed in-person operations, holding their yearly festival at the Whirled Cinema. To my chagrin, I live an ocean away from the London-based festival and was unable to attend. Luckily, Soho Horror Film Festival is gearing up to present fifteen films for virtual audiences this weekend. While I was hoping to see some of the films from the in-person event, like Hellbender and Name Above Title, these films won't be on the menu for the virtual one. Still, Soho Horror Film Festival has put together a list of films I'm ridiculously excited to catch.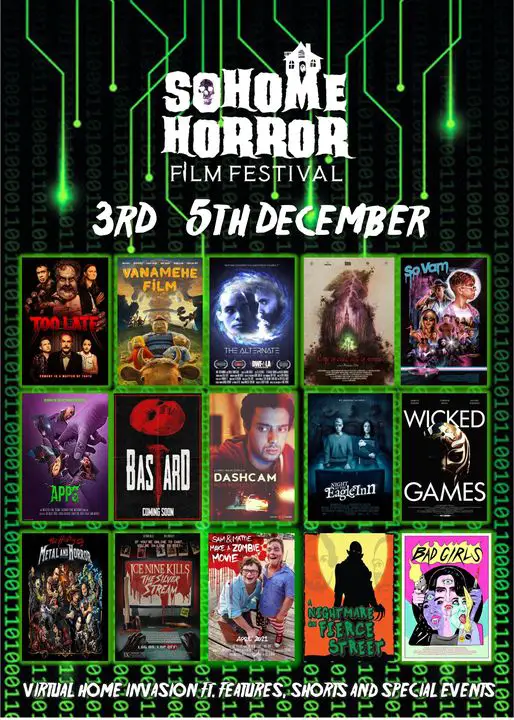 Films will include Christian Nilsson's feature Dashcam, a conspiracy-laden thriller about a news editor who finds evidence of a cover-up among government officials after receiving video from a hidden dashcam, and Erik Bloomquist's Night at the Eagle Inn about twins who stay in the same hotel their father vanished from years earlier on the night they were born. Night at the Eagle Inn took home Jury Awards at Popcorn Frights Film Festival, ReadingFilmFEST, and Sin City Horror Fest this year, so this will be one to look forward to. Phone-based horror anthology and winner of Best Horror Feature at both Terror in the Bay Film Festival and Nightmares Film Festival, Apps, and Teddy Grennan's nerve-racking home invasion horror film Wicked Games are all just the tip of the streaming iceberg. 
Soho Horror Fest is also bringing special events, including the World Premiere of the Director's Cut of Threshold directors Powell Robinson and Patrick Robert Young's 2015 film Bastard. A tenth-anniversary celebration of Ben Wheatley's Kill List will highlight visual essays, homages, and a live podcast from Nightmare on Fierce Street. Heavy metal music fans may especially enjoy the documentary feature The History of Metal and Horror, which features interviews with John Carpenter, Rob Zombie, and Metallica's Kirk Hammett before diving into innovative rockers Ice Nine Kills interactive horror experience The Silver Stream featuring concert footage from their latest tour as well as a baked-in horror movie starring Bill Moseley. The unique screening will also give way to a live Q&A session with the band.  
This time around, the festival is not free. You can purchase tickets to gain access to the group's Facebook page, where they will release the streams as they become available. However, before you get all bummed out, tickets are only a mere £20.00 or $26.58, which is less than two dollars per scheduled event. The festival begins at 6 PM local time in London, England (1 PM EST) on Friday, December 3 and runs through Sunday, December 5. So, if you're stuck inside this weekend or looking to put off picking up a Christmas tree or go shopping, consider a fun weekend in your pajamas with Soho Horror Fest.  
The full lineup is below. Please be advised times and films are subject to change without notice.