It sounds like the plot of a classic Hammer horror film: ghostly shadow figures seen in an old cemetery, dead animals found drained of their blood, two rival paranormal investigators, and an angry mob determined to hunt down an undead fiend. During the late 1960s, London's Highgate Cemetery was believed by some to be the home of an actual vampire. The incident reportedly inspired the film, Dracula AD 1972 (1972).
Being horror-obsessed, I associate the late 1960s and 1970s with British horror. These vampire films are a technicolor crimson, blood-soaked macabre wonderland. Christopher Lee's sinister and menacing Count Dracula is a stark contrast to Bela Lugosi's ghostly black-and-white chilling but charming Count from 1931. We can't forget the voluptuous vampire vixens with their glamorous cat eye makeup and plunging cleavage in movies such as Countess Dracula and The Vampire Lovers. 
It all started in 1965 with reports of paranormal activity in and around Highgate Cemetery.  According to the book Written in Blood: A Cultural History of the British Vampire by Paul Adams, the cemetery was established in 1838. Many artists, writers, and philosophers are buried there. Among the cemetery's notable graves are German philosopher Karl Marx and Douglas Adams, author of Hitchhiker's Guide to the Galaxy.
By the 1970s, the graveyard was in disrepair. Adams quotes writer Peter Underwood from his book Haunted London (1973) describing the cemetery as " ' […] a chilling scene of utter ruin and decay where vaults yawn in the shadows and gravestones crumble beneath one's feet.'" [1] 
Sounds like an ideal setting for a horror movie. According to Highgate Cemetery's Wikipedia page, it was. Taste the Blood of Dracula (1970), Tales from the Crypt (1972), and From Beyond the Grave (1974) all featuring footage filmed in the famous cemetery. In 1975, the Friends of Highgate Cemetery was established to help maintain it.
Naturally, being an old graveyard, Highgate Cemetery has a history of alleged paranormal activity. According to Adams, in 1965, Highgate locals reported ghostly sightings in and around the eastern section of the cemetery. Two different figures were described. One was an elderly woman with long white hair drifting among the graves. According to local lore, the woman haunts the cemetery in search of her murdered children's graves. The other ghostly figure was a skeleton who stood by the main gate. [2]
Our vampire tale is specifically associated with the western section of the cemetery, which is the older section. During the 1960s, rumors circulated that occult rituals were performed there.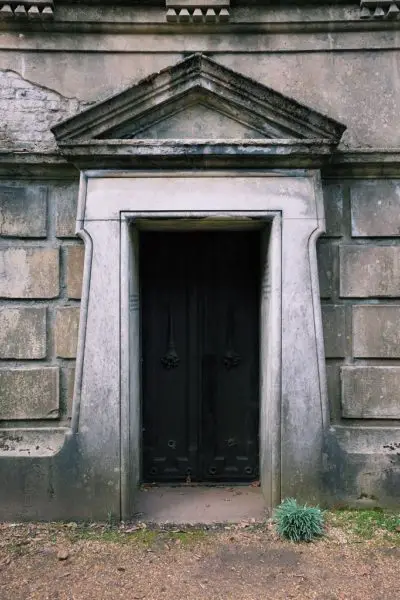 Adams relates a paranormal encounter described by a man walking his dog. It was about 8 PM on a July evening in 1965. Brian Bourne was walking his dog before heading out to a party. As he passed the western gate of the cemetery, Bourne said he felt a sudden chill and an "unnatural stillness." Bourne said that he saw a black liquid substance flow down the cemetery wall. A tall masculine shape materialized out of this liquid. He said that the figure appeared to be a man wearing dark clothes and had glowing red eyes. Bourne's dog growled at the apparition, and Bourne ran up the street. [3] 
Adams quotes Bourne's account from a 1997 issue of the Highgate Vampire Society's newsletter Suspended in Dusk: "'[There was] no face. Where eyes would have been if it were human, there were just two red pits, red glows […] This wasn't a ghost, this was an entity […] It was simply not human.'" [4] 
In 1967, a young couple walking in the same spot as Bourne saw a figure with an "unpleasant face" standing by the gate staring at them. The couple stopped and looked back at it. The figure slowly disappeared. The man, Thomas O'Loughlin, was so fascinated by what he saw that he returned to the cemetery with a friend the following night. O'Loughlin and his friend went inside Highgate Cemetery. They said that they heard an odd "booming" noise and a shadowy figure passed in front of them. The two fled the cemetery and never went back. [5]
The same year, two teenage girls walking in the same area said that they saw the dead rising from their graves. According to Rosemary Ellen Guiley's book, Vampires Among Us, it was at this point that a man named Sean Manchester became involved. [6]
Guiley interviewed him for her book. He said that he was a priest ordained by the Celtic Catholic Church, which Manchester described as not related to the Vatican. He also made unsubstantiated claims that he is a descendant of Lord Byron from the poet's relationship with a servant. After hearing about the young couple's encounter at Highgate Cemetery, Manchester decided to investigate. [7] 
According to Guiley, Manchester went to Highgate during the day. In the western section, he noticed a path leading from an unused northern gate to a large mausoleum or columbarium. He contacted O'Loughlin to go back to the cemetery at night with him. O'Loughlin refused and told him about what he and his friend experienced. [8] 
Highgate Cemetery wouldn't come up again until the summer of 1969. Manchester crossed paths with Elizabeth Wojdyla, one of two teenage girls who said that they saw the dead rising from their graves in 1967. [9]
After Wojdyla had her experience, she began to have nightmares. She dreamed that an entity with a cadaverous appearance and malevolent presence tried to break into her bedroom. Wojdyla is described as very pale and cadaverous herself. She told Manchester about her nightmares. Wojdyla also began sleepwalking and experienced dizziness, nausea, and headaches. [10] 
Shortly after Manchester spoke with Wojdyla, her boyfriend, Keith, contacted him. Keith said that Wojdyla was under a doctor's care. Following doctor's orders with changes in diet and taking vitamins wasn't helping her. Keith added that Wojdyla had two small puncture wounds on her neck. [11] 
Manchester concluded that Wojdyla's experience was a vampire attack. Just like in many versions of Dracula, Manchester gave Wojdyla a silver cross to wear and hung a crucifix and garlic in her bedroom. He added a linen necklace filled with salt, sprinkled holy water, and said prayers with Keith. According to Manchester, Wojdyla then regained her health. [12] 
Wojdyla's strange ordeal may have been over, but paranormal activity reportedly continued in and around Highgate Cemetery.
Adams writes that there were more similar reports of a dark shadowy figure in the same section of the cemetery the following year. A man told Peter Underwood, who was president of the Ghost Club at the time, that he and a friend saw a "trail of blood" leading to a mausoleum. The man described seeing a dark figure disappear into the vault. Two other people said that they saw a dark figure rise from the ground and move quickly through the cemetery. [13] 
Reports of paranormal activity in Highgate village surfaced in the press. One story was about a local pub, Ye Olde Gatehouse. Adams writes that, in October 1966, owner George Sample told the Hampstead and Highgate Express that he heard footsteps, doors opened and closed, and a customer saw an apparition in Elizabethan attire. [14]
Guiley writes that in the early 1970 dead animals were found in the cemetery and nearby Waterlaw Park. The animals' throats were torn open and their blood drained. A possible rational explanation was that the caretaker's dog bit them and dragged their carcasses around. [15] 
According to Guiley, Manchester received another report of vampiric activity connected to Highgate Cemetery.  A woman whom Manchester called "Luisa" said she felt like someone was suffocating her at night, started sleepwalking, and had two small punctures on her neck. During one of Luisa's sleepwalking episodes, her sister, Anne, contacted Manchester. He said that the two followed Luisa. She got into Highgate Cemetery through a broken railing on the west side of the cemetery and walked to the columbarium. She stopped and tore the crucifix from her neck. Manchester described hearing a booming sound before Luisa collapsed. He and Anne carried her home. He said Luisa couldn't remember anything that happened. [16]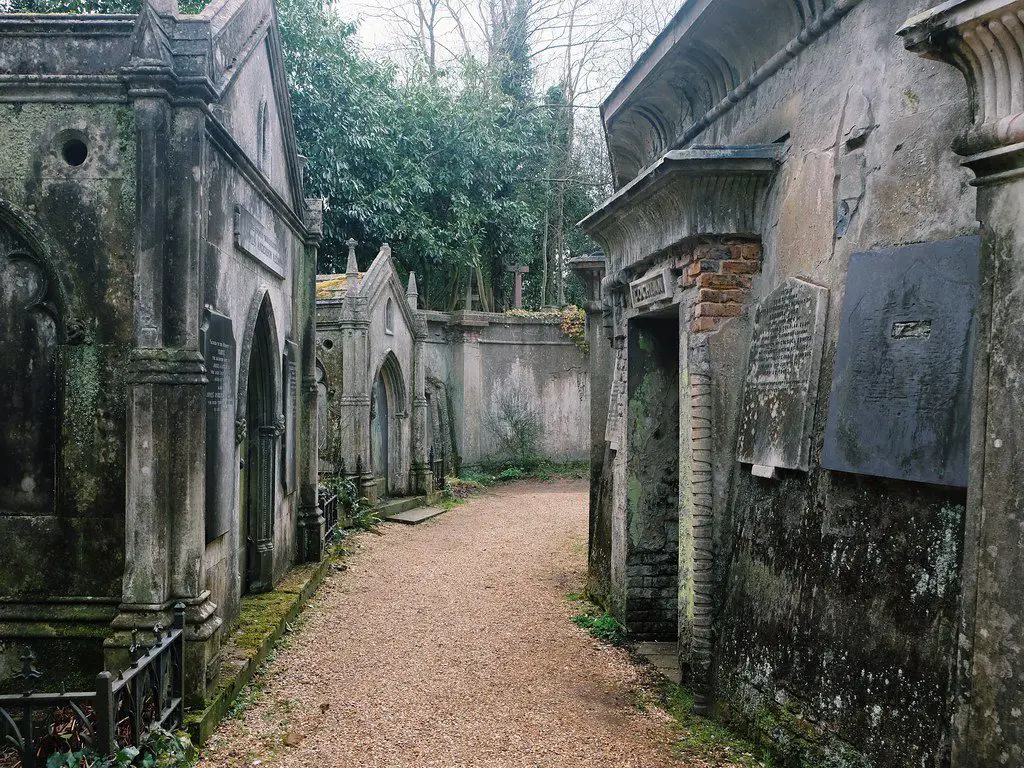 Enter occultist David Farrant who helped establish the British Psychic and Occult Society (BPOS).  According to a 2020 Vice article, "The Decades-Long Rivalry of London's Two Vampire Hunters" by Francisco Garcia, Farrant wrote a letter to the Ham & High newspaper published on February 6, 1970. Farrant wrote that he saw a gray figure in the cemetery that he believed was paranormal. While Farrant believed that Highgate Cemetery was home to a supernatural entity, he didn't believe it was an actual bloodsucking vampire. Garcia quotes Manchester, writing that "it became appallingly apparent […] [that] the people of Highgate were not witnessing a harmless earthbound apparition… but a vampire." Both Manchester and Farrant said that they were tracking the being in the cemetery, and each vowed to destroy it. The two didn't join forces. A rivalry developed with the two hurling insults at each other in the press.
This bizarre 20th-century vampire hysteria didn't end there. Garcia reports that on Friday the 13th in February 1970, Thames TV aired a special about the paranormal activity in Highgate. That night, wannabe vampire slayers came from all over London, some carrying wooden stakes. They flocked to the cemetery. The crowd even broke past police barriers set up outside.
Garcia writes that in August 1970, there were two incidents of a more terrestrial nature. Remains identified as belonging to a woman who died 100 years earlier were found desecrated near her grave. Farrant was arrested a few weeks later in another local cemetery. He was carrying a wooden stake and a crucifix 
The tale of the Highgate vampire officially ended in 1973 with Manchester claiming that he drove a stake through the vampire's heart.
The Highgate Vampire was officially dead, but the story lived on. Garcia writes that the Farrant-Manchester rivalry peaked in 1973 when the two announced a "magical duel" on Parliament Hill in Hampstead. 
They called off the magic fight. Both men faded in and out of the public eye for the next 50 years. They kept their feud alive until Farrant died in 2019.
Garcia writes that Farrant entered the political arena in 1978. He established the Wicca Workers Party and ran as the party's only candidate in the General Election in Hornsey. He ran on a platform that included "free sex and nudity, restoring the Wiccan creed, outlawing communism, establishing state brothels, restoring true power to the monarchy, and leaving the EU Common Market."
Both Farrant and Manchester published books. Manchester published The Highgate Vampire in 1985, and Farrant published Beyond the Highgate Vampire in 1991. Each established their own occult organization. Farrant helped establish the British Psychic and Occult Society, and Manchester established the British Occult Society. 
Garcia reports that Manchester formally announced that he's retired from public life in 2013. He's decided to spend the rest of his days in "creative contemplation."
Whether you believe in paranormal activity or not, the story of the Highgate Vampire will continue to haunt paranormal enthusiasts. Highgate Cemetery with its long history provided a perfect backdrop for a real-life gothic tale. The story hits buttons immediately by invoking the provocative image of the vampire. The cultural climate of the time perhaps planted the seeds for this real-life vampire tale. Movie screens played images of Christopher Lee's blood-red eyes, fangs, and opera cape. What further fascinates is how a 20th-century village in London, England could experience vampire hysteria.
Events such as the New England Vampire Panic during the 19th century are understandable. It's now known that the vampires and their victims were suffering from tuberculosis. Little was known about the disease and its transmission so the symptoms were attributed to vampire attacks.
The Highgate Vampire can make sense when put within the context of pop culture at the time, reports in the press, and being in the area of a very old cemetery. The superstitious part of a person's mind expects paranormal activity in or in the area of a graveyard. The perceptions of the Highgate residents were reported in the press and spread throughout London, causing a mob of wannabe vampire hunters to come out of the shadows. Then again, no matter what context, it's still baffling how people in the 20th century could believe in a vampire. The utter weirdness of the entire event has made an indelible imprint in paranormal history. Sean Manchester may have staked the Highgate Vampire in 1973, but this strange tale will never die.
Works Cited
[1] Adams, Paul. Written in Blood: A Cultural History of the British Vampire. England: The History Press. 2014. pp. 157-158.
[2] Adams, p. 158
[3] Adams, p. 159
[4] Adams, p. 159
[5] Adams, p. 159
[6] Guiley, Rosemary Ellen. Vampires Among Us. New York: Pocket Books. 1991. Guiley, p. 110
[7] Guiley, pp. 113-114
[8] Guiley, p.114
[9] Guiley, p. 114
[10] Guiley, pp. 113-114
[11] Guiley, p. 114
[12] Guiley, p. 115
[13] Adams pp. 159-160
[14] Adams, p. 160
[15] Guiley, p. 115
[16] Guiley, pp. 115-116
---
Looking for more on real-life vampires? We've got you:
"The 'Vampire' Murders: Tale of Twisted Teen Rod Ferrell"