It's been a long wait for Stranger Things 4. Having been set back a year for…obvious reasons, the latest season of Netflix's hit series is slowly but surely drawing closer as 2022 is right around the corner.
To try and make the wait feel somewhat shorter, Netflix has been periodically dropping brief teasers of what's to come as the show looks to expand its scope well beyond the initial setting of Hawkins, with another one dropping today as part of their "Stranger Things Day" celebrations. Today's tidbit is potentially the last one we'll get before we get a full-sized trailer—the YouTube description of the teaser reads "004/004," as does the Stranger Things Twitter account bio—and it finds us catching up with the last piece we had yet to see: the new life of the Byers family, now with Eleven in tow.
Having relocated from Hawkins after the events of Season 3, the Byers family has now relocated to sunny California. It's immediately a stark change of scenery from the midwestern setting of the first two seasons, and the teaser itself hints at the much larger scope of the show's new season.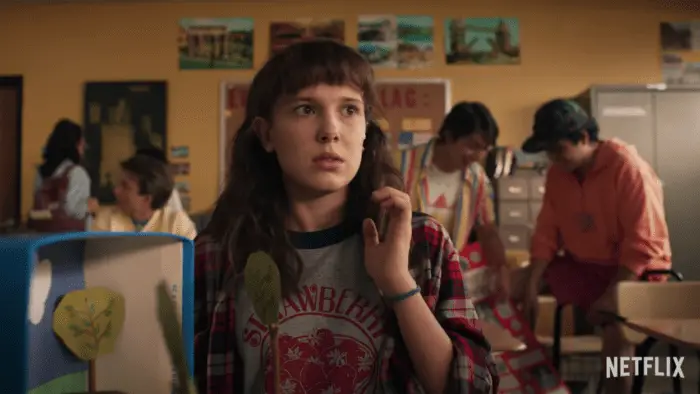 At the center of this teaser is dear old El, and we get a surprisingly comprehensive catch-up with her for only about a minute of footage. She's processing the "death" of Hopper, doing what appears to be a diorama of the cabin where Hopper kept her hidden during the first part of Season 2. She still might not understand people quite yet—she says that she's making lots of friends at her new school, yet we see her being bullied. And most of all, she misses Mike. The first half of the teaser is narrated by El reading out a letter she's written to Mike, counting off the number of days since she's last seen him and promising to come and see him over spring break, claiming that it will be "the best spring break ever."
Of course, this is Stranger Things we're talking about, so as soon as we hear what a great spring break it will be, there's a burst of all the less than great things that our intrepid youngsters are in store for. Most of it goes by in a blur, but there's a few glimpses we can pull out that seem important. Joyce receives a very Russian-looking doll, possibly hinting at her discovery about Hopper still being alive. Will and Mike are caught in the middle of a car chase in a pizza delivery van that we previously saw Will and El getting a ride to school in. There is an attack on the Byers' new home in California. There is a door to some secured underground location in the middle of a desert—nothing is for certain, but I'm just saying that Nevada is between California and Indiana, so it's not out of the question that we might get a stop at Area 51. We have a shot of El looking very distressed during a night out at the roller rink and one of her being held by two men in suits that give off very strong G-Men vibes. There is also a place called the County Line Cafe that looks to be pretty middle-of-nowhere. And most intriguingly, we have what certainly looks like Will Byers standing in front of an explosion—possibly one that he created.
Most importantly, we get a glimpse of Hawkins' resident conspiracy theorist/investigative journalist/relationship expert Mr. Murray Bauman. Murray is easily my favorite character in Stranger Things (just ahead of Robin and Max), and it's good to know we'll get to see him again in Season 4—hopefully in an even bigger role, given that there's almost certainly going to be more involvement on the Russian front.
Secondly, as part of Netflix's wider "Stranger Things Day" celebrations (November 6th was the day Will disappeared in Season 1), we get a second video revealing the episode titles just like we got with Season 3. Obviously, Netflix isn't going to give too much away in advance, but there are several key references and ideas that hint at where the season might go.
"The Hellfire Club" is an explicit reference to X-Men and has already been confirmed to be the name of the Hawkins High Dungeons & Dragons Club. Interestingly, The Hellfire Club was first introduced in Uncanny X-Men #129—the first issue of The Dark Phoenix Saga. It's one of the most well-known arcs in any comic, seeing Jean Grey attain her ultimate potential as a telepath and telekinetic, only to become corrupted by the overwhelming power of the Phoenix Force and leading to her death. Natalia Dyer had previously mentioned in an interview that Season 4 would be "bigger and darker" than what we've seen in the past, so it's not out of the question to think that we could get our own take on The Dark Phoenix Saga starring our own resident telepath—if and when her powers come back.
"Vecna's Curse" is another D&D reference—no matter what Mike and Lucas might say about it being childish, it looks like D&D isn't going anywhere. The monsters of Season 1 and 2 were both named after D&D monsters by the kids, so it's a safe bet that Vecna is going to be the name given to this season's big bad Upside Down dweller—possibly linked to the Creel house that we saw the Hawkins gang investigating in a previous teaser. It could even be a reference to Robert Englund's new character Victor Creel—presumably of said Creel House—who is imprisoned in a psychiatric hospital after committing a grisly murder in the 1950s. With Englund in the role, it would certainly fit in with a darker Stranger Things that's shifting in tone away from E.T. and towards A Nightmare on Elm Street. 
"The Monster & The Superhero" is more ambiguous. My best guess is that it's something to do with a new Upside Down monster and El, the most superhero-like character of the bunch. This could be when we see El's powers return, likely coinciding with the emergence of a new monster.
"Dear Billy" is likely referring to Max's late brother Billy, who died in Season 3 after becoming corrupted by the Mind Flayer. Despite their complicated relationship, it's clear that Max loved her brother, and this episode will likely have to do with her dealing with the grief she's feeling over his death.
"The Nina Project" also doesn't have any explicit reference as far as I can see, but Nina is a popular girl's name in Russia. We all know that the Russians have been trying to open their own gate into the Upside Down and likely have done similar experiments with children to what Dr. Brenner was doing in Hawkins. "The Nina Project" is likely a reference to these experiments, and "Nina" might even be the name of a Russian counterpart to El.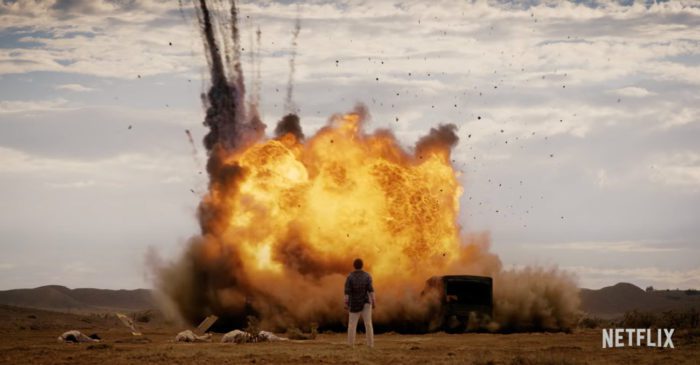 It's unclear what "The Dive" means, but it's possibly a callback to Season 1 when the Hawkins gang needed to make use of an improvised sensory deprivation tank to allow Eleven to search for Will in the Upside Down. Maybe a return to the Upside Down via a similar technique, only one that leads to even deeper and darker corners of the alternate dimension? 
Episodes 7 and 8 are really interesting, as the two of them appear to be linked. "The Massacre at Hawkins Lab" is likely a flashback-centered episode, while "Papa" is what Dr. Brenner had his young test subjects call him during his work at Hawkins Lab. We know that Brenner is still alive even after his supposed death in Season 2. A previous teaser hinted at further exploration of El's backstory, so it wouldn't be out of the question for one of these episodes to mostly be flashbacks. The question is, which one? "The Massacre at Hawkins Lab" should be the flashback episode, given that the lab was shut down at the end of Season 2 and seemed pretty abandoned when Joyce and Hopper investigated the lab in Season 3. But I would hardly be surprised to find that operations of some sort have resumed back at the lab, and if we do get a Dark Phoenix Saga style storyline for El, "The Massacre at Hawkins Lab" could be a reference to a, well, let's just say less than happy homecoming to the Hawkins Lab, with "Papa" functioning as the flashback heavy episode.
Finally, there's "The Piggyback." There's some speculation that it has something to do with Brenner's experiments combining their powers X-Men style, but I'm not entirely sure. My thoughts are that it could be a reference to the concept of piggybacking when it comes to communications, defined as "Gaining access to a restricted communications channel by using the session another user already established." Communication has always played a big role in Stranger Things, from Eleven communicating with the Upside Down, to Robin and Steve overhearing Russian communications, to the letters that El writes to communicate with Mike. It's probably not as simple as piggybacking off of someone else's communications, but it could point towards something "piggybacking" its way into our world through something already established, if that makes sense.
We still don't have a solid release date for Stranger Things 4, only that it will be released "Summer 2022." It's still a bit of a way off, but if these new bits of information are anything to go by, it will certainly be worth the wait.
---
Looking for more about horror TV? We've got you:
"A First Look at Amazon's I Know What You Did Last Summer Series"
"Marianne est Magnifiquement Terrifiante"
"Surreal Estate (S1E1-2): Syfy's Latest Supernatural Listing"
"Them: A Minstrel Living in a Redlined World"
"A Gruesome Look Back at Syfy's Blood Drive"
"Into the Dark: Culture Shock Tears Down Lie of American Dream"