Halloween Kills has been out for a couple of weeks now and Michael Myers is as popular as ever. With its original release date being set for October of 2020, it had fans of the franchise chomping at the bit to see it. I was one of those fans. Since the delay, every little bit of information I could get was taken in as soon as possible. We, the fans, thought we had it bad just having to wait, but Jennifer Trudrung had a much harder wait. Jennifer was a performer in the film and I had the pleasure of getting to talk to her about her time on set and what lead her to film as a whole.
The Start of It All
Our conversation started with the basics, the wheres, whens, and whys. "I didn't actually begin pursuing anything in film until later in life. I was already a mother and everything. It was a spur-of-the-moment situation." That moment was when they were looking for extras for The Hunger Games. Jennifer told me, "I was already a fan of the books. Me and a few friends of mine decided, 'let's go be extras in this movie.'" After her experience with The Hunger Games Trudrung just kept at it. She got a part in another film adaptation of a beloved book series, Goosebumps. "I got to play one of the monsters there and that was a great time and a wonderful experience."
Haddonfield Memorial
Most of us have seen Halloween Kills by now. Even if you haven't seen the movie, you've seen the trailer. We know Michael is back, and Haddonfield is on the hunt. I had to know what it was like to be there. To be in that environment. "It was a very laid-back set. I was originally just there for one day," Jennifer said, "but I ended up being there all week." Going from what was initially a day player to a week's worth of work on a film that anticipated had to be a wonderful feeling. "It was. I'm not sure what happened exactly but I was asked to stay for the rest of the week. I felt lucky getting that opportunity." And her part, though seemingly small, is a very pivotal moment in the film. She's there front and center when things begin getting serious in Haddonfield Memorial Hospital. "We filmed in 2019, so I had to sit on this for two years. It was great when I was finally able to talk about it."
Joining the Halloween Legends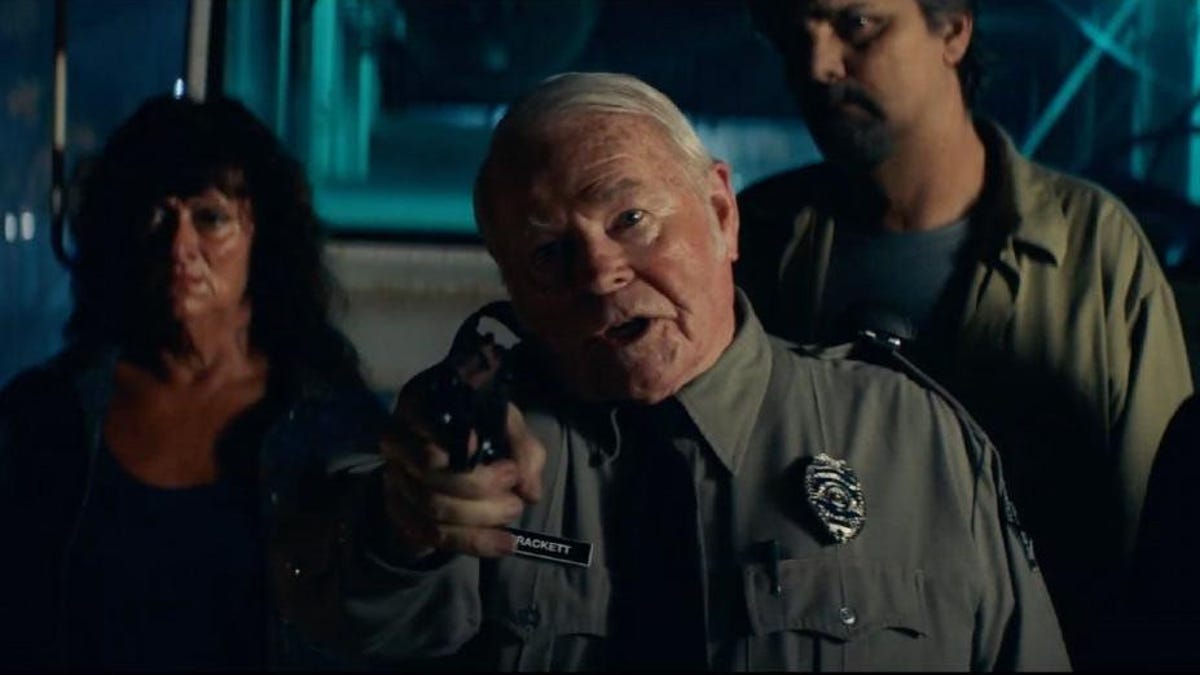 There were a few actors from John Carpenter's classic that returned. Charles Cyphers, Kyle Richards, and of course Jamie Lee Curtis. So, what was it like to be in a scene with the original Sheriff Brackett? "It was amazing. He's the sweetest man. Sometimes there can be a lot of time between setups and you talk to the people you're working with. The star-struck feeling sets in but you don't want them to know that." Being surrounded by so many film and television icons had to be tough on the nerves. "It was at first, but then it just clicks. Yes, they're actors, but you realize actors are people too." I don't know that I would have been able to contain myself knowing Jamie Lee Curtis was just around the corner. "She's amazing. She's a star and an icon. The best thing though is that you can just tell how much she loves Laurie Strode, as a character, and how much she enjoys playing her." And as much as it was a job, it was also a learning experience for Jennifer. "You see all of these talented people that you grew up watching. After that initial moment of wonder, I just paid attention. It was fascinating to see what everyone's personal methods were to get prepared for these intense scenes."
Facing The Shape
It's a Halloween movie, so of course, I had to ask about Michael. "Unfortunately, I wasn't in a scene with the 'real' Michael Myers, but that didn't lessen it in any way." Those of you that have seen the movie will understand the quotations around the previous "real." One of the neatest things I learned while talking to Jennifer was about the appearance of a franchise mainstay. "I've read stuff online and they've got it all wrong. That wasn't a CGI insert. It was practical. Christopher Nelson, the makeup designer for the movie, did all that with prosthetics and then a voice actor was hired."
Original Work
Along with performing Jennifer is also a writer. The first feature she has written that has been produced is The Nest. It's a fun watch with a lot of suspense and will have you keeping a closer eye on any stuffed animals you have lying around. The Nest stars Dee Wallace, another Halloween franchise alum and an icon in the horror genre. Jennifer had to remind me that she was Elliot's mom in E.T. because I immediately associate Wallace with horror. Along with Halloween Kills and Goosebumps, you can also look for Jennifer Trudrung in The Vampire Diaries, Homeland, and The Night Courier.