There's a lot to love about the Halloween season: pumpkin carving, visiting haunted attractions, horror movie marathons…the list goes on and on.
But there's one thing about the season that seems to be taken for granted: the music. You have the classics, of course—most notably Monster Mash—but Halloween has nowhere near the volume of dedicated music that you have for a season like Christmas.
I love Halloween-themed music, and there is quite frankly not enough of it. It's a woefully under-appreciated niche, and even worse, it's a woefully under-appreciated niche that I like. There are a few artists in the genre that consistently put out excellent albums—Midnight Syndicate and Terrortron to name a few—but it's still a genre that doesn't have anywhere near the amount of recognition that it deserves.
So for this Halloween season, I would like to share a little bit about one of my favorite Halloween-focused music artists, a UK soundtrack producer known as Sam Haynes. For the past nine years, Haynes has released an annual Halloween synthwave album—the new release of which has quickly become one of my favorite parts of the Halloween season.
Drawing inspiration from classic horror films and their soundtracks, Haynes' style of music is a thoroughly enjoyable mix of synthwave and ambient songs that frequently mixes in samples from old horror movies in a similar fashion to what Rob Zombie has been doing for years.
Now, let's get to some of the highlights, shall we?
Darkwaves (2019)
As I'll explain, 2018's Season of the Witch is creeping further and further up my list, but my personal favorite out of all of Haynes' albums is 2019's Darkwaves.
Each of Haynes' albums has a loose theme or motif—don't worry, it's nothing as serious as the old Pink Floyd or Who records where you'd get a whole narrative to try and follow along with, just a particular flavor for that year's batch of songs. The theme of Darkwaves is '80s sci-fi, and it's a theme that Haynes hits the ground running with. The album is neatly split into two halves: the first half is the '80s inspired dark synthwave tunes while the second half is mostly the more ambient pieces, but even the synthwave songs are filled with plenty of ambient space and instrumentation—and the ambient ones often have a surprise hiding within.
"1984" pairs pulsing beats and synths with a surf-style guitar, "Night Rides" brings to mind a drive across a neon desert, and "Ghosts In The Machine" is a slow burner that rumbles along before finding the ghost of a beat near the end. These songs bring to mind the neon
Darkwaves absolutely nails its '80s feel—it's an album that would feel right at home alongside the Terminator and Blade Runner soundtracks, but with an eerie twist to its songs that ensures that they stay firmly within the Halloween aesthetic.
Season of the Witch (2018)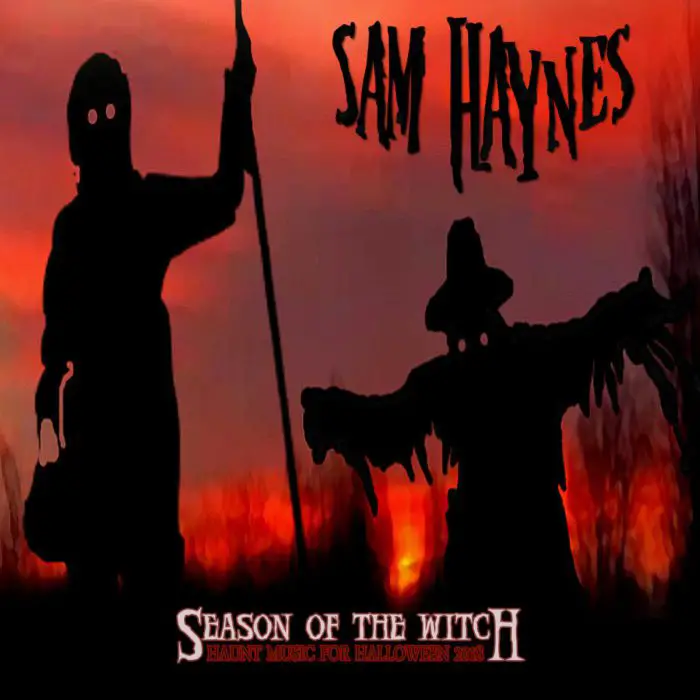 For a while, I had considered Darkwaves to be my undisputed favorite of Haynes' albums, but recently Season of the Witch has crept its way to almost be at the top of my list.
Haynes consistently excels at emulating iconic Halloween pieces and sounds without needing to explicitly reference them, and Season of the Witch is a particularly strong showing of this trend. "Ghost Keeper" pulses with a frantic synth riff where you can practically hear the echoes of John Carpenter's iconic Halloween score "Demon House" ticks along like a sinister grandfather clock about to strike thirteen, while "The Clowns of Halloween" matches the drumroll of a three-ring circus with a choir that is constantly teasing a calliope that never materializes.
If I had to pick a word to describe Season of the Witch, it would be "organic." The album has a mood about it that brings to mind the haunts and hayrides that are frequently found in the midwest area—or, more ominously, as though you've found yourself lost somewhere in the dead of night with something lurking just out of sight.
The Incredible Dark Carnival (2015) and Something Wicked (2016)
Haynes' 2015 and 2016 releases The Incredible Dark Carnival and Something Wicked are actually how I first discovered their music. I had just read Something Wicked This Way Comes for the first time, fell down a Wikipedia rabbit hole—as one does—and read about an independent artist who had released two albums inspired by the book, which is how I wound up here.
The Incredible Dark Carnival and Something Wicked can almost be viewed as companion pieces to one another, with Dark Carnival bringing to mind more of the explicit dark carnival mood while Something Wicked brings to mind more of the book's more open, ambient atmosphere.
Both albums are filled with strong tracks. Standouts of Dark Carnival include "At Midnight," which builds up its mood with strings, harpsichord, and organ for just shy of five minutes before a skittering techno beat comes out of nowhere to carry us home; "Switchblade Sideshow" which rides a breakneck beat through a weird trip into the dark corners between carnival tents; and the somber funeral march of "Death's Minstrel" which follows immediately after, hitting the brakes without missing a beat.
Then, on the Something Wicked side of things, highlights include tracks such as "Dark and Deadly" which makes effective use of chimes that almost feel reminiscent of the Exorcist theme; "Burial" which pulses with an ominous undercurrent while the instruments fade in and out; and "Terror Trail" that makes use of high pitched strings to build frantic eerie atmosphere.
The dark carnival concept is something that has become a staple of Halloween since Bradbury popularized the concept with Something Wicked This Way Comes, and that concept is captured brilliantly on these two albums.
Final Thoughts
My favorite aspect of Haynes' music is how universally "Halloween" it feels; these are songs that would feel right in place at either a Halloween house party or a local haunt—or even in your car on one of the long drives that you usually need to take to get to the good haunts that you find out in the middle of nowhere.
As I've already said, Halloween themed music is a niche that is nowhere near as big as it should be, and while most of the artists who dare to venture into that niche are worth a listen, my personal opinion is that Sam Haynes is one of the best there is in the genre—and definitely deserving of a much greater audience.
So whether you're at home or out having adventures in the night, Sam Haynes has the sinister sounds you didn't know you needed for the Halloween season.