I love slashers. There's just something about the visceral feeling that I get from the plausibility of the situation actually happening in real life that can't be matched by any other subgenre of horror to me. That's not me saying that movies like The Thing, Alien, or IT aren't scary. They're just not as likely to happen in the real world as, say, a person going around killing people. In fact, we see that very thing every day in the real world. That's what scares me, personally, the idea of our lives being taken by another everyday person is, what I believe, the most common fear to have.
That being said, does Seance prey on that fear? Well, yes and no. Seance is a slasher that tries to set itself up as a supernatural-slasher but never quite pulls the wool completely over our eyes before pulling it away to reveal a normal, sort of standard slasher. I want to note here that being a standard slasher is not a negative thing in my book—it's just an observation on my part. Now, let's try and dig a little deeper into Seance so you can get my full opinion on this slasher.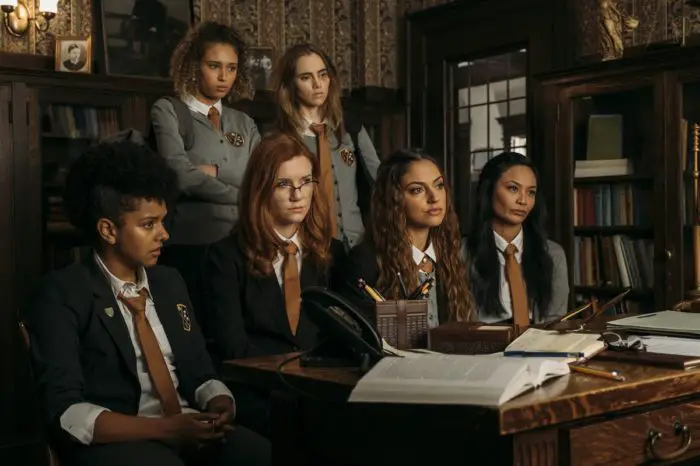 Seance is written and directed by Simon Barrett (You're Next, The Guest). It stars Suki Waterhouse (Assassination Nation, The Divergent Series: Insurgent), Madisen Beaty (Once Upon a Time… In Hollywood, The Curious Case of Benjamin Button), Ella-Rae Smith (Into the Badlands, Fast & Furious Presents: Hobbs & Shaw), Inanna Sarkis (Boo 2! A Madea Halloween, After Franchise), Seamus Patterson (Channel Zero), and Marina Stephenson-Kerr (Channel Zero).
Seance starts off fairly standard with a classic prank gone wrong situation which leads to the new girl, Camille (Suki Waterhouse), arriving at the all-girls prep school that the movie takes place at. Things start off a little rocky as Camille gets into a fight with Alice (Inanna Sarkis) during her first day, which lands all of the girls in detention. While in detention, one thing leads to another, and the girls end up doing a seance (let's be honest, who didn't do seances while in detention?). Later that night, one of the girls dies, and voila, slasher plot.
Overall, I think Seance does its job as an entertaining 90-minute slasher movie. The acting here is actually not just passable but actually pretty good. Suki Waterhouse does a great job of having sort of a brooding presence throughout that really makes you wonder what her motives are whenever she's on-screen, and I think it amplifies the rest of the movie.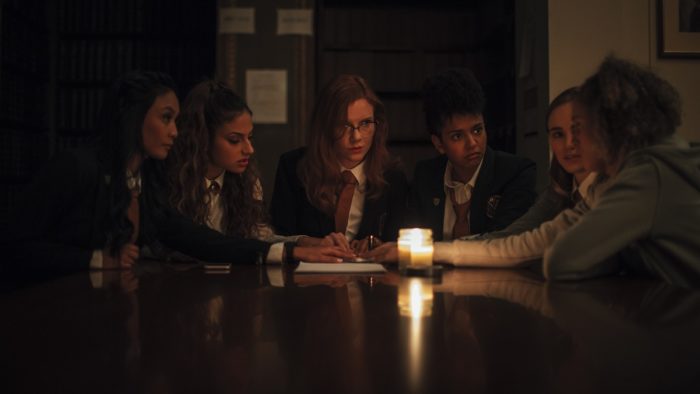 Also, I'm pretty sure it's due to the setting, but
Seance
gave off some
Cry Wolf
vibes to me. It really does have that post-
Scream
feel to it that a lot of late '90s and early 2000s slashers had, and I can't quite put my finger on why, but it's definitely a positive thing for me as I enjoy that era of horror. The overall mood and atmosphere of the film are fairly consistent, but never really an addition to making a scene any more effective—it's mostly just there as an ingredient to the overall recipe going on here.
I think maybe the biggest downside of Seance is how predictable it is. I called quite a few events happening before they happen just because of the nature of their setups. On another note, the movie as a whole felt sort of…small? It could be due to budgetary constraints, but also I think due in part to the way some scenes are shot. The camera feels maybe a little too close to the action sometimes, and it gives the scenes a very small, constrained, and restricted feel that sort of pulls you out of the moment.
That being said, although most of the kills are a quick snippet, the last two kills of the movie are actually great. It makes me wish that all of the other kills in the movie had that much punch, but at the same time, maybe it was on purpose. The feeling I got when I watched those last two kills might've been lessened if I was spoiled throughout the rest of the film, so I can be happy with what I got here.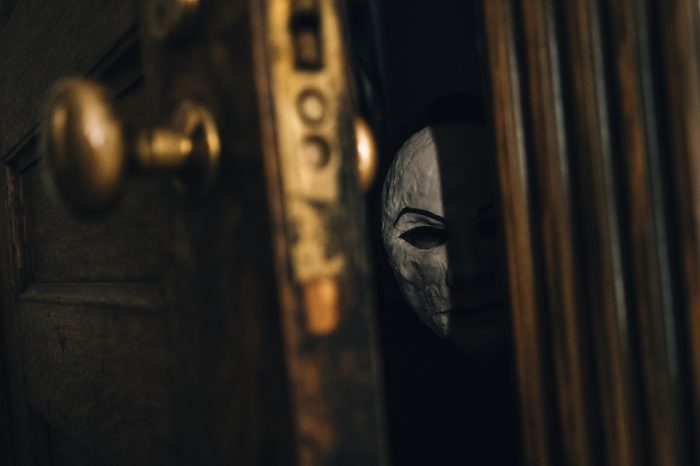 Although they try to set this movie up as a supernatural sort of slasher with the seance and all, I think it works best when it deters from that aspect and just felt more like a traditional slasher. I'm not of the opinion that you need to dress up a slasher too much as something it's not—just be free and be a normal slasher. I promise you that it'd have just as much impact that way.
So at the end of the day, yes—Seance does do a fine job at keeping you entertained for the 90-minutes or so that you'll be watching it. I do think it's worth watching if you're a slasher fan that can just turn your brain off, take something for what it is, and have some fun with it. Actually, at times, it feels like Mean Girls meets Scream, so there are some pretty good moments in there. If you're going in with the most critical of minds, I can see why you'd be a little disappointed in Seance, but when it comes to slashers, you just have to have fun with it.
So go in, turn off the critical part of your brain, and have some fun. Seance isn't an all-timer, but that's okay, it's still a fun 90-minute ride that this reviewer can recommend you check out.
Score: 6.2/10.
Seance premieres on Shudder on September 29th.