Shudder's Creepshow is back for the second time in 2021 with another new season of unsettling moral fables and twisted storytelling. As with the previous seasons, Creepshow is unveiling six new episodes, the last of which airs just days before Halloween. A pretty good lead-up to All Hallow's Eve, I'd say.  
Before we dive into this week's episode, let me warn you there will be spoilers. So, if you want to tempt yourself with what's ahead, remember: you've been warned. 
Starting with the usual Creepshow introduction of the Creepshow Creep (apparently nicknamed "Raoul" according to IMDB) flipping through the opening pages of the comic book, I noticed something I never have before. The first page the viewer sees in the comic contains a list of potential upcoming titles of Creepshow stories. This preview may have always been there, but three other tales were outlined as I confirmed the detail with this week's "Mums" and "Queen Bee," along with next week's comic book revealed titles at the end of the episode. According to the list in the book, upcoming episodes could include "a blood-lusting monster," a prison execution, and a sacrificial god. Though I can't say for sure that this isn't just a fun bit of nonsense aimed to derail obsessive viewers, if those are upcoming stories, then bring it on! A pretty good easter egg if you're interested in knowing what's coming next for the series.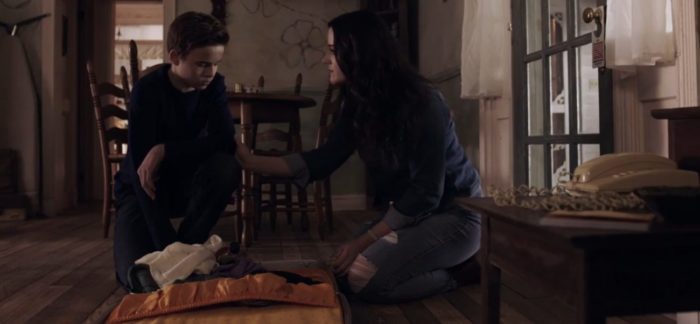 "Mums"
The frame brings the comic book cell into focus, and the episode springs to life. "Mums" begins with a sure-handed bit of nuance that sees Jack (Brayden Benson) out feeding pigs. Enjoying the lifestyle of a young boy growing up on a farm, Jack witnesses the cantankerous energy of a man covering rifles in the back of his pickup truck before driving off the property in a huff. The man is unknown to us, but it's evident that events are already happening off-screen. Jack and his mother, Bloom (Erin Beute), speak about leaving in the next scene. Bloom presents it to Jack as an adventurous experience to meet his grandmother who is about to turn one-hundred, or as Bloom puts it, "older than television." The excitement is quickly marred by the return of the pickup truck driving man, Jack's father Hank (Vacancy's Ethan Embry), who magically seems to arrive while the two are about to leave.  
This story highlights how brilliant teleplay is written. It's a fine line director Rusty Cundieff (Tales from the Hood) tows in relying on the audience to piece things together in a film. Do it too little, and you're explaining everything with finite details your audience may find boring, but rely on it too much, and your audience is lost. It takes excellent performances, superb editing, excellent directing, and a brilliant script to achieve what transpires at the start of "Mums." Joe Hill's story turned teleplay by showrunner Greg Nicotero and David J. Schow (The Crow) is remarkable in how viewers notice and react to the setup, especially when we've barely met the characters. It literally takes three minutes to make us care about what happens to these characters. It's moments of realization like this one that allow me to hold this show in such esteem and look forward to it week after week.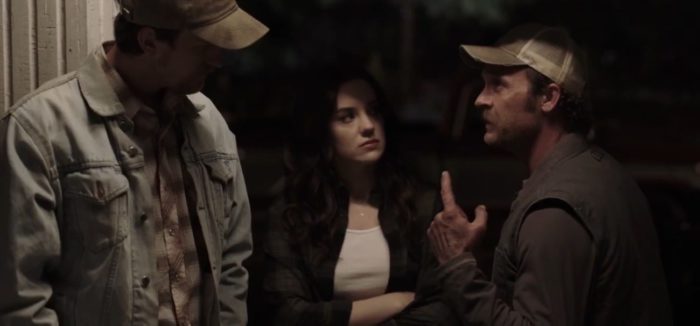 If you've seen Creepshow before, then you know the moment that Bloom is ripped from Jack—framed to be back on the bottle, so Jack doesn't ask any questions when his father ushers her into his pickup and says he's bringing her to get help—that we won't be seeing Bloom among the living again. While Bloom is escorted by Hank and his lackey, Connor (Lowrey Brown), to meet her fate, Jack is made to stay at the house with Beth (Malone Thomas), who we can never quite get a handle on. It's apparent that Bloom trusts her, asking Beth to look after Jack as she's pushed into the pickup, but it doesn't become overwhelmingly clear that Beth is aware of the plot against Bloom until we see her crying and shaking in the kitchen. I wasn't expecting any emotional response from these characters. Still, something is unsettling about it, and perhaps it's because there's the underlying feeling in Jack seeing Beth cry that sparks the intuitive knowledge that his mother isn't coming home again.
The pace of "Mums" is particularly notable in the first half. It isn't ostentatious but more subtly complex and dramatic. Its themes resemble the poignancy of everyday life in America and the ushering in of a new generation unable to escape the politics and zealousness of their parents. Jack's father nearly admits as much as he lays "The Pale Horse's Cookbook" down in front of fellow "confederate" member Connor with the idea of grooming Jack with the same hate-filled, supremacy-laden concepts. I believe "Mums" could work well as a full-length feature someday. The first half may unfold at an incredible pace. Still, you can see where underscored drama can be achieved through the story's horrifying societal aspects and, as the episode becomes less abstract and more direct, the revenge that follows too. 
Among Bloom's possessions, Jack finds an envelope filled with seeds and, after cutting his fingers and bleeding all over them, decides he's going to plant them in his mother's garden. Unbeknownst to him, her body is decaying in the soil underneath the garden. The titular "Mums" come forth rather quickly as the episode hastens the story and portrays Jack needing to spill more blood for the plants to flourish. "Feed Me Seymour" races through your mind as Jack continues to spill his blood daily for the plants, somehow connecting with them as they blossom. When a pig becomes tangled in the plant's roots, Bloom reveals herself in a fearsome combination of being intertwined within the plant. The costume and creature effects remind us that Nicotero knows how to reanimate a corpse with the same articulate detail shown weekly on The Walking Dead. Bloom whispers something in Jack's ear, and the remaining minutes of the episode hang on the brutal kills of a mama's boy, whose love transcends the burial plot before him. 
With all Creepshow stories, the bad guys face their punishment of glorious retribution, and revenge is sweet for the viewer. I loved this tale of revenge and a father underestimating his son. My main issue with this story was that it feels too big for the small screen, and the beauty in this balance, while ultimately satisfying, can't be fully realized in the barrier of a twenty-four-minute sequence. I still think it's one of the best stories the show has put forth. The thing is, I say that a lot. I suppose there's some bias in how big of a fan I am of the show, but I also attribute that to the way the show tells these tales through various writer and director perspectives who craft captivating concepts into such small periods.  
"Queen Bee"
"Mums" gives way to Creepshow's next tale of motherly love, "Queen Bee," that finds a trio of popstar-obsessed teens gushing OMGs over the news that their idol is imminently about to give birth. The details of Regina's (Kaelyn Goebert-Harris) whereabouts are being kept from the public, but Regina's number one fans Debra (Tell Me Your Secrets' Hannah Kepple), Trenice (Olivia Hawthorne), and Carlos (Nico Gomez) serendipitously happen to know the location of where the singer's baby is being delivered. Debra's mom (Monica Louwerens) was among the nursing staff forced to clear a floor in her hospital so that Regina could bring in a private team of doctors.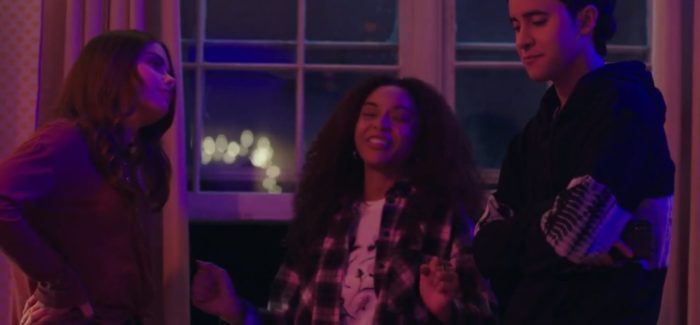 The kids spat over the "how cool would it be" scenarios and eventually decide to just go for it. I mean, it would be pretty lame if they stayed home and nothing happened, so of course, they decide to sneak into the hospital and get a glimpse of "Queen Bee's" little prince or princess. However, the argument that transpires throughout the episode is one about respecting people's privacy. As kids and teenagers, we become inundated by the gossip culture of Instagram, Facebook, TMZ, and People magazine. While Hollywood stars and talented singers have wondrous stories, our culture tends to inflate the famous to godlike status. Realistically, they're doing their jobs just like you and me. They want you to be intrigued. That's what keeps the hype train going and promotes them into booking new gigs. Though fame may be a double-edged sword, and there are plenty of stories of overzealous fans feeling the wrath of the famous to prove that, I believe that everyone has a right to privacy.
Stealing her mom's hospital badge, Debra and company show all who want to know how to break in someplace and how to loop a camera with a selfie stick and a cell phone. There's no doubt in my mind that it wouldn't work based on arm instability alone. Still, it's the most inventive instance of over-simplified photography-based crime since that guy from The Fifth Element wore a large picture on his head and tried to get into Bruce Willis' futuristic apartment. Sometimes you just have to admire the imagination.  
The kids sneak up to Regina's floor, but something feels off. Regina's staff has a particular look about them. Maybe it's the way they walk like mindless, hive-minded drones, or it could be how they resemble The Things with the Glowing Green Eyes (a festival short from earlier this year). The friends circumvent the staff and stand in an isolation room, beholding an astonishing spectacle. Regina reveals her true form to be the most gigantic murder hornet you've ever seen. This part of the episode is titled "Queen Bee," after all. If you were expecting it was only a play on Beyonce's Queen Bae, you should probably watch more anthology horror.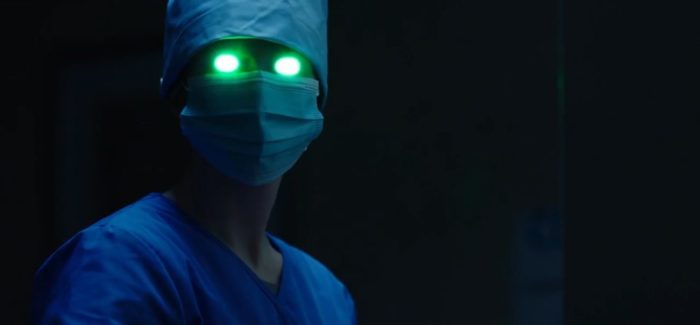 It's elegant conjecture for the audience to surmise the direction of Erik Sandoval and Michael Rousselet's writing. However, if you're unaware of what the story is about, it may be difficult to notice the fun the team behind last season's "Dead and Breakfast" are having. Providing an overt amount of foreshadowing in the lead-up to meeting Regina, Trenice uses phrases like "bug-out," and the radio plays Regina's song, "Hungry for You." Even back when the kids are sitting in Debra's bedroom, they describe Regina's songs as "hypnotic." It makes a second viewing of the episode more entertaining when you begin to pick up on these enjoyable quips. The transitional scene also caps off with a Halloween II reference, with the group sneaking into the Haddonfield Myers Hospital.
Carlos decides to snap a picture of the buggy baby-mama, and the flash gets the group noticed. A sound she's giving off is temporarily interrupted, and the doctors seem to snap out of their green-glowing gaze. The moment is short-lived, and when the sound returns, Carlos and Debra become one with the hive. Trenice still has her earbuds in from the first scene, which makes her immune to Regina's high-frequency hypnotism, and she quickly moves to dismantle Regina's hold on her friends. It's always good when a friend breaks you out of the cycle of pop music by inserting cotton balls in your ears.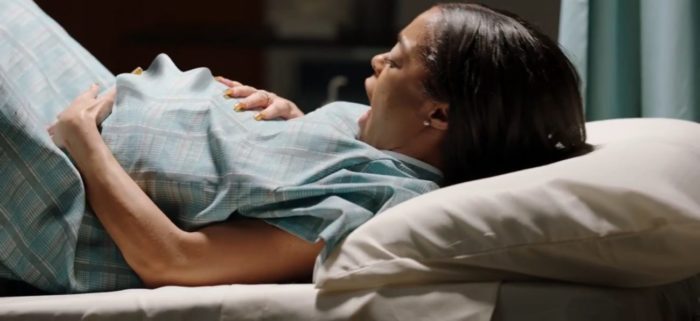 "Queen Bee's" finale is a bit satirical. Debra and Trenice attempt to flee the hospital, but Debra opts for the elitist allure of what the Queen can offer her, proving once and for all she is Regina's number one fan. It reminded me a bit of the end of Futurama episode "Fry and the Slurm Factory," where Fry turns on the professor to allow the addictive soda Slurm to continue production. Both episodes feature many of the same themes, including bombshell reveals that include large bugs, though obviously, Creepshow will end on a brutal note in Debra's opportunistic betrayal. Directed by Greg Nicotero himself, "Queen Bee," is a creature feature lover's dream. Lovingly incorporating the absurdity of Roger Corman's The Wasp Woman and providing the perfect setup for anyone to continue into 1978 bee-based ecological disaster movies The Bees or The Swarm, "Queen Bee" is a fun addition to the Creepshow compendium. 
These unique and entirely different approaches to the themes of a mother's love introduce the third installment of Creepshow. While I thoroughly enjoyed the storyline of "Mums" and how it plays out, I found satisfaction in both stories' inventive creatures. According to the comic drop that concludes the episode, next week's stories include "Skeletons in the Closet" and "Familiar."  The episode is already getting buzz from our own Sarah Sigfried, who discussed it with Greg Nicotero last week during a roundtable interview. Sarah says, "There are many nods to several horror franchises using so many wonderful props," and that "'Skeletons in the Closet' was my favorite so far in Season 3." 
Creepshow premieres on September 23 on Shudder.