The cult classic Alan Wake is getting a 4K remaster, announced by Remedy Entertainment Creative Director Sam Lake on the Remedy fansite The Sudden Stop. The Alan Wake Twitter made its first post on September 7th, simply saying "Awake," which quickly grew and now has over 37K likes.
Lake goes on to thank long-time fans for their support over the last 11 years and promises the game will be the same experience, with improved visuals and cinematics. It will be available for the PC via Epic Games Store, Xbox consoles, and for the first time, PlayStation—both PS4 and PS5.
The game will also include the two DLC packs: The Signal and The Writer. There will also be commentary from Sam Lake.
Mysteries are magical to me, they hold a promise, and I am often happier with that than a final answer. This is what we as a team, and I as the lead writer of Alan Wake, set out to create for you a long time ago. —Sam Lake
Alan Wake was originally released for the Xbox 360 in 2010 with a PC version a few years later. It stars a writer who is summoned to the mysterious town of Bright Falls as he becomes entangled in a mystery far beyond his imagination with a blend of supernatural, humour, and horror. Alan uses a combination of weapons and a flashlight to fight the "Taken," humans, animals, and objects corrupted by darkness.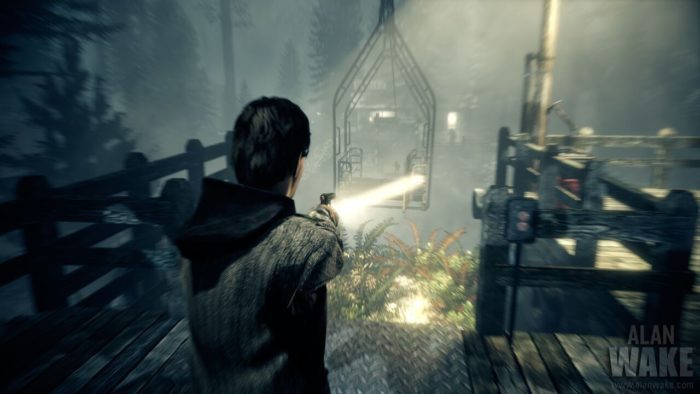 In addition to the game, a live-action web series titled Bright Falls, a prequel set before Alan arrives in the town, was made available before the game's release online and on Xbox Live service. The novelization of the game was written by Rick Burroughs. A stand-alone game for the Xbox Live Arcade, Alan Wake's American Nightmare, was released in 2012 and took more of a comedy-horror route to its story and gameplay.
While Alan Wake had poor sales upon release (it dropped the same week as Rockstar's Red Dead Redemption, which sold over 5 million copies in its first three weeks–a tough title to compete against). The game reportedly was the second-most pirated game of 2010 and, if downloadly illegally, Alan would wear a pirate's eye-patch.
Unfortunately, due to lapsed music licensing, it was removed from the Steam and Xbox stores in 2017 but thankfully was returned after Microsoft solved the issue.
While not a huge success at the time, the Twin Peaks-inspired tale has gained many fans over the years and even had a full crossover in Remedy's newest title, Control. The AWE Expansion stars Alan Wake and fits in quite well with the world-bending shooter.
Control follows Jesse Faden as she investigates the disappearance of her brother and a secretive government agency called the Federal Bureau of Control. The FBC secures and contains otherworldly objects and other strange phenomena. Heavily inspired by the SCP Foundation and government conspiracies, it is Remedy's best-selling game to date. A spin-off title is in the works tentatively called Condor and will play as a co-op shooter.
An Alan Wake sequel is reportedly in the words with Epic Game Store as well.