I attended Mad Monster Expo in Charlotte/Concord, NC over the weekend, and I had an absolute blast! Upon my arrival, I was greeted by two Ectomobiles (from Ghostbusters) and a fleet of hearses. I talked with the owner of the older of the Ecto vehicles. In case you were wondering, the fuel economy is four to seven miles per gallon for a 1959 Cadillac Hearse combo.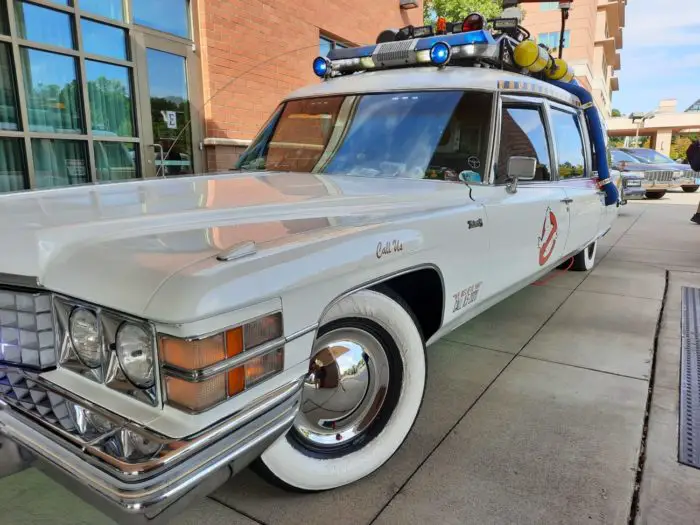 Greeted by a Fleet of Hearses
Ecto 1 was a vintage Cadillac hearse/ambulance combination because back in those days, your ride to the hospital could also be your ride to the cemetery. The Reaper's Rides Hearse Club displayed a range of hearses. They allowed me to climb in the driver's seat and get a sense of what it would be like to drive one. I prefer compact vehicles and Jeeps, so this felt like the Titanic to me.  I looked in the back of one of the hearses and crawled into the back to have a closer look. This view is seldom seen by most living beings. I have a special interest in hearses since I have strongly considered becoming a funeral director.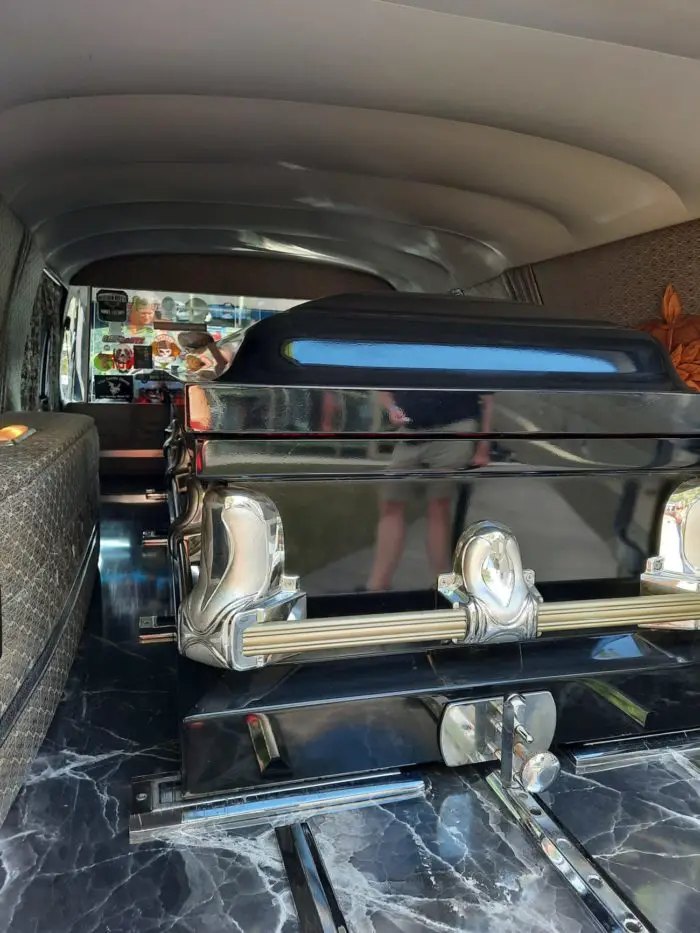 Embassy suites by Hilton hosted this expo. This hotel was a good setting with plenty of room for displays, guests, and vendors. The vendors' area was in the ballroom, and there was a lot of room for displays and social distancing. The booths ranged from merchandise such as DVDs, posters, T-shirts, and jewelry, to promos for independent films, makeup special effects demonstrations, and so much more! Special guests included Meatloaf, Bonnie Aarons (The Nun), Shawnee Smith (Saw franchise), and many others.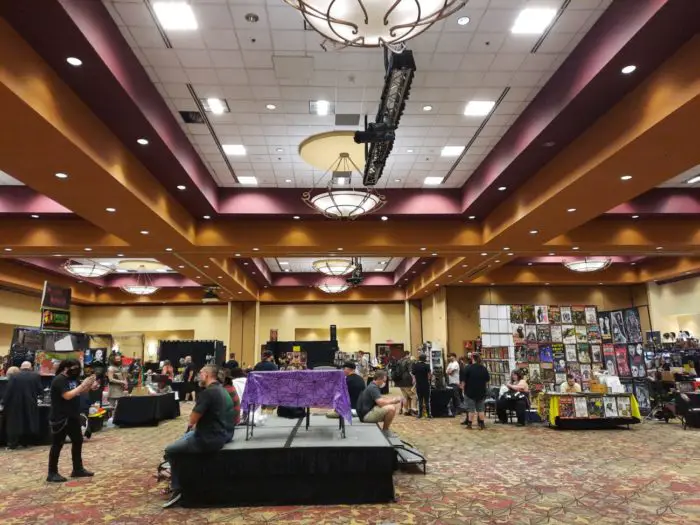 Monsters, Merchandise, and Mayhem, Oh My!
The costume contest was very good, with many creative entries. A very creative impression of Carrie White won. Her costume included a bucket of blood being dumped over her head, but by the magic of special effects, it was suspended in mid-air, attached to her hairdo. Instead of pig's blood, red jewels and red tulle cascaded over her head and onto her prom dress. Other notable entrants were the miner from My Bloody Valentine, some machete-wielding Jasons, some final girls, and a group costume of Scream characters. There was a very elaborate floral costume from Midsommar. Flowers covered the elaborate costume. Those entrants reported the costume took three months to complete.
Scares that Care held an auction and on inspecting their table of goods to be auctioned, and I found two black and white autographed photos. One was of Lon Cheney Jr., and the other was Boris Karloff. I'm sad they didn't ride home with me. Bela Lugosi's autograph was at Hollywood Joe's booth. The  Universal Monsters were represented at this event, however small the representation was. At least two haunted house attractions were looking for talent and having auditions soon. I talked with several podcasters, special effects makeup wizards, and others who can bring special effects to anyone who has basic household items and ingredients. Scareowinds was also hiring! The theme park needs seasonal care actors for this Halloween Season.
What the Heck Is Scareoke?
There were several events around the hotel during the convention. The Expo hosted several workshops about special effects, the haunted house entertainment business, and some panel discussions. One after-hours event was the "Scareoke" contest. It was like regular Karaoke but with monsters and other mythical creatures singing. Some folks who were traveling for the holiday weekend and were not attending the convention happened upon the bar and the monster Karaoke. Watching their reactions to the convention was almost as much fun as the actual convention. I had intended to watch the film screenings scheduled for later. However, I don't often get to see monsters spontaneously line-dancing to "Thriller," so I had to stay.
Hopefully, the Mad Monster will be back in February 2022 with their annual Mad Monster Party. We have missed conventions so much, and it was amazing to be able to attend one. The Charlotte, North Carolina area hosts this convention, an oddities expo, and several other horror and sci-fi conventions and expos. In my experience, the horror community has been a friendly group of people.
…Never mind that they may carry machetes sometimes.