I've mentioned it before, but I'm not the biggest fan of vampire films. Werewolves though? Something about them just hits different. While vampires have great films featuring them every few years, their counterpart isn't so lucky. The last one I can remember is the 2010 remake of Wolfman, which was forgettable at best. 
A vast majority of the horror I enjoy (body horror in particular) is transformative; I love the emotional and physical changes a character goes through. It feels inherently queer—the outcast learning to accept themselves and take control of their lives, often fighting back against oppression.
So I was already on board for Teddy, the story of a French teenager becoming a werewolf. Directed by twin brothers Ludovic and Zoran Boukherma, the film was part of the official 2020 Cannes selection. This is the duo's first feature film although they have directed several shorts. I'd not heard of them before but I feel they are at the beginning of a successful career. 
Teddy is the local delinquent. He lives with his disabled aunt and homely uncle, owns many pairs of the same shirt (a flaming Chinese dragon–very cool), and annoys the local mustachioed cops on the regular. He has dreams of buying a plot of land and building a house with his girlfriend Rebecca, a soon-to-graduate high school student. Money's not great and unfortunately working at a local massage parlor (called Ghislaine's Tender Fingers) is pretty terrible. The titular Ghislaine sexually harasses Teddy and the customers are jerks.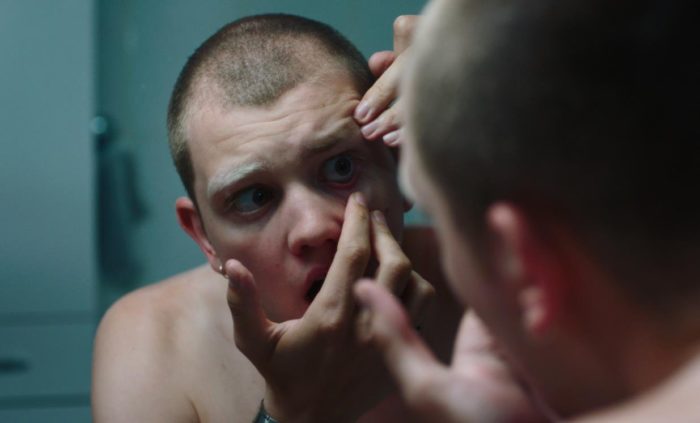 After being bit by what we assume is a wolf, his body starts changing. It's always interesting to see variations on these kinds of scenes; Teddy features an uncomfortable one involving a tongue and a razor. You don't need to be An American Werewolf In London to have an effective transformation. Clearly, the budget here is low and the werewolf effects reflect this but they don't feel cheap, instead, complimenting the mundanity of life in this little French town.
Of course, it's never really about lycanthropy. Like in Ginger Snaps, the werewolf transformation is about changing from a teen to an adult, with the difficulties it presents. Change can be painful, both emotionally and physically. I love that in horror we can explore these ideas in unique ways.
Teddy is not a bad kid by any means, he wants to raise kids that will grow up smart and finish school since he didn't. It's the circumstances surrounding Teddy that make things frustrating (particularly the clear divide of wealth between him and Rebecca's core group of friends). Recognition and acceptance are so important in our lives that some resort to extreme measures to be noticed without them, even if the attention received is negative. You can feel how hard Teddy is struggling not to snap at people. Anthony Bajon does a fantastic job here as the lead, riding the line from disgruntled to adorable.
Coming-of-age and horror blend perfectly here. It's also quite funny, with awkward humor that never crosses the line to uncomfortable. Once Teddy figures out what's happening to him he actually Googles "how to cure werewolf," both accurate and hilarious to the situation. 
One aspect I liked is while most werewolf films have zero characters suspecting a supernatural element, Teddy's uncle is instantly on alert, even pointing a rifle at Teddy for eating meat at breakfast. There is an actual wolf on the loose eating local livestock and it's not until Teddy suspiciously appears several times near the dead sheep naked and bloody that people take notice.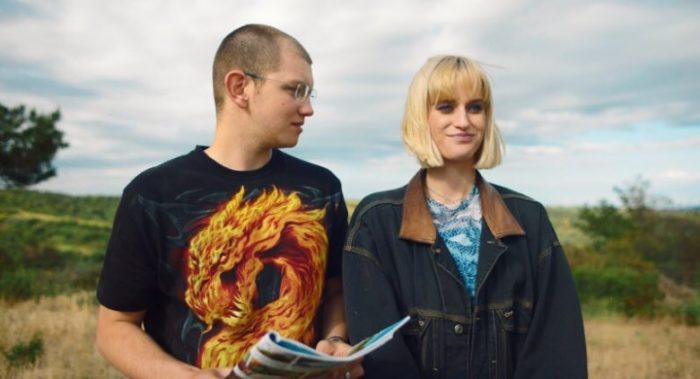 The breaking point for Teddy is being dumped out of nowhere by Rebecca. She throws away all her metal posters and plainly states "I listen to rap now." Bummer. The first breakup always hits the hardest.
Teddy gives in to both his anger and lycanthropy. It has this "well, my life is going nowhere, might as well" feeling that culminates with an explosive and tense final act like a boyish French Carrie. 
The horror side of things is fairly light and while that's not a detractor for me, it might be for some. Don't go in expecting non-stop gore. Cinematography is great, using the natural hilly landscape of rural France.
Overall Teddy is an enjoyable film that made me smile. The older I get, the more I appreciate smaller projects and what filmmakers can accomplish. You don't need a massive budget to have fun. Horror has proven that countless times.
Teddy is set to be released as part of Shudder's Summer of Chills lineup which includes several Shudder Originals and Exclusives. Titles already available include Son, Caveat, and George A. Romero's The Amusement Park, considered a lost film until recently. August premieres will include the acclaimed Jacob's Wife starring Barbara Crampton and Mosquito State from Polish-born director Filip Jan Rymsza, known for his work on completing Orson Welles' final film They'll Love Me When I'm Dead.
Teddy will be available on Shudder on August 5th.