Three young friends who have a vendetta against an elderly woman, plus a fourth (the new kid in town), find they've underestimated her when she unexpectedly names them as beneficiaries in her will. There's a catch, of course: each of them is obliged to make a phone call, and it's not exactly going to connect to their favourite person. The Call is all about old skeletons that these protagonists face during one spooky night, and it's a new Shudder Exclusive.
Interestingly, there's no central character as such in The Call, and when I've seen films with several protagonists (such as the Final Destination films), there's often been a "place bets now" game to be played around who might make it to the end. These four are all flawed in different ways, and each is trying to compensate for those flaws to their peers. Apart from the fact that all of the cast is way beyond their teenage years, they all seem to fit too: Chris (Chester Rushing, Stranger Things) is the new boy who's fallen in with the first crowd that would take him; Tonya (Erin Sanders, Zoey 101), the only girl in the group poses much tougher than she feels; Zack (Mike Manning, Days of Our Lives), her sometimes-boyfriend, is the protector and leader of the group; and then there's Brett (Sloane Morgan Siegel, Gortimer Gibbon's Life on Normal Street), Zack's brother, and the youngest and meekest of them all.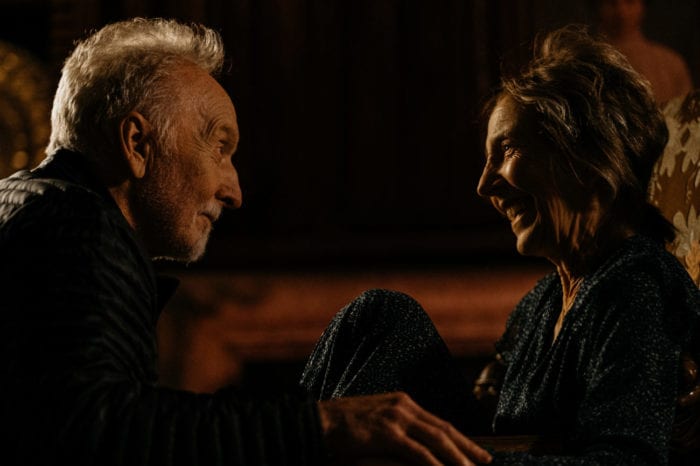 It wouldn't surprise me from those actors' credits if the target audience were people just growing out of their teenage years. This could be entry-level horror in that the plot is not demanding, the themes are not too complex, and there's minimal violence. Yet it's largely humourless, and certainly creepy enough and even surreal in places, so I would suggest it's not a great fit for those who are still adolescents. That style works well, making the audience pay attention to see if there might be strange objects in the mirrors or lurking in the shadows, largely thanks to Pablo Diez's cinematography and Samuel Joseph Smythe's atmospheric score. Production quality, in general, is rather good, with some slow-motion views across a carnival near the start and then plenty of detail inside the inhospitable house. Actually, I wish they'd done more with the carnival, but it was only there to get the friends together and a little bit of foreshadowing.
If those four young people were carefully chosen to draw in a young crowd, then the two actors playing the elderly "victim" and her husband were probably chosen to add adult horror fans to that audience. Edith and Edward Cranston were played by the eternal Lin Shaye (Dead End, Insidious) and the superb Tobin Bell (Saw, Belzebuth). Shaye's role was the more varied of the two, though neither had as much screen time as the younger set. Unfortunately, Bell played his Edward in exactly the same way as he used to play his John Kramer so that when he picked up a phone, I expected his "Hello" to be followed by "I want to play a game."
I'm not going to deny there are some problems with The Call. The style and the cast (as I've said already), and even Timothy Woodward Jr.'s direction are all perfectly good in their own ways, but these qualities cannot carry a film without a coherent script. The Call is Patrick Stibbs' feature writing debut, so perhaps there are better things to come, but this film leaves so much unexplained (from Edith's supernatural or suggestive powers to even the ending itself) that there's really no guarantee.
The thing is, horror that steers towards psychological or surreal can work very well (have you seen Channel Zero?), but the way it was done here just did not fit with expectations. I've seen The Call described as "a love letter to horror films of the '80s," but that phrase calls to my mind gratuitous nudity, cheesy humour, gross violence, and a pumping chart soundtrack, none of which were present in The Call. Nightmare on Elm Street, of course, combined the serious tone with a surreal style like The Call does, but this film is tame compared to the Elm Street bloodbath.
So, will people enjoy watching The Call? I'm sure some will; perhaps those who are missing their teen TV stars, or those who enjoy being kept guessing. I'm also sure that most horror fans will find much more satisfying fare elsewhere on Shudder.