This is the news that the UK horror scene has been waiting for: Arrow Video FrightFest, the UK's biggest horror and fantasy film festival, is back at the Cineworld Leicester Square in London from Thursday 26 August to Monday 30 August 2021. The first 25 films in the program have been announced, forming the backbone of five days of the very best of global genre cinema.
The opening and closing films of the festival (respectfully or inevitably?) reflect the world of the pandemic which we have been living in since early last year. FrightFest 2021 opens with the European premiere of Neill Blomkamp's Demonic, which has been described as "a unique voyage into a world terrifyingly similar to our own as he expertly juggles a thought-provoking crossover between forward-thinking science fiction and hi-tech horror." The closing night film will be the UK premiere of Rob Jabbaz's feature debut The Sadness, which features a seemingly benign virus that mutates, giving rise to a mind-altering plague.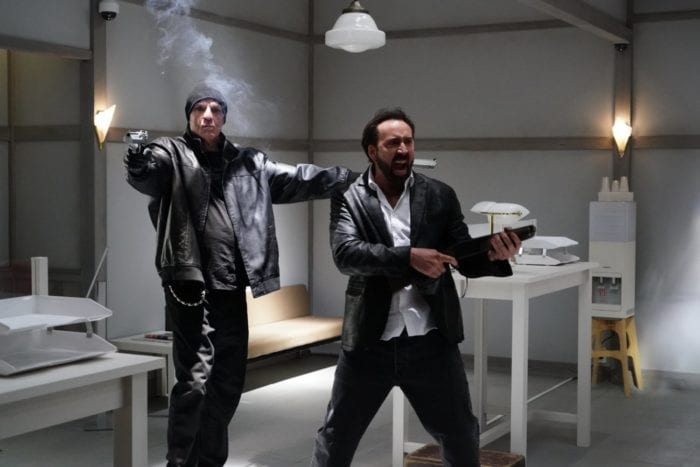 Everything in this program looks flippin' exciting, but especially the new Sion Sono film, Prisoners of the Ghostland; or maybe you've heard of it as the new Nick Cage film. Shootouts, ghosts, and post-apocalyptic Grindhouse, oh my! Then there's another star who has matured into the genre field, Elijah Wood (was he better in Over the Garden Wall or Come to Daddy? I can never decide), playing the FBI analyst who worked with Ted Bundy during his final years, in Amber Sealey's No Man of God.
The other films included in today's announcement include slashers, monsters, time travel, and Ray Wise, but I shan't tell you which ones are which. Here goes:
World premieres
The Kindred (Jamie Patterson, UK)
Crabs! (Pierce Berolzheimer, USA)
The Retaliators (Samuel Gonzalez Jr., USA)
Evie (Dominic Brunt and Jamie Lundy, UK)
International/European premieres
The Exorcism of Carmen Farias (Rodrigo Fiallega, Mexico)
King Knight (Richard Bates Jr., USA)
Broadcast Signal Intrusion (Jacob Gentry, USA)
The Last Thing Mary Saw (Edoardo Vitaletti, USA)
Dawn Breaks Behind The Eyes (Kevin Kopacka, Germany)
Ultrasound (Rob Schroeder, USA)
UK premieres
Brain Freeze (Julien Knafo, Canada)
The Show (Mitch Jenkins, UK)
Coming Home In The Dark (James Ashcroft, New Zealand)
Beyond The Infinite Two Minutes (Junat Yamaguchi, Japan)
Sweetie, You Won't Believe It (Yernar Nurgaliyev, Kazakhstan)
Offseason (Mickey Keating, USA)
The Maid (Lee Thongkham, Thailand)
Sound Of Violence (Alex Noyer, USA)
Gaia (Jaco Bouwer, South Africa)
Slapface (Jeremiah Kipp, USA)
The Advent Calendar (Patrick Ridremont, France)
As if that wasn't enough to get our demonic mouths watering, three short films are included in the main line-up too, including—get this— the world premiere of Mask of the Evil Apparition from Alex Proyas, part of his Dark City cinematic universe.
You can find out all about these films on the Arrow Video FrightFest website, and there are more announcements to come. FrightFest will soon be revealing the line-up for their pioneering Discovery and 'First Blood' strands, when passes and tickets go on sale, plus the much much-loved Short Film Showcases, special events, this year's guest list, and the make-up of their digital event, which takes place from Wednesday 1 to Sunday 5 September. Watch this space…