In an industry that has been rattled with accusations and admittances of mistreatment of actresses and wrongdoing by actors and directors, this week's Shockdown Saturday at the Soho Horror Film Festival dealt with themes of domestic violence and abuse, presenting Federico Gianotti's fantastic Leni and the world premiere of Sam Ashurst's A Little More Flesh II. Having already reviewed Leni as a part of Salem Horror Fest last year, this week's update will focus on A Little More Flesh II and the always exceptional short film program.  
Brea Grant's compelling short film, Megan, 26, has a claustrophobic sensibility about it that puts the viewer in the shoes of someone trying to flee from an abusive situation. As the young woman, Megan (Megan Rosati), is stalked by a mysterious force commanding her dating app, she's made to constantly look over her shoulder to maintain a momentary feeling of safety. The man (Matt Devine) popping up incessantly in her application begins appearing behind her on the street, and the only way she can make him go away is to swipe left on the device. No matter how many times she swipes, however, the man keeps resurfacing behind her. Finally, getting into an Uber, Megan believes she's evaded the supernatural stalker before realizing he's in the car with her. Grant's film is a wonderful artistic display of emotional turmoil springing onto the screen with the burst of urgency the situation demands. That trapped feeling of having nowhere to run to stays with the viewer well beyond the credits.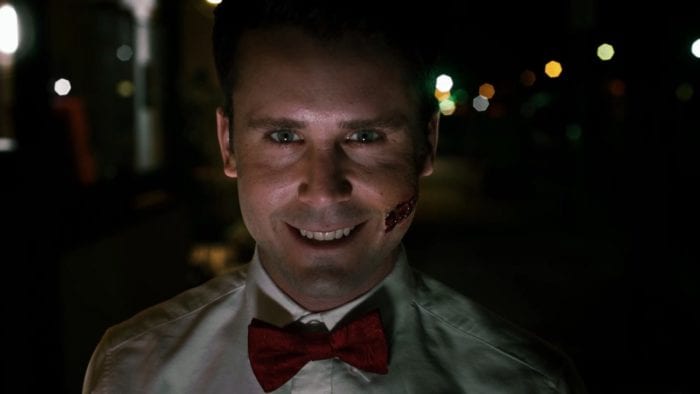 In Tickle, Lily (Rebecca Calder) is plagued by non-stop phone calls, hallucinations, and nightmares while trying to fall asleep on the night she's fled from her abusive partner. Chris Chalklen uses J-Horror to stunning effect as well as the memory of conversations that triggered the abuse where something as playful as a tickle can be an unwelcomed advance that turns violent.  
Thematically, all of the shorts this week were horrifying gut-punches of teeth-grinding intensity, but the final short, Lili, probably disturbed me the most. As an introduction to A Little More Flesh II, Lili was the perfect pick. Yfke van Berckelaer's short concerns a young actress (Lisa Smit) asked to compromise her dignity during an audition by a salacious director (Derek de Lint). The most disturbing moment comes in the introductory piece as the director asks Lili for her name and replies that it is also the name of his daughter. The parallel Berckelaer drives at hits hard, essentially noting that people like this exist only to serve themselves, and they're raising kids without ever considering the difficulties those children will face in a world filled with monsters like them. From then on, my blood boiled whenever the director spoke, shadowing the short in a sinister overtone before ending in a twisted, violent catharsis. Smit is absolutely magnificent in her various audition readings, and Lili is an overall impressive short film. 
A few weeks ago, Sam Ashurst's A Little More Flesh was revealed as the secret Soho Horror Film Festival presentation. It was a very different film experience, one that you can't wrap your head around right away as it steeps itself into the base of your brain and itches at your cerebellum until you deal with the complicated and unsettling experience. Ashurst expertly navigates A Little More Flesh as a film director nostalgically recalling an early entry into his filmography where the female cast members suffered a toxic environment that ends in tragically for the both of them. Through audio commentary for a boutique release of the film (think Criterion, Vinegar Syndrome, Arrow, etc.), the audience is put under a microscope as much as the faux director of the diegetic film God's Lonely Woman. Stanley Durall wouldn't be providing his commentary of the film if he didn't have fans willing to purchase the release.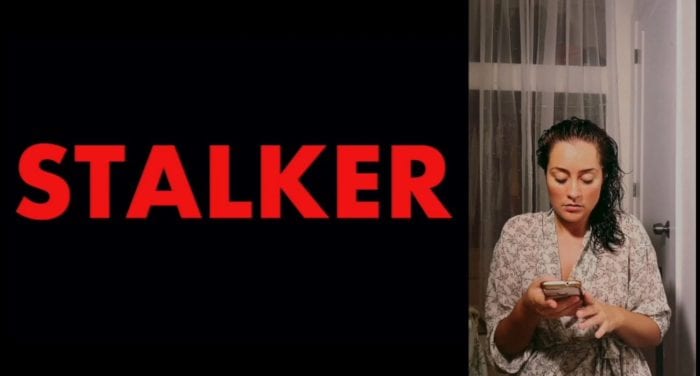 A Little More Flesh II revisits the idea of audience culpability, but this time in a less supernatural space. Where haunted unseen acts are happening around Ashurst's Durall in the first film, the second sees Ashurst as one of the main characters. Ashurst plays an arrogant version of himself who is looking to make a follow-up to A Little More Flesh while in lockdown. The movie, Stalker—far from the likes of the Andrei Tarkovsky film—has Ashurst asking his stars Harley Dee and Sean Mahoney to take ten minutes of footage going about their everyday lives, and he'll cut the footage into a film. The viewer sees the footage interwoven with audio from phone calls and Zoom meetings concerning the film's progress. Mahoney quickly drops out when Ashurst reveals via "locker room talk" that he's only set out to make the film to get compromising footage from Harley. When Harley reveals she's just been married, Ashurst basically embodies his A Little More Flesh character Stanley Durall after having been turned down by Isabella (Elf Lyons), blaming Harley for losing money on Mahoney, and starts giving her directions to do strange and vicious things.  
Sam Ashurst spoke about the use of Mahoney's final sequence in the film during Soho Horror Film Festival's Q&A. Sleeping in his bed after quitting the film, Ashurst said that the actor never attempted to find and help Harley, knowing the truth about her situation. Though he's not the perpetrator of wrongdoing, Mahoney still does nothing to stop it, and his inaction leads to further consequences for Harley who, you can probably guess, things don't turn out well for. 
I generally liked the use of the lockdown scenario for the film. Though unconventionally baked into the film and not doted upon like in other lockdown films such as Songbird or Locked Down, A Little More Flesh II focuses on isolative factors from Ashurst's intensified predication for making a film and contacting Harley to Harley's escalating level of depression setting in towards the end of the film. The lockdown scenario helps her keep her distance from Ashurst after demanding extreme measures be taken in her final video, but it has the same feeling as losing a friend which seems rather isolating for Harley though the right move as Ashurst becomes unhinged and persistent.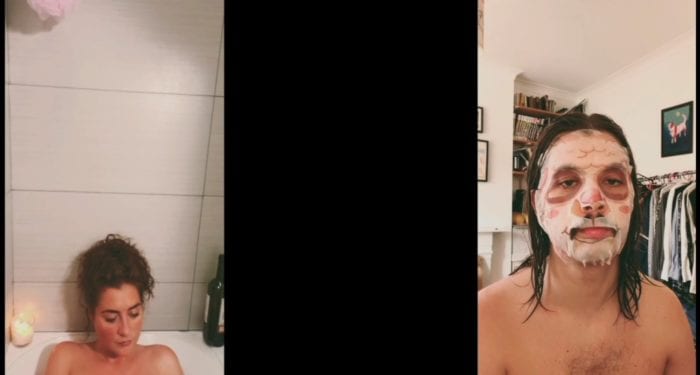 People will be divided on A Little More Flesh II the same way they likely were if they had witnessed the first one. The film is adeptly smart, but it is something to be experienced rather than enjoyed. Ashurst has a way of drawing the viewer in even if they don't like what they're seeing, creating talking points through controversial characters and experimental techniques. Harley Dee, also during the Q&A, spoke to the idea of the blank space on the screen in A Little More Flesh II, saying it was reserved for people to see their reflection in the space, knowing most people would be watching the film at virtual festivals where their TV or laptop would be playing the film. This is mind-blowing to me. For a meta-art-house horror film to make their audience complicit in allowing Harley's nightmarish film experience to take place is an exceptionally brilliant maneuver, even if it is likely to rub people the wrong way. 
There was a small bit I wrote in my review for A Little More Flesh that I was perhaps more critical of at the time than I should have been. I wrote that "scenes run on too long" in my review of the first film, but now having seen the second film, I understand why. In one of A Little More Flesh II's most nerve-shattering scenes, titled "Hot Girl Drinking Milk," Haley is dressed suggestively and wraps her face in gauze. She then takes lipstick to her covered lips and eyes, which produces a menacing look that Ashurst says was meant to evoke the work of Zdzisław Beksiński. The result is unnerving. Not only do we have this terrible nightmarish vision of Harley presenting her body before the camera while appearing faceless and bound, but she then drinks a glass of milk that spills down her body. Harley then gazes at the camera while the soundtrack goes from a light buzz into full tonal chaos.
The longer the scene continues, the harder it is for the viewer to watch what is happening, wanting to skip past the event and go to the next sequence. As the buzzing in the film became increasingly unpleasant, I also began to think the image might be moving both being zoomed-in upon as well as a fast movement shake effect on Harley's gauze-wrapped face. The image absolutely doesn't move, but that's the level of disturbance here. The sequence lasts for thirteen minutes and speaks to the voyeuristic nature of the audience. It's ingratiatingly uncomfortable, and it's supposed to be. Ashurst is bringing attention to what moviegoers have allowed to transpire throughout the years and weighing their accountability for putting art before the artist, at times, comparing the audiences of such films to perverts. The reason the sequence is so effective is that you're unallowed to look away from it and meant to feel the discomfort that the actress in that situation is made to feel.  
A Little More Flesh II, like its predecessor, is a difficult film to get into, even if its premise is sophisticated and intelligent. Many will find it brash and not understand, which is Ashurst's approach. I have appreciated both films for finding originality in the medium to center on the egregious actions of the film industry as well as the audiences that support films with toxic conditions. The A Little More Flesh films are very experimental, and their style is very different. These films go beyond a basic narrative to challenge the viewer. During a time where we are finding more and more actresses coming forward with stories of abuse or harassment by their directors, these films feel massively important and promote conversations that would likely be avoided otherwise.  
The subject of these films also gives pause for the many that may be struggling with these issues as well. If you or someone you know is suffering from abuse you are not alone and you are believed. These organizations are available to help.
Next week is the last week of the Soho Horror Film Festival's Shockdown Saturdays, or so I'm told, with four out of this world features: Variant, Skyman, Sister Tempest, and Useless Humans, finishing off what has been an amazing festival. If you'd like to be a part of the final week, all you have to do is become a member of the festival's Facebook page and click the links in the announcements section when the films become available on Saturday. All showings are based on local time in Soho, England—check with their website and Facebook page for times (often they leave the links open until Sunday at midnight). The festival is completely free, but Soho Horror Film Festival is operating solely on viewer support donations and entirely without sponsors. So, if you like what you see, I'd strongly encourage you to support them so we can all indulge in future events. 
For more of our Soho Horror Film Festival coverage, please check out:
Soho Horror Film Festival's 'Rogue Transmission:' 1974: La Posesión de Altair
Soho Horror Film Fest Matt Mercer Weekend: Dementia Part II, Someone's At Your Door, and Feeding Time
Soho Horror Film Fest Matt Mercer Weekend: Browse, One Last Meal, and Heartless