You've probably never heard of Matt Mercer. It's okay, it's likely that not many have. Mercer has been a friend to the Soho Horror Film Festival since its inception, showing off his horror films in the festivals and becoming involved with the event over the years. Mercer is probably most known for being the boyfriend turned zombie that bridges the gap between Contracted and Contracted: Phase II. He's very indie, just like the Soho Horror Film Festival, where he was honored as the theme this past weekend with films and shorts that featured his talents in different levels of involvement.  
In the introductory short, One Last Meal, Mercer plays a prison guard, Captain York, returning to service after a mandated leave of absence. His first day back is going to be a rough one, as he makes his way through a group of people outside of the prison protesting the execution of noted psychopath Otis Boyle (Jake Martin). York is welcomed back by the Warden (Tim Marks), and the two go to see Boyle regarding his last meal, a tradition that has been upheld at the prison for centuries, being that they've never disrespected the wishes of providing for an inmate's request.
When Boyle asks for human flesh, the Warden and Captain York look for a way to keep the tradition intact. One Last Meal is a quick albeit juicy bit of delicious gore and practical effects. Director Jill Gevargizian turns Eric Stolze's script into an effective, fun, and thought-provoking short in that it does say something about mental health and the weariness that can arise from highly stressful jobs that are contingent upon going to ridiculous lengths to keep them; the same can be said for traditions.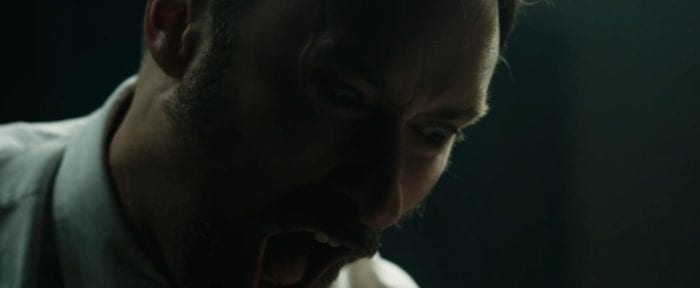 Following up One Last Meal, was another short about doing what it takes to succeed at work. Writer-director Kevin Sluder tells the story of Shelby (Stacy Snyder), who is about to give a big presentation to three terribly condescending men (Matt Mercer, Blaine Vedros, and Ron Morehouse) in Heartless. Before she even gets the chance to start the projector, the testosterone party starts with "jokes" about fetching them coffee. The whole experience becomes quite triggering for Shelby, who flashes back to putting the presentation together with her boss the night before. When her boss (Joanna Sotomura) deprecates her work on a project and fires her instantly, Shelby finds it unacceptable and kills her boss, rips out her heart, and buries her body. Now, finding herself in that room, Shelby becomes intensely claustrophobic and hears only the sounds of her old boss's heart driving her mad.  
Obviously, based on the Edgar Allen Poe story "The Tell-Tale Heart," Sluder's film is quite fun. Snyder knocks it out of the park as Shelby, having a really intense look about her that fits Shelby's character and making her more menacing. The use of hardcore metal in the film was maybe the one thing that I wasn't expecting. Based on the rage that Shelby is carrying around inside her for a work environment that undervalues her efforts and gender, it works. Shelby's story ends in an immensely gratifying fashion.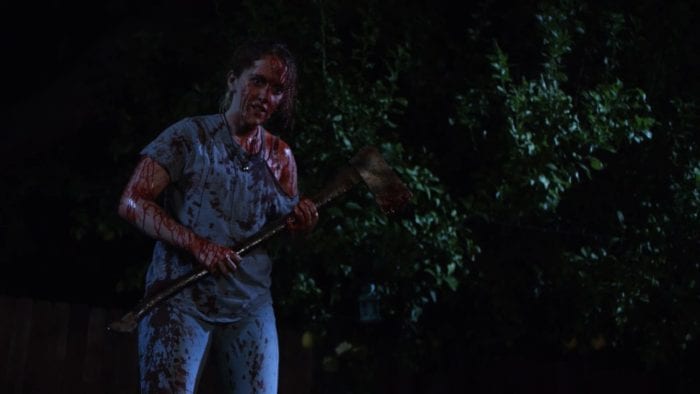 The first feature of the Matt Mercer celebration was techno-noir thriller Browse from director Mike Testin. Testin and Mercer are frequent collaborators, Testin co-writing and directing the second feature of the evening, Dementia Part II. Browse tells the story of solitary man Richard (Lukas Haas) who has recently installed some new gadgets in his apartment to make his life easier. Life seems settled for Richard as he and his building's doorman, Kyle (Bodhi Elfman), make conversation about their frequent online dates to why Richard covers his rented furniture in plastic. The latter being referred to by Kyle as "something a serial killer would do." 
From the moment his latest smart home device is set up, things in Richard's life begin to sour. What starts with a mysterious bag of groceries that he didn't order slowly spins into a mystery suggesting Richard is being hacked. Richard's problems only worsen when a sex tape goes viral at his workplace with him having a starring role. Clues abound to outline suspects and red herrings, a man rummaging through the building's trash outside, the IT person (Abhi Sinha) at work that is caught working on Richard's computer without permission, angry bosses, spurned relationships, and even the smart home gadget makes the list when the viewer starts considering if this is a malevolent version of Spike Jonze's Her.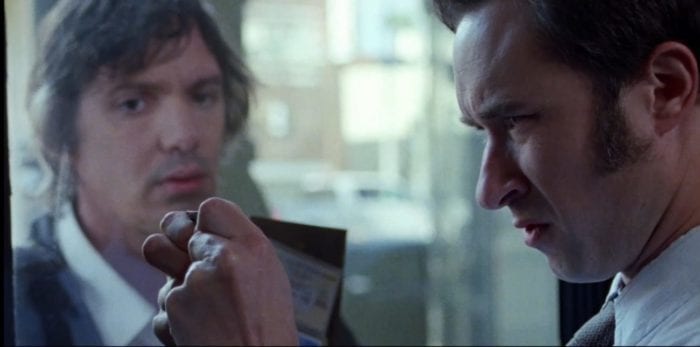 Browse also notes Richard's promiscuity as a reason as he begins getting involved with a woman, Veronica (Chloe Bridges), in a neighboring building. Succinctly labeling the character as a noted Lothario, the film builds on motive and creates a larger pool of suspects for Richard, as Richard's life becomes further complicated from someone sending vulgar messages as him over social media, the more layers peel back on Richard, and the audience can see the more primal state of a mentally distressed individual. Browse then becomes a little more reminiscent of Joel Schumaker's Falling Down or co-directors Adam Green and Joel David Moore's Spiral before moving in a different direction for the third act. Matt Mercer only shows up for maybe two minutes of the film, to confiscate Richard's card at the bank, adding to his destructive downfall. 
The film isn't bad. In fact, much of Browse is quite compelling as a man slowly unravels before your very eyes. However, the film is presented as being more of a genre film than it turns out to be. Its trailer suggests a horror film by way of The Net, and as a result, Browse is relatively uneventful and does not live up to the expectations. When the film purports its big reveal, Richard tries to piece together who could be responsible for all of his current chaos. In the end, it doesn't seem very surprising, and the film kind of peters off with a twist that makes sense but remains underwhelming. Still, the acting is relatively good in Browse, as I've always been a fan of Lukas Haas, who continues to take on very interesting and out-there indie film roles.  
Browse is now playing on Amazon prime and Tubi. 
This was supposed to be the final weekend for Shockdown Saturdays, but because the UK's lockdown was extended, festival runner Mitch Harrod surprised everyone this week with an extension of the festival, too. Ten more films are going to be shown throughout April beginning with Precarious and El Cerro de Los Dioses this coming Saturday. If you'd like to be a part of the festival, all you have to do is become a member of the festival's Facebook page and click the links in the announcements section when the films become available on Saturday. All showings are based on local time in Soho, England—check with their website and Facebook page for times (often they leave the links open until Sunday at midnight). The festival is free, but Soho Horror Film Festival is operating solely on viewer support donations and entirely without sponsors. So, if you like what you see, I'd strongly encourage you to support them so we can all indulge in future events.