I don't think I can describe to you how much of a relief it is to have Creepshow back, then again, if you're reading this, you're probably just as enthusiastic about the arrival of the new season as I am. Showrunner Greg Nicotero directs the first two tales of the new season, the monster-infused "Model Kid" and The Evil Dead-inspired "Public Television of the Dead." 
The show's first offering back from break is one nestled in the black and white love of old-school monster movies. "Model Kid" follows young monster enthusiast Joe (Brock Duncan), who spends much of his time dressed in cloaks, capes, and makeup and immersed in creating fantasies based on the model toys he paints. Self-made masks and dioramas made from model sets litter his room, perhaps resembling Nicotero's own boyhood space growing up. Joe, being an obvious outsider, finds solace in his macabre villains and misunderstood creatures and because of it has become the neighborhood punching bag. Joe's world is upended when his Aunt Barb (Jana Allen) and Uncle Kevin (Kevin Dillon) come to live at his home after a tragedy and Joe's outsider tendencies quickly become an easy target for his uncle to deprecate. When his uncle begins breaking and throwing away his toys, Joe seeks help from a familiar comic book, ordering a very special model to help him with his uncle Kevin for good.  
"Model Kid" has a really good lesson about letting kids be themselves, no matter what that entails, and I do believe any person that didn't feel the "normal" aspects of childhood experiences are going to find it extremely cathartic—or maybe I'm just projecting my own experience. Even if writer John Esposito's (who also penned season one's "Night of the Paw") fun, irony driven story for some reason doesn't get you, then I'm certain Rob Schrab's (writer of season one's "Bad Wolf Down") "Public Television of the Dead" will.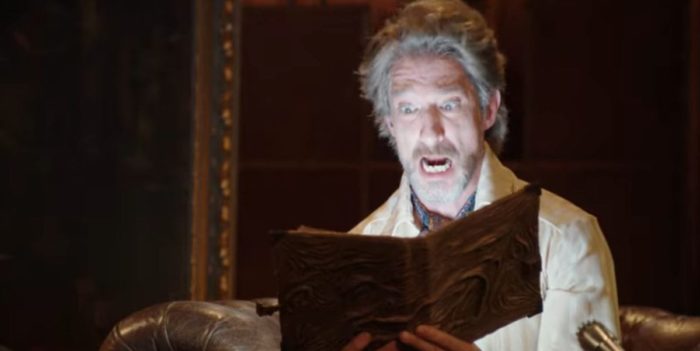 Have you ever wondered, "what if the Necronomicon was found in a basement and brought onto Antiques Roadshow?" Of course, you didn't; no one before Rob Schrab thought that, ever. But now the possibilities are consuming you, and you simply cannot stop thinking about it. Creepshow has you covered with "Public Television of the Dead." Starting with a hostile takeover initiated by a disingenuous puppeteer, Mrs. Bookbury (Coley Campany), Claudia (Marissa Hampton) is ordered to fire the Bob Ross inspired painter Norm Roberts (Mark Ashworth) so she can have his afternoon timeslot. Claudia watches as Norm and his producer George (Todd Allen Durkin) film their final show, feeling bad for the painter who found peace in painting after returning home from war. Meanwhile, a very special guest is presenting Goodman Tappert (Peter Leake) with the aforementioned Book of the Dead on "The Appraisers Roadshow."  
The whole story is a fantastic homage to The Evil Dead right down to the use of the film's producer, Robert Tappert, being used as a character. And as you can probably tell, Tappert can't seem to stop himself from reading the Sumerian incantations out of the Necronomicon and, well…no spoilers. The whole event is delightfully welcome and resoundingly silly that it could serve as a reference point in the next Evil Dead movie. I know I say this just about every other episode of Creepshow, but I think I have a new favorite episode in "Public Television of the Dead"—it was groovy.
Creepshow Season 2 premieres exclusively on Shudder and AMC+ next Thursday, April 1.