One of the things I've always found interesting about horror films is how many of the biggest hits have had such small beginnings, especially budget-wise. The first Paranormal Activity famously cost only $15,000 and studios liked it so much they gave them an additional $200k to film a new ending. The original Saw short cost $2,000 and allowed the directors to pitch the full-length film, which went on to have nine feature films (as of right now) and have grossed more than $1 billion dollars.
If you have a good story, you can work around the limitations of money and often find ways to make it even better. The efforts that go into small films are not unnoticed by fans. Horror fans especially love all the behind-the-scenes info into how they made this creature or that nasty kill.
The Head Hunter was made with a budget of $30,000 dollars. It tells the story of a warrior known as "The Father" who, after losing his daughter to a monster, finally has the chance to avenge her death and destroy said monster. It's a very simple and effective story. Christopher Rygh plays Father, his film debut, and gives a wonderfully gruff performance as he wanders the countryside slaying creatures and returning to his beautifully decorated house.
Here is where the film shines, in the little details that cover this shack from head to toe. One wall displays previous kills, monstrous beasts' severed heads impaled on spikes, still snarling in death. A table covered in salves and ingredients for potions sits under an open window with a broken latch, swinging in the breeze. A trio of jars is locked in place. A tattered book of wanted posters with depictions of savage creatures. A chest full of gold, the rewards for each hunt. Everything has a purpose too.
I loved finding out that many of the monster heads were Halloween masks and decorations bought on discount after the holiday, with plastic melted over them to create a rotting flesh effect. It was filmed in and around co-writer Kevin Stewart's family farm in Portugal, giving it a very remote and medieval appearance. While many of the decisions are obviously motivated because it was cheaper, it never feels cheap. It feels like love and care went into every part of the film.
We see Father go about his daily life in between hunts. He brews his cure-all, he fixes that window, repairs his armor, tends to his horse, Jakke. All done with stoic professionalism. Tasks he's been doing for years and knows like the back of his hand. I'm sure some might find this boring to watch but I was really engaged. It feels like you are getting a true glimpse into Father's life. He visits his daughter's grave and gives her an arrowhead supposed to help her through the afterlife. He doesn't believe in it but maybe it helps him grieve to bring her gifts.
Monsters are only shown in brief glimpses and fights are mostly off-screen, clanging swords and yells. We always see the aftermath though, the cleanup and recovery from each fight. The story isn't about the hunts. It's about Father and what this day in, day out is like for him. There's also very little dialogue. He has no one to talk to and a voiceover would feel out of place (see the terrible Blade Runner narration). Plus, Rygh has a very expressive face even with his huge beard.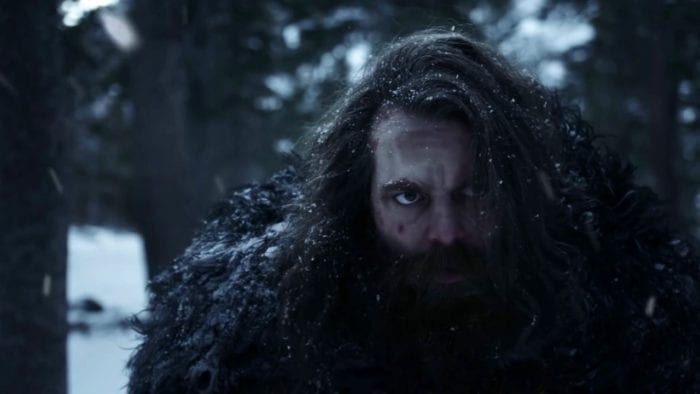 He isn't invincible either, in fact, he gets basically ripped to shreds on a weekly basis. The elixir he creates is smeared on to his wounds while he screams in pain, passing out only to wake up later mostly healed. I like that it isn't painless. I'm sure your body repairing itself would be quite dramatic and unsettling in reality!
When Father gets the bounty for the beast that killed his daughter, he's ready. Unfortunately, at this point, he's lost his horse, so he has to walk to the distant cave where the monster lurks. After a grueling fight, he returns home once again, maybe for the last time, with the head. This is where I'm going to spoil it because this is where it gets wild.
After throwing the sack containing the decapitated head on the floor willy-nilly, something unexpected happens. Father's elixir drips onto the beast. Apparently, it truly is a panacea—the head comes back to life. It doesn't regrow a body, it goes out to find a body. And what's the closest, freely available vessel? Yeah, I think you can see where this is going.
The climax of the film involves Father desperately fighting this head with a spine as it drags around his daughter's skeleton. It's amazing, it's ridiculous. They end up in a very narrow passage of a cave and the spine tries to stab into his neck. It's kind of funny how this is a comical situation that has some truly messed up concepts behind it. How awful would it be to have the corpse of your daughter stolen and puppeteered by the very thing that slew her?
I feel like the guy coming back to get the last word into an argument—"and another thing!" I love that horror can do this, mix comedy with the grotesque and horrible. Sometimes it fails but oftentimes it works if done correctly. You have to believe in this world and these characters, and we've spent the whole film doing that. You're rooting for Father by this point.
It's interesting that I originally sought out The Head Hunter to watch because it was touted by a few people as Bloodbourne: The Movie. I don't really see it (Bloodbourne has a lot of Lovecraft elements to it and this doesn't) but I'm glad that got me to watch it.
The Head Hunter is a Shudder Exclusive film.