Comedy and horror have long gone hand-in-hand. Often, this is purposeful and sometimes not so much, but these strange bedfellows have certainly produced some of the most off-the-wall and intriguing cinematic romps I've ever seen. Here are a few that I would recommend you take a look at if you haven't already.
Tusk (2014)
Tusk is a favorite of mine because I'm a huge fan of body horror but also because it is so strange and farfetched (and often hilarious). The film follows podcaster, Wallace Bryton (Justin Long), who travels to Canada for an interview that is unexpectedly canceled. While looking for someone else to interview, he finds an advertisement from someone offering a room in his home for free and the guarantee of interesting stories. Immediately intrigued, Wallace arrives at the mansion of Howard Howe (Michael Parks), a former seaman in a wheelchair, and is treated to the story of how a walrus (whom he calls Mr. Tusk) rescued and befriended him after a shipwreck. Wallace soon passes out from drinking tea that Howard has laced and wakes up tied to a wheelchair with his left leg amputated. We soon find out that Howard intends to recreate his walrus friend using Wallace and placing him into a perfectly constructed walrus costume, with a few body modifications.
Weird premise, no? Well, it gets weirder and way more fun. And Johnny Depp makes a cameo that you just might miss but will have you writhing in your chair with laughter. Say what you will about Kevin Smith's movies—I know many people either love him or hate him—but this one is a classic.
This is the End (2013)
Speaking of weird movies, I offer to you This is the End, from creative powerhouses James Franco and Seth Rogan. This film places the duo in an apocalyptic scenario where the world is literally ending while Franco is having a house party. Oh, and to make it weirder, they (and their co-stars) all play themselves.
The story finds Jay Baruchel arriving in Los Angeles to visit Seth Rogan who invites him to a party hosted by James Franco. Jay becomes uncomfortable at the party, so Seth takes him to a convenience store for cigarettes. The two notice beams of blue lighting coming from the sky sucking people into the air. They flee back to James's house where the party is carrying on without worry. Tension mounts when an earthquake strikes, a sinkhole opens in James's yard and, several celebrity party guests are killed. Soon, the ragtag group is taking inventory of supplies and hunkering down for the end of the world as predicted in the Book of Revelations.
This movie gets way out of control and we're introduced to demons, exorcisms, cannibals, more natural disasters, and a bondage gimp, played by Channing Tatum. What's not to love?
Jennifer's Body (2009)
Can we talk about Jennifer's Body? This movie was an attempt to create a horror film driven by and about women. Diablo Cody wrote the screenplay while Karyn Kusama directed it. The film starred Megan Fox as the high school hottie, Jennifer, and Amanda Seyfriend as her awkward best friend. The odd couple attends a concert one night where Jennifer is kidnapped by the band who use her as a failed human sacrifice. As a result, she is possessed by a demon, making her crave human flesh. Soon, Jennifer's best friend is faced with trying to stop her before she consumes most of the high school's male population.
Yes, this movie is ridiculous, but it is also ridiculously fun. Megan Fox is perfectly cast as the clueless Jennifer and Amanda Seyfriend excels as the would-be male savior. And Adam Brody is a treat as the lead singer of the fame-thirsty band, Low Shoulder. With a tagline like "she's evil…and not just high school evil," how can you go wrong?
Suburban Gothic (2015)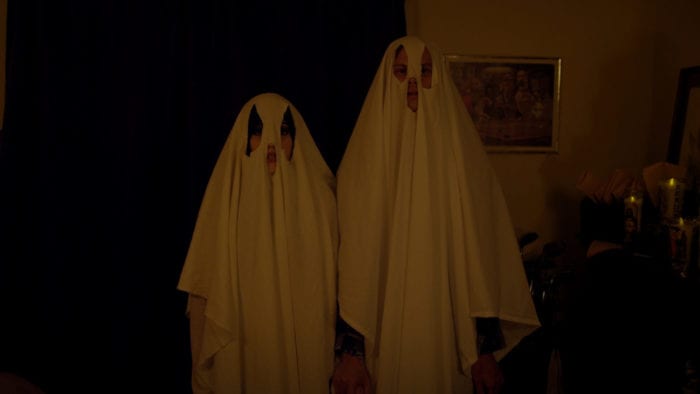 I'm not going to lie, I'm a little obsessed with Matthew Gray Gubler. I discovered him in Criminal Minds and have followed his career ever since—I also may have a couple of tattoos that he drew, but I digress. So, when I found out on Twitter that he was starring in a new movie with ex-girlfriend, Kat Dennings, and wanted his fans to show up to movie theaters across the nation in their pajamas celebrating the campiness of the movie, I was there for it.
Suburban Gothic follows Raymond (Matthew Gray Gubler) who returns to his hometown after bombing out in the big city because he can't find work. He finds himself back in his childhood home with his overbearing mother, ex-jock father, and a host of loser high school classmates that bullied him. Due to a series of weird and unfortunate events, his home becomes possessed by paranormal forces, and this man-child must team with a bada** bartender (Kat Dennings) to solve the mystery and rid his town of evil. If you're not entirely sold on the premise, I get it. But, let me tell you that John Waters makes a phenomenal appearance as a priest, and the film is directed by one of my favorite directors, Richard Bates, Jr., who created Excision (possibly one of my favorite movies of all time). Dennings and Gubler have weird chemistry that makes the film feel awkward, and Gubler's return to his family home is one that some of us are all too familiar with in this strange time of U.S. history.
Villains (2019)
Much like my obsession with Matthew Gray Gubler, I have a healthy attraction to all cinematic offerings starring Bill Skarsgard. I came across Villains while searching for something to watch after binging Hemlock Grove and was not disappointed. The film follows two bumbling would-be criminals, Mickey (Skarsgard) and Jules (Maika Monroe), who make the mistake of breaking into the home of a sadistic couple (Jeffrey Donovan and Kyra Sedgwick), and they aim to make sure the thieves don't get away. This movie is twisted and weird, and Mickey and Jules are probably the most unlikely of criminals in recent film history. They are a hot mess and have absolutely met their match when they come across these homeowners who are way more twisted than Mickey and Jules could ever dream to be.
Kyra Sedgwick is wonderfully creepy and hilarious as she tries to seduce Mickey with a weird mommy fetish, and wait until you get a load of her unhealthy relationship with a porcelain doll, Ethan. This movie is a comedy of errors that just keeps ramping up the crazy until it wraps up with a body count and (somehow) a happy ending.
Let's face it, 2020 was a sh*tshow, and 2021 isn't shaping up to be much better. Make yourself a cup of coffee, wrap up in a blanket, and binge some weirdness. You'll be glad you did.