Creepshow fans rejoice! Shudder not only set a premiere date for Creepshow Season 2—just 40 days from today on April 1st—but it was also announced that Season 3 will premiere sometime later this year. Though it was only just announced, guests will include The Walking Dead's Andrew Bachelor and Vacancy's Ethan Embry. Showrunner Greg Nicotero said,
During our season two production, Shudder was so pleased with what they were seeing that they asked us to roll right into production on a brand-new third season that will feature some of our most ambitious stories yet.
Before we can even speculate on the stories of the third season, Season 2 of the series looks to include nine new spine-chilling tales of terror starring horror film favorites Keith David (The Thing), Barbara Crampton (Reanimator), C. Thomas Howell (The Hitcher), Ali Larter (Final Destination), Ted Raimi (Ash Vs. Evil Dead), Denise Crosby (Pet Sematary), Ashley Lawrence (Hellraiser), Kevin Dillon (The Blob), and that's not all of the star power that the season will contain. It was also revealed that Joe Lynch, whose previous credits include Wrong Turn 2: Dead End and Mayhem, will direct an episode  
Details have already been released about the show's first episode's stories as well. The first episode will contain "Pesticide" about an exterminator who makes an infernal bargain, and Creepshow writer alum John Esposito (the "Night of the Paw" episode) has returned to write "Model Kid," which is about a 12-year-old monster enthusiast who uses model kits to escape reality.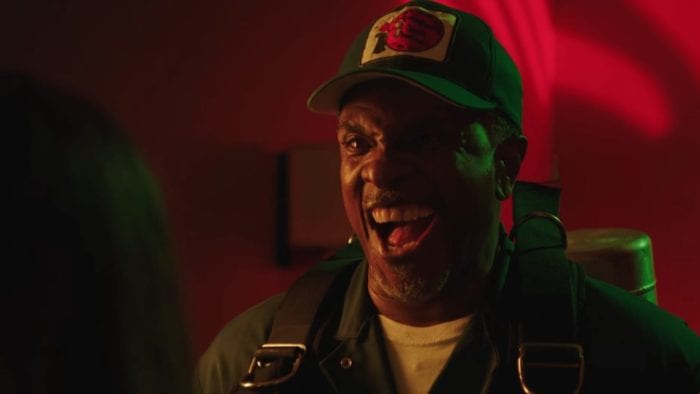 But, seriously have you seen this roller coaster of fun they called a trailer? Monsters, astronauts, the Necronomicon, a beheaded man, a light dash of inevitable gore, and ending on a whole lot of Keith David laughing maniacally packed into a sixty-second teaser that leaves you craving more. Obviously, the coronavirus halted our plans of streaming this madness into our eyeballs any sooner—and you're probably all tired of me saying it in these news pieces—but it has been far too long since my last retina infusion of Creepshow, and that includes the two fantastic specials the show produced for Halloween and Christmas. Though it proved to be a long journey to get to this point, Shudder aims to please, and this year looks to be bursting with Creepshow. 
Alongside all of the Creepshow Season 2 news, Shudder also said it has ordered a new Black horror anthology series which will highlight the talents of Black directors and screenwriters after the fervent success of the network's documentary Horror Noire. Shudder General Manager Craig Engler said,
When we saw the first cut of our Horror Noire documentary, we realized there was a huge untapped reservoir of great Black horror stories that needed to be told and an extremely talented group of writers and directors ready to tell them. While the documentary was a look back at the history of Black horror, this anthology is a showcase for the future and will introduce audiences to fantastic new stories and characters.
Writers currently working on the project include Ezra C. Daniels (Upgrade Soul), Victor LaValle (The Devil in Silver), poet Al Letson, and husband-and-wife double threat Tananarive Due and Steven Barnes (The Twilight Zone). The anthology is shaping up to be a showcase of massive talent, and I am thoroughly looking forward to it. And if you have not seen Horror Noire yet, do yourself a favor. It's not only a wonderfully insightful documentary, but it will suggest a lot of films to you—Ganja & Hess and Sugar Hill for me—that are fantastic and often overlooked. 
Creepshow Season 2 premieres April 1st on Shudder and AMC+.