The second feature in this weekend's Shockdown Saturdays theme "Highway to Hell" was the bottlenecked thriller Goodbye Honey. The shorts before the feature were extremely indicative of the upcoming feature's premise and fit in perfectly with what was to follow. In directors Sean Temple and Sarah Wisner's Thorns, two young women fighting in a car arrive at a motel for the evening and become the subject of a stalker's affections. The man leaves a rose on the outside windshield and terrorizes the girls with Scream inspired phone calls about break-ins in the area. When the two awaken in the middle of the night to find their door open, the suspense hits. This was a fun snack-sized short that I felt tied in perfectly with the short The Way Station, which accompanied the first feature, Thunderbird. Both contained unwanted advances from men, both featured a roadside motel as the setting, and both had some fun surprises for the creeps trying to mess with them.
The Three Men You Meet at Night is far bleaker than Thorns. Director Beck Kitsis tells the tale of young Jess's walk home from a party. As she makes her way down a dark suburban side street through the morning hours, a set of headlights approaches her. Jess is wearing her hair down, has a skirt on, a nice sleeveless shirt, heels, and makeup—after all, she went to a party. As the headlights get closer, the pickup attached to them passes and its occupants make catcalls at her. The truck abruptly stops for a moment and frightens Jess. Seconds later, another car approaches with a burst of speed, scaring Jess into running because she thinks the other man has come back.
This time, friends from the party approach, jokingly insistent that they were only having fun, and apologetically they offer her a ride. After the driver drops his friend off and attempts to take Jess to a secluded area, a policeman arrives and another cycle of avoidance and unwanted advancement takes place. The short is really about the trials of being a woman of a particular age and the uncomfortable interactions men can inflict upon women, especially when the male mentality of a woman being dressed "a certain way" certifies immunity in their motives. The Three Men You Meet at Night maintains, through one woman's walk home and all her assumptions and judgment, that there is only one type of man out at night: men who assume no responsibility for their own abhorrent behavior—men who live without guilt or remorse for their actions.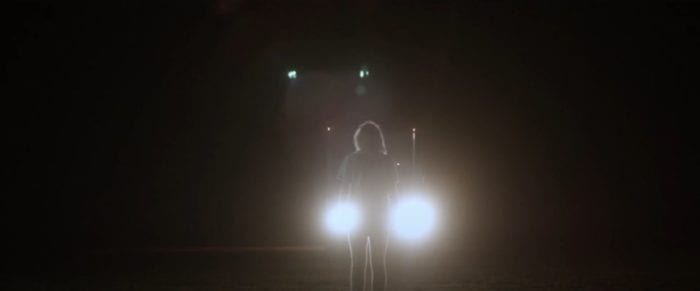 Like most of the films I've watched over these two weeks, Goodbye Honey's shorts really set the tone for the feature as it opens on a young dark-haired woman in a red dress diligently attempting to free herself from a boarded-up cellar. Beating through the plywood of boarded-up bulkhead doors with an eight-foot ladder, the furious efforts seem to pay off, and the woman in the red dress runs out. The movie then shifts to Dawn (Pamela Jayne Morgan), a self-employed home and storage mover, falling asleep while making her way down a poorly lit road in the middle of the night. The audience figures that at any moment Dawn is about to spot the woman from the cellar run out with her arms waving, but instead, she spots signs for the Chocohan State Park. Dawn decides to take a breather and pulls in for the night. 
Dawn attempts to settle in for a few hours off duty before hitting the road again in the morning, but as she tries to catch her first wink of shut-eye, a woman begins beating on the side of her truck. Rattled, Dawn grabs her trusty Louisville Slugger and listens to the woman plead for her help, saying a man is coming after her. Dawn, being a female trucker, is likely used to scams from meth heads and ploys from other truckers trying to steal her haul or mess with her for their own amusement. I really understood what director Max Strand was going for with Dawn's standoffish nature in her initial meeting with Phoebe (Juliette Alice Gobin), as well as Phoebe's mindset of putting as much distance between her and her pursuer as possible. The reactionary approach to this situation is pertinent, given the nature of Dawn's business. It's how the events transpire in the next portion of the film that chokes the movie into a bottleneck, making for eye-rolling and annoying tedium.  
Once we see Phoebe, it's obvious that this is not the same woman we saw escape the basement at the beginning of the film. Phoebe is blonde and wearing a t-shirt and sweatpants instead of dark-haired and in a red dress. Pleading with Dawn to call the police, Dawn instead calls the man that hired her, letting him know she's pulled off the road for the night. In the same breath, she alerts him to a small but attenable situation with a woman shouting at her outside the truck. Phoebe, desperate to make a phone call, jumps up on the cab stairs and tries to grab the phone from Dawn, causing the phone to fall from the truck, smash off the truck steps, and bust itself on the ground.  
Dawn remains at odds with Phoebe as the details of her kidnapping come out sparingly, given the fact that Phoebe's only desire is to get to the police. That seems like an easy fix, but could it be a trap for bandits to rob the truck? We'll never know because Dawn has somehow lost the keys instead. So here we are, stuck in the parking area of a state park with no phone and nowhere to go. Phoebe concludes that because they're in a state park, it'll only be a matter of waiting until dawn when dog owners and joggers will turn out, and then she can catch a ride to a police station. Of course, it won't be a quiet few hours of peace and conversation as Phoebe's PTSD kicks in and she locks Dawn in the back of the truck, trying to keep them both safe before two men descend upon the seemingly abandoned vehicle.  
Great, more people, right? Dawn can use a phone and end this nightmare! After attempting a 911 call, Dawn hangs up before she can speak, seeing the men have spray-painted the side of her truck. The men rescind their offer of allowing Dawn to call the police, take their phone back, and then forcing Dawn to do increasingly demeaning activities for their amusement. It's uncomfortable to watch and even more so knowing that they're not going to let her use the phone after her reaction. I actually despised this part of the movie because up until now it felt like the film was navigating the relationship between Dawn and Phoebe, building toward unification. This scene feels unnecessary like it is mainly a distraction that has no bearing on the rest of the narrative other than instilling these men as controlling, misogynistic trash.  
After Dawn returns to the truck, Goodbye Honey dives into why Phoebe's captor took her in the first place. The story becomes extremely intriguing after an uneven first act. Phoebe's complex origin story starts after she dares her friend to steal some vodka from her dad's liquor cabinet. Her friend's dad, Cass (Paul C. Kelly), thinks she's an intruder and shoots her in the back, killing her instantly. Phoebe, who had witnessed everything, takes the brunt of Cass's anger, and he formulates a plan to enact revenge against his daughter's friends. In similar measure to The Three Men You Meet at Night short before the feature, the viewer sees a man who can't take responsibility for his actions and chooses to blame women instead.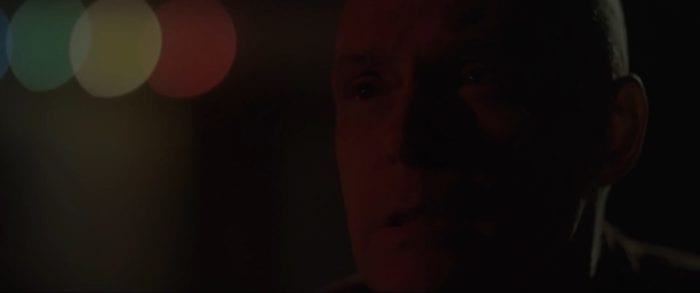 Goodbye Honey isn't a bad film—there's actually quite a bit to enjoy here. Themes of women empowering women through two generations working together are really what the film does best, and Morgan and Gobin are both well suited to that task. The dialogue works, very well at times, and Richard Hamilton's synth-filled score is effective in creating dramatic tension and suspense. The script by Todd Rawiszer and Max Strand could have used a bit of polishing, being that there's a lot of head-shaking decisions in the film's first act, but I think all-in-all Goodbye Honey is a serviceable first feature with signs of promise for all involved. 
Though the second of eight Shockdown Saturdays may be over, the fun will continue throughout February and March. If you'd like to be a part of the festival, all you have to do is become a member of the festival's Facebook page and click the links in the announcements section when the films are released on Saturday. All showings are based on local time in Soho, England—check with their website and Facebook page for times. The festival is free, but Soho Horror Film Festival is operating solely on viewer support donations and entirely without sponsors. So, if you like what you see, I'd strongly encourage you to support them so we can all indulge in future events.