It hasn't even been a week since Joe Bob Briggs graced our screens with his Shudder special, Joe Bob Put A Spell On You, and yet, he showers us Mutants with post-Valentine's Day love. This love comes in the form of the first annual Joe Bob's Drive-In Jamboree, held at the Mahoning Drive-In Theater in Lehighton, Pennsylvania. What is being billed as "the drive-in Woodstock" is sure to be a gathering for the ages.
You heard that right. A drive-in Woodstock! What does that entail, you may ask? Anyone familiar with Woodstock knows that it was a three-day event that brought together throngs of people to enjoy entertainment and each other. And that's what the Mahoning Drive-In has planned.
Beginning Friday, July 16, 2021, and running through Sunday, July 18, 2021, Joe Bob's Drive-In Jamboree will be packed to the gills with events to satisfy even the most hardcore mutant. Throughout the weekend, events include an indie film festival for guerilla filmmakers, cosplay events, a "haunted drive-in," complete with live zombies and monsters, and, of course, Joe Bob presenting a live, double-bill version of his televised hosting format. To top off the festivities, the Joe Bob Briggs Lifetime Achievement Award will be presented to the man himself. The award, known as "the Hubbie," is an engraved Chevy hubcap that marks the perfect culmination to what is sure to be a weekend to remember.
We're calling this The Gathering of the Mutants. As I've traveled around the country the last three years, meeting our fans at conventions and live shows, they've all expressed a hunger for getting away from their online lives and celebrating the movies and subcultures that we all love. What better place than the Mahoning Drive-In, saved from extinction because a handful of film fans put their lives on hold and worked for free to preserve it? -Joe Bob Briggs
Joe Bob is no stranger to traveling around the country and dispelling his wisdom of all things drive-in related. For the past couple of years, his one-man show, How Rednecks Saved Hollywood, has filled theaters coast-to-coast. Any Mutant that has been lucky enough to experience Joe Bob in person knows that this weekend will be a treat. The Mahoning Drive-In has yet to provide the full schedule for the weekend's festivities, but do we need to know anything else? For us Mutants, all you have to say is Joe Bob will be somewhere, and you can guarantee a packed house.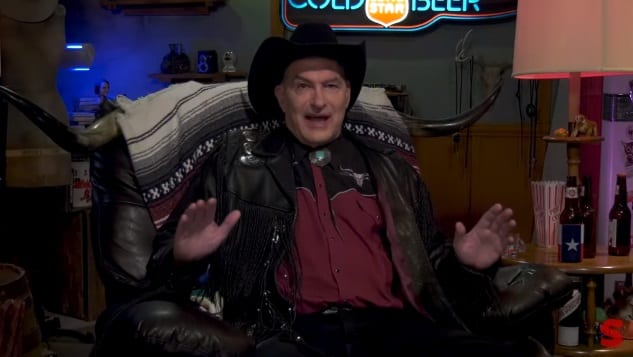 That is the underlying power of Joe Bob Briggs. For us, he is the knowledgeable expert dispensing nuggets of wisdom and randomness. He is a geek, just like the rest of us. Joe Bob may lead the charge to keep the drive-in alive and support guerilla and independent filmmakers, but he is a Mutant. A geek. Nerd. Dork. Whatever you want to call us, we who appreciate horror and the community within. So, Joe Bob's Drive-In Jamboree is just another way for Joe Bob to say he is one of us. He brings together the horror community, heck, even people just wanting to have a good time. Joe Bob has always been one with the fans—there is no superiority complex he feels to any of us Mutants. Instead, he himself knows that he is a Mutant, just like us. And that is what makes him, and the drive-in, live on.
Tickets for Joe Bob's Drive-In Jamboree will go on sale in April. Make sure to check the Mahoning Drive-In website as more details become available.