Glenn Danzig has always put horror and dark imagery, particularly classic B horror imagery, in his music with his bands The Misfits, Samhain, and Danzig. He even honored 1950's horror movie hostess Vampira with a song. Now, he's making his own horror movies, and it looks like he's got a treat in store for horror fans with Death Rider in the House of Vampires. A release date hasn't been announced yet.

Danzig wrote and directed the film about a cowboy called Death Rider (Devon Sawa) looking for sanctuary in a brothel of lingerie-clad female bloodsuckers. Vampires, the old west, and a bordello—sounds reminiscent of many other vampire films such as the horror-comedy Bordello of Blood (1996) and Quentin Tarantino and Robert Rodriguez's From Dusk till Dawn (1996). Both of these films took similar elements and put their own entertaining spin on it. We'll have to see what Danzig did with it. Watching the trailer, Death Rider looks promising. It's a vampire/western reminiscent of 1970s sexploitation and grindhouse films. It has the overall look and feel of a Tarantino or Rodriguez film.
Bloody Disgusting reports that Danzig said,
Everybody in the movie is a vampire. So, you won't have to wait around to see the vampire. They're all f*cking vampires!
Danzig assembled an interesting cast which includes Devon Sawa (Final Destination) as Death Rider, Kim Director (Book of Shadows: Blair Witch 2), Julian Sands (Gothic, Warlock, Romasanta: The Werewolf Hunt, Boxing Helena, and Arachnophobia), and filmmaker Eli Roth, who's brought horror fans Cabin Fever (2003), and Hostel and Hostel II (2005, 2007), and the docu-series Eli Roth's History of Horror. The cast also features Danny Trejo, who has worked with Robert Rodriguez, playing the character, Machete in Grindhouse, Spy Kids, Machete and Machete Kills. Trejo has also appeared in Rob Zombie's The Devil's Rejects, 3 From Hell, and Halloween. Glenn Danzig appears as a vampire gunslinger named Bad Bathory. Besides writing and directing, Danzig, of course, also wrote the music.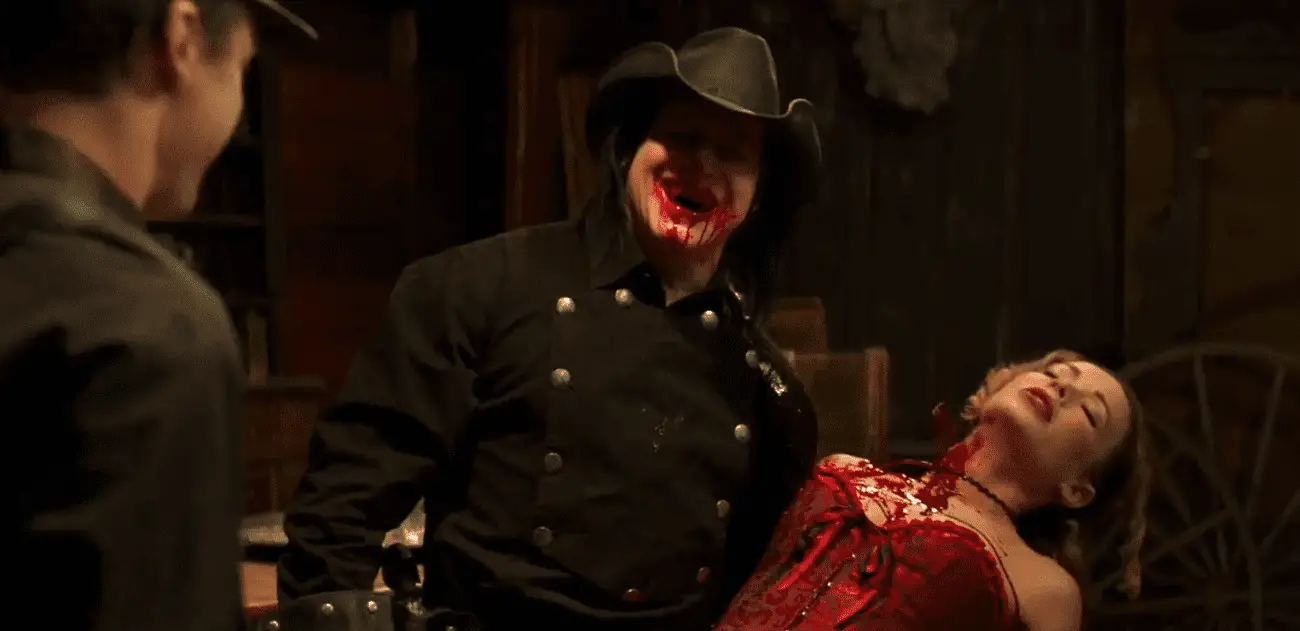 Death Rider isn't Danzig's first film. Released in 2019, Danzig's Verotika is based on his comic book series of the same name. Verotika is a horror anthology described as "unabashedly over-the-top and gruesome." The anthology has three stories, about Dajette, a Parisian sex worker with eyeballs for nipples, and an albino spider who can shape-shift into an eight-armed humanoid, a stripper who collects other women's faces, and a countess who kills virgins to bathe in their blood.
The film reportedly received a mixed response from audiences, with critics mostly panning the film and movie-goers enjoying the film, but not necessarily in the way Danzig intended. During a Q&A after the première, Danzig said to the audience, "You guys laughed at the stuff I wouldn't have laughed at."
"We freaked a lot of people out, which is good," Danzig commented in a Rolling Stone Interview. "Everywhere we took it—we did showings all over the country and even into Barcelona, Spain—people seem to love it. So it's great."
Besides appearing in Death Rider, Danzig also appeared as a fallen angel in The Prophecy II (1998) starring Christopher Walken. As a filmmaker, Danzig credits Italian horror director Mario Bava, Sergio Leone, and Jean Cocteau as influences.