You're either one of two types of people in this world: you either love hotels, or they make you uneasy. I've always seen them with a sense of adventure, coinciding with a vacation or romantic getaway, but others may see them as domicile cell blocks bereft of the soul that makes a home. Hotel horror is a long-established subgenre in horror providing the sinister settings for some of the best psychological horror films of all time. From hallowed names such as Hitchcock and Kubrick, we've seen things in these supposedly comforting places that haunt us, igniting our fight or flight responses while only sitting in cinema chairs or on couches. To consider anything new may even hold a candle to the classics may be critical blasphemy, but honestly, I think The Hotel Normandie in The Night could be the kind of creepy contender that ranks among the likes of The Shining's Overlook Hotel and 1408's Roosevelt Hotel. 
Beginning at a dinner party, with guests playing a game of "Mafia," a clue based talking game where players take turns asking questions trying to determine if another player is lying in order to identify who is plotting against them, the mood is light. Babek (Shahab Hosseini) and Neda (Niousha Noor) have a laugh as Babek easily fools the group into believing his ruse, winning the game. As the party winds down, he pleads with Neda to allow him a drink to aid in the relief of some sudden tooth pain that seemed to show up about the same time the couple got their matching tattoos. Sure, the couple has no idea what the connecting symbols on their arms mean, but they liked the artistry, and that's never been a catalyst for supernatural occurrences. Neda tells Babek to take it easy on the drinking, but Babek returns to her drunk and demanding to drive her and their baby, Shabnam, home.  
It becomes obvious from their departure from the party that Babek and Neda are not the happy couple their smiling veneer suggested to their friends. We learn that their standoffish demeanor stems from the couple's immigration process from Iran when Babek arrived stateside a lengthy period of time before Neda's arrival. The physical distance proved tumultuous, creating an emotional distance too.
The two spar and bicker, seemingly about anything they can, the way couples typically do when they're unhappy. From Babek's waspy digs at Neda having her license revoked to Neda's constant reminders of Babek's drinking habits, they argue continually until neither wants to engage further, highlighting a disconnect in communication between Neda and Babek that forces them both into a more detached nature. It's well nuanced by the brilliant performances of Hosseini and Noor as well as director Kourosh Ahari, who aptly sets a tone of distance for a couple that outwardly speaks of the relief of being reunited.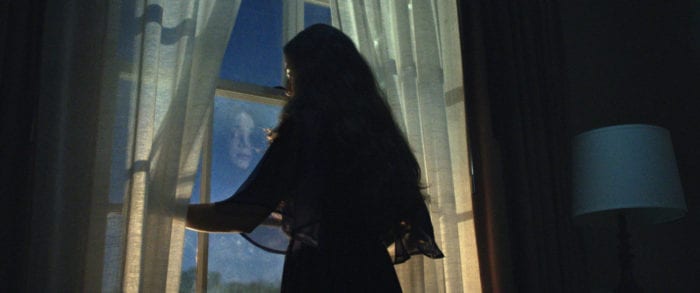 After a two-hour ride around L.A. in the middle of the night courtesy of a fritzing GPS, Babek nearly hits a black cat in an alleyway, and Babek finally concedes to let the family stay in a hotel for the remainder of the evening. This is where the roll bar comes down and the ride begins. Babek begins seeing the cat from the alley everywhere, begging the question of whether or not he lied to his wife and had run the animal over. Black cats are not only one of the most commonly used horror movie omens, but in Iranian culture, killing one, especially at night, is said to bring the punishment of death.
Once their car pulls into the narrow alley behind the hotel, nothing is what it seems. A mumbling homeless man (Elester Latham) and an off-kilter receptionist (George Maguire) provide a very unwelcome arrival for its newly arrived guests. Buzzing neon, dripping bathwater, and unsettling paintings make for further mental duress and contribute to Babek and Neda's sleeplessness as neither is able to relax for very long. Rational fears manifest in irrational ways as both begin to doubt the other's sanity before making the shocking determination that nothing is right inside the Hotel Normandie.  
The couple maneuver through a psychological minefield of alarming noises and apparitions that seem to prey on their most heavily guarded secrets, outwardly looking to force the couple into confessing their deepest guilt-ridden secrets to one another. The idea of facing the fears of their own trust issues will truly resonate with viewers of The Night, causing them to ask questions about what secrets they or their partners may be burying. Kourosh Ahari has crafted an eerie, atmospheric ghost story that originates within the most insecure parts of our minds.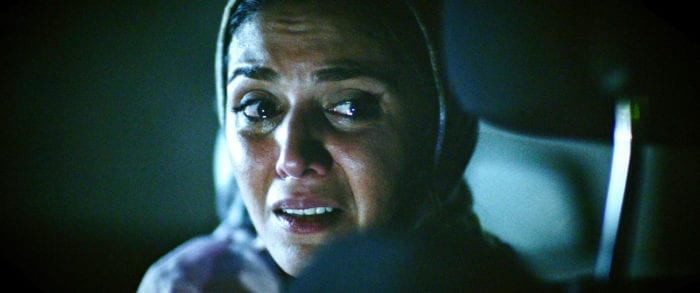 Ahari has surrounded himself with technical geniuses in the cinematography and sound departments on the movie, as well as two incomparable acting talents in Hosseini and Noor who command your attention on-screen. The script, written by Ahari and Milad Jarmooz, creates some well-placed clues throughout the dialogue and settings as well, especially in the exposition of the party scene, and also crafts an immensely tense and unforgettable scene between Neda, Babek, and an LA police officer (Michael Graham). It's no wonder the film was a festival darling last year, taking home Jury prizes for acting, directing, and screenplay at Molins Film Festival in Spain. The Night also signifies the first stateside produced film to be approved for theatrical release in Iran since 1979, a wonderful accomplishment for a very deserving film.   
The Night will premiere on VOD on January 29.