Precarious is a lot of things…a childlike fairytale, a treasure hunt, and a mystery. It never feels like too much or too little, though. This is my first ever film festival, and it feels like such a treat to have this be my first experience. I chose this film purely based on the poster, a miniature house suspended by wires atop a massive rock. It's quite a striking image and a fitting one for the film. The story follows Henry, waking up after an accident, injured and confused. A doctor and his young daughter care for him, watched over by countless policemen who want to question him. He eventually escapes and a fantastical adventure ensues.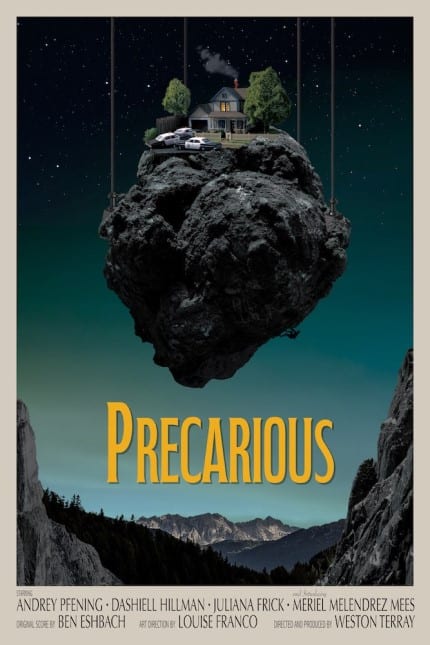 That's just a basic premise, but it's so much more. It feels like a favorite book, buried on the back of a library shelf to be rediscovered and savored. I found myself thinking of my childhood spent at my grandparents, looking over old documents and mysterious (to young me) artifacts from their youth. Or trying to overhear adults hushed whispers as they discuss things my child's brain did not yet understand but desperately wanted to. There's a strange familiarity to it that I haven't seen in a film in a long time. The Indian in the Cupboard meets The Shape of Water?
I will say I'm a sucker for stories where you are figuring things out as you go, asking yourself questions. Who is this? Why is he helping Henry? What's really going on here? It's a fun exercise that helps me focus. Leading actor Andrey Pfening, playing Henry, looks like a cross between Kyle Maclachlan and Jake Gyllenhaal in the best possible way. He's also an acrobat and parkour enthusiast in real life, giving him a unique build and graceful quality to his movements, not to mention probably came in handy for several scenes involving him escaping from places. He seems in a daze, struggling to comprehend what is happening but continues regardless.
All of the other main cast (Dashiell Hillman, Juliana Frick, and Meriel Melendrez Mees) have backgrounds in equally physical roles–theatre, dance, and circus performance–which honestly probably helps them get into the weirdness of the film more readily, as you're often doing strange things already in those types of performances, as well as using body language more openly and more easily interpreted. Maybe it's just the costumes, but everyone has an old Hollywood feel in Precarious.
In some ways, Precarious felt like film ASMR with the love and care put into the audio design. Sounds are amplified, bringing everything into focus. The light crinkle of pages turning, restful breathing during sleep, footsteps on creaky stairs, and clothing swishing as people move around. Almost like a radio play, I was completely engrossed and found it quite calming. I wanted to close my eyes and just take in the atmosphere. Sounds often play second fiddle in movies, with dialogue and visuals focused on more. That's not necessarily a bad thing, as humans are more visual creatures and it's certainly easier to have a big bombastic Avengers-style film than a man carefully pouring hot water into a teacup. In this, it feels like a symphony, with every part working together. I really can't think of a film I've watched in recent memory that did anything quite like this.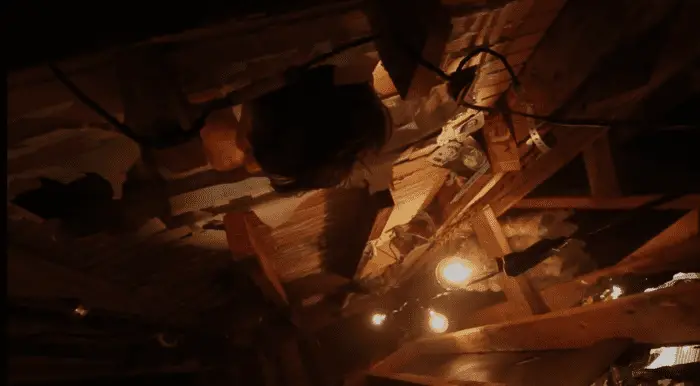 That's not to say the visuals are subpar in comparison, on the contrary, they go with the audio beautifully. It features a dreamlike 1960s setting with a meticulously decorated set. Miniatures are used throughout the film in various aspects, including a whimsical opening credits sequence. Soft colors and muted tones are used throughout with a splash of highlights for certain costumes and an element that comes into play later on in the story. Precarious describes itself as "A hand-built film that recalls an era of fantasy not reliant on digital effects," which sums it up well. Every scene feels like it was ever so carefully set up, with every prop exactly where it needs to be. It brought me back to trips to Miniature World as a child; so much storytelling in such little space.
For a debut from Weston Terray taking director, writer, producer, and cinematographer credits, it feels like a passion project done right and shows that small stories are just as captivating as big blockbusters. Louise Franco shouldn't be discounted either, doing art direction, costumes, makeup, and story. Taking over seven years to create, with inspirations from Terry Gilliam and Jean-Pierre Jeunet (a personal favorite of mine), I think the team nails the symbiosis of realism and surreal that those directors are known for. I'm struck by Terray's creative vision and dedication, building most of the sets in his small apartment himself. His background in animation must have come in handy to help bring this world to life, with everything from storyboarding to several stop motion segments. I'm particularly fond of the treehouse, made of paper mache. Here is a little video showing some behind the scenes.
It's a true testament to the art of filmmaking and what you can accomplish even with a bare-bones team. I'm so glad I checked it out, and I cannot wait to share it with more people. Hopefully, Terray will be able to create more wonderful visions in the future, and I know I will definitely be following his career with interest! Maybe we won't have to wait as long for the next one!
Precarious is playing as part of the online Another Hole In The Head film festival 2020, December 11th through 27th. 5 and 10 film passes, as well as an all-access pass, are available.