Porno is a 2019 horror film directed by Keola Racela, written by Laurence Vannicelli and Matt Black. This appears to be the first feature-length venture for each of these people, and I must say, well done! Packed with campy charm, goofy antics, and genital mutilation, this is a delightful addition to the horror movie world that fits right in with all our favorite classics!
We follow a gaggle of teens: Ricky, Todd, Abe, and Chastity, all movie theater employees living in a heavily religious 1992 town. Whilst cleaning a theater before locking up, they come across a strange old man sitting in the front rows. He attacks, and they and the theater's projectionist, (Heavy Metal) Jeff, chase him back into the lobby, where he crashes through a secret door. Behind this door is another theater, which none of the characters had seen before. Inside, the teens uncover a strange film reel, which they pester Jeff to let them play. Begrudgingly, he allows it, and they hook it up to a projector. This film turns out to be an artsy, sexually explicit short that ultimately winds up summoning a dangerous succubus to the theater.
While it can get a little noisy, visually and thematically, that doesn't stop this movie from being really, really fun! There is a lot going on, though, with each character displaying a different facet of what it's like to live under religious suppression and quiet enforcement of shame.
Jeff is an ex-smoker and hails the theater owner, Mr. Pike, as the main orchestrator of his healing process, stating that he helped him "find God again." He's a very intense person, aggressively judgmental, always passionately expressing his values and lifestyle, certainly trying to coerce the teenage employees into going down similar paths. He's also one of my favorites, as his extreme personality is framed as rather goofy, making him a funny character to watch. He's a lot more fragile than he lets on, though, as when his image of Mr. Pike as a man of Godlike purity is challenged, he's relatively quick to relapse into his addiction and a nihilistic worldview. His strict lifestyle was held together by one man, by a highly specific perception of that man, and without that, he fell apart in a snap.
Chastity, referred to mostly as "Chaz," is a bit of an undercover rebel. She likes "un-Christian" music and going on spontaneous adventures—and Ricky. It's made apparent relatively early on that she has feelings for her friend and feels hurt by him dating someone else. When she is faced with the succubus, it takes the form of Ricky, kisses her, and invites her to touch him. Shortly after, the real Ricky very explicitly rejects her, leaving her no option but to handle her powerful hormonal feelings without reciprocation.
Ricky remains a "block of wood" sort of character until it's made clear he's got a secret, too. As they are uncovering Mr. Pike's secret impurity, Chaz decides it's a wonderful idea to out Ricky as gay in front of Jeff and Abe. It is explained that Ricky's "summer camp" was actually a conversion camp, and so his fight is with his internalized hatred toward his own sexuality, as well as the people around him reinforcing the homophobic ideals of their little town.
Todd is the most immediately obvious "hormonal" character, as his reintroduction to the movie theater team is commented on as being after an act of perversion on his part. Out of the bunch, he's the only one seemingly comfortable in his sexuality (as comfortable as a teenager in an aggressively Christian town can be) and was the only one insistent on finishing the cursed movie. He might be less conforming, but he's also got an air of innocence to him. He's very sweet and naïve, contrary to the other characters' perception of him; well, every character except for Abe.
He is given an interesting layer when it's revealed that his "act of perversion" was actually orchestrated by Abe. He, being much more ashamed of his sexuality, allowed Todd to take the fall when only he got caught. He deals with watching the repercussions of his "antics" brought upon a dear friend, and Todd copes with said consequences, playing the role without complaint. They have a very sweet friendship, willing to stick with each other against the brunt of their conservative home. If I'm being honest, I don't understand why they were not also given a gay subplot.
You'll likely notice that I had the most to say about Jeff. I think he's the most interesting character, a window into what happens when we put a little too much importance on another equally imperfect human being. Many of us have a tendency to use other people as our anchors when we shouldn't—I'm guilty of it, myself. When we tie so much of ourselves to a person, or more likely our idea of a person, we set ourselves up for much more hurt than necessary when they inevitably break just as all of us do sometimes. Jeff is a prime example of this, and I love the way the movie goes about telling us his story.
Between each of these characters and their varying experiences with enforced suppression, our succubus has a lot to play with. Jeff, as I've explained, hides his weaknesses behind fragile religious views. Todd and Abe are susceptible to enticement. Chaz is emotionally vulnerable, willing to drop everything for even the illusion of Ricky, who is terrified of who he is. And though Chaz and Todd don't express shame for their sexualities as much as the other characters, there still stands the fact that they live in a place that hates them for that, and you can tell they know it. These two don't individually show many symptoms of self-hatred (unlike just about everyone else) but are still hurt by the repressive nature of their home.
This movie shows just a handful of the things a repressive environment can do to a person: aggression, self-hatred, shame, unnecessary consequences, and a whole lot of fear. The succubus utilizes these, paired with the characters' personal weak spots, leading to explosive conclusions. Every resulting moment is truly over the top, is not afraid to go absolutely wild with effects and visuals, and is all-in-all a real fun time.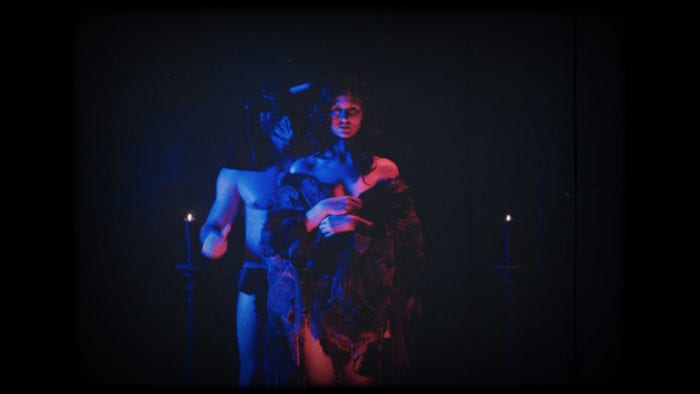 Puberty is a funny thing. For a great many of us, our very own comedy gold and our own personal horror movies reside in our developmental years. That paired with a society that desires only to suppress awakening sexuality can make for some pretty good subject matter in media—and I'm sure we all know what a huge role sexuality has historically played in popular horror films. Porno takes that idea and cranks it up to 12.
It's a very silly movie, which isn't everybody's cup of tea, but it's certainly mine. Not only is it silly, but it knows it is, and it loves it. It plays with some more serious subject matter, but it never really dwells on these moments, understanding that its plot is so absurd that they have no choice but to get campy. Many of my favorite movies are the ones that don't take themselves too seriously, the ones that love fun above all else. And when these movies include horror as part of their genre, you have the perfect recipe to get me to love it. Kuso, Scare Package, Freddy vs Jason, Freddy's Dead: The Final Nightmare, and now Porno are a handful of my favorite madly goofy horror flicks, and I'm excited to keep finding more to add to the list.
Porno is available on Shudder starting November 24.