Small Town Monsters has announced the Digital HD, Blu-ray, and DVD release of their latest investigative docudrama, The Mark of the Bell Witch. Noted urban legend documentarian Seth Breedlove (The Mothman Legacy) describes the film as a dramatized retelling of the entire sordid tale of the merciless spirit who tormented the Bell family from 1817 to 1821 in Adams, Tennessee. The Mark of the Bell Witch arrives just ahead of the 200th anniversary of John Bell's death, whose mysterious passing in December 1820 cemented the legend of the Bell Witch in American folklore.
The Mark of the Bell Witch is the first attempted documentary of the famed piece of Appalachian folklore. The story of the Bell family who encountered mysterious sounds in their home, which eventually became a full-blown apparition that terrorized them for almost five years, is still taught in Tennessee schools today. Considered to be one of the only known cases of murder committed by a "ghost" in American history, the story of John Bell's poisoning at the hands of the witch has been the subject of numerous television shows, books, songs, and inspired several films.
The filmmakers state that previous filmed interpretations of the events left out large portions of the legend, or simply adapted the events to their needs. Their aim is to be a historically-minded approach to the telling of the case, as well as a dive into how the haunting has affected the local culture of Adams, Tennessee.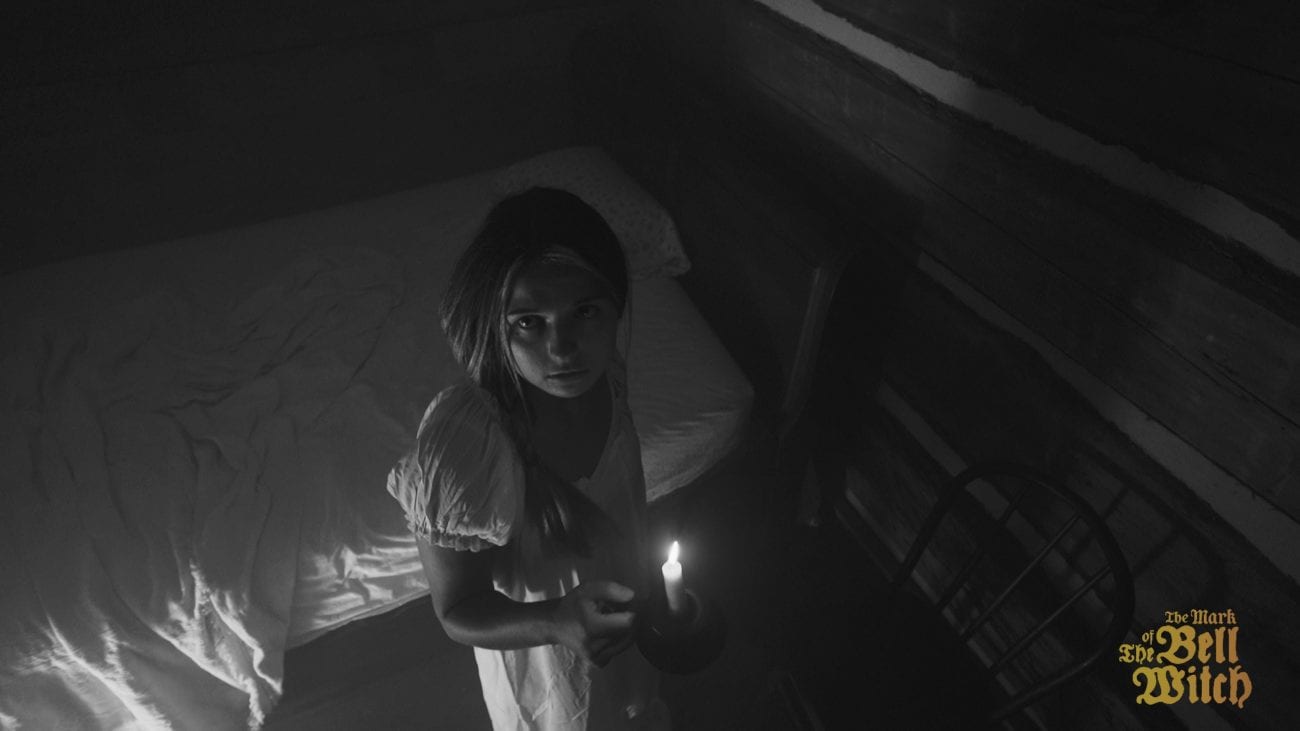 The Mark of the Bell Witch tells the terrifying, true story of the Bell family of Adams, Tennessee. A family who, for nearly five years, was haunted by an apparition bent on destroying their lives and murdering the patriarch of the family, John Bell. Beginning in 1817 as a disembodied voice before eventually manifesting into numerous entities and showing her power through horrifying encounters, the Bell Witch has since become a folk legend.
The Mark of the Bell Witch is directed by Seth Breedlove and produced by Adrienne Breedlove. Narration is covered by genre actress Lauren Ashley Carter (Darlin', Pod), with Zac Palmisano in the role of director of photography. Santino Vitale and SRV Films supplied VFX and Brandon Dalo (The Mothman Legacy) provided an original score. Amy Davies and Thomas Koosed headline the film in the lead roles of Elizabeth Bell and John Bell Sr, accompanied by Aaron Gascon, Sue Matzke, Grayden Nance, and Mark Matzke. Adrienne Breedlove appears as the Bell Witch.
The movie will be available to rent or own on Amazon Instant Video, Vimeo OnDemand, DVD, and VIDI Space starting December 15th. Blu-ray and DVD copies will be available exclusively from the STM Shop.