When the COVID-19 pandemic hit, one of the many professions hit was entertainment, from live theaters of all sizes canceling shows to movie theaters shutting down. Since then, artists of all kinds have come together and innovated to keep creating and entertaining during the pandemic.
Zooming the Movies launched in May 2020. Run by Kevin Pollack and Thomas Eliot Squires, Zooming the Movies reads film and TV scripts live at least once a week over Zoom.
On Halloween night, at 8 PM ET / 7 PM c, Zooming the Movies will present Beetlejuice (1988). Zooming the Movies' Beetlejuice cast includes Horror Obsessive's own Jamie Lee as Lydia Deetz (originally played in the film by Winona Ryder). Jamie Lee even wrote about the original film earlier this month. Kevin Pollack is starring as Beetlejuice (originally played in the film by Michael Keaton) and going all-out for the role, doing his own costuming and makeup to be "the ghost with the most."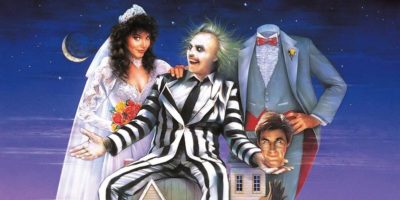 Zooming the Movies finds actors for each reading by announcing the upcoming titles in their public Facebook group and asking which members are interested. After casting is finalized, the script is sent out to the actors in the cast. The cast joins a Zoom call at the designated time, which is broadcast via Facebook Live. The group has performed movies and TV shows of many genres and is continually growing: as of this writing, the group has over 800 members.
Since it's a public Facebook group, anyone on or off Facebook can watch the live broadcasts for free by simply visiting the group's page. The recordings are then saved to the group's page, where anyone on or off Facebook can watch them afterward. The group's also currently looking for editors to refine the recordings so they can be uploaded to Zooming the Movies' YouTube channel. Anyone interested in editing is encouraged to reach out.
Halloween looks very different this year. While the loss of many traditional Halloween events and celebrations is disappointing, the challenge has also opened doors (very creepy, creaky doors, of course) to new ways to celebrate the spooky season. While you chow down on this year's Halloween candy haul, before you watch The Exorcist for the 168th time, tune in to this new spin on an "old" favorite. (Everyone's favorite bio-exorcist did live through the black plague, after all.)
This author may be biased, but she thinks watching Zooming the Movies' performance of Beetlejuice will be a fun way to end the…"Daaaaaay-o!"