Last Halloween, Shudder closed out the first season of its ghoulishly good anthology series Creepshow, leaving a bloody, heart-shaped hole in the chest cavity of fans of the show everywhere. Two days before the shooting for season 2 was scheduled to begin, production of the show was shut down due to COVID-19 concerns back in March. Production resumed on Creepshow in Atlanta at the start of September, but showrunner/director Greg Nicotero was looking to ensure a story for the series for Halloween. Having an animated Halloween special was not only a practical solution, but it was also a genuinely pulp-comic-influenced move, making it supremely Creepshow. The officially titled Creepshow Animated Special is hitting Shudder two days before Halloween, and there's good reason to be excited about it.
I have to admit that I'm a huge Kiefer Sutherland fan so I was beyond excited to see his name attached to a Stephen King story for the first time since Stand By Me. Sutherland kicks things off in "Survivor Type" as Richard Pinzetti, a drug-running surgeon whose talent relies on the steadiness of his hands. Pinzetti takes us through how he, as a poor kid from the inner-city, beat the system all these years by citing an uncanny knack of always being able to land on his feet. Now, suddenly stranded on a deserted island, with nothing to eat, it appears his luck has run out and he must make a series of grisly decisions in order to survive. His first, cut off his foot or die from infection.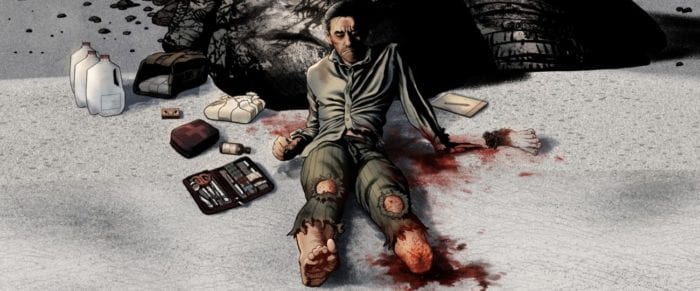 My first thoughts on the animation style of the episode were that it lies somewhere between Archer and Buffy the Vampire Slayer: Season 8 Motion Comic. It takes a second to get used to it, but overall, the animators have done a fantastic job in bringing a Creepshow comic book to life by creating it in a similar vein to 2019's ultraviolent To Your Last Death. I truly enjoyed the moral balance that "Survivor Type" promotes, and as the US creeps toward an election in a week, I feel like it's thematically good timing in reminding politicians and voters, who may be trying to remove themselves from the current political climate, that luck does in fact run out.
"Survivor Type" utilizes seagulls as a metaphor, not unlike Robert Eggers' The Lighthouse, for the carefree spirit Pinzetti has lived up until now, becoming starkly dependent on those seagulls to keep him from more morose consequences. Pinzetti's self-consumed, arrogant outlook from the start offers a fun, ironic catharsis, and by the end, I didn't know whether I was rooting for him or against him. As his story resides in the humblest of beginnings, he still elects to stick his nose up in the air, dismissing his origins and pushing his luck to an overwhelming extreme. The result is a full karma reset. Though it can be argued that Pinzetti may have been lucky to be the sole survivor of a horrible accident, this is Creepshow, and as such Pinzetti's fate is anything but lucky.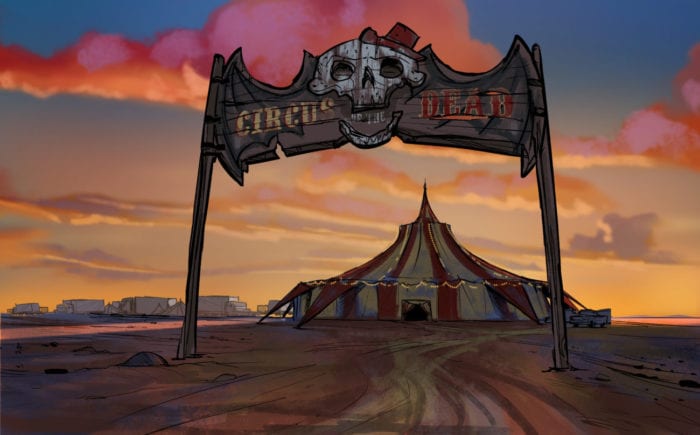 The first story is very dark and extreme, but it was my least favorite of the two. In the second story offered, Joe Hill's "Twittering from the Circus of the Dead," Joey King plays Blake, an angsty, social media-obsessed teen on a road trip with her family. Narrating her story through tweets to her followers, Blake gripes about her overbearing mother and the whimsical antics of her brother before the family has to take a detour where they encounter a tent for The Circus of the Dead in the middle of the desert and decide to take in a performance of "the gravest show on earth."
Joey King's horror credentials are a bit hit or miss, but throughout her very young career, I've always thought King to be a solid presence. King's performance here is no different. She is so attuned to the vapid persona of the phone-addicted Blake, it makes it hard not to feel something for the character as the horror mounts against her and her family.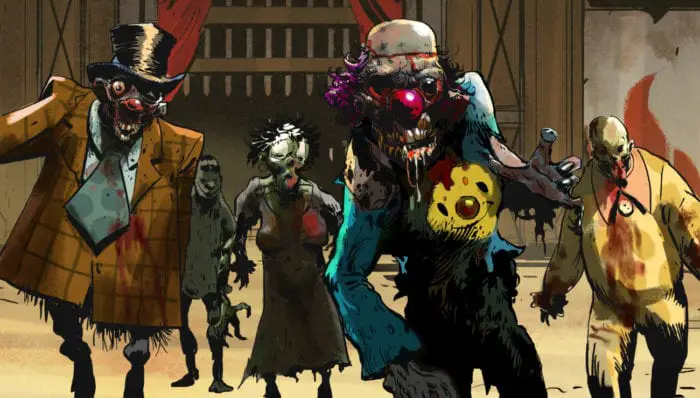 I got severe From Dusk 'Til Dawn vibes on "Circus" with the road-tripping family, the remote location of their destination, and the show inside being anything but what it seems. The story itself works on a lot of levels to instill fear not only in the moment and on the surface, but also through worry for future generations. Blake's failure to stop tweeting even as the terror commences offers an allegory for similar real-life predicaments of today's youth not knowing well enough to look up from a screen to realize they're in danger. The metaphor is equally perpetuated by her parents who insist that the show is purely entertainment, begging the question that we, as a culture, may be affecting fight or flight responses by failing to recognize what is happening in the world around us and meanwhile insisting there's some societal conditioning that goes along with that.
With "Twittering from the Circus of the Dead" we get a larger world than we do in "Survivor Type" and with it vastly different approaches to horror. The latter is relentlessly isolative and claustrophobic with a huge focus on self-reliance where the former wants desperately to have an audience but a severe lack of situational skill and awareness. Though entirely separate approaches, the ironic consequences in both are bittersweet, and I think you'll find that out as well on October 29th. Shudder has also announced that Creepshow will be returning with new episodes in 2021, though no set date has been listed yet.