New England is one of those regions in the eastern United States that is brimming with odd histories and spooky legends. Something about the traumatic, often atrocious, history of colonial America incites and sustains tinges of the macabre in the collective storytelling of the east coast, most especially in places far from urban centers. Many of the tales associated with the northeastern states of Connecticut, Rhode Island, Massachusetts, Vermont, New Hampshire, and Maine are known the world over, for instance, the Salem witch trials, the monster of Lake Champlain, or Mercy Brown, but the eeriest and most bizarre tales are the lesser-known stuff of local history and lore. Since 2017, New England Legends Podcast has endeavored to uncover the hidden history behind these ghastly gems—one week and one legend at a time.
New England Legends began as a television limited series that first aired in 2013 on a local public media station, was later aired on Vermont PBS and Rhode Island PBS, and was even nominated for an Emmy in 2014. The show's eight thematic episodes are available for streaming on Amazon Prime. The creator and host of New England Legends and of the auxiliary podcast is the author and paranormal researcher Jeff Belanger, a New England native. 
In addition to his media enterprises, Belanger is a public speaker and has appeared on loads of well-known radio and television shows, including CBS, NPR, PBS, and The History Channel. Belanger was the writer and researcher for the hit paranormal documentary and reality television series from Travel Channel Ghost Adventures. Zak Bagans has even appeared as a guest voice actor on the New England Legends podcast. The show's regular co-host, however, is its producer, radio broadcaster Ray Auger. 
Together, Jeff and Ray take us each week to a New England town and relay one of its uncanny tales while lightly touching on formalistic analysis of the history and nature of folklore. As podcast hosts, their dialogue is limited to a scripted rapport, and yes, there may be one or two dad jokes peppered into most episodes. Transparent cheesiness aside, their presentation of the material they cover is effective: some of these stories are downright frightening, and the positive tone of their discussions keeps the mood buoyant.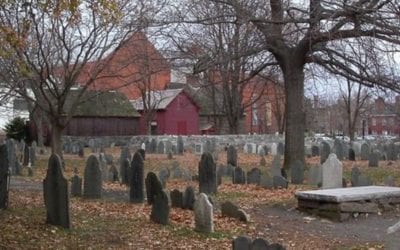 The structure of each episode is recognizable and formulaic. The episodes are concise, with the duration of each one coming in at about ten minutes, making them digestible and enabling the listener to survey a breadth of legends through the show. When possible, Jeff and Ray supplement their discussion of tales with photographs or sometimes even primary source documents like newspapers on that episode's site page. Most episodes are replete with dramatic reenactments of events depicted in each tale, using guest voice actors and original music composed by John Judd. 
The overall effect of these qualities is an often chilling yet kids-friendly production that explores the history of each tale while also pondering their mysterious elements. Belanger makes an effort to color the retelling of each legend with reflections on the essence of myths and legends. The show also strives to sensibly balance objective historical facts with an attitude of open-mindedness to unexplained phenomena. 
So give the New England Legends Podcast a try. If you become a regular listener, you'll be surprised by the breadth of topics that the various legends the show features are centered around. You'll find paranormal events, creatures and monsters, natural disasters, miscellaneous oddities, witches, pirates, ghost ships, and the occasional grisly true crime. You'll even learn things like the hidden innuendo of the Massachusetts-born song "Jingle Bells" (who knew?). 
To top it all off, Jeff and Ray make the show exciting by enabling interactive community and audience participation. Call their Legend Line to suggest new legends for them to research and present in the show or to even appear as a brief voice snippet at the end of an episode; check out their Legendary Map, which shows all the locations that they physically visit while researching legends.
Whether you are a paranormal enthusiast or a skeptic who enjoys a good story, and whether you are from New England or have never even been to the States, I guarantee that you will get a kick out New England Legends Podcast. You may even get hooked, like me. Below you'll find some of my own favorite episodes with brief summaries that I have hand-picked to accompany your commute during the spooky season. New England Legends Podcast is available for free on iTunes, Google Play, Spotify, Stitcher, TuneIn, and iHeartRadio.
Until next time, remember…the bizarre is closer than you think.
The Witches of Weare

Many of the New England Legends Podcast episodes feature tales of persecuted witches—witch hunts and trials were by no means limited to Salem in colonial New England. This episode takes us to Weare, New Hampshire where* stories of spectral attacks and women running on rooftops, contorting their bodies Exorcist-style and transforming into animals were documented in 1888.
* If you listen to this episode, you'll get the joke about the pronunciation of Weare.
Trick-or-Treating at the Conjuring House

Jeff and Ray deviate from their standard format in this episode, which is recorded during their tour of the Conjuring House. An old farmhouse in Burrillville, Rhode Island was the site of an extreme haunting experienced by the Perron family in the 1970s, and this case from the files of Ed and Lorraine Warren is what the 2013 film The Conjuring was based on. In 2019, paranormal researchers Cory and Jennifer Heinzen bought the house and opened it up to visits from paranormal researchers and enthusiasts from all over. Listen as Jeff and Ray explore the house, converse with the current owners, and reflect on clips from their previous interview with Roger Perron, the father of the family who was tormented in the house in the 1970s. See the episode's site page for some excellent photographs of the real Conjuring House.
Captain Jedidy Cole and the Devil

This episode covers the tale that explains the origin of the Jack-o'-lantern, which was occasioned by Jedidy Cole's deal with the devil. The podcast's capacity for dramatic reenactment through talented voice acting, narrative retelling, and thematic original music really shines through in this episode. This is such a great Halloween episode that Jeff and Ray even re-aired for their Halloween special the following year. 
Fingernail Freddy

Jeff and Ray tell us about the tales from Cumberland, Rhode Island of Fingernail Freddy and Hot Shot Charlie, two child-hating recluses who terrorized and were terrorized by the kids at a nearby summer camp. They also discuss speculations that Fingernail Freddy and Hot Shot Charlie may have been precursors to the Freddy Krueger that we know and love.
Connecticut's Fairy Village

Here, Jeff and Ray take us to the Little People Village in Middlebury, Connecticut. Legend has it that old, dilapidated stone buildings are the former home of a witch who had her husband build tiny homes for the Fae she often saw in the woods…only for the couple to be driven insane by the incessant chattering of the fairies they invited to their land. Check out this episode's site page to scope photographs of the little buildings. You might not agree, but I have to say, this story really gives me the creeps.
The Headless Horseman of Canton

This episode features Jeff and Ray tracking the history of the Headless Horseman legend in Canton, Connecticut on a stretch of a former road that is now the site of a shopping center. This one serves as a good example of the show's propensity for tracing legends through historical research. The narrative itself is in this case more oriented to history than to retelling a spooky tale, which is sometimes the case with the New England Legends Podcast—I personally find headless horseman stories very frightening, however, so it still gives me the chills.
Greenfield's Screaming Bridge

Here we have the grisly, tragic tale of Eunice Williams and the Deerfield massacre from the 18th century in Greenfield, Massachusetts and its connection to paranormal experiences reported at a covered bridge there. This episode is complemented by a video segment of Jeff Belanger exhibiting the tale and the bridge on a Boston ABC affiliate news segment.