In 1816, while on holiday, Mary Shelley and her soon-to-be husband, Percy, went to visit their friends. While trapped inside during a storm, the group read ghost stories from Fantasmagoriana, ou Recueil d'histoires d'apparitions de spectres, revenants, fantômes, etc. to each other around a fireplace. On the suggestion of their friend Byron, the group was challenged to each write their own macabre tale and present it to the others. It was through this contest that Mary would create Frankenstein; or The Modern Prometheus.
While undertaking the task, Shelley says (in an introduction to the revised book put together in 1831) that she fell into a waking dream, seeing "the pale student of unhallowed arts kneeling beside the thing he had put together. I saw the hideous phantasm of a man stretched out, and then, on the working of some powerful engine, show signs of life, and stir with an uneasy, half vital motion."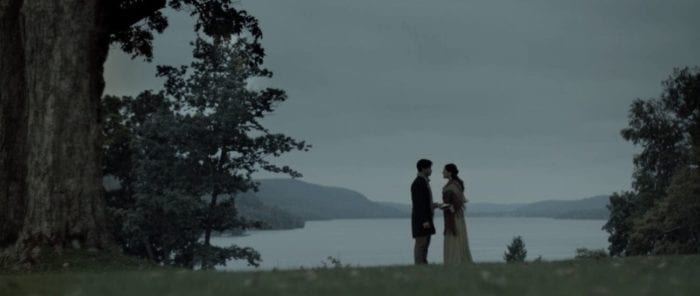 A Nightmare Wakes finds its roots in the story behind Frankenstein amid Mary's creation of the book, and it shapes those events by combining her personal life with her most famous fictitious story. Director Nora Unkel supplies a unique viewpoint of the woman behind the notorious mad scientist and his monster. I have to admit that I didn't know much about Shelley's personal life prior to the film, but in doing some research to discuss it, I ascertained that her life does make for quite an interesting story.
Meeting our characters walking through a bright forest setting on their way to Lord Byron's (Philippe Bowgen) estate at the start of the film, a friendly approach is taken that makes these characters come off as modern-day teenagers dressed in the attire of the period they reside. While indeed the characters' historical counterparts were very young at this time, the build-up seems a little whimsical. I felt like a great amount of effort had been expended on getting me to like these characters and felt less inclined to do so.
As the group becomes stuck in the house during a storm, Byron suggests his contest for scary story superiority. A noticeably pregnant Mary (Alix Wilton Regan) opens a book and presses her finger to an ink spot on the page. She is perplexed as the ink begins to bleed at her touch, with the ink trail disappearing as it runs down the page. In the following scenes, Mary attempts to undertake Byron's challenge; instead, she suffers a miscarriage as she begins and experiences a vivid nightmare during the event.
Shortly after losing the baby, Mary is seen with her group of friends out by the lake. Sad and distant, it's brought to the audience's attention that Mary is the other woman in Percy's (Giullian Yao Gioiello) life. Almost immediately, word is brought to Percy regarding the fate of his wife, Harriet (Shannon Spangler). Harriet has drowned herself while pregnant, and Mary and Percy's relationship suffers the increasing strain. Percy now becomes increasingly distant toward Mary before returning drunk one night and abusing her, inflicting even more misery. The vibrancy and color we see at the start of A Nightmare Wakes slowly fades out of the scenery during the course of the film, leaving a domineering grey in its place.
It's no secret that Percy Bysshe Shelley was a noted lothario. A simple search on the man will inform you of his numerous affairs and children. The film also seems to infer he was not the nicest man to be married to, and this inference is seemingly made in a book by Miranda Seymour as well. In Laura Demanski's review of Seymour's Mary Shelley in The Baltimore Sun, she writes, "Life with Percy was initially exhilarating, eventually demoralizing; he conducted numerous affairs and came to cast Mary, in letters and poetry, as a cold-hearted drag on his energies. The book's portrait of Percy is so unvarnished as to make his drowning in 1822 come as a positive relief to the reader." And yet, after his death, Mary attempted to preserve his memory—publicly through promoting his works and personally by (literally) keeping his heart.
As A Nightmare Wakes steers toward its end, Mary is found to be with child again and stops writing at Percy's insistence. Her nightmares and hallucinations become darker and steadily crazier in order to produce an ending that sideswipes the truth in order to enforce a myth. It's a bold, dark tale befitting Shelley herself.
I'm sure the film will find its audience, but it didn't click for me. Don't get me wrong, the acting, directing, and cinematography are all beautifully executed. The story, unfortunately, seems muddy to me. Mary begins creating a parallel between her Dr. Frankenstein character and her husband—at first, through his obsession with having a surviving child. Through imagery in Mary's dreams of babies and the wailing cries heard throughout them, it seems implied that the doctor's monster stems from Mary's fear of motherhood and losing another child. Postpartum depression from the birth of her second child would seem to indicate these fears as well. But, as the film pushes toward the end, the idea changes, evolving the doctor's creation from the child the pair has created into the monster Percy has turned Mary into. In short, it was a little confusing to navigate.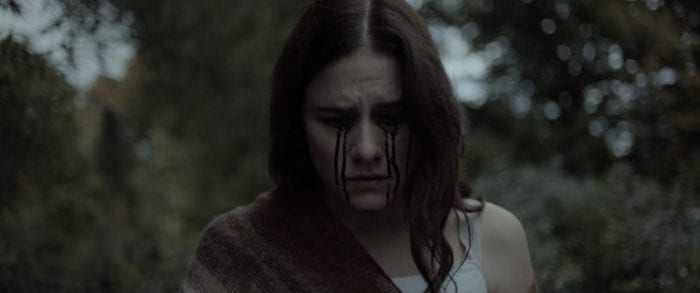 It's a very interesting entanglement Unkel has crafted, and if you're a fan of period pieces or alternate perceptions of history, you may really enjoy it. As I stated earlier, Mary Shelley led a very interesting albeit melancholic life, and a lot of the structure of that life is on display in A Nightmare Wakes. Though I can say I found some things I didn't like about the film, I can hardly dismiss its achievements. The amount of research alone Unkel must have put into simply drafting the script is beautifully displayed in its final result, and that alone is remarkable.
A Nightmare Wakes will have its world premiere at this year's all-virtual Salem Horror Fest during its first weekend beginning October 2. An all-access pass gets you entry to all the films, panels, retrospectives, and more for both weekends on October 2 and October 9.