Earlier this week, I published a review for Displaced, which is playing at Salem Horrorfest this year. Displaced is a fun, well-paced, tension building thriller about a man coming to grips with a traumatic past.
I reached out to director Josh Atkinson for more insight into his process in bringing his cult driven urban madness story to life. I learned a lot about the new director: his love of Kieslowski films, knowing to duck if I ever have to wake the man up from sleeping soundly, and a bit about what he hopes to bring us next.
---
Sean Parker: How are you doing today?
Josh Atkinson: Well, the day just started. No bad omens so far though!
SP: Are you excited?
Atkinson: About the interview?
SP: [Laughs] Well, I meant the release of the movie.
Atkinson: Oh! [Laughs] Yes, of course, I am. It's weird though, you know? I kind of expected to be there for it premiering in Salem and to be able to talk about it. And I was hoping to see Joe Dante too, who I'm a big fan of.
SP: The movie is very much about gentrification. What about this topic specifically spoke to you and inspired you to make the movie?
Atkinson: Gentrification provided an immediate horror metaphor: the fear of new neighbors whose presence will be harmful to the community. I just made them extra harmful. The topic also encouraged greater diversity in casting. We have a core cast of four racial backgrounds because that's what you encounter walking through Bed-Stuy, Brooklyn, where the film is set.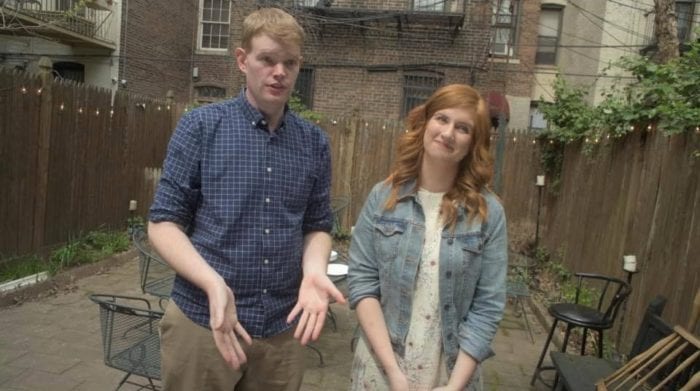 SP: You said Kieslowski had a major impact on helping you develop the paranoid aspects of Nate. Were there any obvious nods you threw into Displaced?
Atkinson: Yes! The whole voyeurism angle came straight out of Three Colors: Red and, more broadly, his work frequently dealt with the paradox of seeking solitude within populated cities. I also love his pacing when it comes to character development.
SP: Nate lives very isolated in this film. Do you think the fact that we've been locked in our homes for the better part of the year adds a new kind of tension to Displaced?
Atkinson: I hope it adds an unbearable level of tension! I think the solitude of quarantine is making us all confront any negative thought patterns we may have, so maybe people will relate to Nate's behavior a bit more? (Hopefully not too much…)
SP: Nate goes from this place of self-isolating to fully interacting with his neighbors. How does this affect him psychologically?
Atkinson: Direct interaction with them only exacerbates his paranoia, especially as he watches Jasmine and his grandmother grow more at ease around the Beilers. He winds up feeling even more alone because now his support system is starting to doubt his sanity.
SP: During the police experience, Lucas gives Nate a little smile. How do you play that type of character in that situation?
Atkinson: I knew that Lucas and Heather were motivated by the need to make Nate recall and embrace his past, so nothing they did came from a place of racism. When you're in league with the devil, all humans are pawns, regardless of demographic. But also as an actor and a progressive voter, I find value in trying to understand people who do reprehensible things. You have to know your enemies in order to beat them during elections.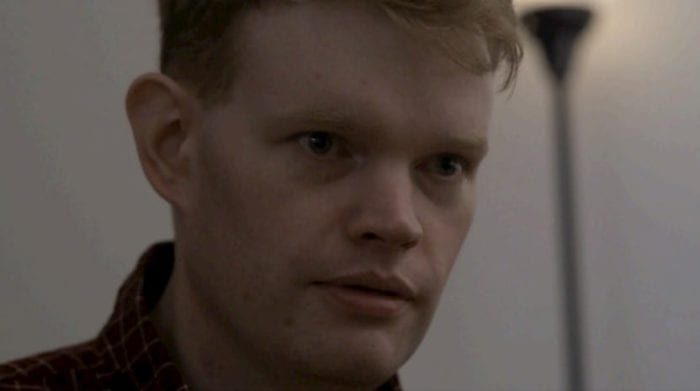 SP: Sleepwalking is a big feature in Displaced. Have you ever sleepwalked? Any adventures?
Atkinson: I haven't, but it's always weirded me out. On a field trip in high school, this one kid started shouting in his sleep, and I kind of sleep-punched him? It was just a reflex! I still feel bad about it.
SP: You, very personally, mention your own brush with almost being brought into a cult by your father. Given the themes of this film, how surreal is it to be playing a character on the other side of that experience?
Atkinson: My father gradually went from a Sunday Catholic to someone who fell in with a group of backwoods fundamentalists, if not an outright cult. It did end our relationship, but I think it's afforded me an insider's perspective into how fringe sects function. They were frightening people, but they were also fascinating. So it's entirely possible I'm going to write myself another cult character down the line…
SP: Displaced was crowdfunded—how exciting is it for you to be able to let the people who funded this movie get to see it?
Atkinson: That's the surreal part. All the uninsured caterers who threw $20 my way—and restored my faith in humanity—finally get to see it. Their generosity is still one of the highlights of this whole experience.
SP: And the rest of the world?
Atkinson: As far as the rest of the world [goes], honestly, I hope some people see that you can do a lot with very little money. We only had $16K, but we got the feature made by working with passionate, committed people.
SP: You have credits as the director, writer, producer, actor, puppetry, SFX makeup, and original artwork. What was it like taking on the multitude of roles for Displaced?
Atkinson: It was stupid! But that's the reality of nano-budget filmmaking. I'd love to have other people do those tasks, but it always comes down to who will do it for free and keep the budget intact. You don't have to pay yourself! But my multiple personalities are planning to unionize.
SP: You're currently working on two new scripts. Are there any secrets you can reveal about them yet?
Atkinson: One is finished, another social justice horror film with a diverse cast but a much faster pace. Sadly, it will have to wait for Jason Blum to swoop in from the heavens to finance it because I cannot. I'm currently working through the second script, another horror movie dealing with issues of solitude and paranoia. Sensing a theme? I hope to shoot that one as soon as people are allowed to breathe in confined spaces again!
---
Displaced will be having its world premiere at this year's all-virtual Salem Horrorfest during its first weekend on October 2. Purchasing an all-access pass will allow you to see premieres, panels, and retrospectives during both weekends.