Five years ago, the 8 Films to Die For series went digital for the first time. My brothers and I loved attending After Dark Horrorfest, so when the 2015 festival went completely video on demand, I bought all the films. The selections were always rough. For Every Mulberry St. there'd be a Perkins 14, so to speak. Some highs, some lows, but lots of fun. One of the higher entries in the 2015 slate of films was Powell Robinson and Patrick Robert Young's film, Bastard. Only stands to reason that I was very excited to see what they'd do with their sophomore effort, Threshold.
From the beginning of Threshold, we can tell that Leo (Joey Millin) is a man on edge, screaming in his car along with the blaring heavy metal while on his way to meet his estranged sister, Virginia (Madison West). Arriving at her apartment building, Leo can't seem to contact Virginia. He sneaks his way into the building and up to her level. Hearing a noise from the inside of Virginia's room, Leo storms in to find her convulsing on top of her bed.
Recomposing herself, Virginia acts like nothing just happened and the two go back to Leo's car. Leo is frustrated and upset, as any brother would be. He tells Virginia that he's there on their mother's request to bring Virginia back to rehab. Virginia scoffs, telling Leo that it isn't going to work because she's been clean for eight years. When Leo asks what else it could be, Virginia tells him she's cursed.
Describing in detail the entire process of what she went through, Virginia starts by explaining she joined a cult. The cult offered to help cure Virginia of her addiction through highly unconventional processes. She was tied to another man, a spell was cast upon them both, and when they cut the man's chest, Virginia felt it too. Now, whatever he feels she does, too. Virginia retrieves coordinates to the man she shares a connection with, and she and Leo head out to find him. Becoming increasingly paranoid, Virginia believes that the cultists are hot on their tails.
I began to settle in for the ride. What I thought was going to be more of a Martha Marcy May Marlene situation never happened. I was under the impression cultists would be chasing Leo and Virginia all the way to their destination. What results is a cathartic brother and sister road trip movie.
Ralph Waldo Emerson said, "It's not the destination. It's the journey." That's what Threshold is truly about. The bulk of the film is spent watching two disaffected people finding the strength to reconnect and help each other. Leo has no cause to believe Virginia and remains reserved and skeptical throughout Threshold. He is following his sister because she needs him as he starts to realize that he needs her, too.
I was hooked at the start of Threshold. It really came out of the gate swinging. The plot was a little similar to the setup of the Evil Dead remake, where a girl's brother and her friends take her to a cabin in the woods to kick heroin. Threshold, however, put its own twist on it and really acts more like an endearing indie film. The open road and various boarding establishments create their own unique atmospheres.
Virginia and Leo banter and bicker back at forth like brothers and sisters often do and the dialogue works well. Young has a real propensity for dialogue, and the movie shows its characters a lot of patience. You genuinely root for them throughout their road trip. In that regard, I do see musings to 2018's The Mountain even if it never quite reaches that level of intensity.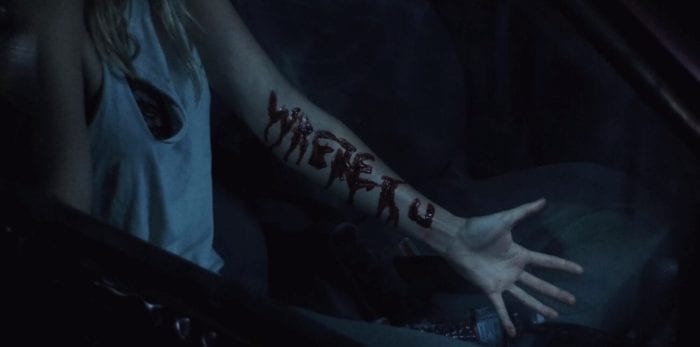 Threshold was not what I was expecting, especially after seeing Powell and Young's debut. Bastard was an over the top slasher flick full of twisted family issues—tense where it needs to be and dialogue with a razor-sharp tongue. And when it went off the rails, it gut-punched you with plenty of WTF moments. Bastard was far from perfect, but it was a fun genre title. Threshold is a huge departure from their first feature and a much more mature effort.
I give new directors, writers, and actors a lot of credit. They're trying something new and that is never easy. The duo is clearly operating on a shoestring budget with two iPhones, a crew of three, and a story they're trying to tell. At times, however, I'm not sure that the movie is aware of what it wants to be. The movie is bookended in horror, but the majority of the film just isn't tense, even if the ending is genuinely bonkers.
The problem here is not that Threshold isn't interesting. When I thought about it, the film remained interesting without ever showing any of the screwed-up events that happen to Virginia. But as a road trip movie, it may have been able to layer these events better as the siblings attempt to reconstruct their bond. Things in Threshold start off so strong out of the gate that as the audience approaches the climax of the film, interest has waned. It just feels as though the audience is waiting for things to happen.
Threshold really isn't a bad film by any means, and it still shows a lot of promise for the directing duo. If you like dramatic films heavy on character building with some horror elements baked in, Threshold may hit all the bases for you. If you've seen their earlier work and think it's going to be just as caustic you'll likely be disappointed.
Threshold will be screening at the all-virtual Salem Horrorfest 2020 during its first weekend starting October 2nd.