Clive Barker knows how to scare you. It's true and you know it. The first time you saw Hellraiser's cenobites, you shot straight up in your seat and were all in until the closing credits. If you then followed him to the monster city of Midian in Nightbreed, you were rewarded with a beautiful blood-soaked fable with equally formidable creatures and characters.
Then there's Lord of Illusions, a movie that is so different from the work we attribute to Barker it often doesn't even make it into the conversation. It's a shame, really. I wouldn't rate it to be the best of Barker's directorial work, but it is not without its triumphs either. August 25th marked the 25th anniversary of the master of horror's underappreciated work.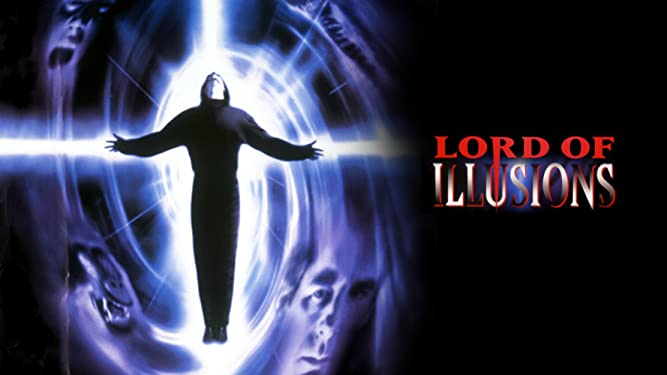 The Plot
Beginning in the desert of 1982, self-proclaimed "Puritan" cult leader Nix (Daniel von Bargen) and his cult followers plan to sacrifice a young girl to attain higher powers of dark magic. Phillip Swan (Kevin J. O'Connor) arrives at the compound leading a group of one-time Puritan followers to save the girl and stop Nix. After some face-melting magic renders Swann powerless, the young girl gets a hold of a gun and shoots Nix. Swann binds him to a metal face mask, hoping to ensure his lasting demise, and the group buries Nix in the desert.
Flash forward thirteen years. Harry D'Amour (Scott Bakula), a Lovecraftian private detective with a penchant for taking occult cases, sits in his office. D'Amour is a full-on mess following a botched exorcism which has taken the life of a young boy, so when he gets a lead on some seemingly easy work far away from his situation in New York, he hops a flight to L.A. whereupon the job collapses into something far darker.
D'Amour enters on Butterfield (Barry Del Sherman), Nix's former right-hand man, murdering a tarot card reader we recognize from Swann's raid on Nix's compound. The witnessing of the murder triggers Phillip Swann, now a renowned magician, to hire D'Amour to investigate further. Fearing Nix has begun his journey back to the realm of the living, Swann and his wife Dorothea (the marvelous Famke Janssen), with the aid of the hired D'Amour, race to find a way to stop Butterfield from reanimating Nix to his former Puritan mantle.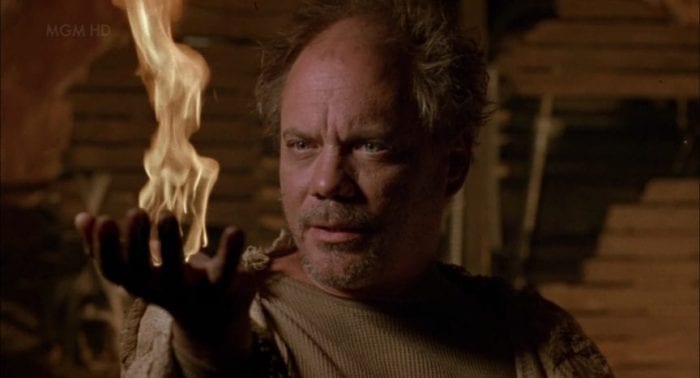 The Analysis
Atmosphere is exceptionally heavy throughout Lord of Illusions. In Harry D'Amour's office, for example, we see a rain-soaked windowpane, but light oranges and greens embrace the walls. I believe this is on purpose. It cleverly suggests Harry's need for safety to the audience, while interlacing that safety with hauntingly macabre black and white frames from the exorcism. Though the music booms, we never engage psychologically with these places or feel our hero to be in any immediate danger.
The flip side to that is the darkest sets in the film. Swann's stage show is mesmerizing and a real cinematic achievement for its time. You know something's about to happen, and yet the film continues to draw you in. The backstage area scene where D'Amour and Butterfield's lackey face off again is equally foreboding. Finally, The Puritan's desert compound is filled with both cultists and dread. The ominous tone alone is enough to make your heart thump a little faster.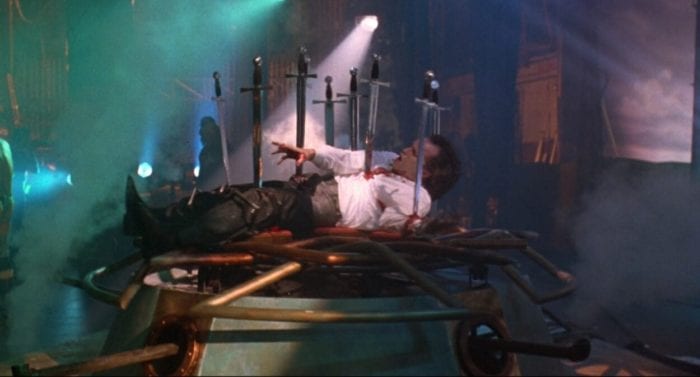 Speaking of the cultists, The Puritan's group is so devout, they murder their families and co-workers before heading to the desert compound. They then proceed to cut off and burn their hair as a sacrifice for their malevolent savior before meeting their fate at the hands of he whom they worship. They are then forever protruding from the compound's dirt filled floor, entombed for eternity.
You'd be hard-up to find more impressive followers in any other films that feature them. Hell, I would not be surprised to learn Mandy's "Children of the New Dawn" and Doctor Sleep's "The True Knot" find some rooting in Lord of Illusion's well-crafted and distinctly sinister cultists. The Puritan's cult is maybe only rivaled in film by The Father's cult in the Turkish Baskin, a movie I would argue to be a gore-addled love letter to Clive Barker and Wes Craven.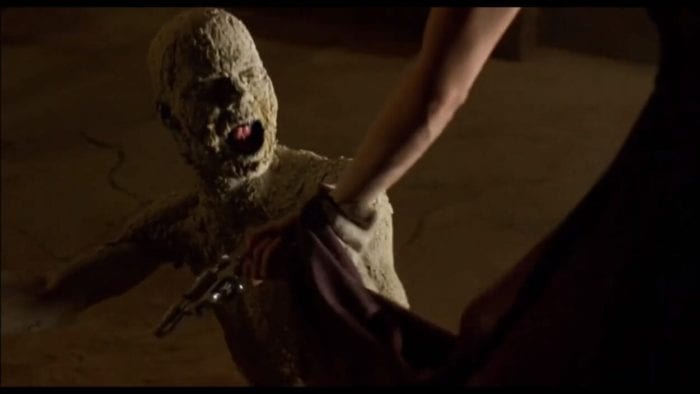 With Clive Barker comes expert foreshadowing and symbolism. "I think Phillip believes all that stuff with tarot cards," Dorothea muses. The Ten of Swords is the final card on the table at the tarot card reader's place. That card can represent betrayal, ruination, and triumph over evil, usually at heavy cost. Though you're initially meant to believe this card is for the man who dealt it, and in a way it is, the card exemplifies Phillip Swann's character arc as well. Without knowing more about tarot cards, I suspect that most of the characters in the film would have card attributes associated with them. Unfortunately, the cards never go further than this.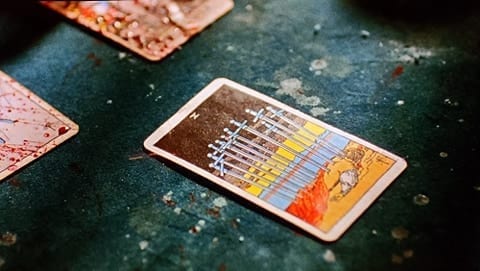 The most memorable aspect in Lord of Illusions is definitely its over-the-top kills: the binding of Nix, the tarot card reader becoming a pin cushion, a collection of swords dangling above Swann on a spinning table seemingly bring him to his end. D'Amour ends Butterfield's man with a giant hourglass. The cultists claw for their lives as the floor swallows them. These images stay with you for some time after the credits roll. You don't see horror with this level of creativity very often anymore.
The Verdict
Barker daringly set out to make "Chinatown meets The Exorcist" when he began production. He was looking for something haunting yet brooding in noir. Based of Barker's own The Last Illusion, you feel the immediate love Barker has for this character from behind the camera. Bakula does an arguably good job, except in the aforementioned love scene with Janssen, but a lot of the lighting and framework intensifies his appeal and helps the film cement the character.
The makeup and creature effects work here are brilliant, and why shouldn't they be? This is Clive Barker, after all. The man responsible for Pinhead delivers with Nix's resurrection. The binding has molded to Nix's skin to deliver a grotesque, rotted look to his face. Not to mention that creepy third eye protrusion.
The problem with Lord of Illusions is there's so much going on that the audience can't always decode what's important. There's the importance of tarot cards, which feels abandoned later, but never a mention of D'Amour's back tattoo which is presented to the audience when D'Amour attempts to run an astrally projected entity out of the house.
D'Amour, throughout the books, gets a tattoo specific to every type of evil he's trying to ward off. His back tattoo is a protective sigil to ward off demonic possession, but nothing is ever mentioned. Not even in the completely absent-of-chemistry love scenes that support the tattoo's reveal. I wonder if Barker had hoped to make a series of D'Amour movies based on all his stories.
It may be a case of parental pride. As I said, you can tell Barker loves this character. D'Amour is complex, driven, and well rounded, but the audience gets focused on the character so much that it overshadows what he's actually doing in the story. That being so, the film is still a solid effort and abundantly entertaining.
The Clive Barker Universe?
Barker has said that when writing stories, D'Amour sometimes just "shows up" to become a character if only for a page or two. In mentioning this I was struck thinking, "Could there have been a Clive Barker Universe?"
I found myself both giddy and annoyed. Giddy that it may have been the plan, annoyed we never got to see it. I started to look more into Barker's Books of Blood, The Scarlet Gospels, and other D'Amour books.
As I dug deeper, it seemed more and more likely that this could have been the intention. In the comics, Pinhead leads his cenobites against Nightbreed's Midian in Hellraiser Vs Nightbreed: Jihad while D'amour has several adventures throughout The Books of Blood and Pinhead kidnaps Harry's friend in The Scarlet Gospels. Finally, in Hellraiser comics (not written by Barker), D'Amour ultimately takes Pinhead's place as the leader of Hell's Army. How cool would this have been to see shake out?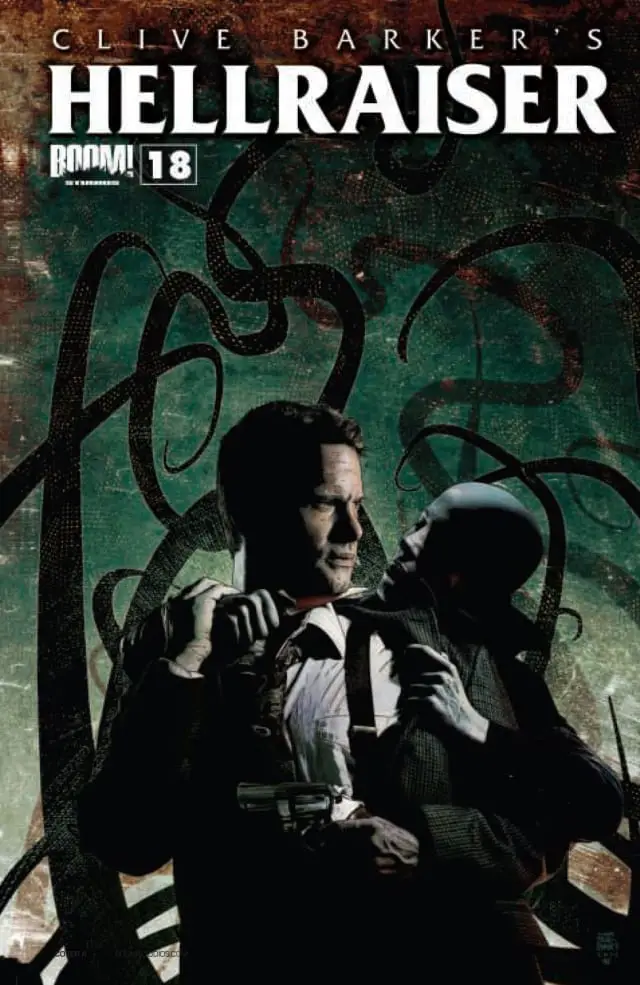 '90s Effects & The Future
As luck would have it, we're seeing a renaissance in terms of revisiting great horror auteurs. The '90s were a transformative era for CGI effects and most had a hard time realizing their intended visions. Practical effects are still very abundant and effective in this movie, but when dealing in fantasy they could become costly or unfeasible for a scene. Attempting worlds of such imagination while stuck in a time with limited resources was difficult.
I'm not putting the movie down. You have to work with what you have, but given the effects upgrades of the last 25 years, the old CGI does come with a certain cheese-factor now. D'Amour's brief encounter with "Origami Man" takes the modern viewer out of the narrative and serves as a time capsule to the hokey effects of the '90s. Films such as The Lawnmower Man, Johnny Mnemonic, and Virtuosity deal with a similar legacy.
That being said, prepare to get your fill of new Barker projects in the coming year! Not only is Candyman about to make it's way to theaters but a new Hellraiser remake has started production, Hulu will be airing Books of Blood in October, and a Nightbreed series has just been announced. Oh, they have such sights to show us!