Here we are! Halloween, our favourite day of the year, has arrived, and we're ready to spend it painted in fake blood, surrounded by candy and candles, while watching our favourite horror movies.
Some horrors just have a sense of Halloween about them, even if they're not set at that time. It brings me great excitement to share with you my personal choices to binge on this day:
The Return of the Living Dead (1985)
This is one seriously bad ass '80s zombie film.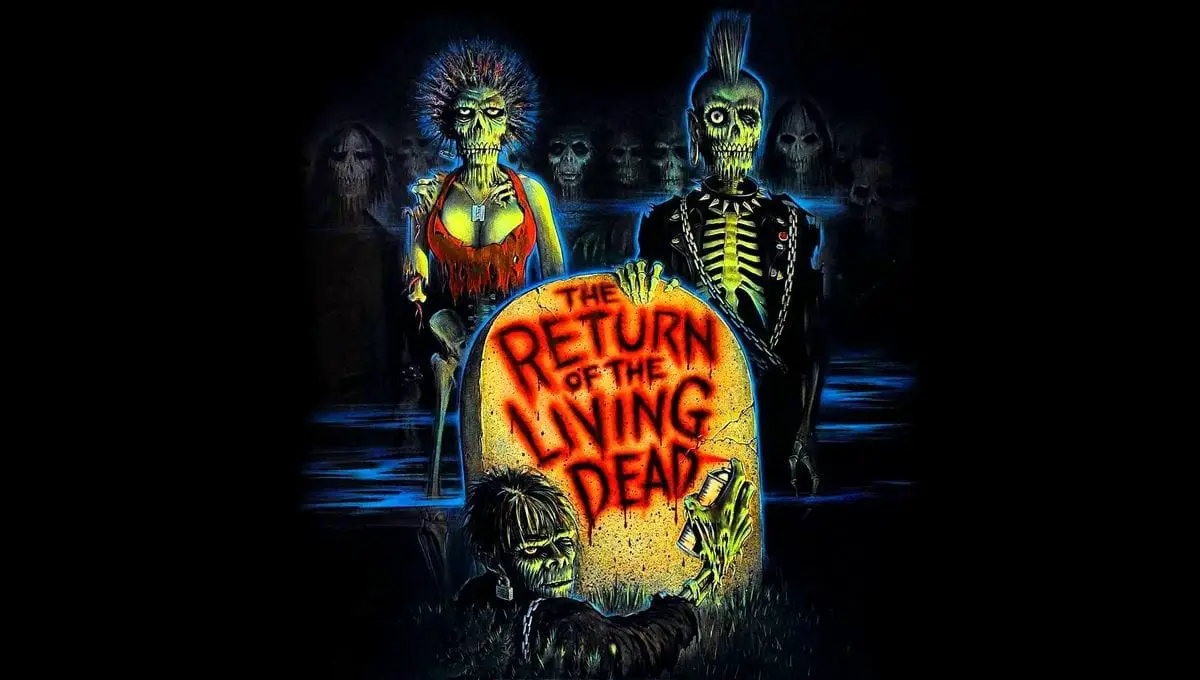 In fact, The Return of the Living Dead might be my favourite zombie movie of all time. I often find myself questioning, did the 1980s give us any movies I didn't love wholeheartedly? I can't seem to find one. This horror right here has that special 80s flare with some classic flesh eating gore.
If you haven't seen it, the film is set in Louisville, Kentucky, and begins in Uneeda Medical Supply warehouse where Frank is showing around the new guy, Freddy. He asks Freddy if he's ever seen Night of the Living Dead, and tells him that film was a true story that occurred after a toxic medical spill. Apparently the remainder of that toxic gas was shipped to that very warehouse, but as Frank tells him this and shows him the barrels containing the un-deadly gas he accidentally pierces one of them, exposing them both to the danger.
When they wake up, the virus is spreading, and there are bodies missing from their space in the warehouse, the zombie rampage begins when Freddy's girlfriend leaves their group of friends who are fooling around in a cemetery to come to the warehouse and look for Freddy and she is attacked. You can probably see where the movie is heading, but it's heaps of fun. The film also features a favourite line of mine, where the police investigate an area and are taken down by zombies, one of the undead grabs a police radio and instructs that they 'send more cops!' Yes, the zombies can talk, and they're hilarious.
Halloween III: Season of the Witch (1982)
It's time. It's time. Time for the big giveaway. Halloween has come. All you lucky kids with Silver Shamrock masks, gather 'round your TV set, put on your masks and watch. All witches, all skeletons, all Jack-O-Lanterns, gather 'round and watch. Watch the magic pumpkin. Watch …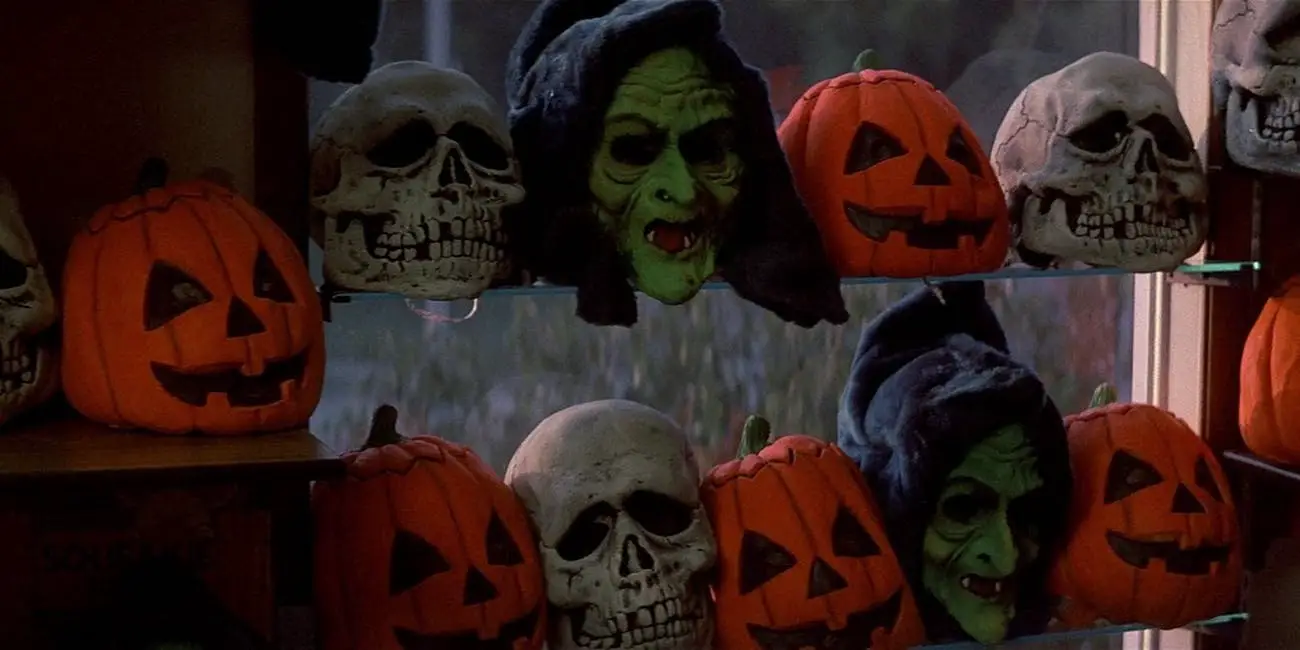 Season of the Witch get's an awful lot of hate, and I think that's unfair. I also wonder if people took the Halloween III title out of the equation and viewed this as just Season of the Witch, a completely separate spooky picture, they might appreciate it a bit more. Because it really is a great film.
This movie is another wonderful horror gift from the 1980s. It tells the horrifying tale of a company, Silver Shamrock Novelties, and its owner Conal Cochran. They sell the famous witch, pumpkin, and skeleton masks that all young children want to wear Trick-or-Treating on Halloween. It is revealed that the secret aim behind these masks is to sacrifice children wearing the masks, and they plan to do this through a televised give away on Halloween Night.
If you've seen this movie, you will have had the 'Eight more days 'till Halloween, Halloween, Halloween!' tune in your head for days after! This musical commercial was used in the lead up to the big give away, and instructed children to watch wearing their masks, little did they know that those masks were microchipped, and contained a piece of Stonehenge within them.
As they watch the give away, the microchip will activate and the energy of Stonehenge will cause severe brain damage while snakes and insects will emerge from the children's bodies, killing them. This is to be committed as an act of Witchcraft, and the sacrifice is to resurrect the old age of such magic practices. The story does sound quire bizarre, doesn't it? But it's hard not to get into it when you're watching. The fact that this movie is based around Halloween makes it especially enjoyable to watch on this day. Every year the Silver Shamrock tune creeps me out a little bit more and yet I still can't wait to hear it again!
Night of the Demons (1988)
Party, till you drop!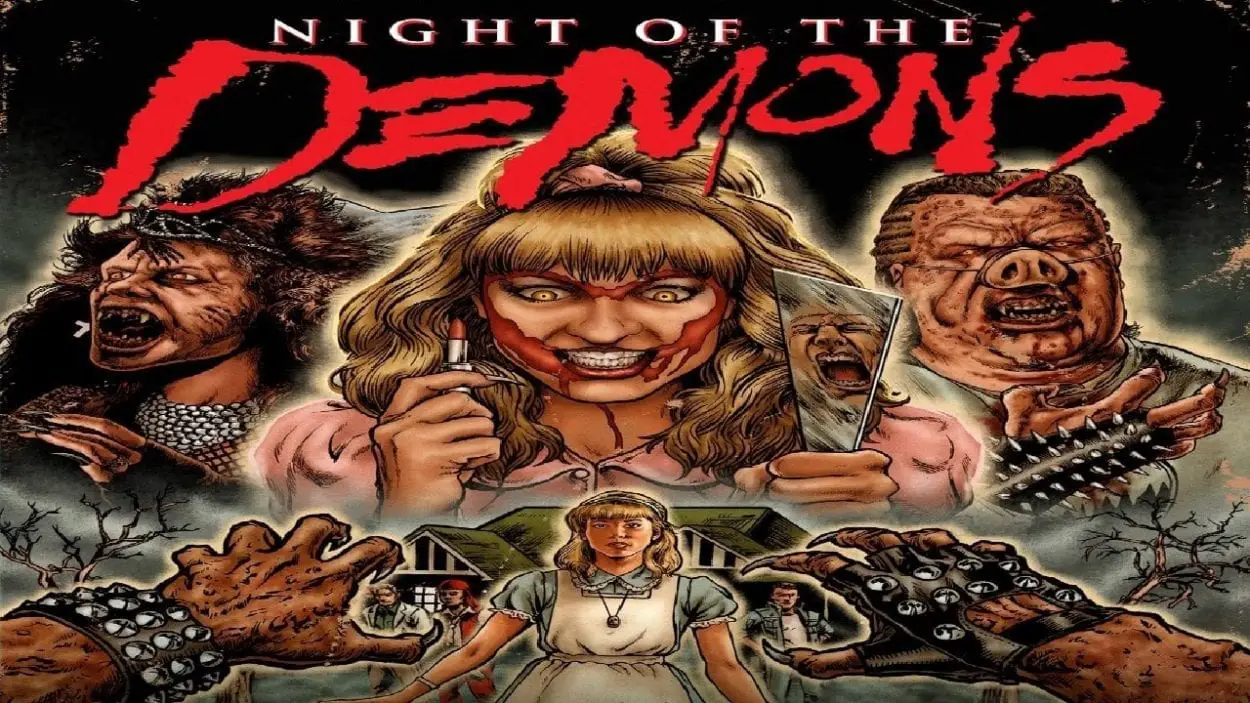 This has to be one of the funnest horror movies of all time! Night of the Demons is a Halloween party in movie form. It's a must see on this occasion. When it comes to my favourite films, the '80s have something extra special to offer, and yes, this is another '80s classic, but it definitely isn't talked about enough.
Night of the Demons might be called a 'teen horror' but don't let that put you off this awesome story. On a dark and ghoulish evening, a group of friends break into a funeral home to throw a party, as we all do. You know how it goes when you're with your friends, you're telling false scary stories, and you decide to do something crazy like play with the Ouija board or perhaps hold a séance and contact the dead. Well, that's what these teens decide on, and as you may have expected, something goes terribly wrong. They accidentally release a demonic spirit from within the mortuary and one of them becomes possessed. The rest of the movie is pure madness: crazed possessed chicks, an '80s house party, and vicious attacks.
This movie, too, features a scene I find hilarious, when a possessed Angela seductively dances to Bauhaus next to the fire and Sal warns Stooge "careful man, she's acting really fucking weird!"
This film is one I watch on every Halloween without fail, it's just awesome throughout. I highly recommend it.
House Of 1000 Corpses / The Devils Rejects / 3 From Hell Trilogy
Boy, I bet you'd stick your head in a fire if I told you-you could see Hell. Meanwhile, you're too stupid to realize you got a demon sticking out your ass singing, "Holy miss moley, got me a live one!"
House of 1000 Corpses and The Devils Rejects have been my favourite movies of all time for as long as I can remember, and very recently 3 From Hell was sent down from the heavens to join them. I described watching 3 From Hell as being back home again, it was a family reunion, and this time half-brothers were invited too. I'm talkin' 'bout you Richard Brake! Richard's character Foxy was definitely a welcome addition to the Firefly murder family, I loved him.
I have rewatched those first two movies maybe hundreds of times, they will never get old. House of 1000 Corpses is a perfect Halloween night movie. It has an epic soundtrack, fully loaded with Rob Zombie horror tracks, and it has the most awesome fucked up family of killers you'll ever meet. The whole film is insanity, blood, guts, mutilation, dancing and some killer dialogue too. The trilogy are also home to my most favourite movie character of all time: the legend himself Captain Spaulding.
If there's any reason you will consider checking out these three films this Halloween, perhaps you may do it in honor of the great Sid Haig's recent passing. I'm not lying when I tell you that Sid loved every second of the appreciation he got from playing Spaulding, and he loved putting work into that character. That killer clown stole my heart from the very first sighting of the sign outside the gas station "CAPTAIN SPAULDING'S WORLD OF MONSTERS AND MADMEN, FRIED CHICKEN AND GASOLINE"
That's a little insight into the way that I love to spend my Halloween year after year! For me, the holiday wouldn't be complete without those movies. There are thousands and thousands of horrors out there to satisfy your cravings, and if you're like me, Halloween lasts all October long, so you've been watching them from the very beginning! I'd love to hear some of your Halloween favourites, and if you haven't seen any of those listed above, today's the day to get to it!
Happy Halloween!