I'd like you to indulge me for a minute and close your eyes. Got 'em closed? Good.
Now, tell me the first image that comes to mind when I say the following: Horror movie icon.
Who is it? Maybe Bela Lugosi. Or Robert Englund. Sid Haig, perhaps? Oh, I know! It's [enter name here]. These are great. But forget all that.
Let's start over.
I'm here today to make a case for why when I say "horror movie icon," your brain should automatically be opening its Barbara Crampton file. I realize that this is not as controversial as, say, a certain take on the American remake of Martyrs. People widely praised and consider Crampton an icon, and for good reason. Not only do her onscreen appearances enliven the scenes she's in, but her real-life persona is every bit as amazing to her adoring fans. In a time when the veil between stars and the ­hoi polloi is torn a little more each day thanks to social media, Crampton is known for actively engaging with her fans. (Examples include her participation [along with co-star Kelli Maroney] in a live-tweeting session with #MutantTheater as they watched Jim Wynorski's 1986 Chopping Mall on Shudder, as well as her recent tweet for fans to tell her their stories about the first time they watched Re-Animator).
In this installation of 25YL's Horror Icons series, I want to take a different approach to honoring the work of Barbara Crampton. Instead of a traditional retrospective or an exhaustive description of her horror appearances, I want us to listen to what Ms. Crampton has to say about a conversation that she has been having for many years now: that is, the roles of women in horror. Following her lead, then, let's take a look at her comments on the subject and how they relate to some of her most well-known roles (with a surprise thrown in for good measure!).
1980s-1990s: "Don't Call Me A Scream Queen"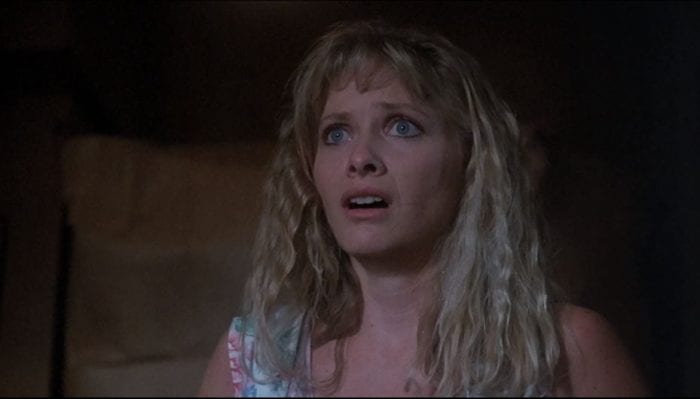 In a 2016 editorial written for Birth. Movies. Death.,[1] Crampton decried the use of "Scream Queen" to describe her. She writes, "For me, I prefer not to be labeled, boxed, pigeonholed or reduced to a term that I consider passé and antiquated, limiting and, yes, crass." Crampton thoughtfully situates the term in a particular historical context, finding that it was "bestowed upon countless starlets throughout the 1980s (including myself)."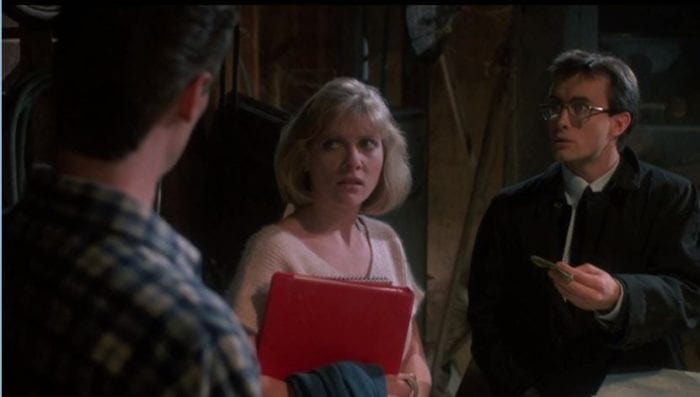 While her roles in Re-Animator (1985), Chopping Mall (1986), and From Beyond (1986) caused people to characterize her as such, Crampton always played these characters as intelligent and multifaceted women who did the best they could in the face of terrifying and often bizarre situations that were out of her control. What makes the slate of horror roles Crampton took in the 1980s and 1990s so noteworthy is the complexity with which she played them. Take From Beyond, for example: she makes us believe she is McMichaels, a noted psychiatrist whose work on schizophrenia might be advanced by Dr. Pretorius' Resonator.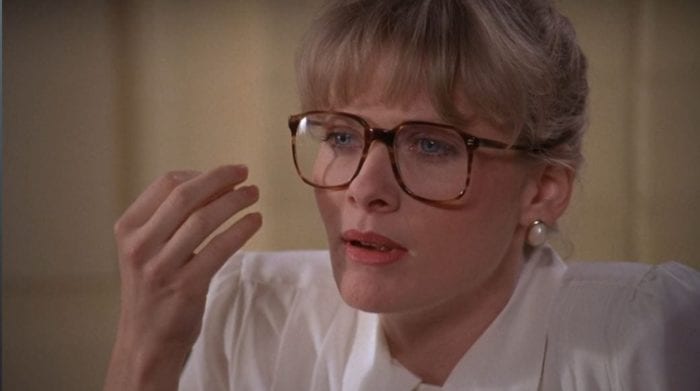 In the end, though, the quest for knowledge appears to have driven her mad. What gets me about the end of From Beyond every time is how well Crampton sells this. Her eyes, the way her face contorts, her laugh—it's all so unsettling and sinister.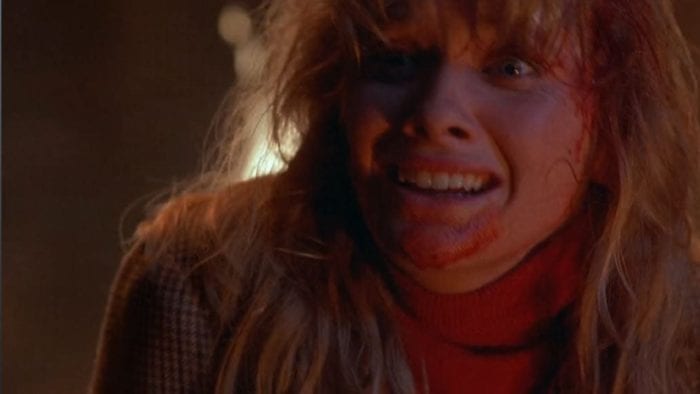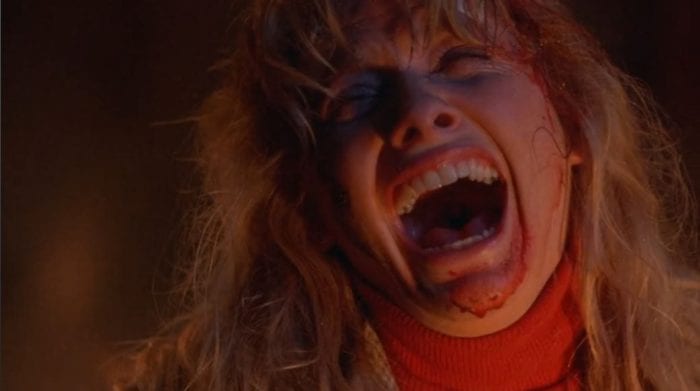 Though I am focusing on her roles in horror here, I would hate to pass over one of the best scenes in a non-horror film from this era that I think embodies all the reasons her fans love her. Albert Band's 1993 Robot Wars sees Crampton as an archaeologist who, quite frankly, doesn't take any shit off of anyone, especially a walking hormone like Drake (played very convincingly by Don Michael Paul). After a few rounds of witty banter between the two characters, Drake quips that Leda (played by Crampton) "need[s] to be, you know, spanked." Without missing a beat, Leda punches Drake in the face, retorting, "And I think you need an icepack."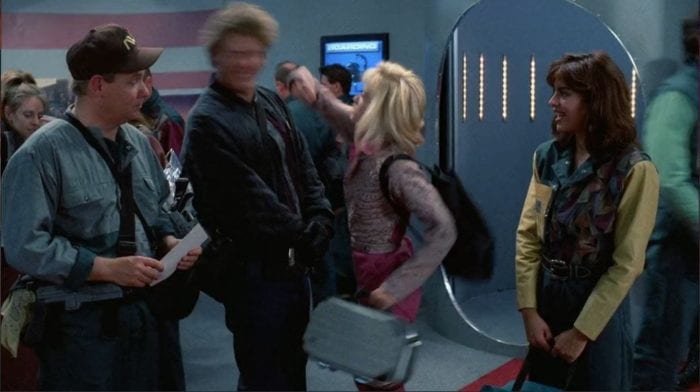 2011-Present: "More Layered and Representative of Where I Am Today…"[2]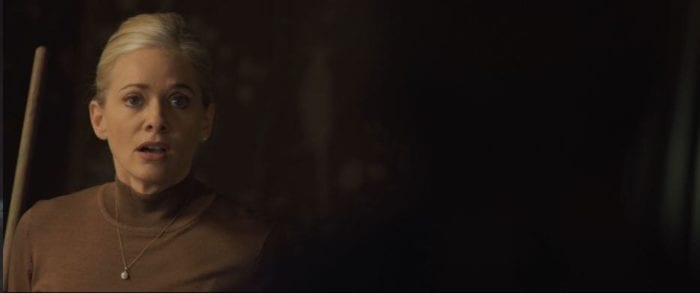 Anyone who follows Barbara Crampton on Twitter or Facebook or reads any interviews she's done over the last several years knows that helping to change the perception of and advocating for women in horror is one of her priorities. In a 2017 interview she did with Collider's Haleigh Foutch, Crampton commented on the ways in which industry expectations for women manifested in her own life during her 30s: "You're no longer the young, cute thing…I guess in society there's no place for women in their older thirties [laughs]. We're supposed to go sit on a shelf at some point…and wait. Maybe for others, they found continuing work at that age. I didn't. But being an older person now, I'm finding that people are calling me to play various things. Variations on the theme of mother, caretaker, and in some cases, doctors, heads of organizations and things like that."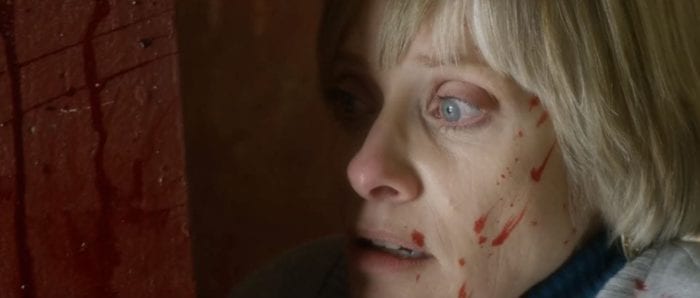 At the same time, Crampton has noted that "the roles are a bit more layered and representative of where I am today." As someone who stepped away from the screen to focus on her family, she was drawn back into the genre for 2011's You're Next. This marks what she has referred to as "the second round of [her] career." That selfsame genuine and overall depth of character that we saw in her "first round" of films has stayed ever-present. Whether her real-life role as a mother made her turns as the mothers in You're Next and We Are Still Here easier to embody is largely beside the point. Crampton still possesses the ability to fully become her characters: from gamemaster to depraved doctor—Crampton does it all, and she does it so well. Much like the end of From Beyond, Crampton's face is able to communicate her character's emotions flawlessly. Anne Sacchetti's deep-seated grief over the death of her son Bobby is palpable in We Are Still Here, and Dr. Karen Redmane really does have a questionable sense of morality in Death House (2017).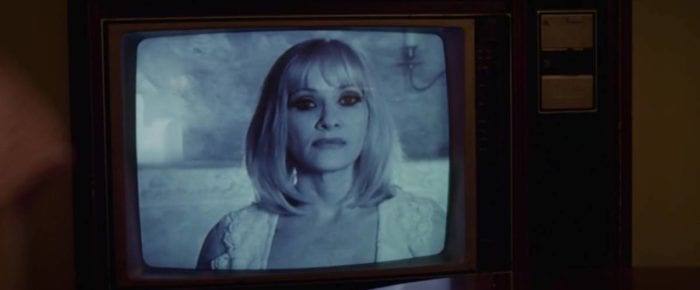 A Modest Proposal on Equality

More recently, Crampton has used her iconic status to address the history of horror and other topics in a recurring column in the most recent issues of Fangoria.[3] Here, with all her experience, wit, and humility, Crampton is able to look back on the genre and take stock of what has come before, where we are now, and where she hopes we go from here. In "Scene Queen: A Case for the Masked Female Villain" from January 2019's issue, she writes, "I suppose because I am one, I think a lot about the ladies of horror. Whether it's pondering what to call us, the impact we've had on film or how far we need to go to be equal, I know a few things: we're smart, tough, resourceful, instinctual, and, most of all, vigilant."[4] Taking this a step further, she makes a convincing argument for the inclusion in the horror canon of an iconic revenge-taking, mask-wearing woman, much along the lines of Jason, Pinhead, Ghostface, and Leatherface: "Given the anger so many women have and the fear so many men feel in this post #MeToo and #TimesUp climate, I think we have enough material to work with. Hell, I think we've always had reason to be angry."[5]
Pairing her love for the genre with suggestions on how to make it better and more equal is precisely what makes Barbara Crampton a horror icon. Her devotion to her craft, as well as to her fans, is what makes her a beloved horror icon.
[1] "Barbara Crampton: Don't Call Me A Scream Queen," Birth.Movies.Death., December 15, 2016. The editorial was based on an earlier tweet she wrote.
[2] Haleigh Foutch, "Horror Icon Barbara Crampton on Her Career Resurgence & the Changing World of Women in Horror," Collider, March 8, 2017.
3] Many thanks to fellow 25YL writer Laura Beerman for alerting me to these pieces.
4] Fangoria 2.2(2019): 88.
5] Fangoria 2.2(2019): 89.