The best horror films are the ones made by those who have a genuine love for the genre. They understand better than most that money doesn't drive the madness; it's a love and desire to create something that fans can celebrate and get behind. They know that the script they pen today and produce tomorrow may very well still enjoy life decades from now. Generations of followers yet to be born will be lining up to buy convention tickets to meet its aging stars in hopes of waxing poetic about the impact it had on their lives.
Horror directors have to be followers themselves to truly understand what it is that resonates within our community. Gore benefits from a story. We have to genuinely care about characters, all while hoping for something incredibly awful to happen to them. Those directors that achieve this become icons of the industry, although the revered celebration of their work usually isn't the compulsion for their creativity.
Hitch was a fan of Robert Bloch; Romero of Richard Matheson. These directors all shaped our industry in ways that may not have always been apparent at the moment, but were no less monumental because of it. And that's because, first and foremost, they were fans.
Adam Green is not unlike the famous directors that have come before him, or his industry peers, in that he hopes to leave the horror genre better than when he found it. He's built a body an impressive body of work over the last two decades. Many of his films may not be immediately recognizable, but even so, his tales of a hatchet-faced maniac haunting the swamps of Louisiana are justification enough to classify him as an icon.
New England to New York
Green was born and raised in Holliston, Massachusetts. The town left an indelible mark upon him, as it'd serve as the namesake for a much-beloved horror-themed sitcom years later. But before he'd get to work with the heavyweights of horror, he'd have to pay his dues in the way many budding directors do.
After graduating college in New York, Green would make his pilgrimage back to Boston, where he'd cut his teeth in the entertainment industry through shooting commercials. It's during these formative years that he'd co-found ArieScope Pictures, a company he owns to this day with friend and frequent collaborator Will Barratt. The duo would fire their opening salvo into the world of film with a semi-biographical comedy titled Coffee and Donuts. Shot for only $400 with borrowed equipment and a cast comprised of friends, it'd garner some acclaim on the festival circuit and in indie circles.
The premise of the film sees two friends, one of which is portrayed by Green himself, trying to find mainstream success for their early morning radio show. Coffee and Donuts would be shopped around to several networks and studios, but after being re-imagined for as a network sitcom, then tabled and left to languish in limbo with no eventual birthing in the cards, Green would re-spin the series. Keeping the original storyline, threads of horror were weaved in and the fabric was adorned with stars from the world of comedy and horror—and Holliston was born.
Holliston would run for only two seasons between 2011-2012, on the now-defunct FEARnet channel. During its tenure, stars such as Derek Mears (Friday the 13th), Dee Snider (Strangeland), and Seth Green (Robot Chicken) would make appearances, and the show developed a cult following. Rumors circulated for some time of a third season, but nothing has been announced as of 2015.
Hatchet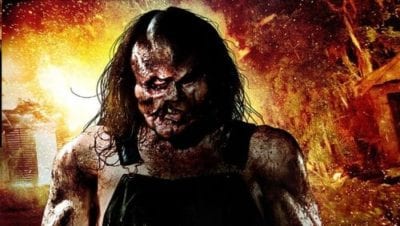 Green's magnum opus Hatchet was a seedling of an idea dating back to a time before his directorial career even began. Produced independent of any major studio involvement, the original film put on display Green's love for horror better than perhaps any of his other works. It was campy, gory, ridiculous, and endearing – just like any of the great 80's slashers it was modeled after.
Released in 2006 and starring genre cornerstones Robert Englund, Tony Todd, and Kane Hodder in dual roles both as the formidable Victor Crowley and his father, Hatchet would develop a loyal fanbase and launch Green's most successful films to date. Rounding out the cast would be Green's now ex-wife Rileah Vanderbilt and fellow director, the late John Carl Buechler, the man responsible for first casting Hodder as Jason Voorhees.
Hatchet immediately resonated with genre fans and would see three additional films produced, including a return-to-roots in 2017's Victor Crowley. Over time, horror starlets Danielle Harris (Halloween 4 & 5) and Felissa Rose (Sleepaway Camp) would become part of the ensemble, thus giving fans even more reason to travel to the swamps of Louisiana.
Frozen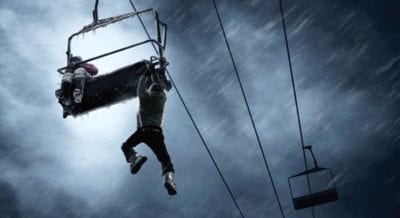 2010 saw the release of Frozen, a story of three friends stranded on a ski lift overnight, trying to stave off an eventual descent into hypothermia. It's a compelling film that established Green as more than a one-note maestro. The quirkiness of Hatchet is not to be found here; this is a horror film, pure and simple. When one of the friends decides to test his luck by plunging from the ski lift to the ground below, the ensuing wolf pack cements the notion that the trio is surrounded by threats high and low.
Frozen presented some fairly bleak visuals, with its snowy ski resort backdrop and darkening sky as day turns to night. The impending sense of doom for the three friends is presented excellently, with no reasonable solution to their situation in sight. It's criminal that the film didn't earn better reviews upon release, because Frozen is an effective thriller, and certainly deserves more acclaim and appreciation than what it received.
Digging Up the Marrow
Starring as himself, 2014's Digging Up the Marrow was a collaborative effort between Green and graphic artist Alex Pardee. A monster movie that also starred Ray Wise (Twin Peaks), it would go on to be one of Green's most ambitious, yet also challenging projects.
Shot documentary-style, the film follows Green and a film crew as they accompany William Dekker (Wise) on a journey to explore, and potentially prove the existence of monsters. It didn't make Hatchet-style waves among the festival scene but is still respectable in its own right. Green does an excellent job of displaying a sense of skepticism at Dekker's claim that he can produce proof of monsters. The story is well-written, and the creature designs are fantastic. And while there are comedic notes throughout, the film delivers enough scares to warrant viewing by genre fans.
During production, Green would suffer two personal setbacks that would leave the film's future in jeopardy. The first would be the death of longtime friend and lead singer of the band Gwar, David Brockie. Brockie had starred in several episodes of Holliston, and his untimely passing had a significant impact on Green. The second would be his divorce from wife Rileah Vanderbilt. She'd had parts in many of his projects, but because of the faux-documentary stylings of Marrow, her role in this film mirrored that of her real-life position as Green's wife.
Working through everything, Digging Up the Marrow would release in 2014 with a home video release in 2015. Green would handle all marketing and distribution through ArieScope, with a grass-roots campaign that included movie house screenings. Much like Frozen in that it wasn't a huge commercial success, Marrow is still a fantastic film that shows Green has the chops to produce quality films outside of the Louisiana swamps.
More Than Just Movies
Green's work in horror isn't just limited to his films. He co-hosts The Movie Crypt podcast with fellow director Joe Lynch, in which they chat with actors and directors from horror and beyond. His company, ArieScope, continues its Halloween tradition of producing short films and is now in the 21st year of doing so. In a fun bit of trivia, Friday the 13th: The Game featured a series of in-game audiotapes divulging some of Tommy Jarvis's happenings during parts 4-6 of the iconic franchise. Green wrote the material for each of the recordings, and in it, drops easter eggs referencing other popular films such as Behind the Mask: The Rise of Leslie Vernon, A Nightmare on Elm Street, and even Hatchet.
Adam Green may not be the first name someone thinks of in terms of an iconic horror film director. Truth is, outside of the Hatchet series, some casual fans and perhaps even a few horror devotees may not be too familiar with his other works. But in creating the character of Victor Crowley, he's done something that so many others have attempted, he's unleashed a new lunatic into the genre that fans have latched on to and won't soon forget.
He continues to produce films, and seeing as how he's only in his mid-40's, could continue to do so for many years to come. Adam's gone on record stating that Victor Crowley was a financial success, and promises that more Hatchet pics are on the horizon.