When you think of Sharon Tate, what first comes to mind? Do you think of the movies she made, or her marriage to Roman Polanski, or her famed beauty? Or do you think of how she died? The chances are that the latter is what defines your knowledge of the actress. How could it not? After all, she was the most well-known victim of one of the most shocking crimes of the 20th century.
Fifty years ago today, a bunch of drugged-up hippies manipulated by a wannabe rockstar, Charles Manson, killed seven people in a bloody spree that left Hollywood terrified and signaled the end of the '60s. Tate, who was eight months pregnant at the time, was only 26 years old. In the decades after her death, she has been defined as a tragic icon, an enduring sex symbol, an excuse, a cautionary tale, and very occasionally, her own person. So let's talk a little bit more about that person today, fifty years after her death.
---
Sharon Marie Tate was born on January 24th, 1943. She was the first child of Doris Willett and Colonel Paul Tate. Fate handed her an adornment of riches, beauty, grace beyond her years, and a sweet disposition. By the time Sharon was six months old, she had won her first beauty contest—Miss Tiny Tot of Dallas, Texas.
As Sharon entered her teens, she won various beauty pageants such as Miss Richland and Miss Autorama and began working as a model. In the spring of 1960, Sharon appeared on the cover of Stars and Stripes, an American military newspaper. It was this taste of fame that set her eyes on Hollywood. One day, Sharon was approached by a choreographer for a Pat Boone special. He wanted Sharon to make a small appearance on the show. Sharon was anxious to do it, and her parents relented under the provision that a guard be placed outside her hotel door overnight. This was agreed and Sharon was serenaded by Pat Boone on the show.
Colonel Tate would be reassigned to Italy in 1962 which would end up laying the groundwork for Sharon's career in Hollywood. While living there, she met Richard Beymer (who would later star in West Side Story and as Benjamin Horne in Twin Peaks) on the set of Hemingway's Adventures of a Young Man. They dated and were engaged for a year (she was 18, he was 22). Sharon would say later, "Richard told me I should be in pictures and I believed him".
The Million Dollar Baby 
When her father was transferred back to the States, Sharon saw her chance to make her desire for movie stardom a reality. Hitchhiking part of the way to Hollywood, Sharon headed to the office of Richard Beymer's agent Hal Gefsky. Gefsky said, "she was so young and beautiful that I didn't know what to do with her".
Almost immediately Sharon landed roles in Santa Fe Cigarette and Chevrolet commercials. Sharon also continued modelling, working with some of the best photographers in the business, such as John Derek, Halsman, Bert Stern and William Chappell.
Hal Gefsky introduced Sharon to Herb Browar who in turn, introduced her to producer Martin Ransohoff, chairman of Filmways. Ransohoff was floored by Sharon Tate's incredible beauty and was determined to sign her and make her a star.
Ransohoff felt Sharon was such a unique find that they should bring all their resources to bear to make her ready for her debut. Sharon was given a small reoccurring role on a Filmways TV production The Beverly Hillbillies as secretary Janet Trego for two seasons. She also had small parts in other television shows such as Mr Ed, The Man from U.N.C.L.E. and was cast for a short period on Petticoat Junction. So confident was Ransohoff that Sharon would be successful, he spent over a million dollars in her training and preparation. Sharon Tate would come to be known as the 'Million Dollar Baby'.
But Sharon was anxious to get started in more prominent roles and she began to push Ransohoff for more work. Sharon auditioned for the role of Liesl in The Sound of Music, along with future friends Mia Farrow, Lesley Ann Warren, and Patty Duke. It was felt that Sharon's look was too mature for the role and it eventually went to Charmian Carr. In the meantime, Martin Ransohoff was able to find what he felt would be a perfect vehicle for Sharon. He cast her in the film Eye of the Devil.
Eye of the Devil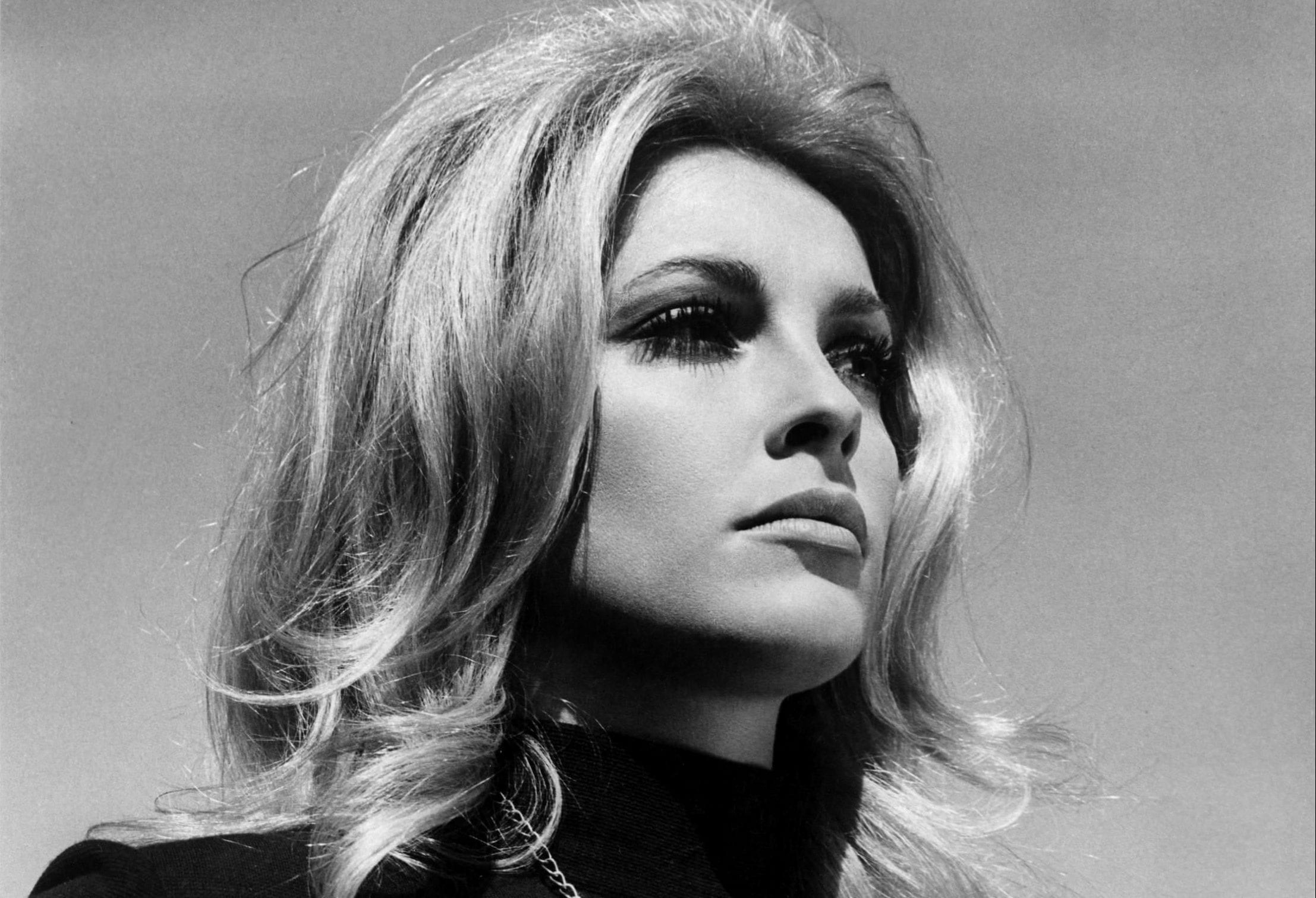 Meanwhile, Sharon had begun dating Hollywood hairstylist, Jay Sebring, and was not keen on leaving him to film Eye of the Devil in France. Sharon was on the verge of the career she had come to Hollywood to seek and as much as she would miss Jay she wanted to get her career underway, so she left for Europe and joined David Niven and Kim Novak (who due to a horseback riding accident on the set, would later be replaced by Deborah Kerr) on the set.
Her character in the movie was Odile, a strange country girl with hypnotic powers. Though she did not have many lines her part was integral to the movie. The director, Jay Lee Thomas, was very impressed with Sharon's performance, admitting that at first, he had doubts if she could pull off such an important role due to her inexperience. Those doubts were quickly laid to rest once he saw Sharon's performance.
The Fearless Vampire Killers
In 1966 Martin Ransohoff was producing a movie to be directed by acclaimed Polish director Roman Polanski, The Fearless Vampire Killers. Roman wanted Jill St. John for the lead role but agreed to meet with Sharon at Ransohoff's request. At a dinner party, they discussed the role. Roman thought Sharon was beautiful but not right for the part. Upon the insistence of Ransohoff, he agreed to do a screen test with her. Sharon, wearing a red wig, came in and tested for Polanski. Roman began to see the character of the girl, Sarah, in Sharon. She certainly could charm both the vampire who abducts her and the professor's assistant —who would be played by Roman.
On the set of the movie, Polanski strove for perfection. Sharon, eager to please, worked hard for Roman. As filming continued Sharon and Roman became closer. What had started as an adversarial relationship blossomed into romance. Sharon was torn but eventually decided she had to be honest with Jay and let him go. She and Jay discussed the issue and split amicably. However, Jay did not want to let Sharon go without meeting Roman and making sure that she was doing the right thing. Sharon agreed to set up the meeting, and over dinner, Jay and Roman got to know each other. Roman would remember that Jay said, "You are alright man. I dig you". Jay would remain a close family friend for years to come.
Don't Make Waves 
Shooting wrapped on The Fearless Vampire Killers and Sharon had to fly back to the United States to film another movie for Ransohoff—a beach comedy starring Tony Curtis and Claudia Cardinale, Don't Make Waves. Sharon's role in this movie was pivotal and allowed her to show her talent for comedy. Sharon's character, Malibu, is a beautiful, athletic skydiver who bewitches Tony Curtis. Tony eventually wins her from her bodybuilder boyfriend, played by Dave Draper (a former Mr Universe), but then realizes that they are not a good match. The role required Sharon do many of her own stunts and she impressed the directors and cast and crew.
Sharon became the show's centrepiece for promotion. Countless publicity stills of Sharon in a bikini as Malibu were released. She also became the spokeswoman for Coppertone suntan lotion and a radio ad with Army Archerd. During the filming of Don't Make Waves, Tony Curtis would become a close friend of both Roman and Sharon.
Sharon did not enjoy the filming of Don't Make Waves. She was separated from Roman for long periods while he did post-production work on The Fearless Vampire Killers and she was not thrilled with the way her career seemed to be going under the guidance of Martin Ransohoff. She began to refer to herself, tongue in cheek, as 'sexy little me'. She felt that if she did not get a chance for some better and more substantial roles, she would forever be locked in the blonde sex goddess roles like the one of Malibu.
Valley of the Dolls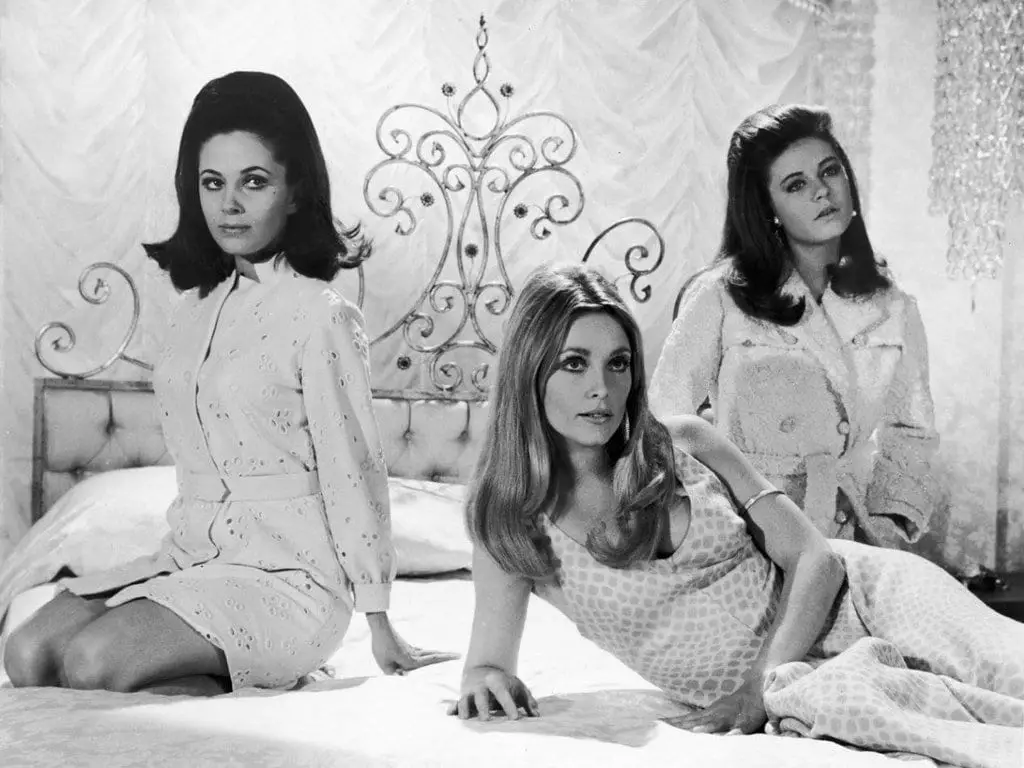 For her next film, Sharon would again be cast in a role that emphasized her beauty. Valley of the Dolls—the novel by Jacqueline Susann that broke all sales records and ended up in The Guinness Book of World Records as the fastest-selling novel of all time—was being made into a major motion picture. Patty Duke, Barbara Parkins, Judy Garland, and Sharon were cast in the four leading female roles. Sharon was to play Jennifer North, a role that many felt was based in part on both Carole Landis and Marilyn Monroe.
On November 14th, 1967 the completed movie was premiered on a docked cruise liner The Italia in Venice, Italy. The international press was on board to see one of the most anticipated films in history. The fears of Duke, Parkins and Tate were confirmed. The movie had unintentionally become a comedy. Afterwards, Sharon gamely met with the press while some of her costars tried to avoid them. While the cast may not have been to fond of it, in later years Valley of the Dolls would come to be considered a camp classic.
While Sharon was filming Valley of the Dolls Roman was busy making Rosemary's Baby. Roman had initially wanted Sharon for the leading role of Rosemary but felt it would have been presumptuous to put her forward himself. The part eventually went to Mia Farrow. Sharon visited Roman often on the set in New York and became fast friends with Mia. Roman and Sharon accompanied Mia and Frank Sinatra to dinner on several occasions, and it was on the set of Rosemary's Baby that Frank Sinatra served Mia with divorce papers. Mia would remember that Sharon and Roman took her in and made her part of their group of friends. Of Sharon, Mia would say, 'She was like a princess in a fairy tale. As kind as she was beautiful'.
As 1967 ended the first four movies Sharon made: Eye of the Devil, The Fearless Vampire Killers, Don't Make Waves and Valley of the Dolls had all been released. Playboy proclaimed 1967 as 'the year Sharon Tate happens'.
Groovy Couple of the Year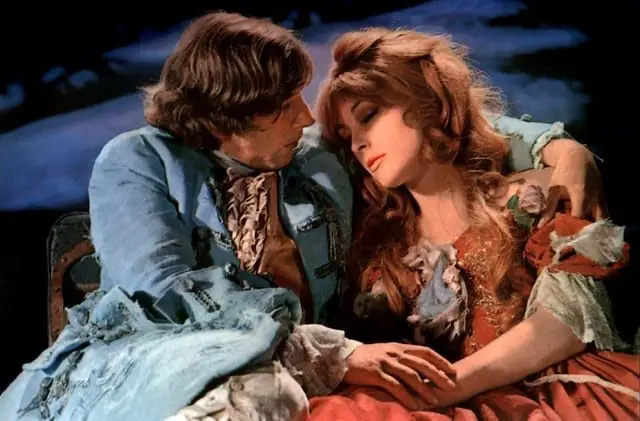 Roman and Sharon returned to their home in London and were seen out often with friends such as Peter Sellers, Warren Beatty, and Mia Farrow. They were proclaimed by movie magazines to be the 'Groovy couple of the year'. Sharon and Roman's place was the place to be. They managed to mix both old and new Hollywood in a way that worked. They were candid with the press; they were interesting and interested. No other couple better represented chic Hollywood culture at that time than Sharon and Roman.
It was in London in January of 1968 that Roman proposed to Sharon. Roman had shied away from commitment until he met Sharon. He described her as an 'angel', the 'perfect woman'. Sharon said yes, and they set about planning an impromptu wedding in London. Sharon's costar in Valley of the Dolls, Barbara Parkins, would be her maid of honour. It was a mod wedding and Sharon and Roman were dressed in the height of fashion for the time, which was called 'rich hippie'. Press from London and around the world covered the wedding; it was considered big news that such a nontraditional couple as Roman and Sharon would do such a traditional thing as marry.
The Wrecking Crew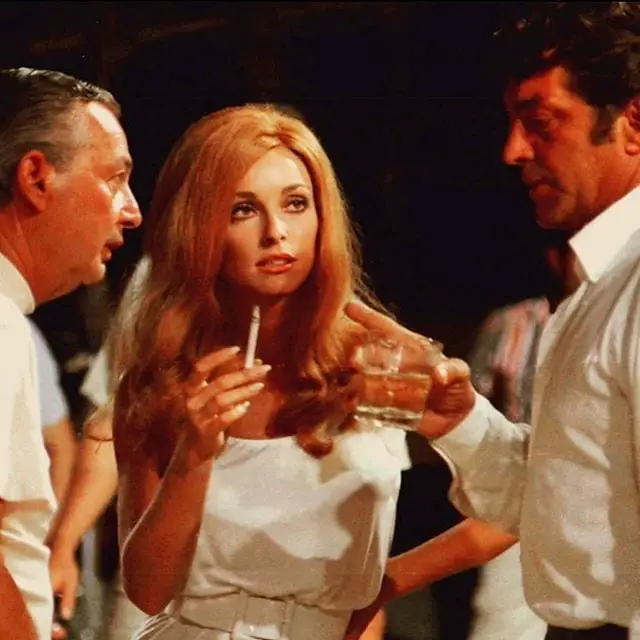 Though Sharon was now married to one of the most acclaimed directors of the era she did not take advantage of her position. When asked if she would like to do another movie for Roman, Sharon answered 'I'd be thrilled to death to do another Polanski film. But he has to ask me first. I wouldn't ever dream of asking him for a part'. Sharon was determined to make it on her own and to that end, she went to Martin Ransohoff and asked that he let her out of her exclusive contract. He agreed with the proviso that she turn over twenty-five per cent of her earnings for the next four years. Sharon agreed to those terms feeling it was the only way that she could begin to look for roles for herself that would best showcase her abilities.
Her first choice of films was an action/comedy The Wrecking Crew with Dean Martin. Sharon would play Freya Carlson, Martin's bumbling ally, posing as his Danish tour guide. The role gave Sharon a chance to shine for the first time in an entirely comedic role. Again, Sharon would impress the directors of her film by doing her own stunts. Columbia had hired Bruce Lee to assist Sharon in martial arts for scenes in the movie. Bruce and Sharon became friends and Sharon brought Bruce to the home she and Roman were renting from Patty Duke, to teach Roman as well.
Sharon had become very interested in the Presidential campaign of Robert Kennedy. She went to fundraising dinners in support of Kennedy and on June 3rd, 1968, attended a dinner at the home of John Frankenheimer. At the dinner was Robert Kennedy and his wife, Ethel. Sharon was thrilled to be able to spend some time with the Kennedy's and felt even more convinced that Robert would make a wonderful president. However, the next day Kennedy was assassinated. Sharon was devastated not only over the death of an incredible man but also for the loss to the country.
12 + 1/The Thirteen Chairs
Despite some missteps in the handling of Sharon's career, by the fall of 1968, her star was still on the ascent. Sharon agreed to take a role in a movie with Orson Wells, Vittorio Gassman, and Terry Thomas. The movie was to be filmed in Italy and was called 12 + 1. Sharon's part was that of Pat, a brash American living in London.
Sharon was due to leave for Europe in March of 1969 to begin filming, but in late 1968 Sharon learned she was pregnant. She was thrilled by the news. She and Roman began to look for a larger home to live with the baby. They found 10050 Cielo Drive—a beautiful ranch style home with a pool and guesthouse. The previous tenant had been Terry Melcher, son of Doris Day and Candice Bergen. The Polanskis moved into the house in February 1969 and Sharon called the home her 'love house'.
Roman had concerns that Sharon would be filming a movie during the latter half of her pregnancy. He told her to tell the director and drop out of the film. But Sharon would not hear of it. She reassured Roman everything would be all right, that filming would be over by the time she was too pregnant to continue. Both Roman and Sharon flew to London in March of 1969. After a week Sharon continued to Italy to begin filming.
Filming ended, and Sharon once again joined Roman in London. Roman was doing preparation work on Day of the Dolphin. In London, Sharon did a series of photos with Terry O'Neil. She wore a short flowing yellow dress and posed on the stairwell of her London home cradling her pregnant belly. She lay on the floor surrounded by baby clothes, opening baby shower gifts, in her Rolls Royce holding up baby clothes while smiling and laughing. She was the picture of contentment and happiness.
10050 Cielo Drive
Sharon made her last publicity photo in London for Queen magazine. It was to be a cover to promote the release of Twelve Plus One. Shortly after, Sharon boarded the Queen Elizabeth II to sail to the United States. Roman stayed behind for a few weeks to finish work for Day of the Dolphin with the intention of joining Sharon at Cielo Drive for the birth of their child.
It was not to be. Sharon was murdered shortly after her return to Los Angeles by members of a cult led by Charles Manson. Jay Sebring, a friend and budding screenwriter Wojciech Frykowski, Frykowski's lover Abigail Folger, and Steven Parent, were also murdered that night. Sharon begged for the life of her unborn child, but she was told that the cult had no mercy for her or her child and she was brutally stabbed to death.
In the aftermath of her murder, Sharon's name was dragged through the mud by the tabloids. It would only be after the real killers were found and their motives revealed that the truth was told.
There was the perfection of her face—of course. And a radiance more usually found in children. There was a capacity for delight. And a directness to her comments. She was not a chatterbox. There was a kindness at the core. She somehow made her friends feel necessary—and they loved her. –Mia Farrow
Roman Polanski in later years would make Tess and dedicate the movie to her. Sharon had been reading the novel when she left for the United States. She left the book on their nightstand in London and told Roman it would make a great film.
One can only imagine what the future could have held for Sharon Tate should her life not have been so cruelly taken from her. She was excited to become a mother, and her star was rising—she was happy. With the notoriety of her death, it is easy to forget what a fantastic talent she was.
She will be immortalised on screen, not only in her own films but in the numerous portrayals of her. Most recently in Quentin Tarantino's, Once Upon a Time…in Hollywood, and Daniel Farrands' The Haunting of Sharon Tate. Fifty years on it is time to forget about her killers and remember the kind, sweet and beautiful icon that was Sharon Tate.