Academy Award winning filmmaker Jordan Peele (Get Out) returns with his new horror film Us, and make no mistake, he is here to scare the hell out of you. After spending five seasons as the co-host of Comedy Central's smash hit sketch comedy show, Key and Peele, Jordan Peele took a drastic left turn into sociological tinged horror with his first effort as writer-director. Get Out is a scathing, frightening, often darkly humorous film about the hidden racism lurking among liberal white America which took the idea of "owning blackness" to its most terrifying conclusion. The film was a gamble that paid off tremendously by not only helping to usher in a new and important unique voice in horror cinema, but also receiving  four Academy Award nominations along the way for Best Director, Best Actor (Daniel Kaluuya), Best Picture, and Best Original Screenplay.
When the Oscars ended, Get Out and Peele walked away with only a win for Peele's Best Original Screenplay. Perhaps More importantly, Get Out left little room for that old chestnut of an argument that white audiences will not go see films made by and centering on people of color and helped dispel the notion that horror overall just doesn't play to a wider audience.
Two years later in the present day and Jordan Peele returns with his brand new horror film Us starring Oscar winner Lupita Nyong'o (12 Years a Slave), Winston Duke (Black Panther), Emmy winner Elisabeth Moss (The Handmaid's Tale), and Tim Heidecker (Tim and Eric's Awesome Show! Great Job). Specific plot details for Us have been scarce, but here is what is known so far. Nyong'o and Duke play married couple Adelaide and Gabe Wilson who take their two children for a fun family day on the beach in the town where Adelaide grew up with their two friends played by Moss and Heidecker. Sounds fun right? Not so fast, this is a Jordan Peele film.
Adelaide, dealing with a traumatic experience from her own past, is unable to shake the feeling that something terrible is about to happen. Could this past trauma simply be bubbling to the surface or is there actually something out there waiting for the Wilsons? In other words, are they actually in some sort of real danger?
Anyone that has seen the attention grabbing trailer already seemingly knows the answer to these questions. As day turns into night for the Wilson family, four masked strangers appear on their property, and from the menacing looks of them, they are not there to ask for a neighborly cup of sugar; they are there for blood, murder, and mayhem.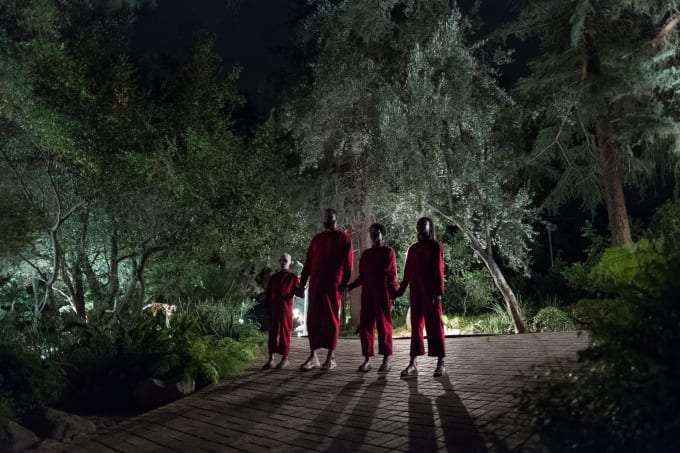 Sound familiar so far? It should for any horror fan that has ever seen any of the dozens of home invasion films that have left a mark throughout horror history. This basic plot outline for Us sounds a lot like The Strangers specifically. However, what if the masked home invaders revealed themselves to be carbon copies of the very people they are brutally terrorizing? In a chilling turn in the trailer, one of the Wilson children announces upon realization that "they're us." At the very least, that adds an entire new element of surrealistic and social horror to the entire plot of the film, not to mention going into the theater automatically not knowing if one can trust anything that they see or hear from the get go.
Without even seeing the film, this twist that audiences already know has already left an uneasy feeling deep within the pit of this author's stomach. After all, it isn't zombies, ghosts, vampires, werewolves, or demons that are the real monsters to be afraid of in this world; it is us that should be constantly feared. We, as a species, are our own worst enemy. Humans are responsible for most of, if not all, the atrocities the world has ever faced and continues to face: genocide, murder, rape, assault, racism, sexism, the list goes on and on. We lock our doors at night not to keep safe from bogeyman from beyond the grave, but from people who are just like us. Without even diving into any of these external factors, we should still fear ourselves above any spell that one could cast in some ancient book of shadows or even the Necronomicon itself. We live in a world of constant fears: aging, appearance, mental illness, loss of control, finances, death, etc. Quite literally, if you are looking for someone to fear, the answer is probably staring right back in the mirror.
Other details surrounding the plot of the film have been kept under lock and key, but audiences should be prepared for expectations to be entirely subverted.  Get Out accomplished this in part by making the villains rich, white educated liberals as opposed to having Daniel Kaluuya 's character trapped in a trailer park, tied up in a room adorned with an emblazoned Confederate flag. The film points out that although that type of bigotry is indeed alive and well, racism is systemic and institutionalized into the very fabric of American society itself, and more often than not quite nuanced, complicated, and well hidden from people who are not looking for it and/or do not care to see it.
One clue we do have going into the film is the list of ten movies that Jordan Peele made Lupita Nyong'o watch in preparation for the shoot; those films were Martyrs, The Shining, Let the Right One In, The Babadook, Dead Again, It Follows, A Tale of Two Sisters, The Birds, Funny Games, and The Sixth Sense. As widely different as these films are many of them share overlapping themes of family, home invasion, trauma, and a subversion of expectations. It's also one hell of an introduction to some pretty great horror films and hopefully this weekend horror fans everywhere can add Us to that ever-growing list.