Horror fans rejoice! Fangoria is back and better than ever. Much of the credit for its revival goes to new editor-in-chief Phil Nobile Jr. The ever busy editor talked to 25YL about the horror icon's return.
---
25YL: Thanks for talking to us. The first edition under your watch is getting rave reviews from horror fans. It seems like everyone has a childhood story about the magazine. What was your earliest experiences with Fangoria?
PNJ: Early '80s! I was terrified of horror films as a kid (that did not stop my older brothers from taking me to them) and Fango showed me that what was scaring me was actually the work of skilled filmmakers and FX artists. And though FANGORIA has spent 40 years evolving and serving many generations, that early version of Fango—informative, opinionated, a little irreverent, just in love with genre filmmaking—is something I hope to recapture with the relaunch.
25YL: How did you get the coveted role of editor-in-chief? Your work with Birth.Movies.Death. had to be a major influence in setting this up?
PNJ: B.M.D. is how I met Dallas Sonnier, the publisher of Fango. I interviewed him and his producing partner about Bone Tomahawk and then a year later we crossed paths at a film festival where his film Brawl in Cell Block 99 was playing. When he acquired Fango, he had a short list of folks he wanted to approach about editing the magazine, and I think he liked what he heard from me about what a 2018 FANGORIA should be.
25YL: Cinestate is now the home of all things Fangoria. The company appears to be incredibly supportive of the venture. How are they approaching this relaunch? Is Dallas Sonnier taking a major role in this project or is he giving you free rein over the magazine?
PNJ: Dallas is very involved. His vision for FANGORIA is a multi-faceted brand that includes films and books and podcasts. And that brand has to stem from the magazine, so he's hands-on but also very supportive. The things I wanted to see in the magazine are all there, but Dallas also shows up with some left-field stuff that I don't always get right away, and they've turned out to be some of the coolest parts of issues 1 and 2.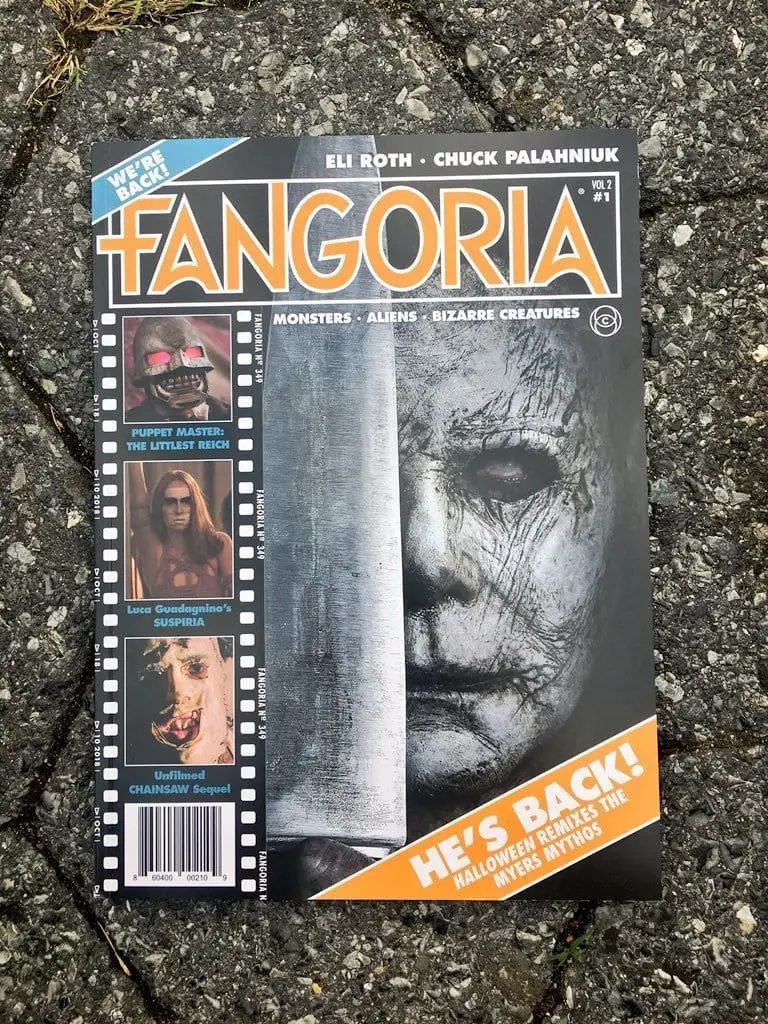 25YL: What were your concerns in reviving the brand for a new generation of aficionados?
PNJ: Well there was a question of whether we even were catering to a new generation. The content and quality of the magazine are aimed at adult readers, and I worried that sort of illicit indoctrination would be lost. But what I've seen happening is people my age sharing the new magazine with their kids, and that's been really wild. We HID Fango from our parents, and now it's a family activity. Who'd have thought tomorrow would be so strange?
25YL: In a time when digital is king, why choose a return to print editions?
PNJ: There are so many websites and horror blogs that are just killing it; honestly, if we were just another website, that wouldn't feel all that special. And we wanted the return to be special. Beyond that, we wanted to present a tangible, analog experience—invite our readers to unplug for a few hours each quarter and read a curated, hard good that they had to put a little effort into obtaining it—just like I did in 1983.
25YL: Fangoria previously published new editions each month. Was there hesitation about making it quarterly instead of monthly?
PNJ: Fango published ten times a year when I was a kid. Of course, when you're a kid five weeks feels much longer than it does when you're grown. So all other logistics aside, I kind of love the idea that people are waiting for that new issue the way we did back in the day.
25YL: With the first edition delivered, it seems like a great time to do some analysis. Was there something that worked beyond your wildest expectations?
PNJ: I think our deliberate reveal presentation, not showing the cover online until it started to arrive in mailboxes, has really helped build excitement online. You can feel people getting hyped as someone tweets or Instagrams the mag showing up at their house. They probably don't need to tag me in every post, but it's still cool.
25YL: In contrast, is there something you would have changed or will change in future editions?
PNJ: Still too early to say! I think we're still figuring out the best way to deliver timely content on a quarterly print schedule. Studios sometimes feel like they're still trying to get their heads around exactly what we're doing.
25YL: You've brought back some names that Fangoria readers are already very familiar with. Who was on your list of must-have writers from the magazine's previous incarnations?
PNJ: Tony Timpone and Mike Gingold. That's not to say you won't see other names return in the future, but it didn't feel like Fango without those two. I'm so delighted that they are back, and as a fan I love reading them in each new issue.
25YL: The first edition features contributions from special guests like Eli Roth. Did you approach them or did they reach out to you about becoming a part of the relaunch?
PNJ: It was a little of both! Studios have projects they want to promote, and our priority is to keep trying to come up with different ways of covering this stuff. Guest contributors will be very important to us going forward.
25YL: A short story from Chuck Palahniuk is one of the magazine's highlights. Are you planning on introducing more fiction based writing into future editions or was this a one-off to celebrate Fangoria's return?
PNJ: There will be new fiction in every issue!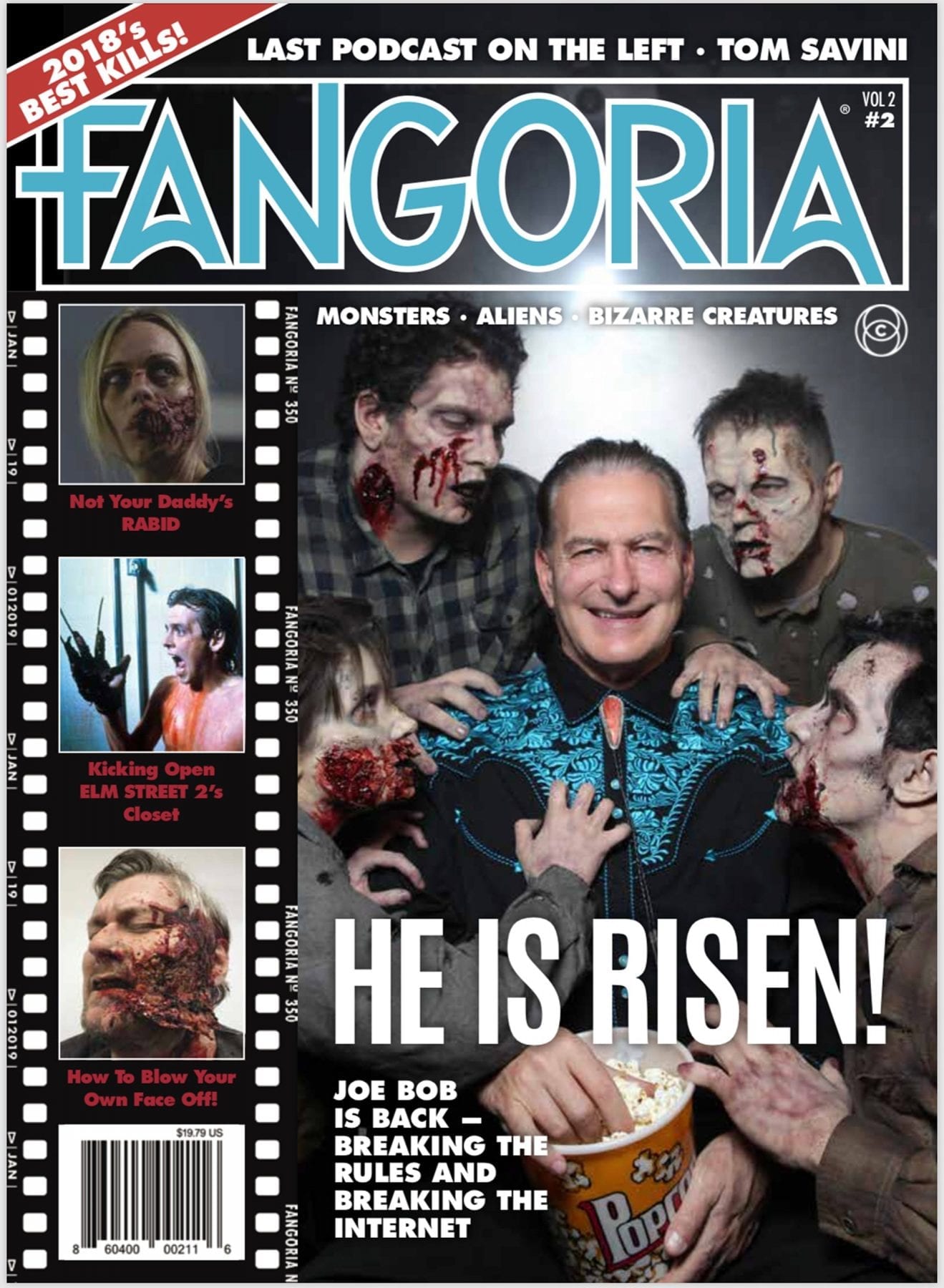 25YL: Cinestate appears to have a clear vision for extending the brand into other mediums. With the Fangoria brand growing, how do you balance coverage
between in-house projects and films from other companies?
PNJ: We don't have such a volume of content that it'll be any real issue in terms of balance—for example, we covered one of our films (Puppet Master: The Littlest Reich and excerpted one of our books (Our Lady of the Inferno) in issue 1; in issue 2 we are excerpting a different book, and advertising a podcast. Our next film probably won't be released in time to turn up in the third issue. But we aren't going to be shy about covering our own projects when they're ready!
25YL: I'd be remiss if I didn't ask about Fangoria's archives and memorabilia. It must be amazing to go through everything the magazine has amassed over its decades of operation. Any plans to open it up for fans? Maybe an online reference option?
PNJ: All things are possible! That sort of thing is a bit down the road for us.
25YL: Let's step outside of horror's beautifully twisted confines for a moment, what films and/or series outside of the genre are grabbing your attention right now?
PNJ: I thought Sharp Objects was spectacular, The Favourite was a riot, and I don't know when it's coming out, but Under The Silver Lake is the most original film I saw (at two film festivals) in 2018.
---
Love Horror?  Check out our interviews with Jack Sholder as he discusses directing A Nightmare on Elm Street 2, The Hidden, Early Days of New Line & More! 
and Daniel Farrands talks to our Editor In Chief about writing Halloween 6, Horror Documentaries and his upcoming movie about the murder of Sharon Tate