Camp Crystal Lake has become so synonymous with the Friday the 13th franchise that it has almost become a character in itself. What makes the camp so compelling? And what do the films miss in its absence? That's what I seek to find out here, as I look at The Legacy of Camp Crystal Lake.
---
Summer Camp. Now, I'm speaking from a British and completely inexperienced perspective here, but the thought of summer camp as a teenager is just so exciting! Away from your parents for weeks, drinking beers and telling ghost stories on hot sticky nights, getting up to no good with the cute camp counsellor. Of course, I'm imagining it to be just like Wet Hot American Summer, which is my kind of heaven. So, then I watched Friday the 13th, which turned that whole idea of fun summertime frolicking into a death camp massacre, and apparently with a curse to boot! Still a little bit sexy nevertheless.
So, let's go back to where it all began. Where did the idea that Camp Crystal Lake was cursed come from?
The Backstory
The Christy family established their summer camp in the small town of Crystal Lake, Cunningham County, New Jersey, in 1935. The camp had an excellent reputation for its first 21 years of existence.
Jason Voorhees was born to Pamela and Elias Voorhees in 1946. He was presumably mentally disabled and disfigured from birth, though little is known of what condition he had. Pamela was only 16 years old when Jason was born, still a child herself. While in the original Friday the 13th movie she says that Jason was her only child, in Jason Goes to Hell, Jason's sister Diana makes an appearance. In 1957, the Christys hired Pamela Voorhees as their new cook, allowing her son Jason to accompany her to work. Jason was bullied and harassed by other children at the camp. One day, while two on-duty counsellors, Barry and Claudette, decided to go inside to have sex rather than supervise, the other children threw Jason into the lake. Unable to swim, Jason presumably drowned; though his body was never recovered.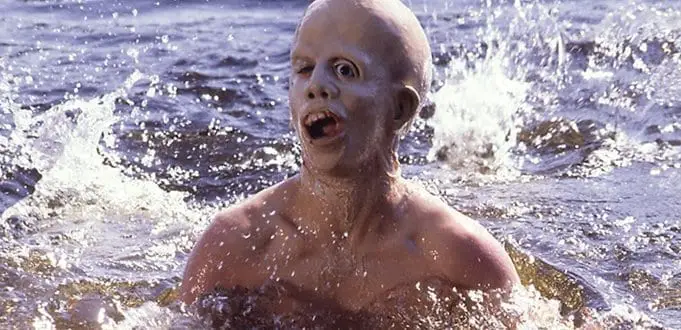 To avoid further scandal, the Christys shut down the camp for the remainder of the season. Pamela broke down after her son's disappearance and was institutionalized for six months. Sometime between 1957 and 1965, Pamela became pregnant with Diana, though it appears that she was adopted, or taken from her custody perhaps. (Or maybe giving a sister to Jason was just something the producers of Jason Goes to Hell decided to do as a plotline with little concern for continuity—this happens a lot in slasher films. Take the Halloween franchise, for example; that story has been rewritten more times than the Bible.)
In the summer of 1958, the camp was reopened and, having been cleared of any wrongdoing, the Christys rehired Barry and Claudette as counsellors. Believing Pamela to have recovered from her son's death, she too was rehired. This proved to be a fatal decision for the business as, on 4th July, she hacked Barry and Claudette to death when they again left the children to have sex. With an unsolved double murder on the camp's record, the Christys were again forced to close.
The Curse of Camp Crystal Lake
There were apparently multiple attempts to reopen Camp Crystal Lake throughout the 1960s. It is unknown if the Christys made these attempts or if the camp had changed hands. However, none of these attempts succeeded. A series of fires in 1962 prevented the summer reopening, as did the discovery of the lake being poisoned in 1966. Although it was never known who the instigator was, the finger of guilt pointed squarely at Pamela Voorhees. Her sick mind combined with her over-protectiveness of her son had convinced her that the murder of Barry and Claudette was not quite vengeance served; she had to ensure that no other child would suffer the same fate as Jason. Living close to the camp, Pamela kept a watchful eye to make certain the camp remained unattended. This fueled local gossip that the camp was jinxed or on cursed ground, and local residents renamed it "Camp Blood." Of course, at that point in time, no-one suspected Pamela for the strange misfortunes at the camp, so the locals assumed it devilry at work. In some ways they were right. Sometime in the 1970s, both Mr and Mrs Christy died, reportedly broke and crazy.
In 1979 (the original Friday the 13th), a hope to resurrect the failed summer camp came when Steve Christy made another attempt to reopen Camp Crystal Lake. This time, no longer content to simply sabotage, Pamela stalks and kills nearly all of the new camp counsellors, beginning with a cheerful young girl named Annie Phillips, who was killed off the property in the woods surrounding it. Pamela apparently succeeds in preventing the reopening of Camp Crystal Lake but loses her own life in the process. The sole survivor of the massacre, Alice Hardy, manages to decapitate Pamela—this act is witnessed by Jason, now all grown up and apparently not quite dead after all. This event marked the beginning of a new and far more deadly streak of murders and terror that would plague the camp, the town, and the general area for over 20 years.
After the massacre, the camp was closed and it was forbidden by law for anyone to be there, but that didn't stop trespassers from going there or people dying on the property or places near it—like Packanack Lodge and Higgins Haven—for many years to come.
Packanack Lodge was a counsellor training camp just down the road from the now deserted and dilapidated Camp Crystal Lake. This is where the events of Friday the 13th Part II take place, and the first time we truly meet Jason Voorhees—an almost completely silent, undead and seemingly unstoppable killing machine, driven to slaughter anyone he encounters—especially horny teenagers—by a burning need to avenge the death of his beloved mother. He chooses to stay close to Camp Crystal Lake, hiding out in the woods, even building his own shack, watching and waiting to stop anyone else from drowning like he did, taking on the legacy of his mother's wish of not to allow the camp to reopen ever again. In 1984, Paul Holt's decision to open Packanack Lodge would result in Jason's first killing spree.
Jason kills the majority of counsellors in training, all except Ginny, Paul's assistant and love interest (not too dissimilar to the story of Steve Christy and Alice Hardy from the first film), and possibly Paul himself, who disappears and is never heard of again, but his body is never discovered either. Ginny is chased through the woods by Jason but manages to inflict some damage on him with a chainsaw and a chair. She stumbles across his shack and discovers a shrine to his mother, surrounded by the rotting corpses of Alice Hardy, a local police officer, and many more. In the centre sits his mother's decapitated, rotten head. Despite apparently killing Jason with a knife, he returns from the dead (again?) and drags her from the shack. She awakes the next morning as she is put in an ambulance.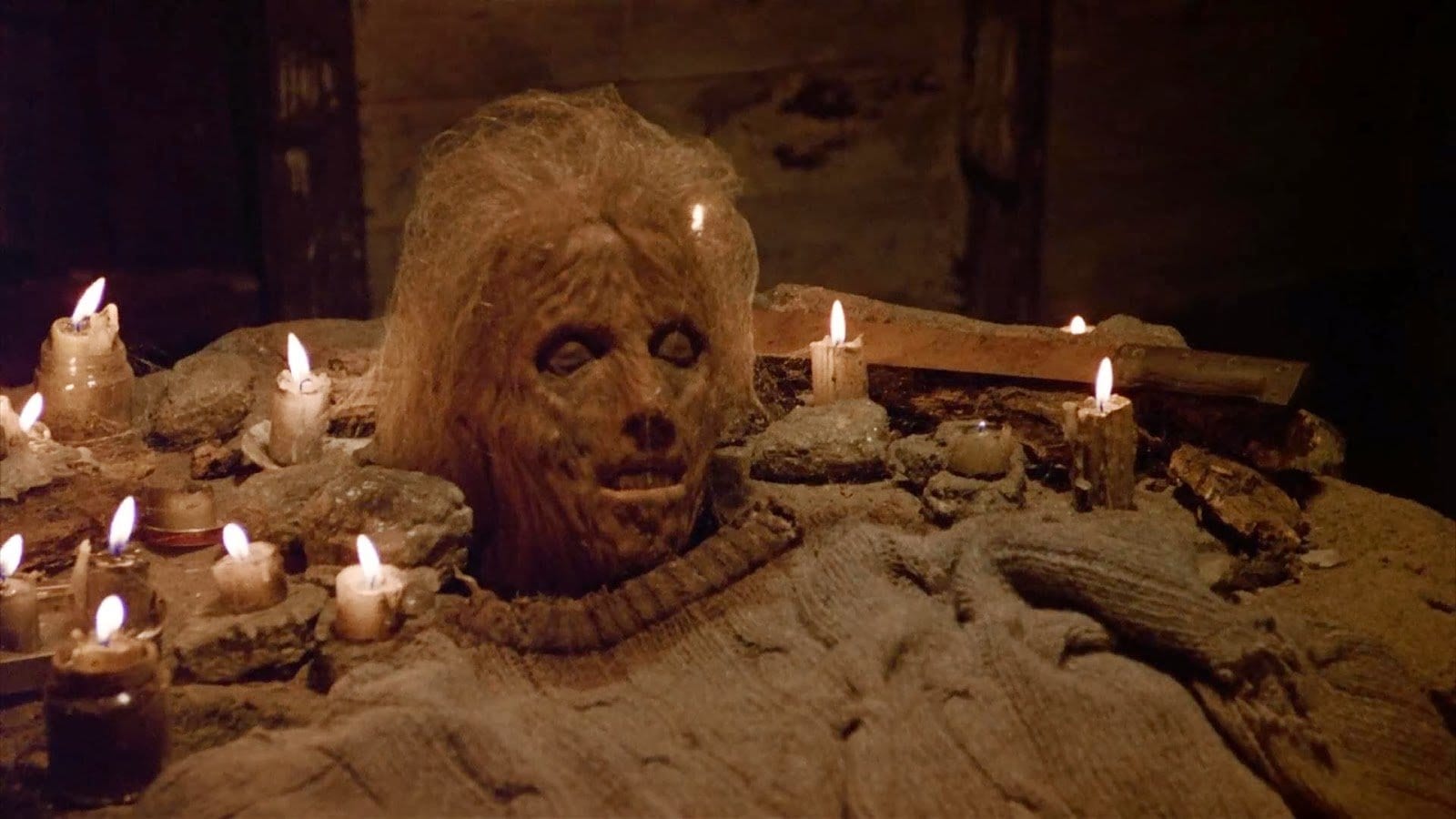 We don't know why Jason didn't kill her, or even if those last moments really happened? Friday the 13th Part III starts just one day after the events at Packanack Lodge. Jason is recovering from the events of the previous night and makes his way to his next murderous location—staying within the locality of Camp Crystal Lake, but this time at Higgins Haven, a serene home on the shore of the lake, owned by the Higgins family. Chris Higgins, the daughter of the family, has returned to the house with a group of friends to confront her fears, after having been attacked by a deformed man (Jason) two summers earlier. Little do they know that her attacker was taking refuge in the barn. Soon after, the slaughter of all Chris' friends begins in the most gruesome ways, and in 3D too! Which is a special treat if you like to see heads being squeezed so hard that eyeballs pop right out into your face.
Chris, the main protagonist of Friday the 13th Part III, somehow survives and outdoes Jason, even burying an axe in his head, apparently defeating her attacker, but despite surviving physically, it appears she does lose her marbles. While hiding out in the cabin, she hallucinates that Jason is still after her, then dreams about Pamela Voorhees jumping out of the lake and dragging her under the water. The next morning she is discovered traumatised, hysterically screaming, and laughing as she is taken away.
Just a single day after what transpired in Friday the 13th Part III, policemen and paramedic crews are busy at work cleaning up the mess that Jason left at Higgins Haven. As soon as Jason is taken to the morgue, it is revealed that he is not dead. He gets up and kills the doctor at the morgue by sawing through his whole neck using a bone saw, then he stabs a nurse in the stomach and makes his way back to Crystal Lake. Welcome to Friday the 13th: The Final Chapter.
Of course, there is a group of horny teenagers staying at the camp and, yes, he does kill them all, but Jason finally meets his match in the 12-year-old Tommy Jarvis, a Crystal Lake resident. Tommy cleverly pretends to be just like Jason as a child. He even shaves his head to try and convince him. Tommy learned this move by reading clippings from the local newspapers about how Ginny managed to survive her ordeal by pretending to be Jason's mother (as seen in Part II). Tommy saves his sister, Trish, and buries a machete through Jason's head. This time it seems he really is dead. But, like in the two previous films, those who survive are not exactly 'saved'. Their trauma causes permanent damage, as Tommy's thousand-yard stare would suggest.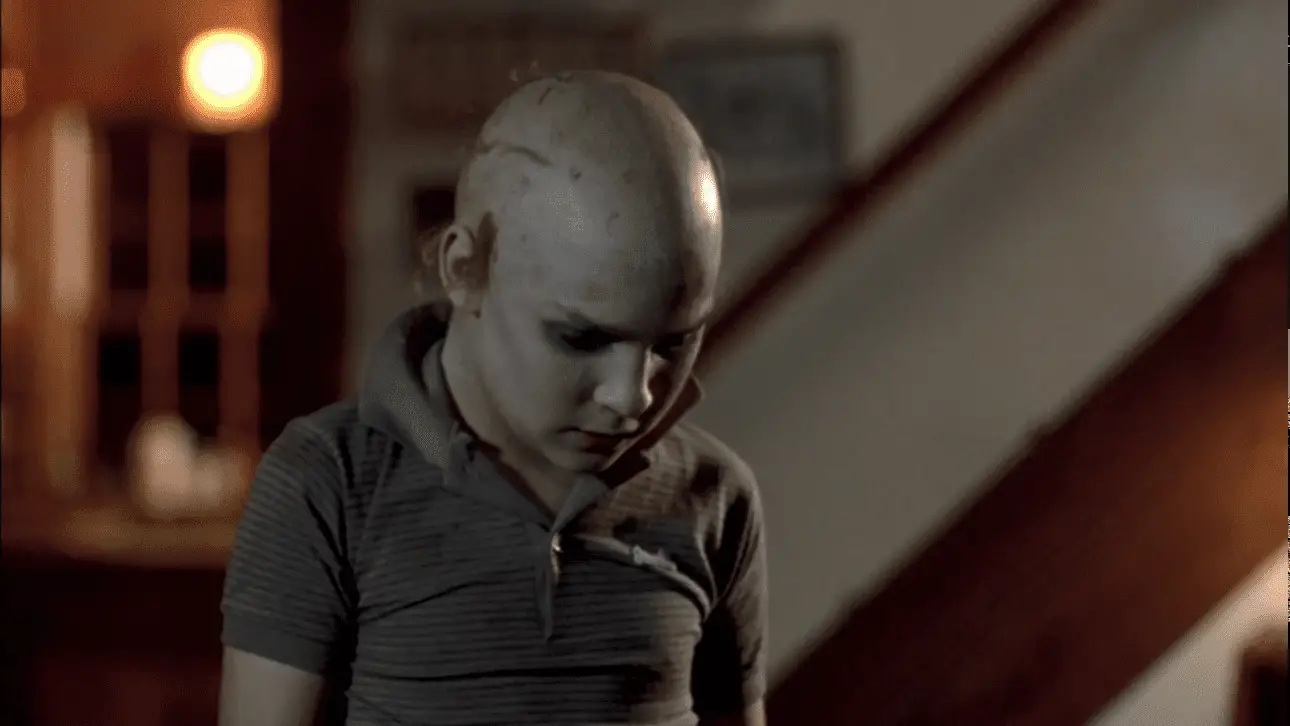 The Final Chapter was, of course, not the final chapter, and another eight Friday the 13th/Jason Voorhees movies were subsequently made. But before I go onto them, can we say for sure that Camp Crystal Lake was cursed? What exactly did happen to Jason Voorhees?
In Simon Hawke's novelization of Friday the 13th Part II, which was based on the script by Ron Kurz who wrote Part II, he explores the journey of Jason gaining consciousness from underneath the surface of Crystal Lake to reappearing at Camp Crystal Lake and coming face to face with the realization that he was in the lake a lot longer than he ever thought possible.
Below is an excerpt from the novel:
Jason's memories of what happened on the night he drowned were very dim. He remembered being frightened as his legs cramped up and he started to slip beneath the surface of the lake. He had a vague memory of struggling to stay afloat, of water rushing down his throat and filling up his lungs; he could recall the terrifying sensation of sinking down into the murky lake, the fading light, the roaring in his ears… and then nothing.

At some point, consciousness returned, but he had no way of telling how much time had passed. He came to on the shore, covered from head to toe with slime, apparently having dragged himself out of the lake somehow. He coughed up water for a very long time. He remembered lying in the bushes and retching, vomiting up slimy worms and maggots as his body fought its way back to life.

It never occurred to him to wonder what it was that made him different from the others—why they shrank from him as rabbits shrank from snakes. He never asked himself why he was always healthy, why the slight injuries of childhood had always healed so quickly. He had never broken any bones, so no one ever had the opportunity to notice the supernatural way his body could repair itself. Pamela Voorhees never questioned it, just as she never questioned his peculiar silence. A mother loves her child. She was simply grateful for having been blessed with a healthy little boy. Like father, like son.

It did not occur to Jason Voorhees to wonder just how long he had been underwater. He merely dragged himself deeper into the woods, some primitive urge driving him to find a hole somewhere that he could crawl into, a dark place where he could rest, and heal, and wait until he could think of what to do.

After a while, he returned back to the camp, his simple mind telling him that perhaps it was what he was supposed to do. Only there was no longer anybody there. The season had ended and the camp was closed. He broke into several of the cabins and found some cans of food and some old clothes for himself. In the process, he happened to catch sight of himself in a mirror and he recoiled in horror from the image that confronted him. He had been at the bottom of the lake for much longer than he'd realized. His flesh was trying to regenerate and heal itself, but decomposition had set in. The worms had eaten at his face.
So, while Hawke's novel may not be exactly what the writer had in mind for Jason's backstory, if he was working with Kurz's script, then it appears that Jason had his powers of regeneration from birth, and was not resurrected from the dead as such. So Jason wasn't a zombie or ghost, but an indestructible superhuman-monster. That's not to say that a curse doesn't exist, though. While the locals' idea of a hex on the land and lake may not be quite right, perhaps Jason himself is the curse? For anyone that comes into contact with him is either butchered or becomes so traumatised by what they've experienced that their minds never really recover.
Camp Crystal Lake remained closed until its appearance in the film Friday the 13th Part VI: Jason Lives in which it was called Camp Forest Green. The town wanted to remove itself from the negative image it attracted because of Jason's story. Jason was unintentionally resurrected by Tommy Jarvis, who after having visions of Jason returning, visits his grave, where he repeatedly stabs Jason's body with a pole. A storm is coming, though, and lightning hits the metal pole, jump-starting Jason back to life. In this movie, Jason is an explicitly supernatural force for the first time in the series. This version of Jason, an undead mass murderer and more powerful superhuman, would become the standard depiction for the rest of the films, until 2009's remake.
Tommy flees to Crystal Lake to warn the people staying at the camp, with Jason not far behind. Upon Jason's arrival, he prevents the reopening once again by slaughtering the counsellors in cold blood…back to his good old ways. Tommy once again gets the better of him by luring him out into the middle of the lake, tying a chain around his neck and sinking him to the bottom of the lake, once again drowning. We all know that this is not going to actually kill Jason by now, and sure enough, in Part VII, he is once again resurrected from the lake, this time by a girl with telekinetic powers.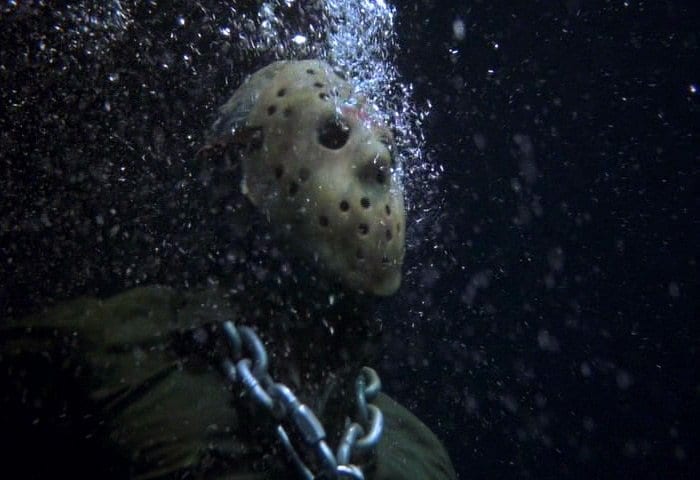 Far Away from Crystal Lake
The majority of the Friday the 13th franchise does take place in or near to Crystal Lake, but there have been a few films that put Jason out of the comfort zone, throw him into outer space, or don't include him at all. How do those movies fare in comparison?
Narratively, Friday the 13th: A New Beginning departs from the Camp Crystal Lake setting and Jason Voorhees-themed mystery of the previous four instalments and instead acts as a psychological horror film set at a fictional halfway house, where an adult Tommy Jarvis begins to fear again as a new series of brutal murders have been occurring by a new hockey-masked assailant. This film is widely considered to be the worst in the series, mainly because of the twist ending (the murderer was not Jason at all, but a copycat killer. Much in the same style of Pamela Voorhees, Roy Burns, a paramedic, takes revenge for his son's death and dons a hockey mask to carry out the killings). As the previous film in the series bore the subtitle The Final Chapter, the producers of this film intended to take the franchise in a new direction, but fan outrage over the infamous twist ending led to a more traditional approach with Jason Lives.
Then later, Jason is once again resurrected from the bottom of Crystal Lake, this time by a boat's anchor dragging him to shore. From here Jason decides to take a little weekend break away in New York. Well, you know…he has been busy slaughtering over 150 people in a pretty short space of time, so he does deserve a rest. Jason Takes Manhattan is not a good film. Firstly, it's barely set in Manhattan due to budgeting restraints. It's not until the final act that he reaches the Big City, and the majority of the film is shot on a cruise ship. This time, Jason is defeated by toxic waste in the New York sewers and is washed back out to sea.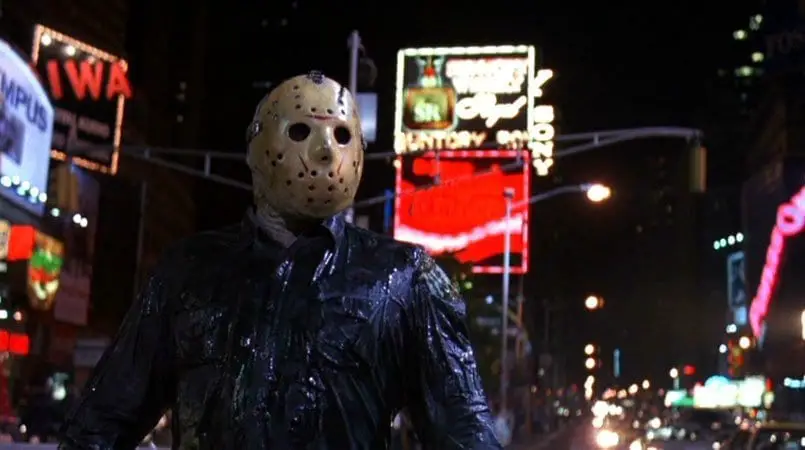 It's easy to rip Jason Takes Manhattan apart because it really is a poorly made movie with a lot of inconsistencies and a plethora of plot holes. But it is also the last "true" Friday the 13th movie, as the following films lost the gritty '80s fun. They were either too serious or too self-aware—the Friday films of the '90s and '00s just were never the same. This movie also marks a good ending to the original series, as Jason has been brought out of Crystal Lake and is presumably less powerful because of it. And then, to bring his character full circle, he drowns and reverts back to child form. Jason Takes Manhattan is nonsense from start to finish, but it's also an incredibly fun adventure and a great piece of '80s nostalgia.
Jason X takes our favourite machete-wielding killer into the final frontier. This particular sequel is set in 2010 and initially at the Camp Crystal Lake Research Facility. Jason is to be cryogenically frozen until researchers can figure out a way to kill him completely. 455 years later, the Earth has been abandoned and deemed uninhabitable, and a professor leads a group of students down to explore what remains of Earth and the Jason popsicle. Believing that the discovery is worth some big bucks, the professor brings the killing machine aboard his ship. Once unthawed, Jason picks up where he left off, now with a ship full of fresh fornicating meat. So it could have been brilliant, giving Jason a sci-fi setting, with a whole load of futuristic weapons and technology with which to carry out some really spectacular kills but, well, they didn't. It was just the same formulaic plot as always, just set on the Starship Enterprise. Not literally, of course. By forgoing tension in favour of comedy, the movie completely loses sight of what made Jason the icon that he is. It is fun though, as long as you can just enjoy it for the ride—that's all that matters, really.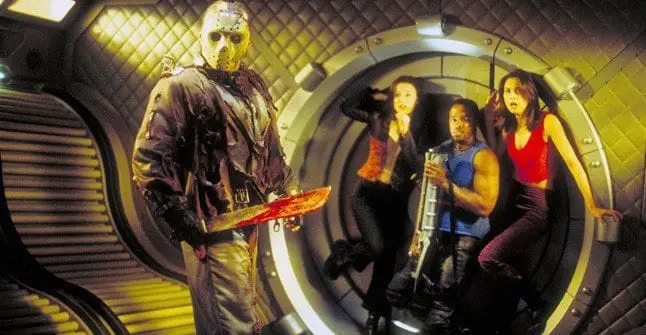 I think we can safely say that the Friday the 13th films are better when they are set at Camp Crystal Lake (or whatever moniker it goes by). Being set elsewhere does make for more inventive deaths, and just seeing Jason in Manhattan was pretty cool—mostly because no-one batted an eyelid, and you can look however you want in New York and nobody cares. Taking Jason away from his stomping ground reduces his power. Perhaps not literally, I don't think we could say for sure that is the case, but it feels that way. Crystal Lake is where he holds the power of his legacy and instils fear into every youth that hears of his story—away from home he's just another killer in a mask.
Curiously, there has always been some empathy shown for Jason. His drowning was unfair, and the pain of his mother was understood. Though not one single person deserved to die for what happened to him, fans do have a certain appreciation for his lack of understanding of just what he is doing. Rarely does Jason show any emotion. He avoids killing younger children, perhaps because of their innocence. It is the blossoming teenagers he was out to get and any other adult who got in his way, blindly following in his dear mother's footsteps. These are not crimes of passion or even hatred, as he is just like a programmed machine with only one thing on his mind. Revenge. No matter how brutal his kill, there was never more determination to kill one person over another. He perhaps does make one curious choice though, to leave one person standing. He likes the game of cat and mouse, and when he's turned you into a gibbering wreck, you are no fun to play with anymore, and you just become part of the legacy.