Talk to anyone—and I mean anyone—and they've probably seen John Carpenter's Halloween. The movie has been ubiquitously praised since its initial release in 1978 and has been a key influence on countless other films such as Friday the 13th and, most recently, It Follows. Halloween showed everyone that you didn't need crazy special effects, a huge budget, and mainstream A-list actors to create a quality movie—all it took was a unique idea and talent. But this isn't an article about Halloween, it's an article on why I believe Halloween II actually trumps its predecessor. That's right, the sequel that will soon be forgotten canon-wise thanks to the John Carpenter-produced 2018 sequel to the original is, in my humble opinion, not only the best movie in the Halloween universe but also one of the best horror movies ever. If you haven't clicked off the article in disgust or written me an angry comment yet, allow me to beg your indulgence for the next little while and I'll try to explain why I have this rather unpopular opinion.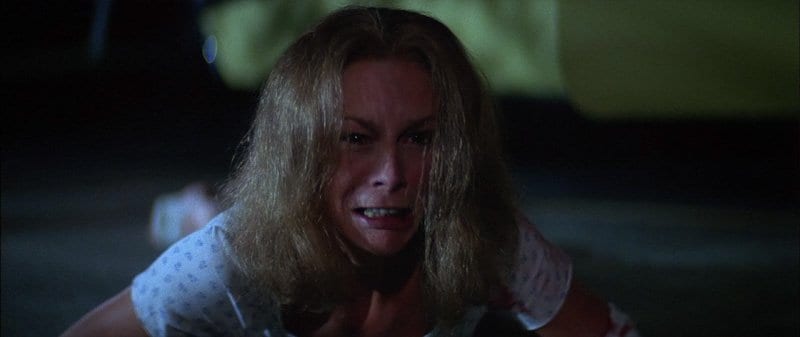 Halloween II was released in 1981, three years after Halloween took the cinema world by storm, but conveniently takes place on the very same night as the original, acting as a sort of direct continuation of the first movie. John Carpenter also gave up the director's chair to Rick Rosenthal, though Carpenter and Debra Hill would return to writing the screenplay just as they did for the first one. These three would prove to be a proverbial Trinity if you will in regards to the quality of the movie, and to be honest, most of that is a combination of a bigger budget and Rick Rosenthal in his directorial duties.
First, let me say that I'm the biggest John Carpenter fan you will ever meet. I've loved almost everything he's directed, from Assault on Precinct 13 to They Live, and I will argue endlessly that his take on The Thing is better than Alien. And yes, you can compare the two because they are both horror movies with sci-fi alien creatures and a body count, even though one takes place in space and the other…you know what, let's not get into that (that's a future article in and of itself). The point I'm trying to make here is that John Carpenter is an AMAZING director—one of my favorites of all-time really—but Rick Rosenthal fine-tunes the initial idea behind Halloween and churns out a damn near perfect horror movie when it's all said and done. Not that the first movie isn't a damn near perfect horror movie as well, but Halloween II reinvents the wheel so to speak, and in my opinion does it just a little bit better. I have read that Carpenter changed a few scenes in post-production to the dismay of Rosenthal, so maybe clashing visions is why I prefer Halloween II. Two heads are better than one is an old adage for a reason.
So…let's get down to the nitty-gritty. One of the reasons I find Halloween II to be such a stellar film is its consistency and logic. As I stated earlier, the film takes place minutes after the ending of the original and continues on late into Halloween night. If you watch Halloween I & II in succession, it truly feels like an extension rather than a sequel. In the first film, Dr. Loomis is trying to save the town of Haddonfield from a bloodbath. In the second film, he's damn near hysterical, and at one point almost shoots a trick-or-treater just because he was wearing a similar outfit to Michael's! Loomis is quite simply unhinged now, and it makes perfect sense—he just shot Michael SIX TIMES in the chest only for Mr. Myers to get up seconds later like one would after achieving a good night's rest. The cinematography is also superb, with many scenes being dark enough to make the viewer uneasy about what may be lurking in the shadows, but not so dark that you can't see anything. There's a lot of great half-shadowed shots of faces—particularly Michael's—and some aesthetically pleasing, poster-quality shots like the one below that have something going on in the foreground, middle ground, and background. Overall it is a gorgeous film to look at, especially if you're a horror fan.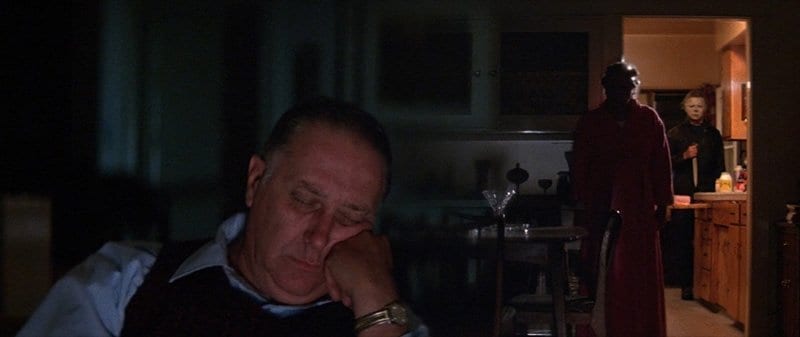 But one of the defining reasons I prefer Halloween II to the original is Dick Warlock's portrayal of Michael Myers, also known as The Shape, also known as the boogeyman. Before Kane Hodder played the perfect Jason Voorhees, Dick Warlock played the perfect Michael Myers. Nick Castle starred as Michael in the first film, and while he did a fine job, Warlock takes the character to a whole new level all without ever speaking a word. The man's movements and mannerisms are like some sort of robotic force of nature. Dr. Loomis is constantly telling everyone within earshot that Michael Myers isn't human and is pure evil, and Warlock personifies that. It goes back to the consistency I talked about previously, where at the end of the first film Michael had been bested so to speak, at least temporarily. Now he's back with more poise, focus, and determination—he's got a job to do, and he's going to see it through.
Here's just one example of Warlock's brilliance: there's a scene where Michael Myers is descending a flight of steps and…well, he's just not walking like a human being would. Normally, any given person would be holding onto a rail or a sidewall and be looking at their feet, making sure not to trip. Michael's descent is like that of a cyborg, looking straight ahead as if he had x-ray vision and can see his target through the walls. It hearkens back to Dr. Loomis in the first Halloween saying, "I watched him for 15 years, sitting in a room, staring at a wall; not seeing the wall, looking past the wall; looking at this night, inhumanly patient, waiting for some secret, silent alarm to trigger him off." It's poignant, masterful acting through just body language.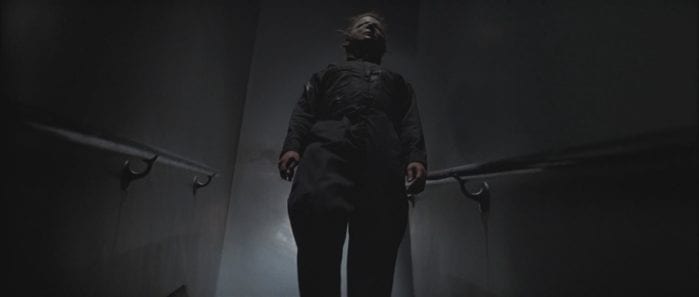 There's a bit more I could write about in regards to the film, but that would involve me spoiling some key plot points and I could never forgive myself if you actually haven't seen Halloween II, or hell, even the first Halloween for that matter. It's okay if you've watched both and still prefer the first one even after reading this little analysis of mine, but I hope you've garnered a new appreciation for this outstanding sophomore effort or at the very least look at it in a slightly different light. While I'm looking forward to Carpenter's new installment in the Halloween franchise which opens in just one week, I'm a bit sad that Halloween II will not be the "real" sequel anymore. But hey, if the new Halloween is good I don't think any of us will be angry, and if it sucks we can just pretend it never happened and keep watching Halloween I & II for the rest of eternity. It's a win-win situation in my book.
The awesome artwork at the top of the article is from the Shout! Factory limited edition Blu-ray release of Halloween II, sourced from a new remastered 4K scan. If you're as big of a fan of Halloween II as I am, pick it up. When the weather gets chilly and the leaves start to fall, pop it in, turn the lights off, and smash the play button. And if you get too frightened, just keep telling yourself that there's no such thing as the boogeyman. Just note that that phrase never really works for folks in horror movies, though.