"I've always been fascinated by the nature of good and evil. And the possibility of demonic possession. But the opportunity for me to witness and film an actual exorcism, came about 45 years after I had made [The Exorcist] the film. And completely by accident. Or was it providence?" – William Friedkin.
45 years after the release of the horror masterpiece, The Exorcist, legendary director William Friedkin returns with his most unusual film for decades, The Devil and Father Amorth. It's not only unusual because of the subject matter, but also because it's his first film since 2011's stylishly violent thriller, Killer Joe, and his first feature-length documentary since 1975's Conversation with Fritz Lang. So, what is it that made Friedkin, now aged 82, revisit documentary filmmaking and the subject of exorcism at this stage in his illustrious, Academy Award-winning career? Well, for starters, why not? From a fans perspective, isn't it cool to see an icon like Friedkin still so passionate about filmmaking and his own cinematic legacy that he's as interested in the subject of horror as we are? At this point in one's life, a lesser person might dismiss The Exorcist as a silly little movie they made when they were younger, but Friedkin is no ordinary guy. Once a controversial filmmaker, always a controversial filmmaker.
Clocking in at just under 70 minutes, The Devil and Father Amorth is a relatively short documentary film, which pretty much follows the three-act structure more commonly seen in narrative fiction. The film takes Friedkin to Rome, Italy, where he is invited to witness the ninth exorcism of a 46-year-old Italian architect, Cristina, at the hands of the now-deceased Roman Catholic Priest, Father Gabriele Amorth. Narrated by Friedkin, The Devil and Father Amorth opens with him explaining the setup of the film, his prior history as the director of The Exorcist (including a visit to Georgetown and the now-legendary Exorcist steps), and his beliefs on the subjects of exorcism and demonic possession. Friedkin also provides us with archival footage from William Peter Blatty, the writer of both the original novel and the Academy Award-winning screenplay of The Exorcist, who was completely convinced about the true story that provided the basis for his works. So, too, is Friedkin for that matter.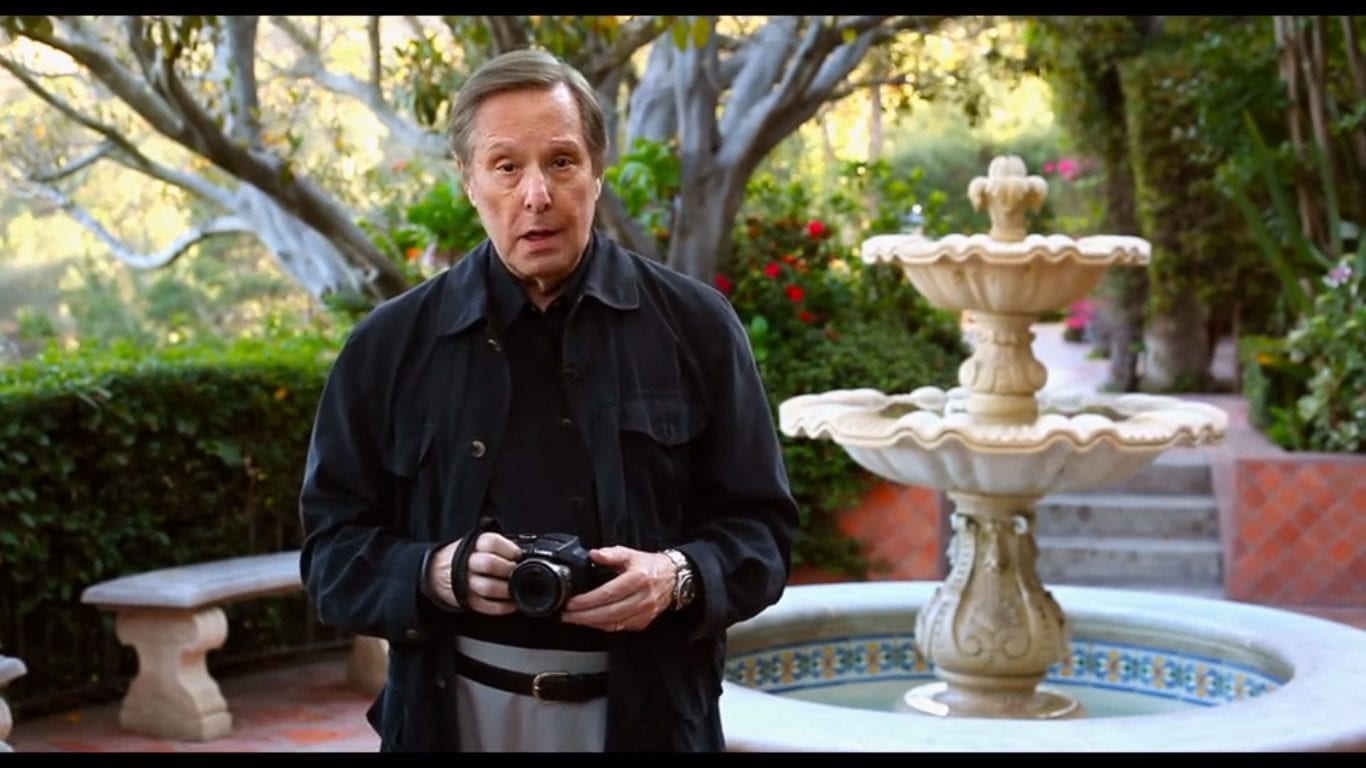 It's fun to see Friedkin walk through Georgetown almost five decades after filming one of his most famous works, and there's a knowing gleam in his eyes when he tells us that The Exorcist is Father Amorth's favourite film, too. We briefly learn about the decorated history of Father Amorth, then we meet a woman called Nadia, who had been successfully exorcised by his hands years earlier. It's the usual kind of stuff you'd expect to hear: trance-like states, speaking in tongues, slithering on the floor, and acting with a violent strength that seems humanly impossible. But this is not why we, and Friedkin, are here. Cristina is the focus of The Devil and Father Amorth, and it's her we meet next. In conversation, she seems like a nice, normal woman, who has sought the help of doctors but found little success. It is now we start the films second act. Surrounded by her family and filmed by the great William Friedkin, Cristina's exorcism is about to begin. And it is unnerving stuff, to say the least.
It's quite hard to watch The Devil and Father Amorth without continuously trying to relate it to The Exorcist. But in order to really appreciate the film, one has to separate a work of fiction from a work of real-life. Or is it real-life? Am I a sceptic? Yes. Am I a believer? No, not really. I consider myself a very cynical, only-believe-what-is-based-in-fact kind of person, but I'm not going to sit here and disbelieve everything I see on-screen. Who knows what really goes on in the shadows? Nobody, fortunately, which is why religion and supernatural horror always makes for an interesting partnership. Films like Rosemary's Baby and The Exorcist and The Omen shocked audiences in the '60s and '70s, while The Conjuring franchise and The Witch and Mother! have more recently inspired heated debate among the horror audience and general filmgoers alike. I'm not a religious guy, but like Friedkin, I'm more than willing to question that which we cannot see given a suitable viewpoint.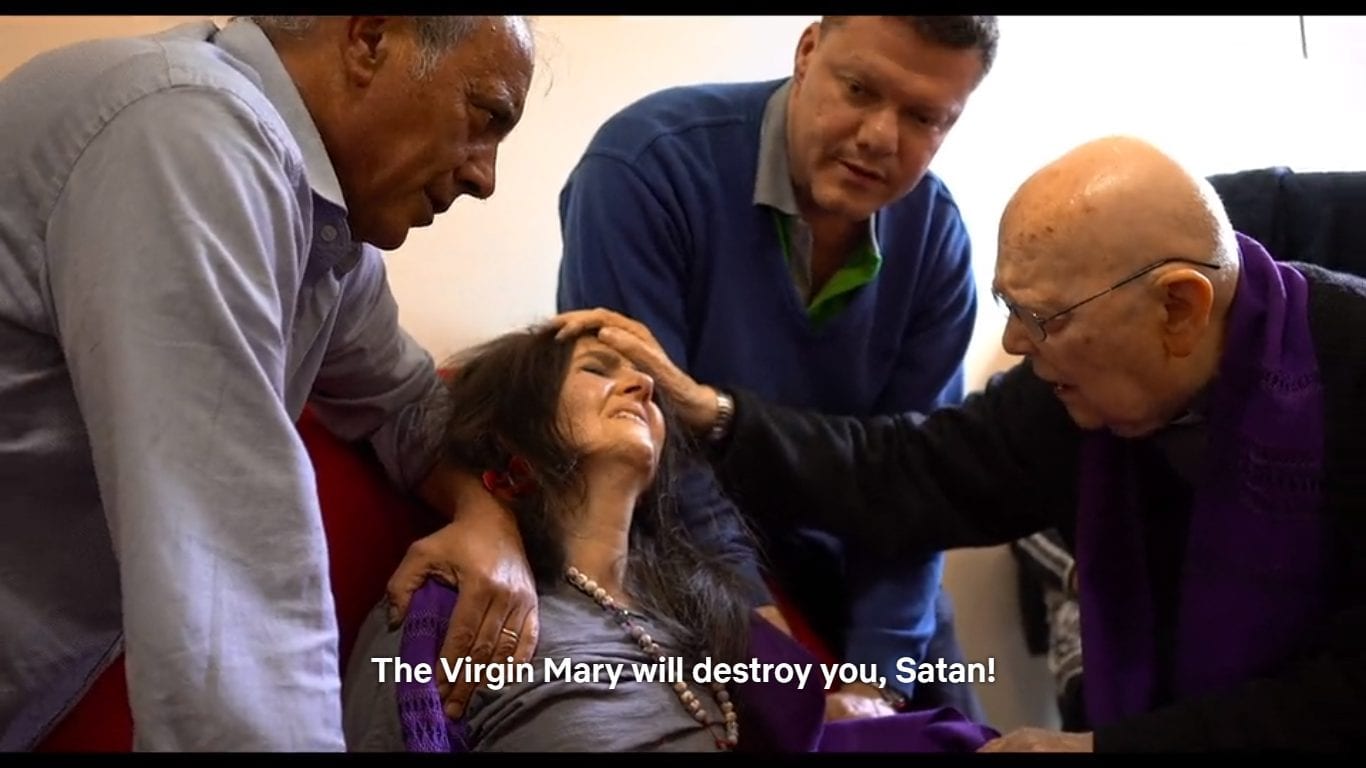 It's a heart-pounding experience watching Cristina's exorcism for 16 minutes straight. Her head and body forcibly convulsing non-stop, her voice screaming with demonic (possibly manipulated?) aggression, her face smiling as if the devil itself is taunting Father Amorth. Is this real? I'm naturally inclined to be cynical and believe not, but it looks like it's real if nothing else. "Set her free!" shouts Father Amorth over and over, until Cristina is apparently just that. Free… for now. I imagine a lot of you reading this are sceptical non-believers just like me, and you might think I'm crazy for even questioning the legitimacy of an exorcism. I also hope there are people reading this who do believe in some sort of faith. I'd be interested to know what they make of The Devil and Father Amorth in the context of their own opinions and beliefs. If anything, this film should inspire debate about the horrors of real-life. Which brings us to act three, and some people who are a whole lot smarter than I.
The final part of the documentary sees Friedkin interviewing various neurologists, psychiatrists and even an archbishop about the validity of Cristina's exorcism. Their opinions about Cristina's condition ranges anywhere between delirium to Dissociate Trance Disorder to demonic possession. One MD in particular, Professor Itzhak Fried, goes as far as to say, "Can I categorize it? Maybe. Can I know how to treat it? No." It's very interesting to hear these incredibly smart medical doctors being so open-minded to the possibility of Cristina's condition being beyond scientific explanation. "If we don't understand it, it doesn't mean it doesn't exist," says John Mazziota, MD. It is Archbishop Robert Barron, though, who is surprisingly open to Friedkin's questions. He has no interest in becoming an exorcist or interacting with the devil because he thinks it's a dangerous game, and he doesn't consider himself spiritual enough. It's pretty wild to hear from both sides of the discussion. Genuinely fascinating stuff.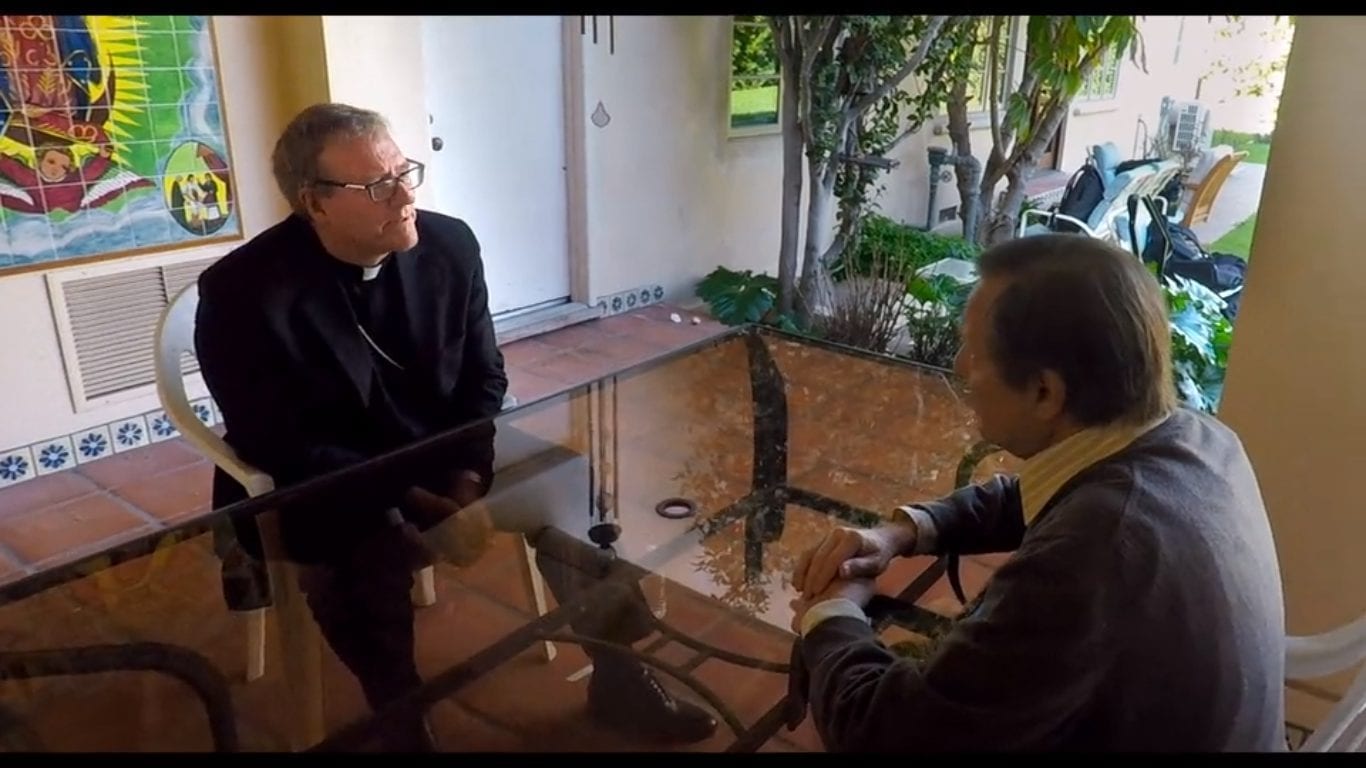 We're then shown the aftermath of Cristina's exorcism on May 1st, 2016, and we find out she wasn't cured. During a familial blessing, she became under the influence once again, which shocked Friedkin and everyone in the room. Later, William Friedkin agrees to meet with Cristina in Alatri. He recounts their meeting through voice-over, as he didn't take his camera into the church. This is undoubtedly the most suspicious part of the film. We only have Friedkin's words as proof, and the scene plays out like any clichéd Blair Witch-style setup. Fast cutting is used to imply the chaos and terror Friedkin is reciting, while we switch between shaky cam footage inside a church and repurposed material from Cristina's exorcism. The score, too, wouldn't sound out of place during the tensest moments in Alfred Hitchcock's Psycho. It's a scene that almost completely threatens the believability of the film, which concludes with the funeral of Father Gabriele Amorth, who died shortly after filming at the age of 91.
Co-written by Mark Kermode (the world's biggest Exorcist fanatic and the greatest wittering film critic working today), it would be very easy to dismiss The Devil and Father Amorth as nothing more than voyeuristic self-promoting exploitation. Well, yes. Horror is exploitation. Horror will always be exploitation, and there are very few things quite as unnerving as watching an exorcism take place – whether you believe in what you're seeing on not. The primal fear of having no control over one's own body is something that is universal and completely natural. Here in the UK, our most famous paranormal event, the Enfield Poltergeist, made headlines around the world and has inspired various works of dramatisation. You've probably seen the photos and heard the audio tapes. It's unsettling stuff. Every film or story focussing on the subject of possession might be utter nonsense, but what if it's not? I'm playing devil's advocate here, obviously, because who am I to say that this is all fake?
There's a part of me that thinks things like the Enfield Poltergeist and The Devil and Father Amorth are nothing more than constructed works of fiction, playing to our weakest human sensibilities. There's also a part of me that thinks the people we see in these states, like Cristina, are suffering severe pain through an undiagnosed illness, which they've manifested as being possessed. Yet, there's still a part of me that wants to be proved wrong. Science can only prove so much to be true, and when you've got a bunch of incredibly smart people questioning what they're watching like in The Devil and Father Amorth, it becomes clear that the stance of "it's all fake" is kind of narrow-minded. If the neurologists and psychiatrists don't have the answers, who then does? Plus, if William Friedkin's harrowing experience of filming The Devil and Father Amorth is one that left the director of The Exorcist shaken, I think it's fair to conclude that there just might be something evil lurking in the dark…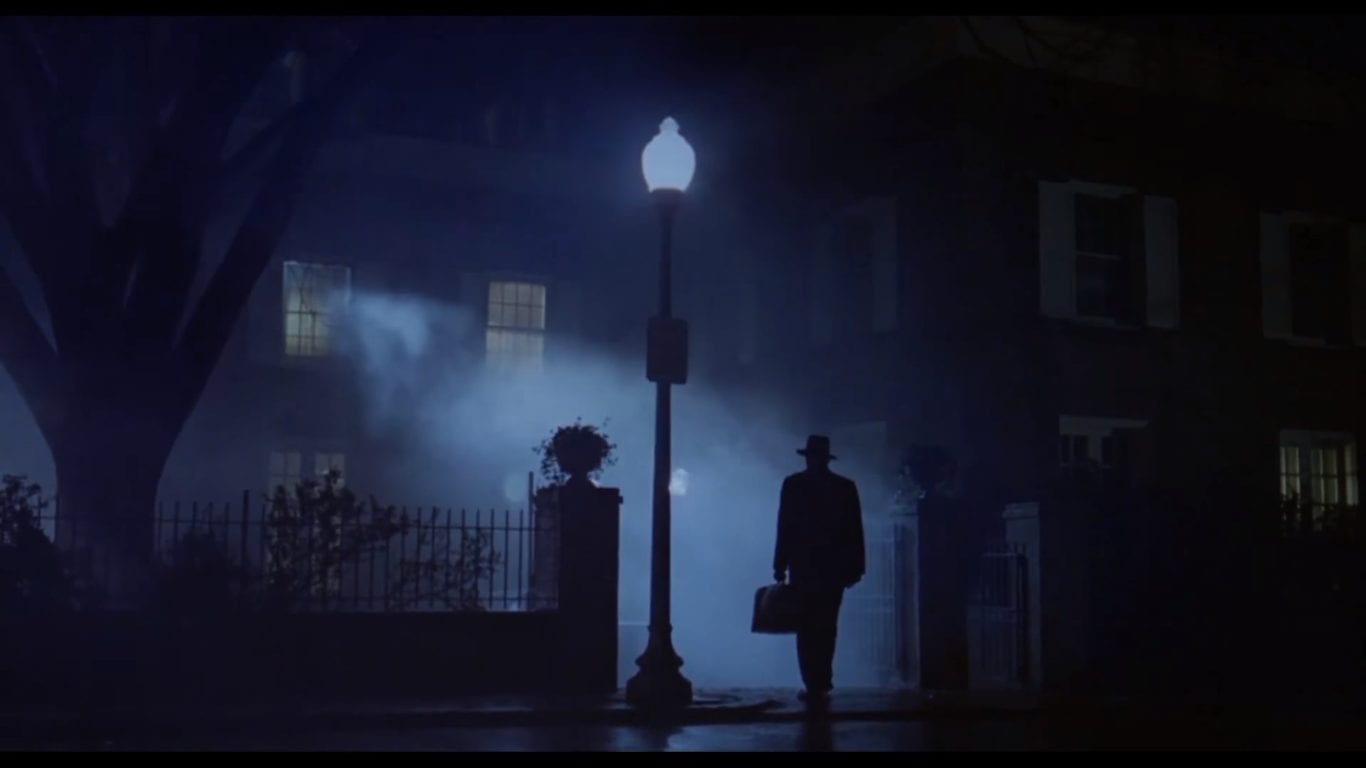 "My own belief, is that there is a far deeper dimension to the universe. We know there is evil. There is also good. And if there are demons, there must be angels" – William Friedkin.
---
So, what are your thoughts on The Devil and Father Amorth? Is it nothing more than a well-executed charade directed by a master of cinema, or were you convinced by Cristina's story and the existence of demonic possession? Please leave a comment and let us know by following the information about our social media accounts, which can be found below. Alternatively, you can follow me on Twitter (@JonSheasby), and we'll continue the conversation over there.